Qualifying day and the pits were buzzing today.  The word of the day yesterday was cogging and the word of the day today is Blue as in blue Bar Codes.  Everyone looking for Blue Bar Codes this morning.
I was going crazy this morning working on short course trucks, mounting bodies, mounting tires…  Total rush. I'm super busy in the pits and I'm not even racing. I painted a pretty nice Manta silver bullet for Ronnie.   Anyone need a painter?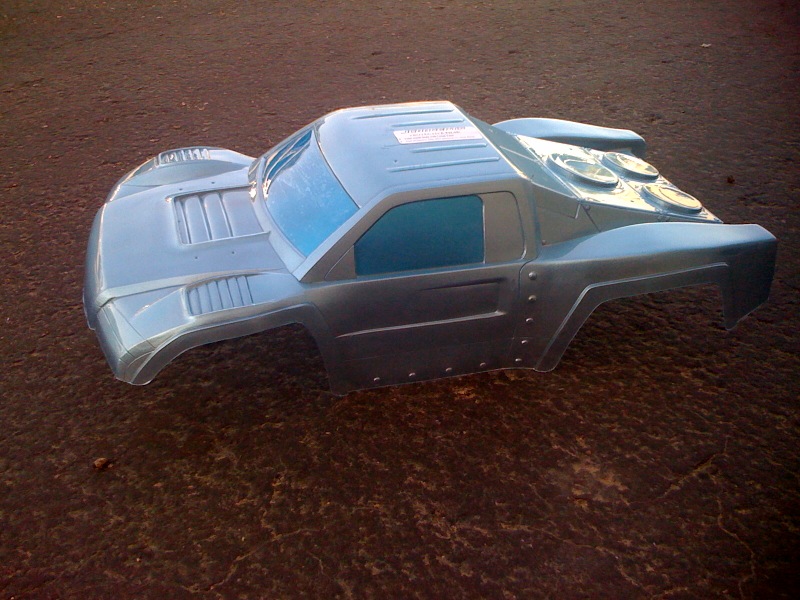 Zach and I had to wake-up at 6:00am to get to the track in time for drivers meeting and Zach was in race 4.  We kind of have a routine down now for packing the car and unloading so it's not that bad.
1st round of truck went to Tebo with Maifield in 2nd and Dustin Evans in 3rd.  All 3 drivers on Blue Bar Codes.
4wd 1st round went to Maifield.  Cavalieri and Tebo were in the 4th or 5th area with some crashes.  Blue Bar Codes again were the fast selection.
Tanner Denney took a TQ and second in 10.5 2wd and 4wd.  He's looking strong on JC in those classes.
My short course team had a pretty good first round with Jake Thayer getting 2nd and Kody Numedahl getting 3rd.  Joe Pillars TQ'ed the round and Mark Pavidis 4th.
Wrapping up round 1 was 2wd mod where Cavalieri moved to the front of the pack with a clean run.  Dustin Evans looked great in the second spot with Tebo 3rd and Maifield 4th.
I made a quick lunch run to In and Out for Zack and I and then got back to work.  Hustle, hustle.
Zack put in a great run in stock truck and finished 3rd in round 2 so he's got amain potential.
Round 2 of Mod truck was TQ'ed by Maifield just barely edging Cav.  Amazing qualifier by Maifield as he edged it out on the last few laps.  Orange Bar Codes looked great in the heat.
4wd mod was next and again Maifield was at his best taking the TQ in the last few laps.  Cavalieri finished 2nd.
SCT round 2 was owned by Kody Numedahl taking TQ with the Double Dees.  Pillars was up front again along with Jake Thayer.
The last round of 2wd mod was won by Cavalieri with Tebo and others behind.  Pudge looks strong in 2wd.  Maifield broke early and was off the track.
Friday night was BarBQ night at the hotel.  Brent Thielke and Larry Numedahl cooked on the grill at the hotel.  It was awesome!  Chicken and Hamburgers were top notch.  Zack had a great time hanging out with the hero drivers.    Larry claimed cooking victory.
Saturday morning was coming early and it was time to get some sleep.
-Jason-