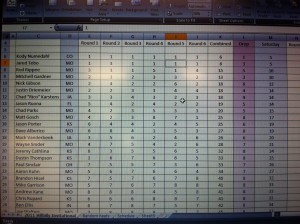 We had a great first day at the Winter Indoor Shootout and Hillbilly Invitational. Racing was unexpected and exciting as it always is with this format. I believe Steve and the guys really hit it with this track layout. Amazing flow and speed and it's a totally race-able design.
Kody Numedahl had an amazing day going 6 for 6, winning all his heats and taking the only 24 lapper of the day. The track was crazy fast in round 6 and proved to be a difference maker. Jared Tebo went 5 of 6 with a slight hiccup in round 2 getting a 3rd. Kody and Jared share the lead going into 4wd so this is going to get really interesting.

Rod Rippee held it down today for the older guys and took 3 wins and looked really consistent all-day long. He earned his 3rd position and will start 4wd in a great place on Sunday.
Personally I had a rather poor showing today and just was in a funk after popping off a ball-cup in round 1. I steadily got more aggressive as the day went on and finished strong and in the chase for the top 5. I successfully held off Tebo for about 5 of 6 minutes in round 5 and had an amazing race with Matt Gosch in round 6 finishing 2nd as well by a fraction.
I'm looking forward to getting some rest and getting the 4wd dialed in the morning.