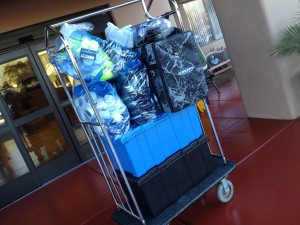 Wednesday Practice Recap
By: Jason Ruona
Today started off very slow and got hectic very quickly. Dustin Evans was one of the first JC guys to hit the track on the semi-loose early morning conditions. Everyone including Dustin waited for the track to come in and a little at a time the track started to come around. The biggest problem during practice is adjusting to the dust on the track. As everything drys out there is no way around having the dust and just not enough time to sweep the track often during practice laps. It felt like a much more typical practice day today with the huge waiting line making its way to the old hobby shop door at times. They actually went to 3 minute runs just to rotate guys on and off the stand a little quicker which actually seemed to help quite a bit and everyone seemed to not wait in line quite as long. Maifield waited patiently for the track to look a little better and then put his B4.1 on the track where immediately everyone was watching. He looked comfortable as always and the layout doesn't faze him at all. He went quad on the front straight-away with ease. I've heard the Quad is 27′ long tip to tip. That's a long jump for a 2wd buggy! Once again, I'm glad I'm not racing. 🙂 Whew…


I didn't see many short course trucks hit the track but during one of Maifield's 2wd buggy practice runs there was a yellow 4×4 SCT hauling the mail behind Maifield. I kept looking up on the stand thinking.. Who is driving this yellow truck… Man this guy is on it and going for every jump. I see Frank Root come off the drivers stand with this huge smile as he picked up the yellow truck. Franks 4×4 is apparently working well! Ha
Chad Due ran his 2wd SCT truck and I wasn't able to watch but apparently he is ready to put it on the trailer after one practice run. Yikes! He thinks it was that good. Pressure Points in orange were dialed according to Chad. I usually put my bad vehicles on the trailer.. Ha. Chad puts his good vehicles on the trailer. On the trailer or off the trailer?
We've added a new rising star driver to our JConcepts racing team as Kyosho driver Shawn Dunlap has just been added to the team. I took a moment to watch both his 2wd and 1/10th truck today and I was impressed. This kid can really drive. He reminds me of myself on the track but just faster. Very patient with the car, asks the vehicle to do the work in the turns and looks for the smoothest / easiest way around the track. The Kyosho vehicles are very neutral in handling so he's going to need the right balance for the ultimate success. I hope he does well this weekend. 2wd, 4wd and 1/10th truck.
Moving on in the day Maifield got his 1/10th truck on the track. But first of all we need to decide what this class is called now. 1/10th truck, stadium truck or racing truck? Those are the 3 names being thrown around and it's like a new day all over again. I heard Cavalieri say racing truck so that might have some sticking power. Maifield just says truck which is what I find myself saying as well. I'm not feeling stadium truck because where is the stadium? I have a hard time with Racing Truck because we are racing all vehicles so what's so special about truck that it actually deserves the racing tag? Masami called it monster truck years ago. I definitely can't call it a monster truck that's just against my personal code. I'll monitor the name calling Thursday – Friday and hopefully have an official name by the end of the day Friday.
Going back to Maifield running his truck and after a 3 minute shake-down he looked like he was impressed with it. Personally I'm still looking for the track to come around before I rush to judgement on anyone's vehicles. Thursday will probably be everyones busiest day trying to get that last minute setup and everyone only has 2 runs on each vehicle which more or less they will have to run in.
I'm beginning to realize that one person only really has time to run 1 class and at the most 2 classes if you want maximum wrench time. If you are running anymore than that you are going to need some help or the ability to prepare far in advance. I see guys running 3 or 4 classes and they still need to cut out 2 SCT bodies with airflow cutouts. Ouch…
The Durango guys have been really quiet but I watched Jörn with his 2wd buggy at the end of the day and he was running very well. Today, you were the man if you were in the 24 second range in 2wd which is where I clocked Jörn, 24.7 to be exact. Maifield has the fastest lap I've seen in 2wd buggy with a 24.3 at the end of the day and he really didn't have a perfect lap. I'd say we will see some 23's if the track is just a little better today.
I finished off the day with a great steak dinner courtesy of 2004 Cactus Classic runner up Jim Gard. We used my iPhone to grill out as Jim has it down to a science. 8 mins like this and then turn, flip and rotate and it's all done.
Well, it's 6:20am here and its time to start the day. Man, these races are more work than actual work. I think I'm on tire and body mounting detail today. After all these years I'm still mounting bodies and applying decals. I still like the way these damn vehicles look in race condition and when it done right. I guess I'm an addict. Wish me luck!