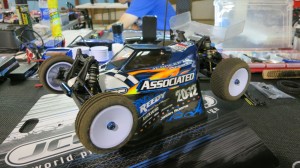 Day 1 Recap –
By: Jason Ruona.
So after a great flight I've arrived at Mikes Hobby Shop with the crew. Meeting up with Brent Theilke, Steven Hartson and Kody Numedahl was pretty simple at the Dallas airport and after the obligatory stop at Chipotle, we were at Mike's. Wow! It's like a Walmart for R/C Racing. It's unreal how nicely put together Mike's place is. All I could think of is, how can we get Mike to open one of these in Florida? It's truthfully an "all in" effort which says to me if you are going to do something right you have to go "all in" and that's what he has. The atmosphere inside to me is a mix between a southern California track right now and a 90's version SoCal Raceway. Nothing is left to question at Mike's. Everything seems to be written on the walls somewhere with clear instruction as what to do. They explain their grid setup for racing and mains on the walls as well as a handy clock / dial that explains what session of practice is up. 4 sections of practice dictate when you should come out and practice. SCT practices with SCT and so and and so forth. There is even instructions on how to use the coke machine. The big open room just makes you feel comfy and aware of what is happening.

Getting our vehicles on the track I noticed right away that the surface is pretty fun. I started with Groovy front tires and Double Dees on the rear, as did the others. I felt so at home running that tire combination while the other guys like Kody and Steven looked at the tires with this tilted head look of…where are my Bar Codes.
Driving the surface was fun and especially with some water. The light fluff and water felt hooked up and I felt a little in my element. I signed up for the club race and waited for race 6 where I tested my speed against Bigfoot winner Taylor Larsen. I wasn't quite up to his speed but had a fun race anyways and finished 2nd in my qualifier. Mike Stoll was car 1 heat 2 and just left everyone behind in his heat race on the way to TQ of the round. Kody and Steven would both struggle in heat 3 of 2wd but Trevor Nault ran a great run and TQed.
For round 2 I nearly missed my race because Brent and I went and picked up lunch at TGI Fridays. I pulled in the parking lot, ran inside and grabbed my radio and Kurt Kellum threw my car on the track and I was off again. I got a great start and found myself in the lead after a few laps and I was racing with Taylor for the lead. I was on a TQ run and then just blew-out with a minute to go and Taylor went on and won the heat. I improved my time which held up to only about 6th on the grid. I'm going to need to work on my speed a little for the actual race but I was happy to get the 17 laps. Both Kody and Steven were in heat 3 and after some rough laps neither driver could TQ either and they settled for grid positions in the 3rd and 5th range.
Main event time we all lined up on the drivers stand and hit the first few corners and I had moved up a couple spots. Kody quickly got into the lead and Steven was moving up quickly too. I was having a blast trying to work my way up into contention and I moved into 4th and was stuck there for awhile. Kody was out front and made a mistake which allowed Steven to take the lead. Steven just checked out from that point and Kody recovered into 2nd. I moved into 3rd and was wheel to wheel with Kody for a while fighting for 2nd. Then Kody put in a few good laps and gave himself a little gap once again. We finished with Hartson taking the win, Kody 2nd and myself in 3rd and Taylor Larsen 4th.
Wrapping up the night we got somewhat packed up and left for the night right around 11:30pm.