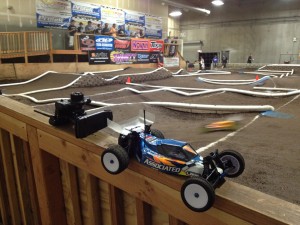 Another practice day to report on today as more guys are showing up and the pits are starting to fill. I personally ran a couple 20 minute practice sessions in the morning and then took it easy and ran a few control practice sessions against some short course trucks in the afternoon. Tanner got the 4wd buggy and SCT truck out on the track so that was a good accomplishment and scuffed some tires for official qualifying starting on Saturday morning.
They are keeping the track watered and the drivers seem to really enjoy the surface like this and it make prep definately a lot easier. I was happy with my buggy today and got down into the 18 second lap range when the track was fast and in the high 19's when it was a little slower.

Brent Thielke and Steven Hartson arrived today and got some track time with their vehicles. I saw Randy Pike from Tekin with his new Durango 1/10th truck hit the track. Eustace Moore and Matt Olson from MIP arrived today and got in some track time with their new Pro-4 performance kit. I witnessed a customer purchase the kit from A Main and then Eustace and Matt helped him every step of the way to get it built. This is the kind of help you can expect to see at these Indoor Nationals Events and why I enjoy them so much.
Charlie from Novak has arrived and I see him taking care of his customers as well. Great stuff.
Team Kyosho, Zach Rogers and Cody Turner have arrived and they are proudly walking around with red pit mats trying to determine where they are laying down their freshy mats.
Late in the day we moved from our cushy air conditioned pits back to our usual warehouse pitting area where it's a little warmer. Things are going well, track is fun and it's time for dinner.