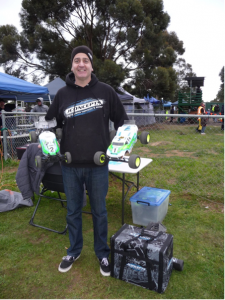 Leigh Cheeseman dominates the Modified Racing Truck and Modified 4wd Buggy classes with JConcepts at the 2012 Keilor Cup.
Event: Keilor Cup
Date: 26 August 2012
Track: Keilor Offroad RC Car Club
Race Reporter: Leigh Cheeseman
The 2012 edition of the Keilor Cup drew over 120 entries from around Australia. Racers were met with a very smooth blue grooved surface but due to the low temperatures and windy conditions traction was low. Considering the amount of rain that Melbourne has received over the last month is was amazing that we even raced at all and credit must go to the Keilor Club for providing us a great surface to race on.
The Keilor Club will also host the 2012 Victorian Titles in November and JConcepts Orange Bar Codes V1 will be the control tire for all classes. So many people were using this event as a warm for the Victorian Titles

Racing would be three qualifiers with the best two counting and three A finals. I decided to give my 2wd a rest and run Modified Stadium Truck and 4wd Modified. Winning all qualifiers with in Stadium Truck would see me start from the No.1 position and No.2 in the 4wd class behind young up and comer Glen Bonnetti.
With Blue Bar Codes mounted on my T4.1 I was able to drive smoothly away from the field and win the first two finals and secure the win. In 4wd I started well and pasted Glen Bonnetti mid way through the first final and held on for the win by just over 1 second. In the second final and after a small change to my B44.1 I was able to win my second class of the weekend by around 4 seconds and post the fastest time of the weekend.
JConcepts Products Used.
T4.1
Blue Bar Codes
Carbon Fibre Hub Towers
T4 Punisher Body Shell
Monroe Battery Brace.
JConcepts Glue
Silent Speed Spur Gear
B44.1
Blue Bar Codes
Finnisher Body Shell
6.5" High Clearance wing
Carbon Fibre Hub Towers
12mm Hex adaptors
Mono Wheels
JConcepts Locking Wheel nuts
JConcepts Black Body Clips
Low profile Aluminium Wing Mount
And a special note to the JConcepts beanie that kept me warm all weekend.