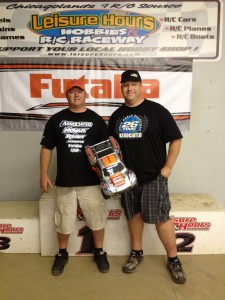 Event: Futaba Electric Challenge
Date: July 27-29, 2012
Track: Leisure Hours Raceway | Joliet, Illinois
JConcepts Team Driver Mike Nelson attended the Futaba Electric Challenge held at Leisure Hours Raceway in Joliet IL. The racing was a lot of fun and was a full race day, 3 qualifiers and a main on the outside track on Saturday and then another full race day on Sunday, the overall finishing position would be decided by the two days added together. On Saturday Mike qualified third and finished second in Pro 2 SC outside, JConcepts Goose Bumps and Carvers were the tire of choice outside. On Saturday night they ran a 30 min Pro 2 SC enduro inside, Mike teamed up with Brian Mellow and used Mike's truck, when the 30 min clock ended Brian and Mike took home the $100.00 prize, the truck was locked in with gold Double Dee's up front and gold Bar Codes in the rear. On Sunday Mike missed the TQ by 4 tenths of a second and that ended up being the difference, after a little tangle with the third place truck and a little bobble getting collected in traffic Mike could not catch up to the leader, had the fast lap but had to settle for second. After the two race days with two second place runs, Mike ended up second overall in Pro 2.