The first round of Nitro qualifying had Dustin Evans continuing his winning streak. Dustin put in a great run in Expert 1:8 Nitro Buggy turning the fastest lap so far. Dustin took the first qualifier by 3 seconds. JConcepts Hybrids in Blue Compound gave Dustin the grip he needed to take the top spot in Q1. Ryan Maifield had a tangle with traffic on his last lap that dropped him back. Ryan also running Blue Hybrids looks to the second qualifier to better his time. JR Mitch is sitting third even with having a damaged tire after contact with the pipe. JR was running Hybrids in Green Compound but said he will switch to Blue Compound for his second run.

For the second round of Electric qualifying, Ryan Maifield puts in a great run in Mod 2wd Buggy, taking the TQ spot from Dustin Evans. Ryan switched to V1 Bar Codes in Blue Compound and so far is the only one to go 14 laps in that class. Dustin Evans decided to not make a change to his set-up even though the track had more grip than Q1, that decision could have cost Dustin a better run. JR Mitch had a rough first lap but was able to come back and make-up some time allowing to take a third for the round.
Round 2 of Nitro had Ryan Maifield taking over the TQ spot in Expert 1:8 Nitro Buggy. Ryan put in a great run in Q2 to take the top spot from Dustin Evans. This is truly "The Ultimate Grudge Race" Dustin and Ryan are having a Clash In The Heart Of Dixie.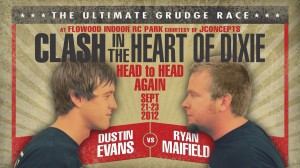 Qualifying starts back up again tomorrow morning at 10am Central Time. Tune into LiveRC.com to watch all the action, check out the coverage on RedRC.net and RCInsider.com and for behind the scenes Live access to the pits be sure check our Facebook page throughout the event.