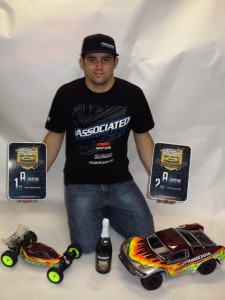 This past weekend October 27-28 Maximus Raceway located in York, Maine held The Durango Northeast Championships. JConcepts Team Driver Mike Wilder was in attendance. Mike Ran the two most popular classes of the weekend, 2wd Buggy and 4wd short course. Being a Durango sponsored race, there were a couple of well known west coast drivers in attendance including Travis Amezcua and Carson Wernimont among the 157 entries total that showed up. So it was sure to be a great race weekend.
In 2wd Mod Buggy, Mike qualified 3rd behind Travis and Carson. In the Main event Mike bolted on new JConcepts Green Bro codes on his Factory Team B4.1 worlds car and that was the ticket to give him a clear advantage over The field. After only a couple laps Mike was able to squeeze past Travis and Carson after they made a mistake. He pulled away from the two Durango driver's and took the win.

In 4WD Short Course Mike qualified 2nd behind Travis Amezcua. Mike Bobbled early on in the main and was never able to recover. Mike Ended up finishing second running JConcepts Green Pressure Points on his Factory Team SC10 4×4.