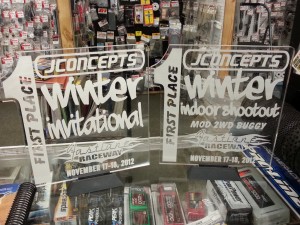 Well, I'm in flight for our last weekend of JConcepts Events in 2012. I'm headed to Blue Springs, MO along with Max Flurer to represent JConcepts at this unique 2nd annual event. Last year, Kody Numedahl flew in from Denver, Colorado to compete in the invitational class where he competed under the radar against Jared Tebo. In a surprise finish Kody took the invitational win in a tie-break, recording a combined faster time than Jared to take the overall victory. Jared graciously took 2nd place but as a competitor I'm sure he'll have some extra fire this year to take the overall.

The event carries a unique format borrowing the Reedy Race format for an invitational class where 24 of the fastest regional and incoming drivers will do battle in 5 rounds of 2wd modified on Saturday and 5 rounds of 4wd on Sunday. In between the invite heats the open classes will run a IFMAR based qualifying format with main events taking place on Sunday. A full selection of classes will be available for everyone. 2wd, 4wd and SCT classes all are offered and were highly contested during the 1st annual event. If you are local or from the surrounding area I highly recommend coming out to run with us at Fastlane Hobbies this weekend.
A few photos of the track layout have surfaced and it looks pretty amazing. 1 large berm entering the straight-away and a huge tapered / bermed sweeper coming off the straight. I'll have full panorama photos as soon as I arrive so be on the lookout for those.
Back in Florida the guys will be heading to Coral Springs for the last round of the Super Cup Championship Series on Saturday. I'm disappointed I couldn't compete in the complete Fall Session series for the first time since the series was started back in 2008. I hope to be back strong in 2013 for the Spring Session. We have already started securing dates for the 2013 Super Cup season and have approximately 6 of 8 events already scheduled and confirmed. The first race of 13 and banquet for 2012 will be in early January so be on the lookout for the complete schedule.
In addition to the Super Cup we have established dates and venues for the entire 2013 Indoor National Series, JConcepts Indoor Clash and other events throughout the United States. Again, look for the full calendar soon.
As we wind down 2012 we look forward to the IFMAR Worlds in Buenos Aires for 1/8th buggy. We have a few tricks up our sleeve and I'm starting to look forward to the racing. With a small cut-back amongst teams we will be competing with a somewhat smaller overall team than expected but those in attendance will for sure receive the best we can offer. I'm not looking forward to entering the country because we really don't know what is in store during customs inspections. We have put our faith into race organization that a little communication and form documents will help us enter this time around without sacrifice. Lets keep our fingers crossed…..
Watch blog.jconcepts.net and jconcepts on Facebook for updates, photos and videos from Blue Springs, MO and Fastlane Hobbies.