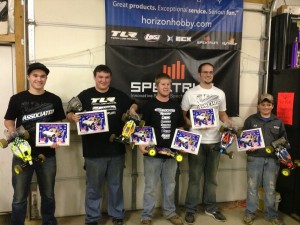 Event: Holiday Barn Burner
Date: December 1, 2012
Track: RJD Hobbies
JConcepts Team Driver Michael Paige attended the 2012 Holiday Barn Burner hosted by RJD Hobbies in Lincoln Illinois. This Horizon Hobby sponsored event went well for Paige, TQing 2wd buggy, 4wd buggy and 2wd short course.
Races started at 11am and finished up around 9pm in the evening. It was a long day, with good competition and very competitive racing. Paige went on to win 2wd buggy and 4wd buggy running JConcepts Bar Codes in Green Compound and took 2nd in 2wd short course and 2nd in 4wd short course with Green Pressure Points. Fellow Teammate Ben Ellis took 1st in 2wd short course and TLR driver Zac Rose took 1st in 4wd short course.