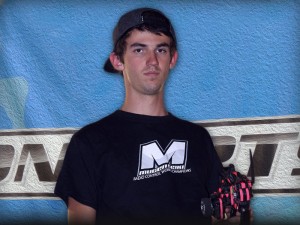 Biography
Barry Pettit started racing at the young age of 9 years old and raced his first race with a Traxxas Rustler at Hobby Connection in Easley, SC. At the time, R/C racing wasn't a priority because the family was very active in sports and it took some time to realize R/C would be the passion it is today. About 2 years after his first race, Barry went to an event in Aiken, SC, with his father and they fell in love with high-end racing and immediately purchased a Team Losi XXX-NT and began competing locally in the gas truck division.
Local racing was extremely fun for the family and making trips to The Farm in Charlotte, NC, was always a great way to meet new people and learn about the hobby. It was during this time that Barry was introduced to 1/8th buggy racing and everything started to fall into place. At that time, Mugen was a very popular brand locally and Barry made great friendships with the local team and he decided to purchase a Mugen 1/8th buggy. The Mugen was a perfect match and Barry blossomed into a rising talent in North and South Carolina and Georgia.
2008 was a banner year for Barry as he made his first trip to the ROAR 1/8th Fuel Nationals at Thunder Alley in Beaumont, CA, and also picked up his dream sponsors of Mugen Seiki, JConcepts and Byrons Fuel. It was at the nationals that they made a family commitment to be much more prepared, professional and take a more serious approach to racing as they chased Barry's racing goals. The Pettit team started traveling as a family to local and regional events piling up resume material, experience and victories on their way to qualifying for the 2010 IFMAR 1/8th World Championships in Pattaya, Thailand. The trip to Thailand proved to be a milestone for Barry finishing up in top 40 and earning respect among his racing peers.
During the 2011 racing season Barry picked up victories at the Psycho Nitro Blast in Unidilla, GA, and also the Southern Nationals in West Monroe, Louisiana. Barry's driving was peaking during the right time when the family traveled to the 2012 ROAR Off-Road Nationals where he bumped into the A-main, finished 9th racing against the nation's strongest drivers at LCRC in Oakland Mills, PA. The family sought out a new adventure as they traveled to Buenos Aires, Argentina, for the 2012 IFMAR 1/8th World Championships. Barry amazed just about everyone as he placed his JConcepts equipped Mugen MBX-7 in the Semi-Finals and ran against the best in the business, narrowly missing the A-main bump spot by just 1 position. Devastated and completely thrilled all at the same time with their results, the Pettit family took a huge step in Argentina.
Currently Barry is a student at Clemson University where he is studying to become a Mechanical Engineer. His education has earned him an internship at BorgWarner Turbo Systems where he can work and learn within the automobile industry. The schedule is busy but with the support of his family, friends and girlfriend, Barry has been able to maintain his R/C racing ability and turn in results to make his sponsors proud throughout the year.