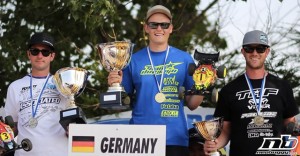 Jörn Neumann takes the 2wd European Champion Title with JConcepts.
Event: European Championships 1/10th Electric Offroad
Location: Valladolid, Spain.
Date: July, 15th to 20th
The 1/10th 2WD and 4WD European Championships took place in Spain from 15th to 20th July, just 2 hours from Madrid. Monday started with 7 rounds of open practice. The track was multi surface with astroturf, dirt and stone sections. This made it very challenging to find a good setup. In the begining the dirt sections were loose, but it got more and more traction throughout the day. Laptimes were very close for the top drivers. Qualifying started on the next day and JConcepts Team Driver Jörn Neumann was able to TQ Round 3 and Round 5 with the fastest 5 minute run to take the overall TQ spot for the mains.

Jörn's JConcepts equipped DEX210 laid down some of the fastest laptimes in A1 and A2 to win his first 2WD European Champion title.
Next up was the 4wd Buggy Class. This time there was 8 rounds of open practice and 2 controlled practice's. Jörn's DEX410V3 was fast and he TQ'ed Round 1 and 2 of qualifying. Jörn lined up 2nd on the grid. A1 didn't go so well for Jörn, but he still finnished 3rd. In A2 everything went well from the start and Jörn took the victory. A3 came around and a few drivers still had a shot for the overall win. This time Jörn finnished 2nd, this was also his overall position. A pretty good weekend with a 1st and a 2nd place finish.
Products used:
JConcepts DEX210 body and wing
JConcepts DEX410 body and wing
Jconcepts titanium turnbuckles
JConcepts pit mat
JConcepts striker pit board