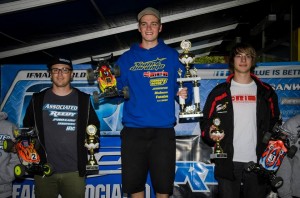 The German 4WD Buggy and 4WD Short Course nationals were held last weekend hosted by the MAC Inzell club, the venue of the annual IRoC race. The organizers decided to run the race as a one day event because of the bad weather forecast for Sunday. After the practice runs it was clear that four drivers would battle for the 2013 Buggy crown. JConcepts Team Driver Jörn Neumann was leading the pack in front of Stefan Pfeifhofer and Patrick Hofer and with Oli Scholz close behind. In 4WD SCT is was again Jörn Neumann leading the way

Jörn Neumann dominated qualifying as he was able to TQ four heats in 4WD Buggy while Patrick Hofer took the second overall spot, Oli Scholz in third and Stefan Pfeifhofer in fourth. In the 4wd SCT class it was again Jörn who took each of the four qualifiers, followed by Markus Metsch and Stefan Knott in 3rd.
After a short break the sun started to set and the lights came on for the finals, but during the first round of the finals heavy rain started to fall. The race committee hoped to finish up the mains on Sunday but the overnight rains were too much and there was no time to prepare the track. The 2013 title was decided by the qualifying results handing Jörn Neumann the national title in both 4WD classes.