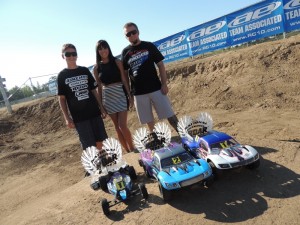 JConcepts takes 3 classes at ROAR Off-Road Nationals. Maifield becomes 4x ROAR SCT National Champion.
Race: 2013 ROAR 1/10th Off-Road Nationals
Date: August 9-11, 2013
Track: Silver Dollar Raceway – Chico, CA
The ROAR Off-Road Nationals, always one of the largest events on the calendar tour, made its way to Silver Dollar Raceway in Chico, CA. The annual event allowed drivers another opportunity to test out Silver Dollar raceway before the IFMAR World Championships later this year. Kevin Jelich, long time racer and expert track builder, was brought into the A-main family to manage the National race, track condition and prep for the upcoming World Championships.

The JConcepts racing team was out in full force with Jason Ruona and John Piant on hand to support the event. The Striker pop-up tent was set next to the track itself and it was a busy place all weekend long. Qualifying started on Friday with the JConcepts team getting off to a great start with Ryan Maifield taking the Round 1 TQ followed by Dustin Evans in the modified SCT class. Ryan and Dustin, utilized the orange compound Bar Codes in the rear and Double Dees in the front, looked locked into the surface from the early moments. Spencer Rivkin looked tough in the 17.5 2wd stock class taking the round 1 TQ with the JConcepts outfitted B4.2.
Moving through qualifying it was apparent Maifield was the favorite in the SCT modified class after TQ'ing the 2nd round of qualifying. Ryan was also making noise in the 2wd modified class taking a round 2 TQ and also taking 2nd in both rounds of 4wd modified to guarantee a top 3 starting position in all 3 classes by the end of day 1. Day 2 of qualifying brought on a slightly different flavor with other drivers rising to the occasion. Maifield looked to lock up TQ in 2wd SCT but encountered an electrical problem with about 2 minutes to go on a TQ run during round 3. Dustin Evans easily picked up the pieces and strongly TQ'ed round 3, stating his case as another driver to beat in the SCT class.
Dakotah Phend came to race on day 2 and TQ'ed an exciting round 3 of Racing Truck modified, 4wd modified and 2wd modified which put him in position to start near the front in each class. Round 4 was the deciding factor in 3 of the 4 modified classes with Dakotah the only modified driver to have officially locked up TQ in a class (Racing Truck modified). 2wd SCT modified was a shootout front the beginning with 3 drivers within the slightest margin. Wind gusts were a factor, and drivers positioned their trucks to best qualify in those conditions and Kody Numedahl was the first driver to break out from the pack and open up a small lead on Dustin Evans.
Maifield, who made an early mistake was playing catch-up and moved into 3rd. After a Numedahl mistake, Evans took the lead and Maifield was making up time on each and every lap to pull within a respectable distance. Maifield dropped the hammer with nothing to lose and gained the lead with only 2 laps to go. The 6 minute round 4 took its toll on everyone in the sketchy conditions but Maifield once again pulled out the victory and overall TQ in the 2wd SCT modified class.
In the 4wd modified class, Ty Tessman wrapped it up against Ryan Cavalieri with a slim margin TQ run in round 4 to TQ the overall in 4wd modified. In the 2wd modified class it was Ryan Cavalieri turning in the fastest run of the weekend taking the round 4 TQ and tie-breaker over AE teammate Ryan Maifield. The 2 AE drivers would start up front in the class with Dakotah Phend 3rd. In the 17.5 stock classes Spencer Rivkin wrapped up the overall TQ in the 2wd buggy and SCT stock classes and Brent Fiege TQ'ed the stock truck class.
Sunday, day 3 was main day, and the triple A-mains were up very early in the morning. 17.5 buggy started with Michael Losi getting an A1 victory over Spencer Rivkin, Brent Fiege took A1 of 17.5 truck and Spencer Rivkin won 17.5 SCT truck A1. In the modified classes, nothing would come easy. In the Racing Truck modified class, Jared Tebo grabbed the lead after mistakes by Dakotah Phend and took an easy A1 victory. 2wd modified SCT A1 belonged to Maifield, the SC10.2 rolling on JConcepts ran a perfect 6 minute race and allowed no one to get close. Maifield finished with the victory, Dustin Evans 2nd and Kody Numedahl 3rd.
In 4wd modified, Ty Tessman took a 2 second victory over a hard charging Ryan Cavalieri. 2wd modified saw an initial battle between the Ryan's with Cavalieri giving up the lead to Maifield only for Maifield to have an electrical problem which made it difficult for him to lead, forcing him to case a jump. Cavalieri made a similar mistake and Dakotah Phend slipped around to outside of the Ryan's to take the lead. At the finish line a mad dash made it extremely close and Phend took the win over Cavalieri by just .251 of a second.
In the 2nd round of A-mains the drivers lined up and hit the track, and in the 17.5 classes a lot was up for grabs. In the 2wd buggy class, Team Associated / JConcepts driver, Spencer Rivkin took control of the race and easily distanced himself from the field pulling a large gap and running a quick time. JConcepts / Team Associated driver Daimon Borkowicz caught up with the field and moved into 2nd easily making his best drive on finals day thus far. Stock truck was once again a Brent Fiege show, he took the lead and never looked in the mirror as he motored his way to the 17.5 truck championship. Michael Losi finished 2nd overall and Daimon Borkowicz 3rd. Spencer Rivkin with the Hi-Flow SCT truck body on the SC10.2 made A2 a snap. Spencer wrapped up A2, and in just 2 main events he took the ROAR National title in the stock SCT division with the JConcepts equipped SC10.2.
The Racing Truck modified A2 was very similar to A1. Dakotah took the early lead but gave it up just slightly into the race giving Jared Tebo the lead. Jared was having no problems in the lead with the Kyosho looking smooth and consistent topped off with the JConcepts Finnisher truck body. Crossing for the victory, Jared picked up the first modified National title of the weekend. A2 of 2wd modified SCT was also very similar with Maifield jumping out to a large lead very early into the race. JConcepts equipped drivers Dustin Evans and Kody Numedahl kept pace with Maifield but in the end the "Short Course King" was too much. Ryan Maifield crossed to take his 4th ROAR SCT National Championship. Dustin Evans finished 2nd and Kody Numedahl 3rd.
A2 of 4wd modified started once again with Tessman out front. Maifield quickly moved into 2nd place and began tailing Tessman for many of the opening laps. Tessman stayed calm with Maifield all over him but coming on the straight Maifield made an amazing pass to take the lead. Tessman motored on the outside and tried to overtake at the end of the straight where both drivers collided. Maifield, on the inside line, allowed Ty to retake the lead and Ryan cruised in 2nd. As the drivers came onto the back straight away for the next lap Maifield's car suddenly stopped with an electrical problem allowing Ty to escape and take the ROAR National Title. Ryan Lutz benefitted from the race issues and took 2nd and Ryan Cavalieri came all the way back to finish 3rd.
The largest classes of the week, 2wd modified, set up and entered the track and checked in for A2. Cavalieri immediately took the lead with Maifield in the 2nd position. Cavalieri looked confident but made a driving error on the triple jump coming onto the back straight away and over jumped it and spun the car around, almost aimed at the inside corner. Maifield had no opportunity to check-up and the top 2 AE drivers crashed into each other on the first lap and Dakotah Phend went around the outside to take the lead. Maifield somehow came back out in the 5th position and began picking off drivers on his way, attempting to catch Dakotah. Ryan picked his way into 3rd and then 2nd and chased down the talented driver from Michigan. Time expired and Dakotah took the victory earning himself his first 2wd modified ROAR National title. Ryan Maifield finished 2nd and Ryan Cavalieri 3rd.
With all the modified champion decided only the 17.5 buggy class was open for victory. A3 was off and running with Spencer Rivkin taking the lead. Daimon Borkowicz maintained his 2nd qualifying position and ran just behind Spencer. The 2 "Muppet" teammates and friends battled fearlessly throughout the opening minutes of the race. The triple jumps became a factor and drivers struggled to make the immediate adjustment. Spencer made the first mistake handing the lead to Daimon but then came right back on another jump section to take the lead once again. Spencer flat-landed hard on the infield and took a bad crash bounce and flipped into the turnmarshals hands. Daimon knew what to do, he calmly doubled the remaining jumps and maintained his margin. Daimon finished off A3 with the victory and tied for the ROAR National Championship with Spencer. After tie-breakers were added it was Spencer Rivkin taking the championship, Daimon Borkowicz taking 2nd and Michael Losi 3rd. Both Spencer and Daimon were covered with JConcepts, performing and looking good all weekend long.
Congratulations to all the winners, the Silver Dollar Raceway crew and ROAR RMT crew on another great National event. A special thanks goes out to A-main Hobbies, Kendall Bennett, Ruben Benitez and Kevin Jelich on a first class facility and quality maintenance all weekend.
JConcepts winning products:
· 3043-04 – Double Dees – orange compound
· 3044-04 – Bar Codes – orange compound
· 0212 – Finnisher B4.2 body
· 0234 – Finnisher C4.1 body
· 0252 – Finnisher T4.2 body
· 0222 – Hi-Flow SCT body
· 0122 – Illuzion – 6.5″ Hi-Clearance wing
· 0130 – Champion name and number plates
· 2012M – JConcepts matte vehicle stand
· 2037 – Racing Bag – Small (includes plastic inner drawers)
· 2056 – Racing Bag – medium (includes plastic inner drawers)
· 2102 – JConcepts – 1/10th, 1/8th and SCT Striker setup board w/ foam pad
· 2136 – 5 and 10gm stick-on weight set
· 2043M – JConcepts – Advanced Formulated Tire Glue – Medium
· 2075 – 8/32″ locking wheel nut – fits B4, T4, B44 and SC10 – locking / lightweight (blue)
· 2098 – 48 pitch, 81T, SS Machined Spur Gear – fits B4.1, T4.1, B44.1 and SC10
· 2099 – 48 pitch, 84T, SS Machined Spur Gear – fits B4.1, T4.1, B44.1 and SC10
· 2135 – 12mm front clamping hex adaptor for B4.1 – blue anodized aluminum
· 2139 – JConcepts – body clips – black – medium size -12pc.
· 2158 – B4 / T4 / SC10 aluminum steering bell-cranks – blue
· 2159-1 – B4.1 aluminum wing mounts – blue – 2pc
· 2160-1 – JConcepts – Associated battery hold down thumb nut – blue (fits B4.1, T4.1, B44.1 and SC10)
· 2161 – B4.1 +8mm Monroe Carbon Fiber battery brace
· 2165 – Associated Carbon Fiber Hub Tower A, B and C (fits aluminum hub carrier)
· 2167 – 8/32″ thin-pattern locking wheel nut – fits B44 front – locking / lightweight (blue)
· 2169T – Titanium B4 front axle for 12mm hex conversion (requires #9880 AE steering block)
· 2171T – Titanium SC10 front axle for the 12mm hex conversion
· 2091 – 12mm rear hex adaptor for B4.1, B44.1 – blue anodized aluminum
· 2133 – JConcepts pit mat
· 2192-1 – Reedy Sonic motor timing cover – sensor wire protector – blue
· 2204 – JConcepts radio bag – Futaba 4PK
· 2209 – JConcepts roller bag
· 2225 – B4 generation Fin turnbuckle set – 6pc.
· 2226 – T4 / SC10 generation Fin turnbuckle set – 6pc.
· 3347 – Mono – B4.1 | RB5 – 12mm hex front wheel (white) – 4pc
· 3348 – Mono – B4.1 | B44.1 | RB5 – 12mm hex rear wheel (white) – 4pc
· 3344B – Hazard – SC10 wheel – black – 2pc.