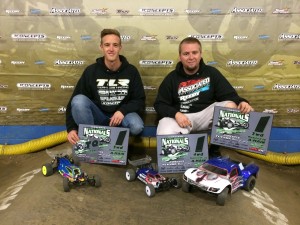 Ryan Maifield and Dustin Evans dominate in front of 430 entries, winning 3 modified classes at 2013 JConcepts Fall Indoor Nationals
Race: 2013 JConcepts Fall Indoor Nationals
Date: October 12-13, 2013
Track: R/C Excitement – Fitchburg, MA
A record turnout of 430 entries showed for the JConcepts 2013 Fall Indoor Nationals at R/C Excitement in Fitchburg, MA. The race energy was electric inside the building at R/C Excitement and racers came in from as many as 14 states to compete against the likes of Ryan Maifield, Dustin Evans and newly crowned IFMAR World Champion, Steven Hartson. Todd Anderson designed and built a fresh layout for the event which contained step-ups, dual pizza shaped table tops, step-downs and rhythm jump sections along the back wall. The layout was extremely challenging to say the least and with a track packed with 10 drivers, racing was as intense as it gets. As the weather turns to the Fall season these drivers are ready to race, and judging from the turnout, the Fall Indoor Nationals is the can't miss event on the east coast.

Qualifying started Saturday morning with Ryan Maifield taking the early TQ in the 2wd modified and SCT classes while Alex Kosciuszek put down the TQ in the 4wd modified class. Steven Hartson started slowly but all eyes knew he would be there in the end. The tire of choice at R/C Excitement were the JConcepts Bar Codes in blue compound. The overall grip level was at a medium level and while in the racing line it was quite grabby.
Round 2 belonged to TLR / JConcepts driver Dustin Evans who swiped away TQ from the AE ace who settled now in 2nd position. In the SCT modified class, it was Maifield once again showing his SCT king status beating his own TQ from round 1. 4wd modified belonged to Maifield who took the B44.2 and dominated the track setting a new quick time for the weekend.
Round 3 of qualifying was early Sunday morning and while some could barely keep their eyes open it was Maifield who rose early and took round 3 in 2wd modified narrowly missing TQ by only .8 seconds and running a new fastest time in the SCT and 4wd modified classes. Dustin Evans would retain the all important TQ in 2wd modified while Maifield remained up top in SCT and 4wd classes.
During a break in the racing action, the RC Excitement staff took the moment to have their big raffle. Drivers filled the track area where they took their opportunity at winning prizes from sponsors such as JConcepts, Team Associated, Reedy, LRP, Durango, Tekin and TLR. Racers won everything from the latest car kits to quick or shiny accessories to stuff their race bags with.
The main events kicked off and with the huge race turnout the A-mains ran later in the program which meant the drivers had a lot of time to get ready for the finals. The 2wd modified A-main was up first and Dustin Evans shot out in the lead. Maifield hugged his rear bumper and the duo almost completed the first lap when Dustin made an error over the back jump which caused a small pile-up and almost immediately Maifield piled into Dustin and the top drivers were in a major crash. Evans escaped and maintained the lead while Maifield dropped to 4th. Maifield made up time and passed for 3rd and then 2nd place and put on a chase to catch Evans. Evans bobbled bringing the top 2 drivers extremely close and the race was on. Just as the gap closed the group entered traffic and it wasn't kind to Maifield, dropping him back to 4th once again. Alex Kosciuszek took over 2nd and Alex Miller in 3rd. Evans checked out with the JConcepts equipped TLR 22 2.0 vehicle and the closest race on the track was between Alex and Alex. The battle went all the way to the last lap with Kosciuszek overtaking for 2nd. Dustin Evans took the easy victory, Alex Kosciuszek finished 2nd and Alex Miller 3rd. The top 2 drivers equipped with JConcepts Bar Codes in blue compound to grip the RC Excitement track with ease.
SCT modified drivers hit the track for the A-main and the crowd gathered once again. TQ driver, Maifield, took the SC10.2 around on the first lap in the lead. Dustin Evans, ever so slightly behind, looked confident in the 2 position. Dustin attempted a few inside moves but Maifield maintained the tight line where no one could bump inside. A small crash from Evans allowed Maifield to stretch the lead and slightly cruise. A few risky sections on the course made for an exciting main but Maifield looked proper in the lead. Another mistake from Evans gave Ryan a huge lead which he maintained to the finish. Ryan Maifield took the win, Dustin Evans 2nd and Steven Hartson recovered from a poor start to take 3rd. All 3 drivers utilized JConcepts blue compound Bar Codes to hook the dirt.
As the 4wd modified guys were about to hit the track there was a tiny bit of sweeping to clean the racing line and modified 4wd drivers starting checking in. Maifield lined up on pole position with the B44.2 and took off cleanly with a great start. Alex Kosciuszek grabbed 2nd place and tailed the top notch driver for several laps. A mistake by Alex K put the World Champion, Steven Hartson, into 2nd and Dustin Evans piloted the new 22-4 into 3rd. Maifield was gone and hammered down on the competition pushing the lead out to 7 seconds, pushing the JConcepts equipped AE vehicle. Hartson matched the fast lap of the leader but small bobbles kept him at bay. Dustin recovered from mistakes and motored back into contention finishing just behind Hartson at the finish. Podium running order was Ryan Maifield taking the win, Steven Hartson 2nd and Dustin Evans 3rd. All 3 drivers dominated once again, driving JConcepts Bar Codes in blue compound.
430 entries, a great track and first class hospitality makes the Fall Indoor Nationals what it is each year. Thanks to Todd Anderson and crew from R/C Excitement and all series sponsors JConcepts, Team Associated, Reedy, LRP, Team Durango, Tekin, Novak and Stick-it 1 graphics.
JConcepts winning products –
· 3016-01 – Bar Codes – blue compound
· 3017-01 – Bar Codes – blue compound
· 3020-01 – Bar Codes – blue compound
· 3021-01 – Bar Codes – blue compound
· 3044-01 – Bar Codes – blue compound
· 0222L – Hi-Flow SCT body light-weight
· 0266 – Finnisher B44.2 X-flow body
· 0252 – Finnisher T4.2 body
· 0122 – Illuzion – 6.5″ Hi-Clearance wing
· 0137 – Hi-Tension 6.6″ Hi-Clearance wing
· 2012M – JConcepts matte vehicle stand
· 2136 – 5 and 10gm stick-on weight set
· 2043M – JConcepts – Advanced Formulated Tire Glue – Medium
· 2075 – 8/32″ locking wheel nut – fits B4, T4, B44 and SC10 – locking / lightweight (blue)
· 2099 – 48 pitch, 84T, SS Machined Spur Gear – fits B4.1, T4.1, B44.1 and SC10
· 2139 – JConcepts – body clips – black – medium size -12pc.
· 2158 – B4 / T4 / SC10 aluminum steering bell-cranks – blue
· 2160-1 – JConcepts – Associated battery hold down thumb nut – blue (fits B4.1, T4.1, B44.1 and SC10)
· 2167 – 8/32″ thin-pattern locking wheel nut – fits B44 front – locking / lightweight (blue)
· 2170T – Titanium T4 front axle for the 12mm hex conversion
· 2133 – JConcepts pit mat
· 2192-1 – Reedy Sonic motor timing cover – sensor wire protector – blue
· 2203 – JConcepts radio bag – Airtronics M12
· 2209 – JConcepts roller bag
· 2212-2 – JConcepts – Satellite tire gluing rubber bands – black
· 2226 – T4 / SC10 generation Fin turnbuckle set – 6pc.
· 2227 – B44 generation Fin turnbuckle set – 6pc.
· 3344B – Hazard – SC10.2 F&R wheel (black) – 2pc
· 3348 – Mono – B4.1 | B44.1 | RB6 – 12mm hex rear wheel (white) – 4pc
· 3349 – Mono – B44.2 – front wheel (white) – 4pc