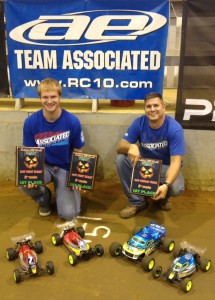 Mike and Mike take the win in Mod 2wd, Mod 4wd and Mod Truck at the 2013 Halloween Shootout with JConcepts.
Event Name: 2013 Halloween Shootout
Event Location: Debbie's RC World, Chesapeake, VA 
Event Date: October 26, 2013
Debbie's RC World hosted the Halloween Shootout this past weekend, drawing many racers from Regions 2 and 3 to kick off their indoor off-road race season for the winter months. Local JConcepts/Team Associated/Reedy driver Mike Kling was joined by teammate Mike Gay to represent the Team, competing in Modified 2wd Buggy,4wd Buggy and Modified Truck.

Three rounds of qualifying were run, with double A-mains for 2wd Modified, and single A mains for the remaining classes. The clay track featured a very technical, yet race-able layout that favored consistency. With the layout being relatively new, the grip conditions kept all local and traveling racers on their toes throughout Friday's practice session, and by Saturday morning the bite began to quickly rise as the racing groove started to form. With lap times that were averaging in the 13 second range, one mistake could potentially be a big drop in the standings. Having a car that could balance both consistency and speed around the tight track would prove to be a big advantage; and the JConcepts/Team Associated/Reedy equipped vehicles proved to have just that.

In the popular 4wd Modified Buggy class, qualifying was all Mike Gay, who posted the only 28 lap run of the day, running blue compound Bar Codes front tires and green Bar Code rears on open cell And-1 inserts. During the single A-main, Mike jumped out to a quick four second lead over local privateer Josh Knight. Mike was able to check out in the second half, finishing with a lap up on the field to capture the first TQ and win of the day. Mike's B44.2 was using the new Finnisher X-Flow body with 6.5" Hi Clearance wing.
Modified Truck saw Mike Kling drive his T4.2 Factory Team truck to the top spot on the starting grid, claiming TQ in this class throughout three rounds. The 8-minute main event was dominated by Kling's truck, outfitted with a Finnisher body and blue Barcodes front and rear, to give JC its second win of the day.
In the largest and most competitive class 2wd Modified Buggy, Mike Gay's Reedy powered B4.2 Factory Team with Centro C4.2 mid motor conversion was able to claim and reset TQ in all three rounds amongst very tight competition from the local drivers, using blue compound Bar Code fronts and Bro Code rears. During the double 8-minute A-mains there was no dust in the racing line, so Mike opted for blue Pressure Points on the rear of the car for extra corner speed. He was able to build a comfortable lead by the halfway mark in both mains and went on to claim back-to-back, wire-to-wire wins, finishing off with the 2wd Modified title and JConcepts' 3rd TQ and win of the weekend. The C4.2 was topped off with the new +8mm C4.2 Finnisher body and 6.5 Hi Clearance wing.
Special thanks to Debbie's RC World, the entire staff and local racers for hosting a top notch event. Look forward to more events coming from DRCW's relatively new indoor offroad facility, as well as their outdoor off-road and on-road tracks during the warmer months.
Products Used:
2wd Modified
0265 – Finnisher – C4.2 body w/ 6.5″ wing
2169T – B4.1 Titanium front axle for 12mm hex conversion
2225 – JConcepts – B4 generation Fin turnbuckle set – 6pc.
2264 – JConcepts – B4, T4 & SC10, 2.5mm carbon fiber steering rack
3017-01 – Bar Codes – blue compound (fits 2.2″ buggy front wheel)
3035-01 – Pressure Points – blue compound (fits 2.2″ buggy rear wheel)
3066-01 – Bro Codes – blue compound – (fits 2.2″ buggy rear wheel)
3203 – And-1 – 1/10th buggy tire insert – Firm – 2pc
Modified Truck
0252 – Illuzion – T4.2 Finnisher body
3021-01 – Bar Codes – blue compound (fits 2.2″ truck wheel)
2158 – JConcepts – B4.1 aluminum steering bell-cranks – blue
2162 – JConcepts – T4.1 Monroe Carbon Fiber battery brace
2226 – JConcepts – T4 / SC10 generation Fin turnbuckle set – 6pc.
4wd Modified
0266 – Finnisher – B44.2, X-Flow body w/ 6.5″ Hi-Clearance wing
2227 – JConcepts – B44 generation Fin turnbuckle set – 6pc.
2235-1 – JConcepts – B44.2 aluminum steering bellcrank assembly – blue
3016-02 – Bar Codes – green compound (fits 2.2″ buggy rear wheel)
3020-01 – Bar Codes – blue compound (fits 2.2″ 4wd front wheel)
3203 – And-1 – 1/10th buggy tire insert – Firm – 2pc