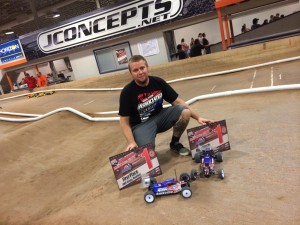 Ryan Maifield and Brian Kinwald take 3 classes for JConcepts at the 2013 SIGP.
Race: 2013 JConcepts Southwest Indoor Grand Prix
Date: October 19-20, 2013
Track: Competition Hobbies – Tucson, AZ
On the weekend of October 19th-20th, Competition Hobbies of Tucson, AZ, hosted some of the country's best racers for their 10th Annual Southwest Indoor Grand Prix (SIGP). Drivers were sent out from all the big camps, and Team JConcepts made sure to have some of their best drivers on hand as the competition was sure to be tough. Ryan Maifield led the team at the SIGP, along with him was long time RC Legend Brian Kinwald and one of the local Young Guns, Spencer Rivkin and Tanner Denney.



2wd modified buggy –
With 4 Rounds of qualifying to sort things out it was looking as if Team Associated's Ryan Cavalieri was going to wrap things up as he locked down
the TQ in the 2WD Modified Buggy Class.
Starting just off his bumper in the first of the triple A-mains was Ryan Maifield followed by Spencer Rivkin. In A1 Cavalieri was able to take the win, but only by a very small margin. A2 was looking to be a repeat up until the 3 minute mark when Maifield was able to sneak by and even up the points going into A3. As A3 got underway it was apparent that it was going to be a battle that was one for the books. As Ryan and Ryan took off at full speed it was obvious they both wanted the win for this event. Cavalieri led the way with Maifield in chase, until Maifield was able to capitalize on a mistake and take the lead around the 4 minute
mark. As Maifield took the lead, Cavalieri pushed harder than ever trying to make up lost ground. As the clock wound down, Maifield was able to maintain
his lead to the end giving JConcepts its first big win of the weekend. Finishing in second, Cavalieri was followed by Spencer Rivkin who took 3rd in all 3 Mains. Both Ryan and Spencer chose the JConcepts V2 Bar Codes in green compound to grip the dusty and high-bite surface.
4wd modified buggy –
As with the 2WD class, it was the Ryan and Ryan show with Spencer in chase. Cavalieri showed a strong dominance during the first round of qualifying and
just like in 2WD he took the TQ.
Cavalieri was able to wrap up the win in A1. In Round 2 Maifield came out swinging, not only the 2WD class, but 4WD as well. Showing a complete repeat from 2WD, Maifield rocketed out of the gate in A2 and took the lead quite early to even up points as time expired in A2. A3 was the fight of the weekend. When the tone sounded the Ryan's put the power down and went at it. Cavalieri was going extremely fast, trying to put some distance on Maifield, but it didn't work. Maifield stuck with his pace and continued to pressure him until he made a mistake. About half way through A3 Maifield found his opening. Cavalieri clipped a pipe and Maifield went by. Maifield continued to put down a blistering pace with the crowd cheering him on from the sidelines until the end of the race. Maifield was able to take home the win in the 2 biggest classes putting JConcepts on top of the podium again. Ryan Cavalieri finished 2nd and Spencer Rivkin 3rd. Once again, both Ryan and Spencer chose the JConcepts V2 Bar Codes in green compound to grip the dusty and high-bite surface
2WD modified SCT –
With Maifield focusing on buggy for this event, Brian Kinwald took over 2wd SCT. Kinwald was able to take two 0s in qualifying giving him the Pole Position going into the single 8 Minute A main. The two remaining 0's would be split between JConcepts Driver Spencer Rivkin, and TLR's Travis Brock. Both drivers managed a 1st and a 2nd place finish in the qualifiers bringing them to a tie breaker which would give the 2 time Stock National Champ, Spencer Rivkin the 2nd spot on the grid.
As the 8 minute main got underway BK and Rivkin broke out to an early lead as Brock was punted off the track. As the 2 JConcepts / AE drivers broke away it was looking as if they had it in the bag. As Rivkin looked for a way around Kinwald's truck he managed to catch a pipe setting him back a bit. Brock was forced to fight his way back through traffic until the he caught Rivkin and was able to get by taking the second spot, still about 9 seconds back from Kinwald who was cruising comfortably out front. Rivkin continued to push until he was forced out of the race with a mechanical failure. As the race came to an end it would be Team JConcepts Driver Brian Kinwald taking the win with TLR Travis Brock and Charles Hicks wrapping up the second and third spot. Brian Kinwald reached for JConcepts Bar Codes and Pressure Points in green compound to tame the Competition Hobbies surface.
Great appreciation goes out to the Competition Hobbies staff on a great weekend. A professionally prepared track, surface and fully stocked hobby store make the R/C experience a pleasure. Special thanks to Notch Johnson on a finely tuned race program and getting the racers out in a timely manner.
JConcepts winning products –
· 3033-02 – Bar Codes – green compound
· 3054-02 – Rips – green compound
· 3020-02 – Bar Codes – green compound
· 3044-02 – Bar Codes (SCT) – green compound
· 3049-02 – Pressure Points (SCT) – green compound
· 0222L – Hi-Flow SCT body light-weight
· 0265 – Finnisher C4.2 body
· 0266 – Finnisher B44.2 X-flow body
· 0122 – Illuzion – 6.5″ Hi-Clearance wing
· 0137 – Hi-Tension 6.6″ Hi-Clearance wing
· 2012M – JConcepts matte vehicle stand
· 2136 – 5 and 10gm stick-on weight set
· 2043M – JConcepts – Advanced Formulated Tire Glue – Medium
· 2075 – 8/32″ locking wheel nut – fits B4, T4, B44 and SC10 – locking / lightweight (blue)
· 2099 – 48 pitch, 84T, SS Machined Spur Gear – fits B4.1, T4.1, B44.1 and SC10
· 2139 – JConcepts – body clips – black – medium size -12pc.
· 2158 – B4 / T4 / SC10 aluminum steering bell-cranks – blue
· 2160-1 – JConcepts – Associated battery hold down thumb nut – blue (fits B4.1, T4.1, B44.1 and SC10)
· 2167 – 8/32″ thin-pattern locking wheel nut – fits B44 front – locking / lightweight (blue)
· 2169T – Titanium B4 front axle for the 12mm hex conversion
· 2133 – JConcepts pit mat
· 2192-1 – Reedy Sonic motor timing cover – sensor wire protector – blue
· 2203 – JConcepts radio bag – Airtronics M12
· 2209 – JConcepts roller bag
· 2212-2 – JConcepts – Satellite tire gluing rubber bands – black
· 2225 – B4 generation Fin turnbuckle set – 6pc.
· 2226 – T4 / SC10 generation Fin turnbuckle set – 6pc.
· 2227 – B44 generation Fin turnbuckle set – 6pc.
· 3344B – Hazard – SC10.2 F&R wheel (black) – 2pc
· 3347 – Mono – B4.1 | RB6 – 12mm hex front wheel (white) – 4pc
· 3348 – Mono – B4.1 | B44.1 | RB6 – 12mm hex rear wheel (white) – 4pc
· 3349 – Mono – B44.2 – front wheel (white) – 4pc