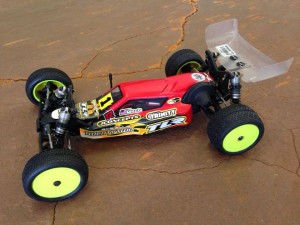 JR Mitch and Daimon Borkowicz dominate at 2013 ROAR Region 4 Off-Road Championships with JConcepts.
Race: 2013 ROAR Region 4 Off-Road Championships
Date: October 5-6, 2013
Track: Holeshot Raceway – Sanford, FL
For 2013 the ROAR Region 4 Off-Road Championships were held just outside of Orlando in Sanford, FL, at the popular Holeshot Raceway. Kris James and company put in the effort to ensure a great event with a technical inspection duo, constant track maintenance and race announcing courtesy of Lance MacDonald. The stage was set for a relatively serious event while roughly 160 entries filled the facility and parking lot for the once a year Florida showdown. As always, the JConcepts crew was in attendance to race and support the product all weekend.

Qualifying started briskly on Saturday morning with the 1st of 3 qualifiers to determine positioning for the main events. With a grooved yet dusty surface, the tire of choice were JConcepts V1 and V2 Bar Codes in blue compound to grip the difficult track and tame the conditions. JR Mitch, Billy Easton were some of the fastest drivers during the first round of qualifying in the 2wd modified class and rose to the top each round showing consistency.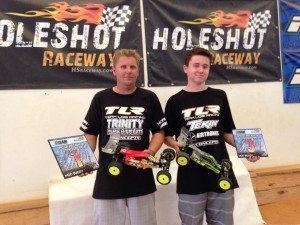 The premier class of 2wd modified buggy was the 2nd largest class of the weekend and was stacked with Florida's finest racers. The first 2 rounds of qualifying saw a dominating performance by JConcepts/TLR driver JR Mitch. JR put in two amazing runs, including the only 23 lap run of the weekend in the 2wd class giving him a perfect score of 0 points. The 3rd round of qualifying was wide open as JR didn't make the start and JConcepts/TLR teammate Chris Viesins took full advantage by taking the 3rd and final round of qualifying. With the triple A-mains set, JR was ready for battle against the 10 car field. JR and 2nd qualifier Billy Easton exchanged positions only briefly as JR went on to win the first 2 A-mains and take the overall win, with Billy finishing 2nd and Chris Viesins 3rd.
The modified truck and 4wd modified buggy class saw another dominating performance in qualifying with a perfect score of 0 points from the JConcepts/Team Associated young ace Daimon Borkowicz. Daimon had his game face on all weekend and TQ'd 2 out of the 3 rounds of qualifying in both classes, with teammate JConcepts/Team Associated driver Brett Kingsbury taking 1 round of 4wd and arch rival, TLR's very own Leon McIntosh taking 1 round of truck. Daimon made quick work of the modified truck class by winning the first 2 A-mains and locking up the title, followed by Leon and Chris Intravia.
The 4wd class proved to be a bit more challenging as JConcepts/Team Associated teammate Max Fluer took the win in A-main #1, boss man Jason Ruona taking 2nd, and Daimon settling for 3rd. Daimon didn't get rattled and put his head down and went on to win A-main #2 and #3 for the overall title, with Jason taking 2nd and Max in 3rd.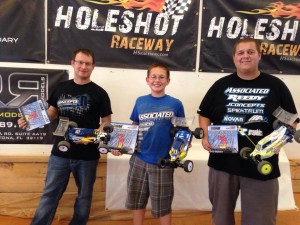 Stock truck seemed to have a little bit of everything. Qualify was dominated by one of Florida's youngsters Tilar Pollack by taking a perfect score of 0 points into the triple A-mains. Unfortunately heartbreak would set in for Tilar as his truck would shut down while leading the first 3 laps of A-main #1 and #2. Tracy Carver of JConcepts would take full advantage from 4th on the grid to win A-main #1, but A-main #2 and #3 was however JConcepts young gun Riker Gatenby's show. Riker took the lead early in each of the 2 mains and went on to take the title, followed by local racer Kevin Abbot 2nd, and JConcepts driver Johnathan Paulk 3rd.
Stock SCT was one of the most competitive classes, JConcepts driver Riker Gatenby sat up top in qualifying with TQ. During the first A-main Peyton MacDonald looked to have his truck setup the best for the lower grip conditions and easily took the victory gaining the upper-hand and the all important first victory. During A2, the track conditions were slightly more grippy and Riker's truck was back in the flow guiding him to victory setting up a winner take all A3. A3 featured the 2 main winners battling for the title. Riker and Peyton both took their turn leading but Peyton eventually found his way into 1st with a gap that was comfortable on the tight course. Both drivers negotiated traffic but it was Peyton who found the rhythm taking the win and overall victory. Riker finished 2nd and Jovan Cruz finished in 3rd.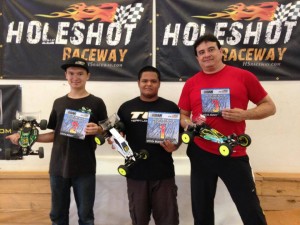 2wd stock buggy was another hotly contested affair. With many drivers having their vehicles completely dialed in, the separation was so minimal between the top of the field. During A1 the track was very slippery and the drivers who adjusted well made the most of the situation. TQ Jim Andersen and his B4 buggy looked great in the slippery conditions and took the A1 victory by just 2 seconds over Ruffy Rios. Jovan Cruz finished 3rd running the mid-motor TLR 22, 2.0 and kept pace with the top 2 drivers but was waiting for his moment when the traction would pick-up later in the afternoon. A2 was a different story, Jim Andersen suffered a rough main and was forced out of the race but that allowed Riker Gatenby to the front of the pack looking to shake up the standings with the victory. Jovan Cruz was gaining confidence and his JConcepts equipped buggy was starting to round into shape finished 2nd and Billy Bruce had the Kyosho working in the 3rd position. A3 went to the improving Jovan Cruz who was completely hooked up now and took the overall victory. Ruffy Rios finished 2nd in A3 boosting his points total to finish 3rd overall and Riker Gatenby finished 3rd in A3 and once combined with his points from A2 allowed him to finish 2nd overall.
4×4 Short Course can be described as the Chris Viesins show. Chris showed everyone how to remain cool, calm and collected while easily winning A1 and A2 to easily take the title with the JConcepts equipped, TLR SCT-E 2.0. Justin Fales had a great showing of his own and remained focused finishing a well deserved 2nd and Peyton MacDonald rounded out the podium with a 3rd place overall finish.
Masters class belonged to Bobby Horan who maintained a crisp driving line, stayed out of trouble and took A1 and A2 by a combined 9 seconds. The TLR 22 with JConcepts Blue Bar Codes looked untouchable in this class. Following Bobby was Ruffy Rios taking 2nd place in both opening A-mains to finish 2nd overall and stock buggy TQ Jim Andersen finished 3rd after a strong performance all weekend.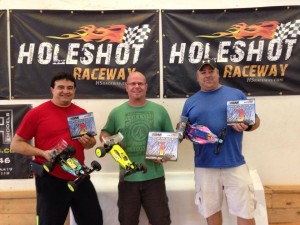 JConcepts would like to thank Kris James and the Holeshot Raceway staff on a great event, Lance MacDonald on his exciting announcing all weekend and most of all the great racer turnout and support of another great Regional event.
JConcepts winning products:
· 3016-01 – Bar Codes – blue compound
· 3017-01 – Bar Codes – blue compound
· 3020-01 – Bar Codes – blue compound
· 3021-01 – Bar Codes – blue compound
· 3044-01 – Bar Codes – blue compound
· 3049-01 – Pressure Points – blue compound
· 0220 – TLR 22, 2.0 Finnisher body
· 0243 – 2012 Ford F-250 Super Duty XLT SuperCab SCT body
· 0266 – Finnisher B44.2 X-flow body
· 0252 – Finnisher T4.2 body
· 0122 – Illuzion – 6.5″ Hi-Clearance wing
· 0123 – 6.5″ Hi-Clearance wing (0219, 0220 direct replacement – TLR 22)
· 2012M – JConcepts matte vehicle stand
· 2037 – Racing Bag – Small (includes plastic inner drawers)
· 2056 – Racing Bag – medium (includes plastic inner drawers)
· 2136 – 5 and 10gm stick-on weight set
· 2043M – JConcepts – Advanced Formulated Tire Glue – Medium
· 2075 – 8/32″ locking wheel nut – fits B4, T4, B44 and SC10 – locking / lightweight (blue)
· 2098 – 48 pitch, 81T, SS Machined Spur Gear – fits B4.1, T4.1, B44.1 and SC10
· 2099 – 48 pitch, 84T, SS Machined Spur Gear – fits B4.1, T4.1, B44.1 and SC10
· 2139 – JConcepts – body clips – black – medium size -12pc.
· 2158 – B4 / T4 / SC10 aluminum steering bell-cranks – blue
· 2159-2 – B4.1 aluminum wing mounts – black – 2pc
· 2160-1 – JConcepts – Associated battery hold down thumb nut – blue (fits B4.1, T4.1, B44.1 and SC10)
· 2167 – 8/32″ thin-pattern locking wheel nut – fits B44 front – locking / lightweight (blue)
· 2170T – Titanium T4 front axle for the 12mm hex conversion
· 2133 – JConcepts pit mat
· 2192-1 – Reedy Sonic motor timing cover – sensor wire protector – blue
· 2203 – JConcepts radio bag – Airtronics M12
· 2206 – JConcepts radio bag – Spektrum DX3R-Pro
· 2209 – JConcepts roller bag
· 2212-2 – JConcepts – Satellite tire gluing rubber bands – black
· 2226 – T4 / SC10 generation Fin turnbuckle set – 6pc.
· 2227 – B44 generation Fin turnbuckle set – 6pc.
· 2181 – JConcepts – Ball-cup assortment – Rib and Wedge
· 3352B – Hazard – 12mm TLR SCT-E 2.0 F&R wheel (black) – 2pc
· 3348 – Mono – B4.1 | B44.1 | RB6 – 12mm hex rear wheel (white) – 4pc
· 3349 – Mono – B44.2 – front wheel (white) – 4pc
· 3354W – Mono – T4.2 – 12mm hex F&R wheel – white – 4pc.