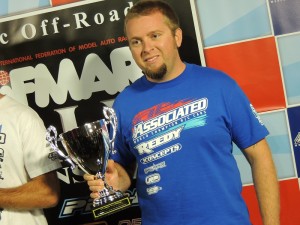 For immediate release –
JConcepts and Ryan Maifield have agreed on a new long-term contract.
Ryan Maifield, the current Dirt Nitro Challenge 1/8th buggy champion, ROAR National Champion, double Indoor National Series champion and 1/10th Off-road Worlds podium driver signs new contract with JConcepts. Since 2005, the speedy Arizona based driver and JConcepts have formed a dynamic duo in the world of radio control racing. JConcepts has delivered performance driven products and together with Ryan's speed and stamp of approval, the duo has accomplished what few others have. During the tenure, the team has made its way around the world taking names and producing results at the most prestigious races while debuting new products or highlighting the current line-up.

Ryan's specialty is being extremely diverse in his racing capability. Ryan's ability to dominate a hot new off-road class of competition or being able to excel at the legendary classes such as 1/10th and 1/8th off-road make Ryan a threat at any event in the world. Ryan's popular driving style and pit area demeanor make him a fan favorite and also respected among his peers.
Ryan states, "JConcepts has been with me since the beginning of my Pro racing career and we have grown together throughout the years. The team of guys at JC have my back at all times and provide a steady force behind the product we represent. Whatever is needed or promised is delivered and we win and lose together as a team. I'm fortunate to have sponsors such as JConcepts and Team Associated who have the product to keep up with the heavy demand of my racing and keep me competitive in 8 different classes of competition."
Jason Ruona states, "It's such a privilege to be aligned with such a great racing team and to be able to announce a new agreement with Ryan Maifield. Ryan's competitive drive and performance at the race track draws people to competition racing and the product he represents. There is no greater feeling for me in R/C Racing than to see Ryan perform to his potential with JConcepts. We are extremely excited and look forward to the continued agreement."
Look for Ryan to finish off the 2013 year at the JConcepts Indoor National Finals in Omaha, Nebraska, and then setup to prepare for the 2014 Winter Midwest Championships, Reedy Race of Champions and Dirt Nitro Challenge. Follow Ryan through JConcepts.net or on the JConcepts pages on Facebook, Instagram, Twitter and YouTube.