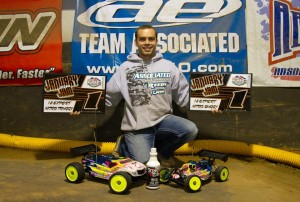 Blake Boggs takes his JConcepts equipped Team Associated RC8.2 and RC8T CE to victory in the Pro Buggy and Pro Truggy class at the 4th annual January Jam.
Event: January Jam
Track: Flowood RC
Location: Flowood, MS
Date: January 17-19, 2014
Race Reporter: Blake Boggs
This past weekend I returned to Flowood, Mississippi for FRC's 4th Annual January Jam. Bubba Barham and the entire FRC crew always does a fantastic job on race promotion and track prep to make FRC one of the most frequented tracks for myself along with the south's fastest racers. This year they had roughly 240 entries spread out in the most popular classes in RC. They also decided to make this years race a 3 day event with practice on Friday, qualify Saturday and mains on Sunday. I decided to stick to my most successful classes in pro nitro truggy and pro nitro buggy. I had a lot of eyes on me as I was a reigning champion in the previously mentioned classes. So, I had a lot of work to do with a constant amount of pressure.

Going into practice Friday I knew it wasn't going to be easy as the layout they have at the moment has been there for over a month. I knew the locals would be practiced up and ready for competition! The local guys at FRC are no slouches either. They are easily the fastest group of locals to any track I have ever been to.
After attending FRC's Toys for Tot's race a month before I had a good grip on the layout and felt somewhat comfortable for the race coming up. Although I felt comfortable with the layout, there were a few things I wanted to change on my cars to make them even better. After I made those changes, my JConcepts equipped Team Associated RC8.2 and RC8T CE were on rails. This was also my first outing on my new Fusion X Engines and I couldn't be happier with my package going into the race.
During qualifying Saturday I didn't have the best luck as I seemed to push myself a bit too hard, therefore forcing too many mistakes. In Truggy my Associated RC8T CE was able to TQ one of the 3 rounds running JConcepts Green Compound Sevens. In the other qualifiers I was able to put down 2 respective top 3 finishes to seed me in the 2nd spot behind FRC's local Chandler Patrick for the 30 minute A-main final. Buggy qualifying was much the same with my RC8.2 with JConcepts Green Compound Hybrids. I had an unfortunate mechanical problem in one qualifier resulting me in a late start but was able to pull off two good runs for a 4th place start on the grid for the 30 minute A-main behind Arkansas native Drew Spurgeon, FRC locals Greg Gatewood and JC Team mate Kevin McCoy respectively.
Sunday was a new day to get prepared for the mains. I knew my cars, tires and engines were on point and it was up to me to bring home the wins. After half of the day wrenching and gluing up fresh JConcepts rubber it was time for the Pro Truggy A-Main. My FT RC8T CE was a blast to drive in qualifying and knew it would be just as good for the main with Green Compound Hybrids. As the tone buzzed and we took off from the grid Chandler Patrick took the first turn a little too wide letting me take the inside line and the lead. After the first turn I took the lead and never looked back. I tried to drive as smooth and conservative as possible not knowing if anyone was going for 10 minute pits. Although no one pushed the envelope on fuel mileage I knew my new Fusion X7 would go 10 min stops with no problem. Kyosho's Ty Rogers pressured me early in the race until he had a unfortunate flameout before the first round of pits. With about 7 minutes to go Arkansas's Drew Spurgeon had gained time on me as I exited the pits for the last time. This put us side by side racing to the next turn, knowing he had to pit again I wasn't going to push for the lead but instead follow him close hoping to force a mistake before his last pit. What happened next was crazy, I'm not sure if it was pressure or what, but as we come down the back straight with him just a hair ahead of me his truggy suddenly takes a tragic turn left and centers a pole ending what we had both hoped for a fight to the finish. This eventually let me cruise to the finish line taking the win over Fusion X teammate and JConcepts teammate Billy Carpenter!
After a somewhat intense ending to the Truggy race it was time to re-focus to the Buggy main. I started 4th on the grid and knew this would be a very intense race to the end. At the tone we all got off to a smooth start. I ended up 3rd after the first lap tailing Gatewood and Spurgeon with Cody Avant right behind me. After a few laps in I somehow made a mistake and ended up in 8th wondering how I would ever catch the leaders, but much like last year I put my head down, drove hard and made no mistakes and before I knew it I had Gatewood in my sights! Within the next few laps I had passed Gatewood while he was in the pits. Once again my Fusion X5 Lightning in buggy was getting better mileage than anyone. About half way in I had a nice lead and continued to drive hard with no mistakes and the JConcepts green compound Stackers were getting faster and faster. As the race went on I continued to push hard knowing Gatewood and McCoy would be close in tow. To my surprise it wasn't as close of a ending as I suspected, I ended up pulling out the win by close to 2 laps on the field!