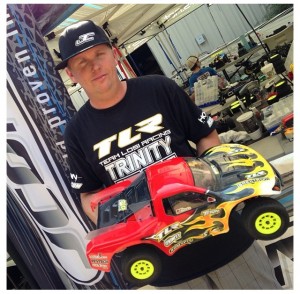 JR Mitch signs new extension with JConcepts.
Florida racing veteran and TLR driver JR Mitch has agreed to a new contract with JConcepts. The current Region 4 Champion in the 2wd modified class has been on the JConcepts racing team since 2008 and have maintained a winning record on the regional and national scene throughout. JR's versatility allows him to be a threat in 7 different classes of off-road racing where on any given day he can dominate the competition. JR will continue to use all the JConcepts, bodies, tires, wheels and accessories on his TLR line of vehicles as he chases victory at events throughout Florida and national events across the United States.

Jason Ruona states, "JR has amazing driving talent and the dedication it takes to excel in such a great sport. His competitive nature lifts the competition level at each event he attends. Longevity ultimately determines success and I look forward to more great years working alongside of JR."
JR Mitch states, "It's been a great honor to race and work with the JConcepts crew over the past five years. I've achieved team results and experienced events that have surpassed my expectations. I look forward to new adventures, traveling to the JConcepts indoor series races and other events with JConcepts."
Look for JR to start off the 2014 year at the JConcepts Super Cup Championship Series, and then prepare for the Indoor National Series in February. Follow JR through JConcepts.net or on the JConcepts pages on Facebook, Instagram, Twitter and YouTube. JR can also be followed directly on his blog at jrmitch.net.