Ryan Maifield, JR Mitch, Ryan Matesa and Brian Kinwald win with JConcepts at the 2014 Summer Indoor Nationals.
The 3rd stop on the JConcepts Indoor National Series travelled to Outback Raceway located in Chico, California. One of two tracks owned by online RC retail giant A-Main Hobbies and is just about a mile away from the Silver Dollar Raceway which last September hosted the 1:10 Offroad World Championships. Outback Raceway is situated in A-Main's distribution center from where it ships RC products and soon bicycles to customers all around the world.
Ryan Maifield completed the perfect debut with Team Losi Racing as he took all three of his new TLR cars to victory. Having dominated the same event last year with Team Associated, the Arizona ace's much anticipated first outing with his new team again produced an all conquering performance. Top Qualifier for each of his A-Mains, in the series' two big classes, 2wD & 4WD buggy, he would wrap things up early repeating his A1 performances in A2 to claim overall victory. Also debuting TLR's new 22 SCT 2.0 at the A-Main Hobbies owned track he made it a hat trick as he took the win of that class' single A-Main.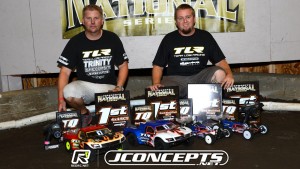 4wd Mod Short Course had TLR/JConcepts driver JR Mitch dominating all weekend. JR qualified his JConcepts equipped TLR Ten SCTE in the top spot and went on to win the 8 minute main and the only driver to go 32 laps. Austin Blare finished in the second spot with Scott Rapoport finishing third.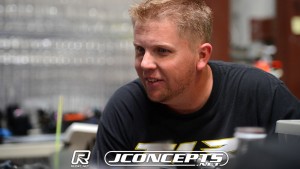 Up and coming offroad racing talents Damion Borkowicz and Spencer Rivkin claimed the runners-up spots behind the big winner of the JConcepts Summer Indoor Nationals Ryan Maifield. Setting the fastest lap of the race, Borkowicz secured the second step on the 4WD Buggy podium by finishing second to Team Xray's Tyler Vik in A3. Unfortunately for Vik, a podium finisher at the Spring Indoor Nationals, his win came too late and he missed out on the podium in Chico by 1-point to A-Main Hobbies driver Drew Moller.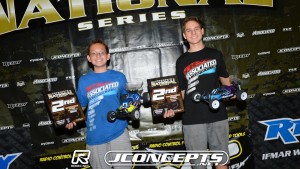 In 2WD Buggy, a win in the closing race of the biggest event to be hosted at Outback Raceway gave Team Associated's Rivkin second overall behind his mentor. Finishing second to Rivkin, having swapped the lead with the 15-year-old and also seen off the challenge of Mark Pavidis, Vik would claim the final step on the podium. Having his best run in A3 to finish third Pavidis would end up fourth overall.
For a full recap of the event plus videos, visit our media partner for the Series RedRC.net
Also check out the RedRC.net Photo Gallery
RedRC.net contributed to this report