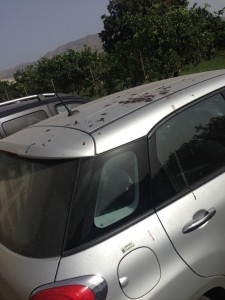 The prequel: In a parking lot full of silver rental cars (1:1) it's easy to spot ours, we parked under a tree one night and the squirrels had a party – now I just look for the DIRTIEST car, covered in $h!t, seriously.
I'll backup a little, knowing Italy I toyed with the idea of booking the smallest car (ala Smart car) but knowing us, we need lots of room for luggage. We have lots of luggage, ALL overweight but we managed to slide it through at MCO by rearranging a few kgs (12? per bag? lol) here and there. I also pre-shipped a few boxes of tires / tyres ahead to our hotel. (They were kind enough to place in our room for us prior to arrival).

It took a long time to find our bags and stand in queue for our rental car. I reserved a four door Fiat, the web site said only Manual transmission, which I was fine with, but luckily the guy behind the counter offered me an Automatic. (Is that a girl thing?) but it's been years since I've driven a 5-speed and I knew with traffic (read crazy drivers) a manual in Italy may quickly become annoying.
I drove from the airport to the hotel while Jason navigated. It wasn't bad, a few round-abouts and we were on the highway. The fast drivers come up behind you quickly, a lot of lane changing just to maintain speed. The slow lane is SLOW but the fast lane was FAST. We found the hotel easily, a little trickier to the find designated (paid) parking lot, and then to squeeze the car in. #smallcars
Food has been great so far. The track offers hot lunch options as well as sandwiches, pastries for breakfast, (so I heard 🙂 )
Coffee/ cafe is only a 50 cent piece at the track, water is 1 euro. (We also bought water from the grocery store too)
There are a lot of restaurants near our hotel, we've had steak and chicken, I've also had seafood, caprese, all good stuff. I'm anxiously awaiting gelato though!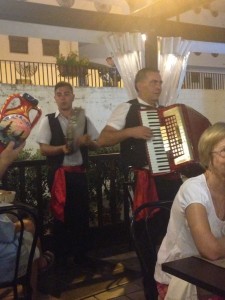 Bullets so far
* A lot of people say its hot like Florida here (but they'll be jealous in Jan)
* Best Worlds bathrooms
* monitors in pit lane are my best friend
* they do have Mosquitos like Fla here (we smell a lovely mix of sunscreen, big spray and sweat, pretty sexy)
* Common to also see incense -type burners on the pit tables, it helps with the bugs too
* The vinegar here is awesome
* The pack of water I bought at the grocery store was a 6 pk of 2L bottles! Jason makes fun of me as the bottles are so big, but I need my water (every one does) but it is quite heavy to carry around. 66 oz ea.
* Our 4 new tires are working really well, we worked very hard to get these completed in time for the event and its great that they are so well received thus far.
* Coffee (espresso really) is good but sometimes I just want to hold a cup of coffee in my hand, even just to hold, but this is not a "sipping drink" (silly American). I've had alcoholic shots much larger.
* Dinners have been really good, I just wish the entrees included more vegetables (I know, I can't believe I said that either, oh right, it's ok, it's in my Shakeo)
* It's my 9th Worlds and I finally remembered to bring a hat
* It is a HIKE from the car to our hotel room
* Our hotel is very near the beach, well, we are on a small island
* There's an active volcano in the distance of the track
* Our hotel property reminds me of the hotel from Dirty Dancing (the original; but I have no idea why)
* My sister wants a postcard mailed to her, at first I thought — what is this 1995? But maybe that's the point, no one gets real mail anymore. I personally hate going to the mailbox, it's petty I realize, but it's just boring bills or junk mail, never anything fun.
* We haven't watched tv all week – I read a stat recently – the avg. American watches 33.5 hours of tv per week, seems like a lot?
* I should be in the spelling bee -Jason always quizzes me with words he's writing
* Our hotel advertised a gym but its locked up tight (insert your own joke here). These guns won't grow themselves.
* I think they speak more English in Southern Italy than in Northern Italy, or is it just me? Tourist town I suppose.
* In 2005, we were in Torino months before the Winter Olympics were held there. This was before Social media, our friends at LiveRC, redrc, neo, etc. I emailed my web designer right after the race to make a new banner for our site for Cavalieri's win with the BJ4 and Maifields's TQ/3rd. I'm not saying I was the first to break the news or anything, the magazines were here back then after all, but they aren't here now.
* You can tell we're American because we use the blinker in the car when indicating a turn, and we order ice at dinner.
* I've found $5.20 eu on the ground at the track. Donated it back to the city via the mariachi band that walks the street and comes in to the restaurants for a few songs per location.
* Oh, and we're still just practicing!?!
* I miss my jazzy