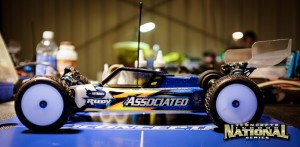 At the first round of the 2015 JConcepts Indoor National Series, Jason Ruona is out supporting the product and team and has his personal Team Associated B5M out on display.   The popular Team Associated buggy is decked out with all the current and future JConcepts products.
We start at the front of the vehicle where the stock hinge pin brace has been replaced with an all aluminum, CNC machined piece with chamfered silver edges available in blue and black anodizing.  

Freshly released aluminum steering bell-cranks provide the crisp steering response while yet to be released aluminum steering rack provides the necessary holding power under extreme load conditions.   Both items available in blue and black anodizing.
The stock steel front axles have been replaced by the JConcepts Titanium knurl-tip version.  All hex adaptors have been replaced with the JConcepts ultra wheel hexes available in blue and black anodizing.  
A genuine Carbon Fiber battery brace specifically built for the B5M provides the security for the Reedy shorty battery.  The "Foxy" brace has the JC flare with milled ribs supporting the brace in key areas.
Moving to the transmission, the B5M is equipped with the Honeycomb motor plate which is very durable and features a lightweight design.  The design remains rigid while supporting the motor and components.  
The rear ball-stud mount machined from aluminum and available in blue or black color options is mounted using Lunsford Titanium screws.   The ball-stud mount features a 4-hole arrangement which is ideal for tuning in stock and modified.  The designed is beefed up to reduce bending possibilities.  The chamfered edges in silver highlight a great look.
The unreleased rear drive-shafts produced in spring steel offer an alternative over the stock drives.  The material has shown great durability and the coating is great to protect the look for those damp or wet conditions that otherwise would cause rust.
The rear wing mounts are aluminum based and incorporate an aluminum wing shim designed to use a bolt-down system wing instead of a body clip attachment.   The Finnisher wing buttons complete the assembly and lockdown the wing.
The B5M uses the heavy-duty style ballcups and the featured car is setup using the Fin style turnbuckles with custom anodizing by Brian "Dirt" Kinwald.  
The tires of choice at this track are Dirt Webs in green compound and Jason has them mounted on the Mono 2.2″ white wheels.  Inside the cushion is provided by Dirt-Tech inserts front and rear.   4mm serrated flanged wheel nuts in blue keep everything tight and snug.
No vehicle would be complete without a custom painted body.  The Finnisher body painted by Darkside Designs in Ruona's trademark colors with decals by Stick-It1 graphics complete the lid.  The Pre-trimmed Hi-Clearance wing straight out of the package tops off the B5M.