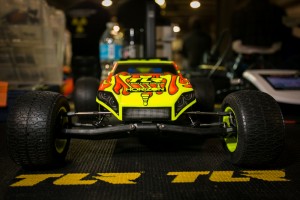 Delivering on what the TLR customers have asked for, TLR updated 22T 2.0 truck in all the right ways. Root is running a basically stock kit in mid-motor (rear motor parts are all included) form with ti-screws and turnbuckles by TLR. Pushing the envelope to another level, TLR has included 2 bodies for mid and rear motor configurations for all your racing needs. Also included in the kit is the updated grooved slipper plates to help clean as well as cool the slipper pads. In addition, the kit comes with machined shock internals and the bellcrank steering assembly.

Chassis Name – TLR 22T 2.0
Motor – Orion VST2 Pro 6.5 turn
ESC – Orion R10.1
Batteries – Orion Carbon Pro saddle pack
Tires – JConcepts Dirt Webs
Radio/Servos – Spektrum DX4R Pro, Spektrum S6040
"I've had a chance to run the 22T 2.0 during testing quite a bit, but this is my first race weekend with the truck and I continue to be impressed. The truck is so easy to drive and has so much natural speed to it. The quick laps come naturally, so I can focus on driving clean. JP Richards just got his 22T 2.0 on Wednesday, and is already in love…lol. He has TQ'd overall after the first two rounds, and can't believe that we are just running the 'kit setup'. I know that everyone is going to love this truck and I can't wait to get it into your hands!" – Frank Root, Team Losi Racing Product Developer.
For more information, see Team Losi Racing's website