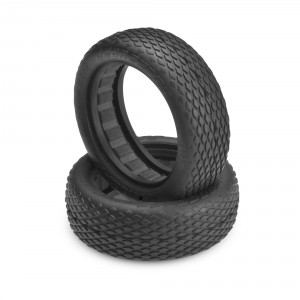 Racing success will often settle when the driver finds the most comfort in their setup or tire selection. The JConcepts team worked closely together during testing to design a smoother characteristic front tire for 1/10th 2wd buggy racing. Available in blue, green and red compounds, the Diamond Bars spread a finely close "Diamond" tread pattern together in low-height to give steering a smooth feel. When racing indoors or outdoors, steering is especially critical during extremely high-grip situations or when a massive amount of rubber has been laid to the racing surface.
In slightly warm conditions, if a track has developed a groove, the Diamond Bars steer more in low and high-speed sections but do not react "on edge" or "dig" themselves into a corner. The close arrangement and low pin height react on the grippy surface providing speed and agility while the overall tire size and blended pin / carcass smooth out the ride and initial turn-in attitude. The Diamond Bars excel outdoor or indoor where the track has taken on rubber and a groove has formed. Tracks which normally use blue, green and red compound should consider the Diamond Bars.

Recently the Diamond Bars were used by Spencer Rivkin to win the Tumbleweed Classic in Albuquerque, NM. The precise feel and additional steering gave Spencer the advantage necessary to TQ and win the annual event. The Diamond Bar carcass has been designed to work on either 2.2" or 61mm / 2.4" wheels. The tire comes as is ready to mount as 2.2" or by trimming the bead; it's an exact fit onto 61mm / 2.4" wheels. Bead trimming should only be performed by an expert.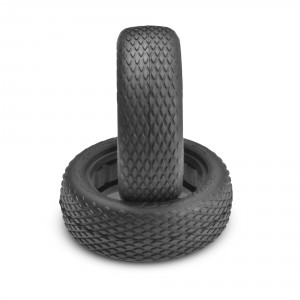 Features:
· JConcepts tread, available in multiple compounds
· Vertical Diamonds, low-profile tread, close arrangement
· 2.2" bead mounting size for compatibility
· Carefully shaped carcass = smooth steering characteristics
· Includes Dirt-Tech closed cell inserts
Diamond Bars – blue compound
Part# 3116-01
UPC Code – 845937012661
Retail price – $19.00
(Fits – 2.2″ 1/10th 2wd buggy front wheel)
Diamond Bars – green compound
Part# 3116-02
UPC Code – 845937012678
Retail price – $19.00
(Fits – 2.2″ 1/10th 2wd buggy front wheel)
Diamond Bars – red compound
Part# 3116-08
UPC Code – 845937012685
Retail price – $19.00
(Fits – 2.2″ 1/10th 2wd buggy front wheel)