Every so often a unique racer impacts the R/C community with extreme speed, dedication and versatility. We are fortunate enough to have a chat with one of the best in the industry, Ryan Maifield. We are interested to discuss the 2015 racing season thus far and how he intends to finish off the season and looking ahead to 2016.

Ryan, you've had quite a year so far. You've won in just about every class you typically compete in, while you've also been on 3 international trips and it's only September. What has been your favorite racing victory so far this year and what is it that makes it so special or stand out?
Yes, it has been a fun and successful year for me so far and there is a lot of racing left. I think there are two races that stand out for me this year. The first being the biggest win of my career, winning the Reedy International Race of Champions in January which was very rewarding for me on the electric side of racing and it's arguably the hardest or one of the hardest races to win. But, my favorite win would have to be winning the nitro buggy class at the Dirt Nitro Challenge, the atmosphere of the event and how the race ended in such a dramatic fashion makes that race really stand out for me.
You recently finished off a TQ and win at the Surf City Classic in the 2wd modified class with your TLR 22 2.0 at OCRC. Why have you had so much success on this track not only this year but also in the past?
I really enjoy racing at OCRC, Jake Thayer, Nick and Robert Black always put on a good show, the track surface is always dialed in and stays really consistent. Since I switched to TLR, the 22 2.0 and 22-4 have been dialed there every time I show up, and being able to run JConcepts Gold compound tires is an advantage, especially at OCRC.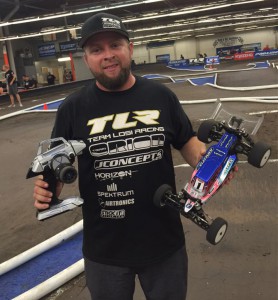 Every driver has ups and downs but you seemed to have maintained great momentum all the way from the end of 2014 through 2015. 2 part question, How do you mentally recover from a bad race and or also stay motivated after a dominating performance?
Well if racing was easy and a sure thing then it wouldn't be called racing it would be called winning, so that means you are going to have good weeks and bad weeks of racing and that's just part of it. For me, I give it my all every race weekend and go from there, win or lose I know I did all I could do. Typically when I get home from a race I take two days or so not touching anything RC just to recover and recharge the batteries then get at it again, it helps me a lot if I can just forget about RC for a minute and then get going again.
Going back just a few months, you had the opportunity to add 2 more ROAR National titles to your resume at the E-Nationals. For someone that doesn't get a chance to race at that level, describe what it's like to win national titles and win them in thrilling fashion as you did against Dakotah Phend.
No matter what class it is, it is very rewarding to win a national title, it was a lot of fun racing against Dakotah and the rest of the guys especially on such a fun track that LCRC always provides. At the end of the day every driver wants to win a ROAR national title and add it to their list of wins when they stop racing.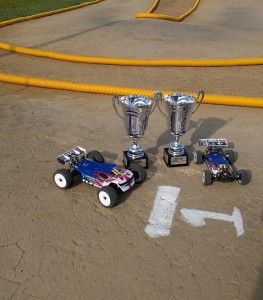 We are in a unique "downtime" for you right now in R/C. With about a month left before the Worlds there is only building, practice and testing to be done during this time. What are some things you do to stay mentally sharp or prepare during these moments? Is it also important for you to have some downtime?
Right, honestly there isn't much going on as far as RC goes right now for me, I've just been ordering everything I need to build cars for the Worlds so when I get my cars for the Worlds I can get them built and ready to go, other than that I have been just hanging around tinkering with some of my other toys I have. We went camping last weekend up in northern AZ and other then that I've just been chillin' at home. I race so many big races throughout the year that if I don't take some time to relax that's when I don't perform well. There is a lot of pressure at these major events so you have to give your emotions and brain a chance to recover especially before a world championship.
From your perspective, as we take a look at the industry right now where do you see things going in 2016? To clarify, you race 1/10th and 1/8th off-road, you are currently competitive in 7 classes of racing, do you see anything on the rise or fall? Anything you wish would make a comeback or take over completely?
The 2wd buggy class is obviously very popular across the country and I think it will continue to be the dominant class for the foreseeable future. I think that 1/8th scale is coming back on a club level for a couple reasons. I think that people want to race outdoors when the weather is good and with 1/10th outdoor tracks few and far between that leaves a great opening for 1/8th buggy. Also the 1/8th E-buggy classes are growing consistently as well, electronics are more reliable and it gives the same driving experience as 1/8th nitro car but without the nitro "buzz".
And for classes that are falling in popularity I would say the SC classes have been on the decline which is disappointing to me because it's a class I enjoy. I think for SCT to thrive the track conditions needs to be a little more forgiving. Trying to race SC on a high bite tracks is very unpredictable and top heavy, so the class isn't quite as rewarding to drive as the 2wd buggy class when it comes to the overall driving experience and fun factor. At some point the industry needs to pick a truck class to support and stick to it. Having Stadium Truck, SCT 2wd and SCT 4wd is just too many options for our core group of racers.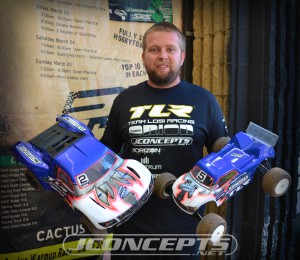 Would you like to give a simple thanks to your sponsors?
Yes, of course, I want to thank TLR and Horizon hobby, JConcepts, Team Orion, Sidewinder fuel, BC1 graphics, Spektrum, Airtronics, and everyone else that supports me with my racing. And thank you guys for this interview.
We really appreciate you taking the time Ryan. Good luck in the future.