February 11th and 12th, 2017 was a very special day for JConcepts. This past weekend kicked off the first race of the 2017 Indoor National Series that is often referred to as the most popular 1/10th scale off-road racing series in America. Now in it's 7th year, the JConcepts INS is back! Tweaks were made to add more top drivers, more support, and the results were already felt at the Winter INS with over 300 entries of the region's best drivers along with top world talent as well — it just keeps getting better every year!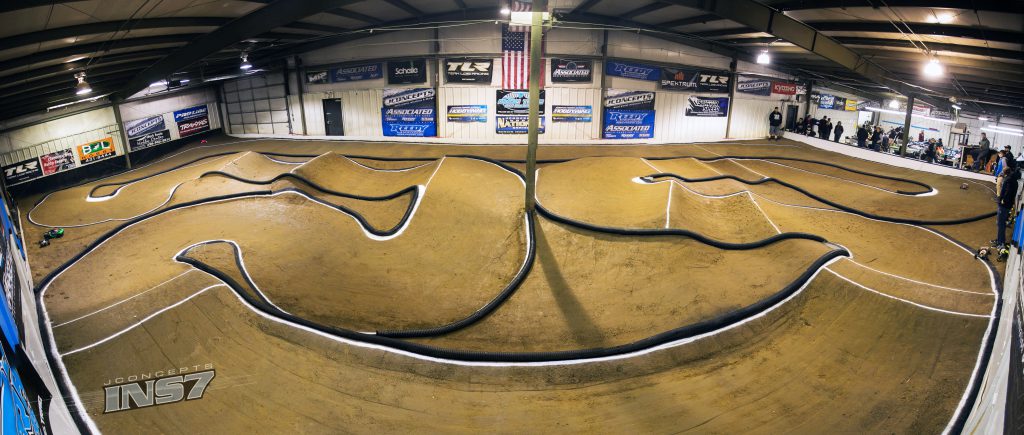 Smac Trac is no stranger to hosting the Winter INS and the crew did a fantastic job putting in a layout that was extremely challenging, technical, and a whole lot of fun. The design consisted of a full-length straightaway paired with a classic sweeper that increased in radius which all flowed very well. Next, racers had to navigate a cut back step-on, step-off pie turn that required trigger mastery and timing genius. Perhaps the most difficult section on the track was the 90-degree hill turn that flowed into a double which landed into a left turn. Many cars were crashing or losing time here, but the ones that could execute it perfectly would gain a huge advantage. The risk was entirely up to the drivers as this section clearly marked the separation of driver skill level.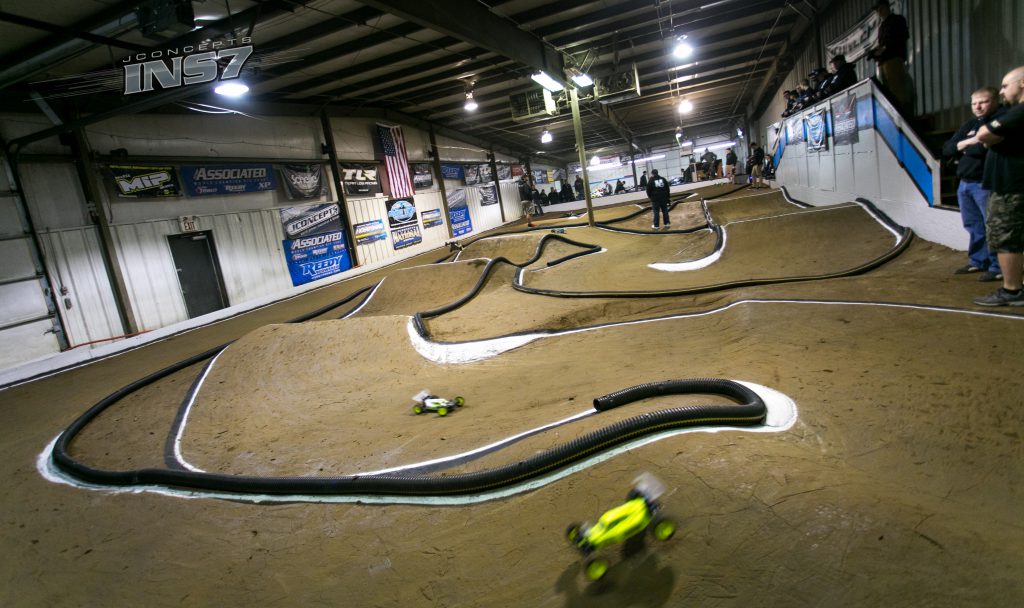 Qualifying is always tough, but with 3 rounds and taking best 2 of 3, the cream will always rise to the top. Watch this video below as Jason talks about the team's performance in qualifying in a little recap video. For those who wish to find full results for all classes, click on the link and get teleported to LiveRC's awesome results page.
Here are the podium pictures along with race videos to showcase all the action that happened over the weekend. It was fun and full of awesome, competitive driving and we'd like to thank Rod Rippee, Chris Baumgartner, and the awesome track crew for all their efforts and hard work.
17.5 Stock Buggy (Blinky) A-Main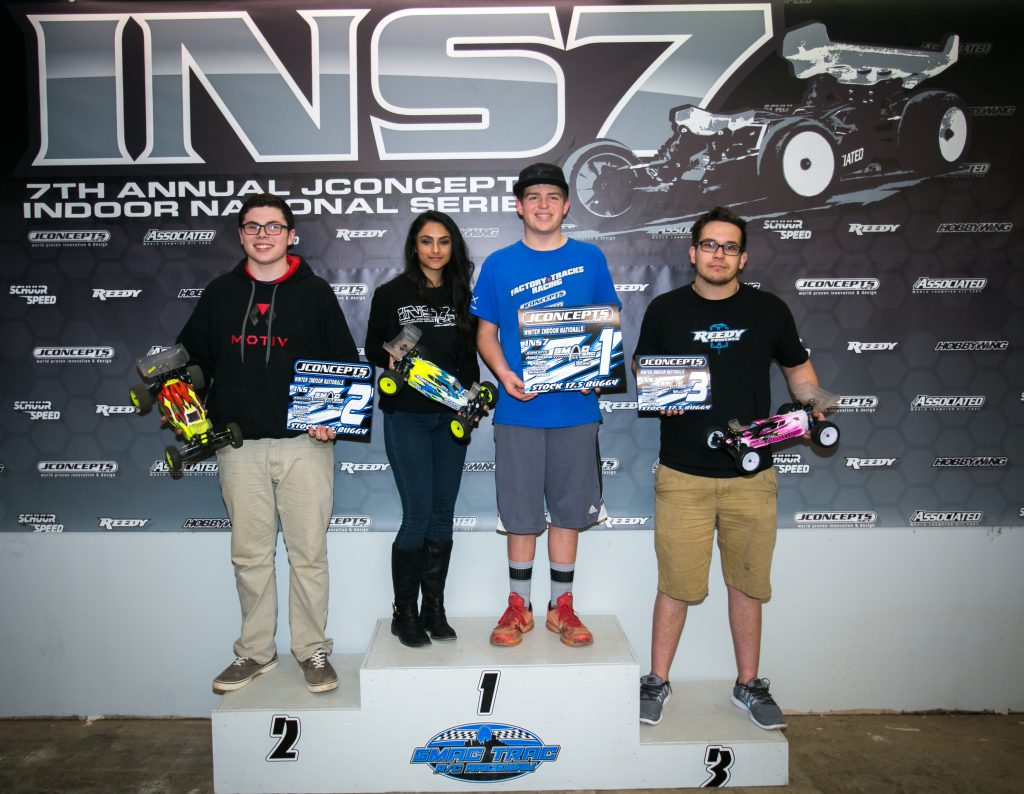 1st – Dreighton Stoub
2nd – Will Cushing
3rd – William Jossens
17.5 Stock Stadium Truck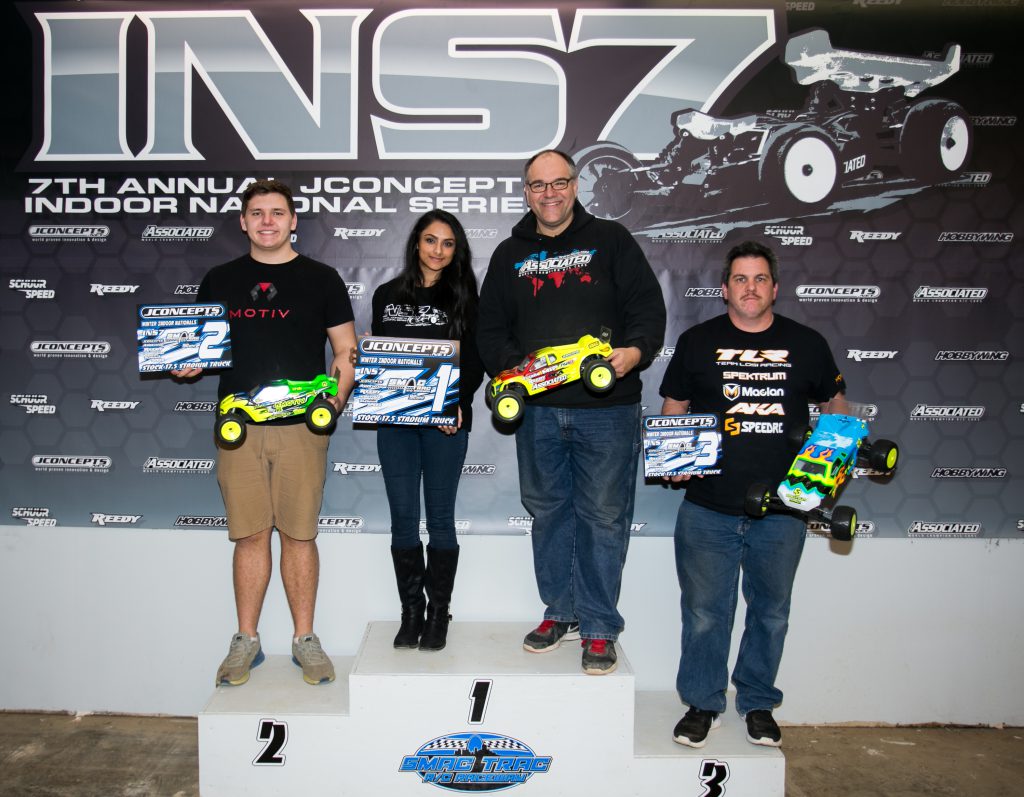 1st – Scotty Ernst
2nd – Nick Richards
3rd – Jonathan Noon
17.5 Binky Pro 2 Short Course
1st – Dougie E. M. Hobbs
2nd – Scotty Ernst
3rd – Ryan Reavis
13.5 4wd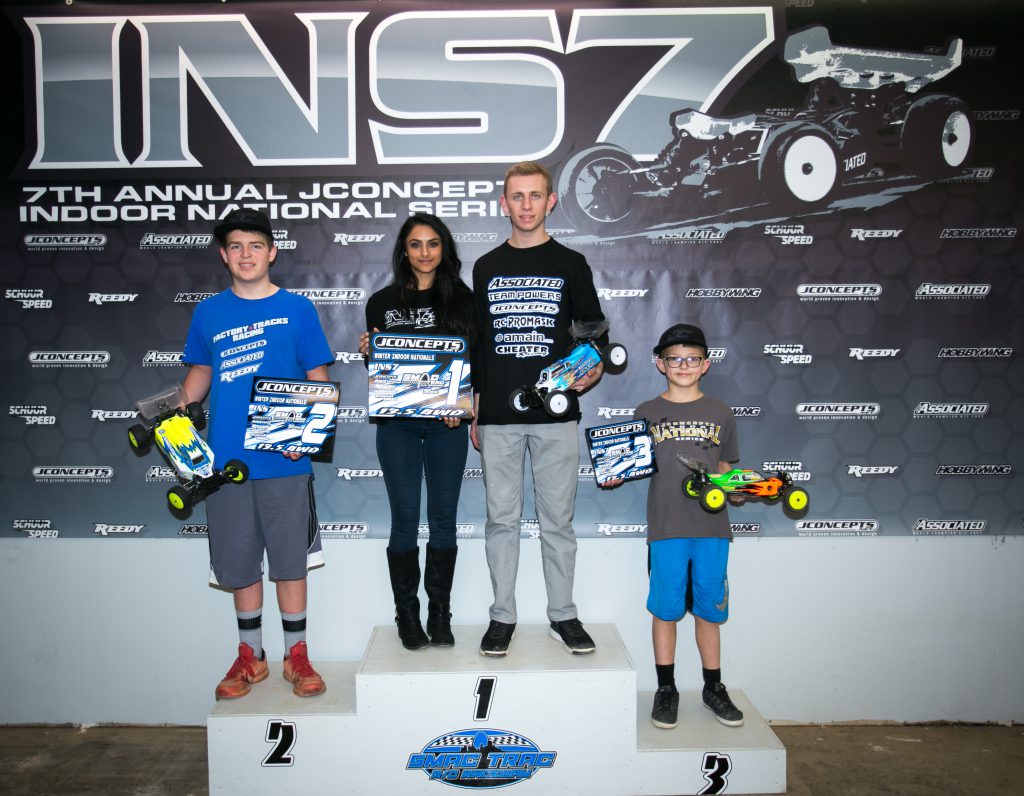 1st – Kyle Layton
2nd – Dreighton Stoub
3rd – Kaden Fuller
Modified Pro 2 Short Course
After earning the overall TQ in modified short course, AE/JConcepts' Alex Kosciuszek would lead from the tone. AE/JConcepts' Austin Horne would find his way around Kosciuszek after he made a small mistake on the difficult double. Horne would seize control until a roll over on the step-off section of the track giving the lead back to Kosciuszek. From there, Alex would maintain the lead and cross the line to take the win. The battle was then for 2nd and 3rd between Horne and a hard charging AE/JConcepts' Brad Shearer. The two drivers would put on a show chasing each other nose to tail for many laps. Finally, Shearer would execute the perfect pass landing on the inside of Horne while going over the double. Shearer would finish 2nd with Austin Horne in 3rd.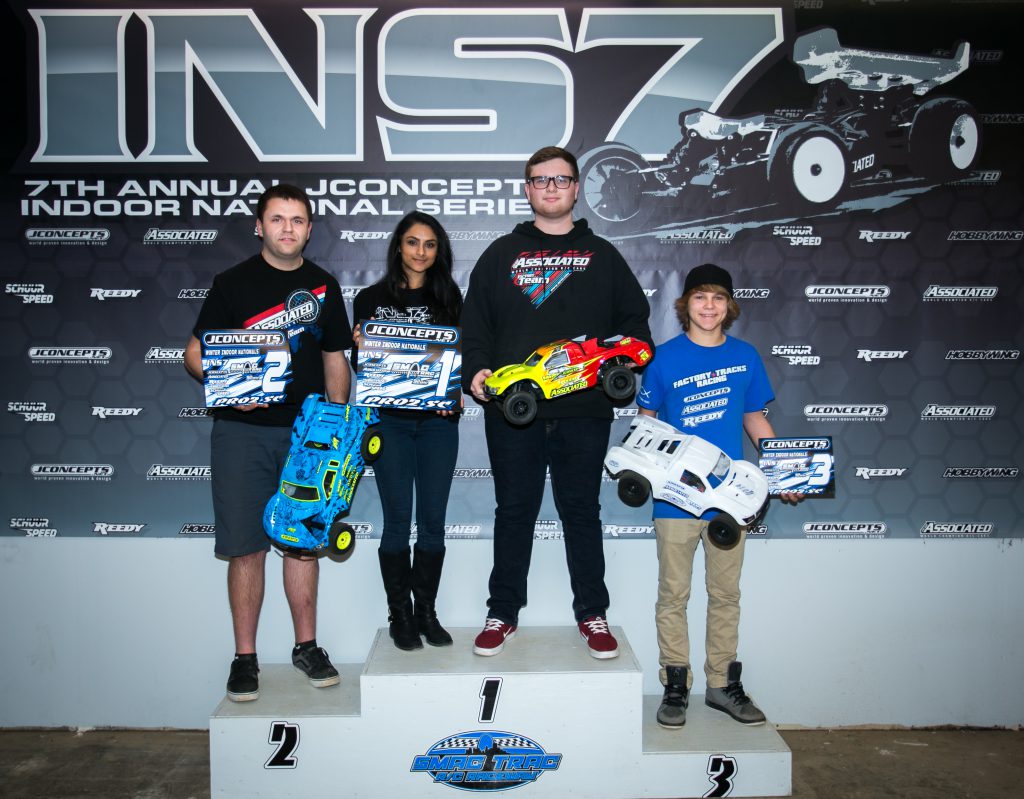 1st – Alex Kosciuszek
2nd – Brad Shearer
3rd – Austin Horne
Pro 4 Short Course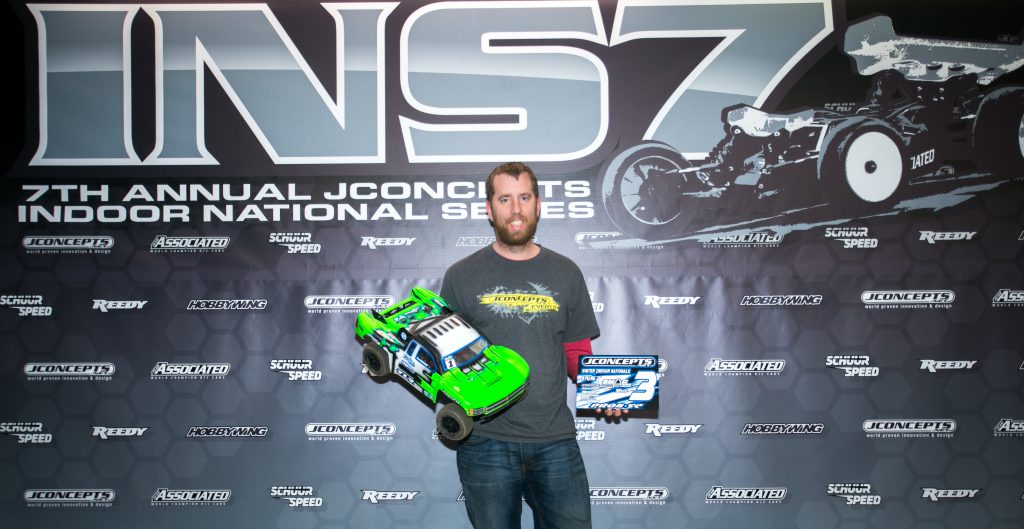 1st – Mike McGhee (not pictured)
2nd – Jason White (not pictured)
3rd – Tim Wiechens
Mod Truck
Modified truck saw TLR dominate the truck class with their new TLR 22T 3.0 truck piloted by TLR/JConcepts' JP Richards. Richards was on rails and was able to pull away from the field after taking TQ and going on to win the single main comfortably. TLR/JConcepts' Max Flurer, also driving the new TLR truck, would finish 2nd with 12 year old wonder kid, Mason Fuller rounding out the podium.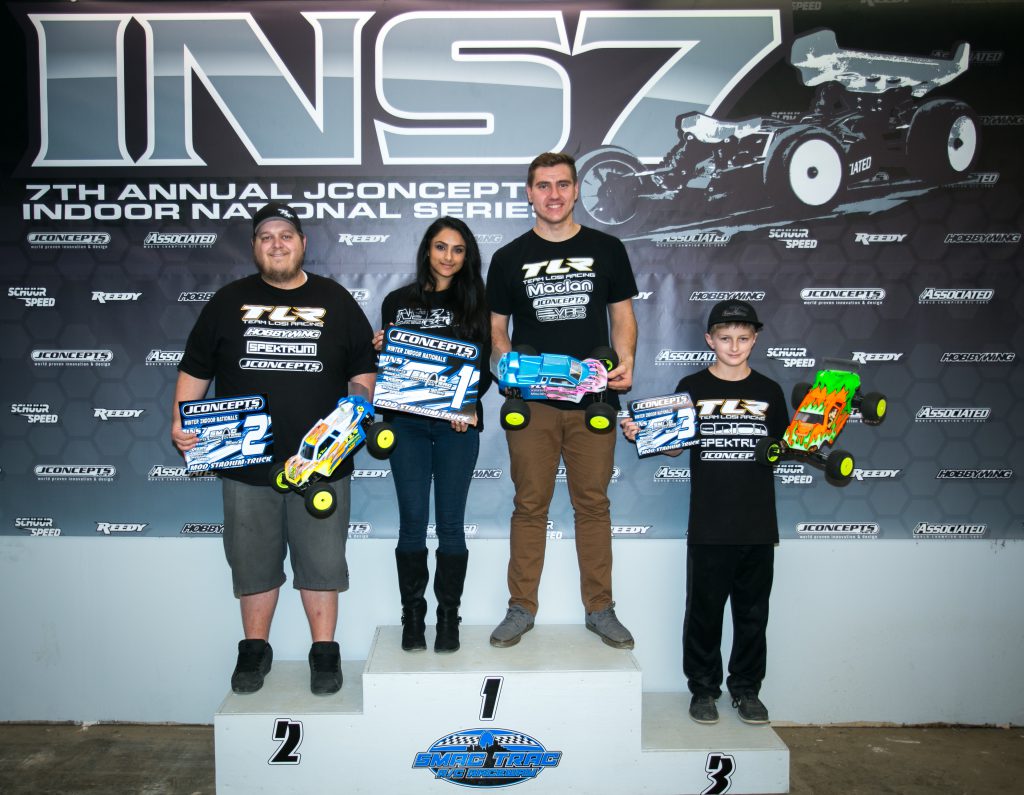 1st – JP Richards
2nd – Max Flurer
3rd – Mason Fuller
40+ Mod Buggy
1st – Allen Horne
2nd – Brent Thielke
3rd – Chad 'Rico' Karstens
JConcepts Spec Tire 2wd Mod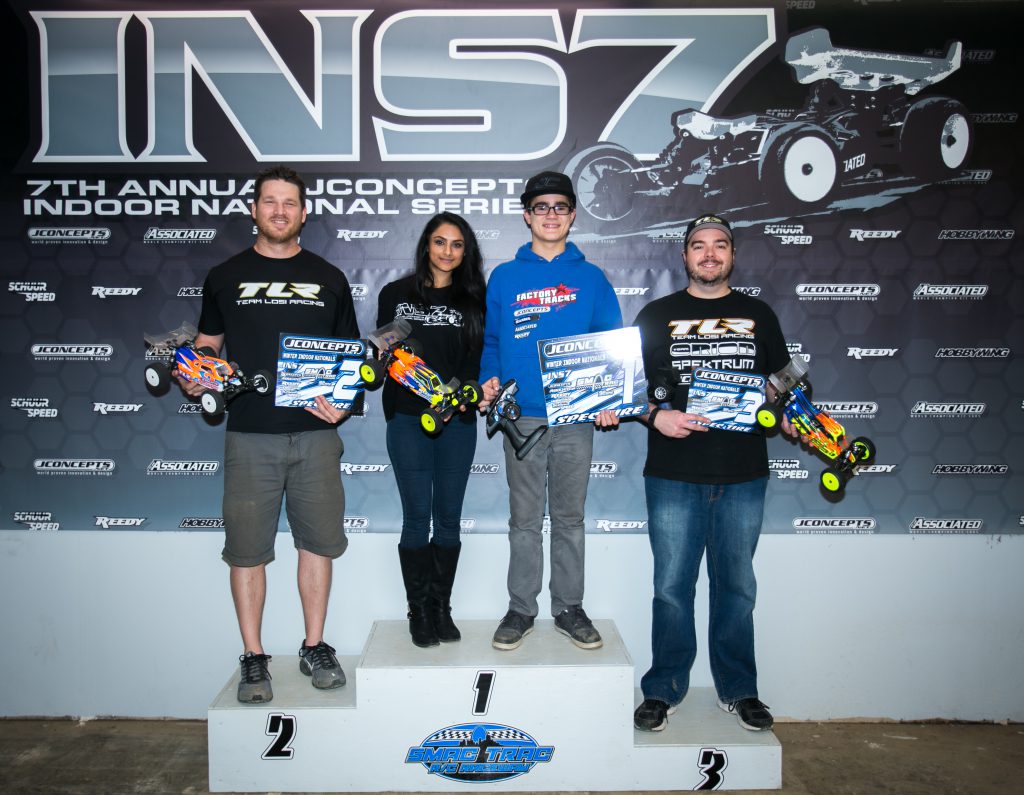 1st – Aydin Horne
2nd – Chris Baumgartner
3rd – Frank Root TLR
2wd Mod and 4wd Mod Triple A-main videos
4wd Modified 
Perhaps the best races of the weekend happened in the 4wd modified class as Yokomo/JConcepts' Ryan Maifield would lead the elite group from the start of the triple A-mains. Using this opportunity to test multiple cars due to the fact that this is a Worlds year, Maifield opted to run the YZ-4 in A1 while he TQ'd the class with a 4wd prototype shaft car. With the setup not quite right, Maifield was under pressure the entire race as AE/JConcepts' Alex Kosciuszek was feeling the flow and on the move. However, Maifield would fend of all the attacks until the last lap as he made a crucial mistake giving the lead to Kosciuszek, who was able to bring home the win. A2 was much the same, but while jumping the difficult double, Maifield would get it wrong twice giving Kosciuszek a big lead that he was unable to chip away at. Alex would cross the line to take A2 along with the overall in 4wd modified. A3 saw Maifield take a tone to tone win locking up 2nd on the podium. Yokomo's Carson Wernimont was able to put in some great results with a 3rd in A1 and A2 giving him 3rd overall.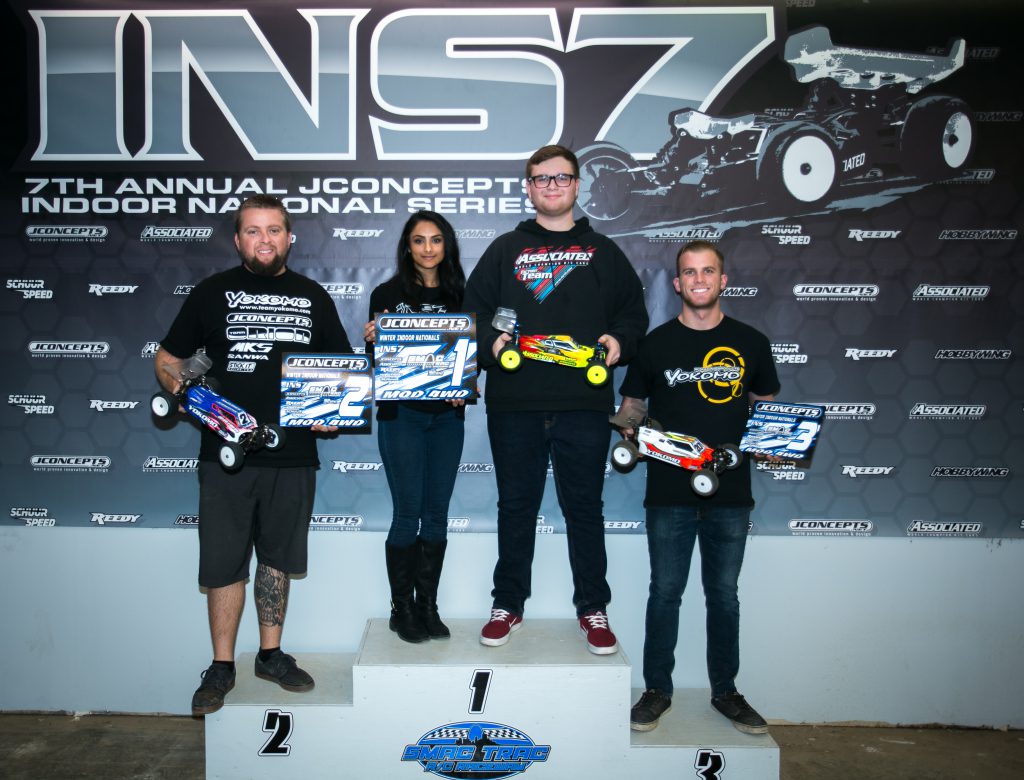 1st – Alex Kosciuszek
2nd – Ryan Maifield
3rd – Carson Wernimont
2wd Modified
In the 2wd modified class, it was all Yokomo/JConcepts' Ryan Maifield as he was able to lock up TQ and win A1 and A2 without much pressure to take the overall in 2wd modified. The story was about JConcepts' rising stars, Mason Fuller and Alex Kosciuszek. Only 12 years old, Iowa's Mason Fuller, was able to finish 3rd in A1 and put in an awesome performance in A3 to take the win giving him 2nd overall. Kosciuszek would remarkably finish 3rd on the podium having started 10th on the grid for the triple A-mains. Both drivers would finish with 4 points, but the tie-breaker would go to Mason.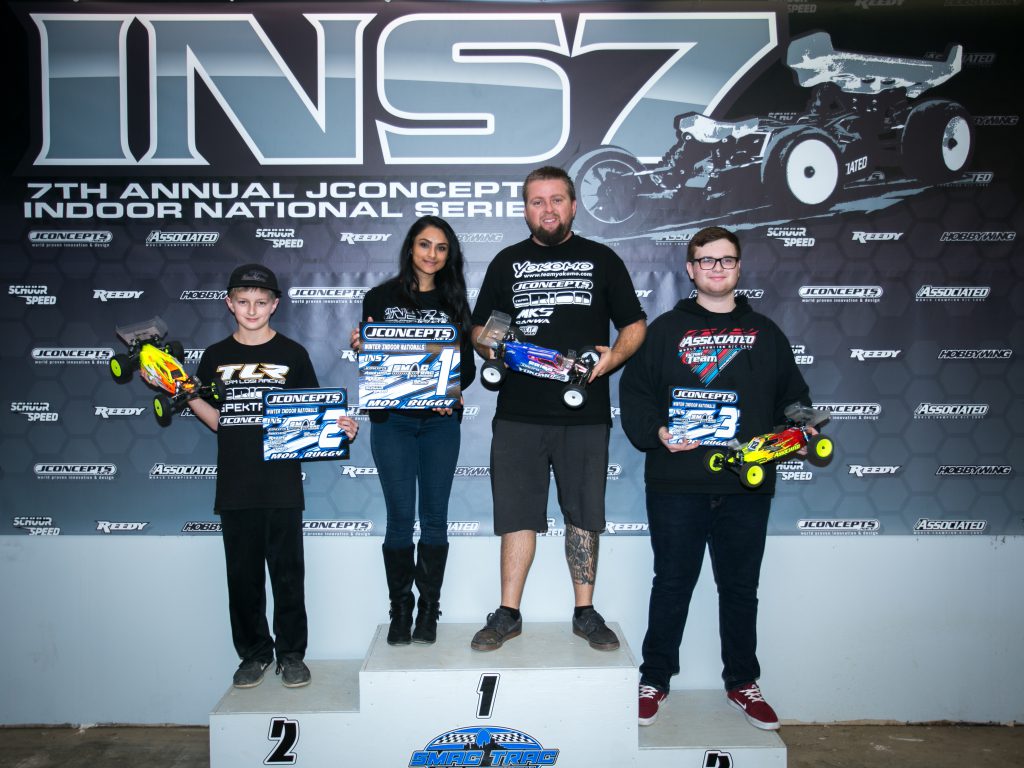 1st – Ryan Maifield
2nd – Mason Fuller
3rd – Alex Kosciuszek