February 27th, 2017 marked a special day for JConcepts. Most would say the Dirt Nitro Challenge is the biggest nitro race outside of an IFMAR Worlds and some would argue that it's the biggest RC event in the World. Combining 3 RC races together, the Dirt Nitro Challenge features a world class 1/8th nitro competition, U4RC National event, and 1/5th scale nitro race attracting racers from all corners of the world to participate. Never in the history of the Dirt Nitro Challenge has a driver won all 3 pro 1/8th nitro classes at a single event and finally after 18 years of the event's existence, last Sunday saw JConcepts' Ryan Maifield do the impossible making history by clean sweeping the 3 Pro classes.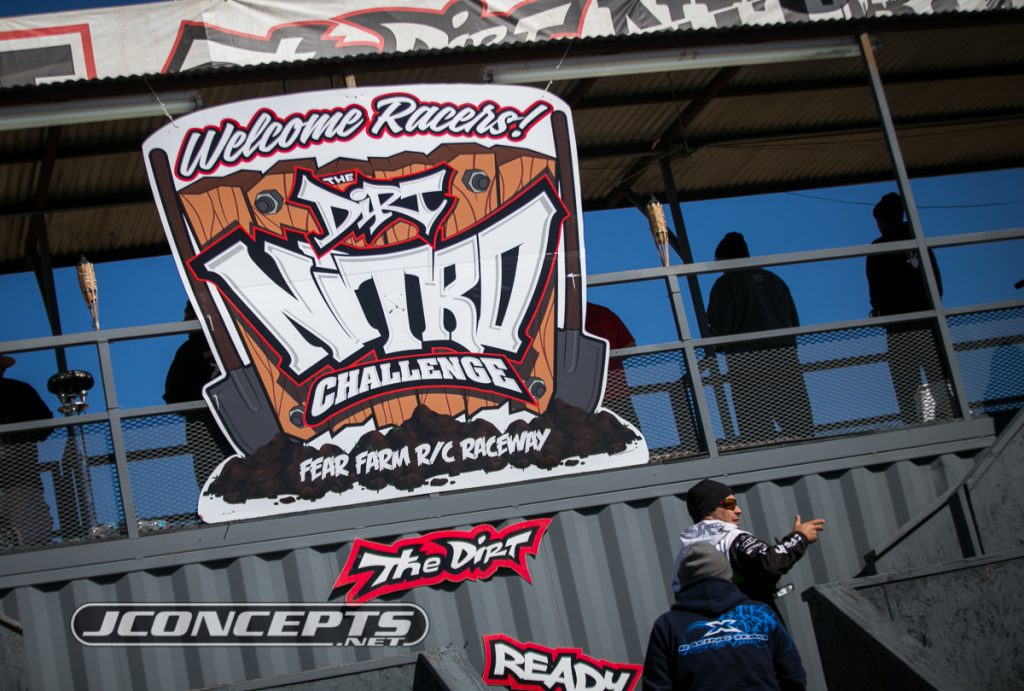 This year's layout was perhaps the hardest track layout ever created in the 18 years of the DNC as it featured everything you cold possibly think of. Kyosho's Jared Tebo commented that it was, "The gnarliest track he's ever raced on….period" and even Maifield said the same thing in his post interview after winning the Pro Buggy class.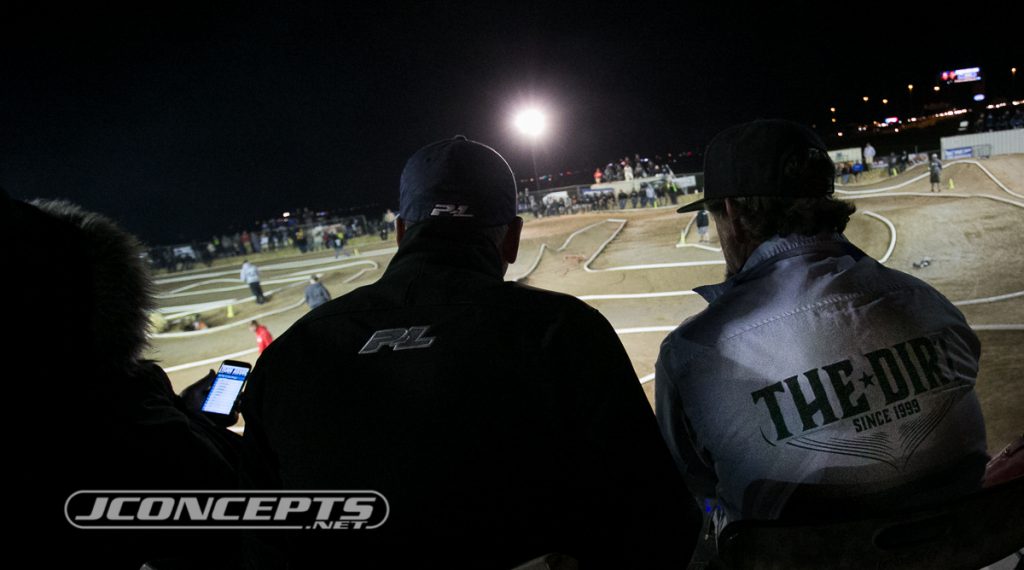 The Dirt crew outdid themselves this year by making a track without a full straightaway and replacing it with the most difficult section of all time – the 9 pack triple section. Initially, the idea was to make a triple-triple-triple jump section, but it was much harder than one would think because each triple landing would be lead into the next. Mess up one section and you're more than likely messing up the entire front section. The track also had a tightly packed whoop section along with a vicious step up, a drop section and an over-under as well. It definitely lived up to the name – Dirt Nitro CHALLENGE.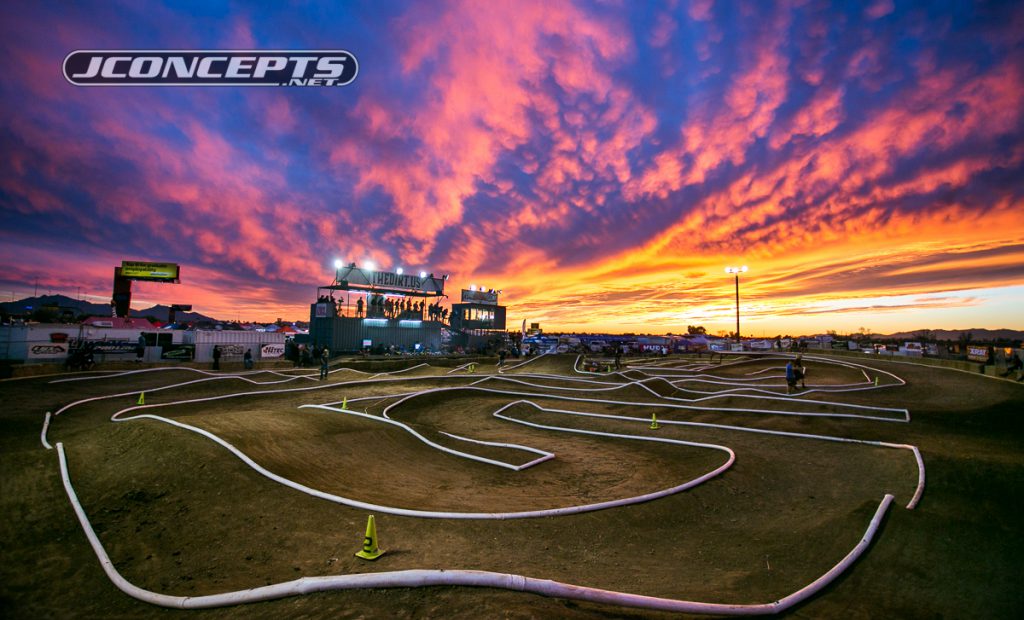 It was was feature rich that challenged every racer on hand, but it also brought out the best in the best. A lot of drivers also said they enjoyed the challenge and a perfectly executed lap was the most rewarding feeling a racer could experience….next to winning of course.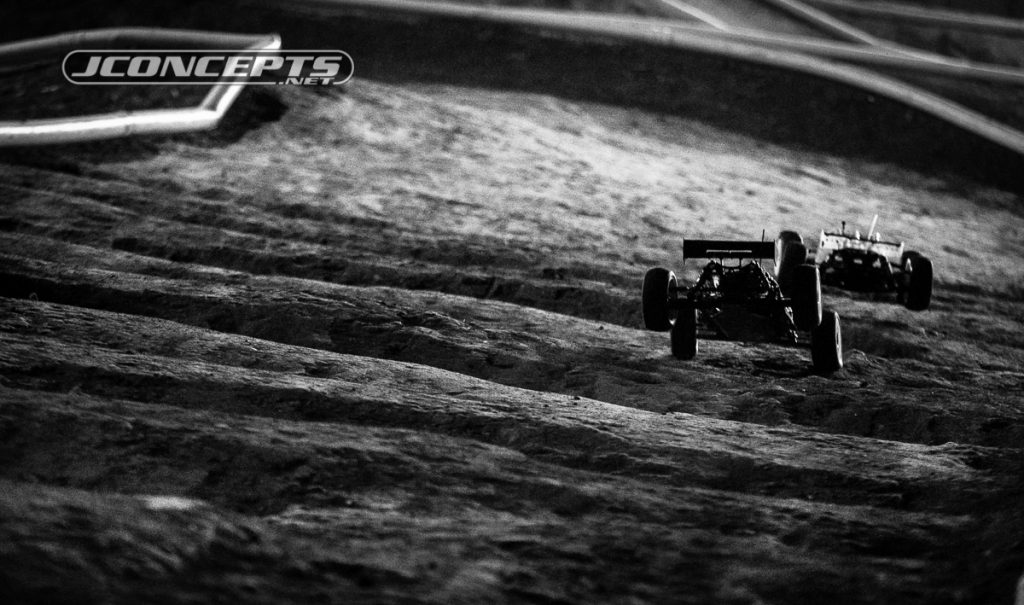 Here are the results and podium pictures of all the classes held this year at the 2017 DNC.
1/8th Sportsman Ebuggy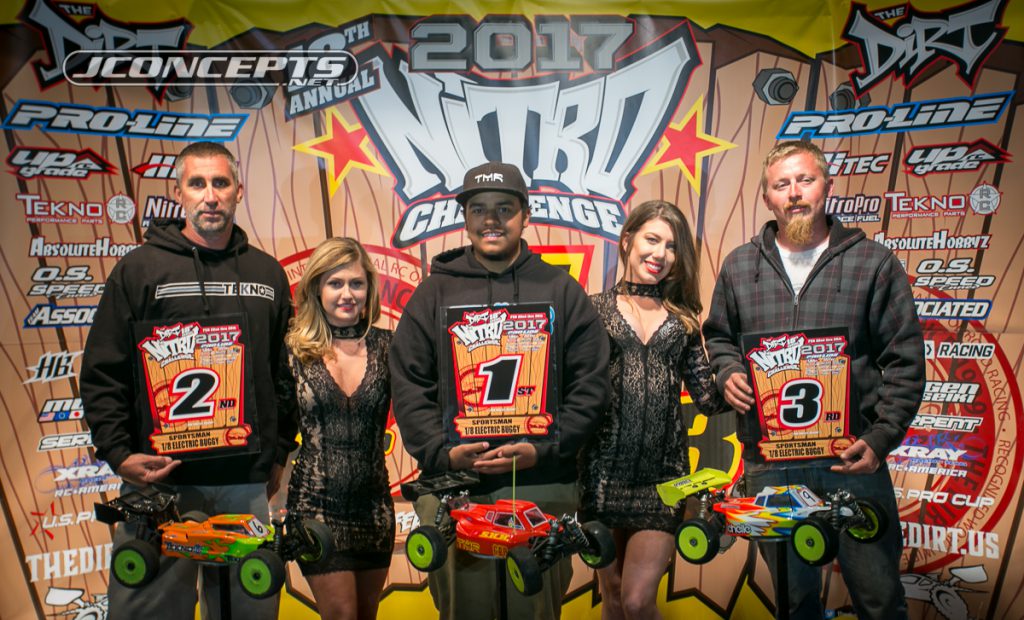 1st – Cai McNeil
2nd – Damien Coleman
3rd – Matt Farnham
1/8th Sportsman Truggy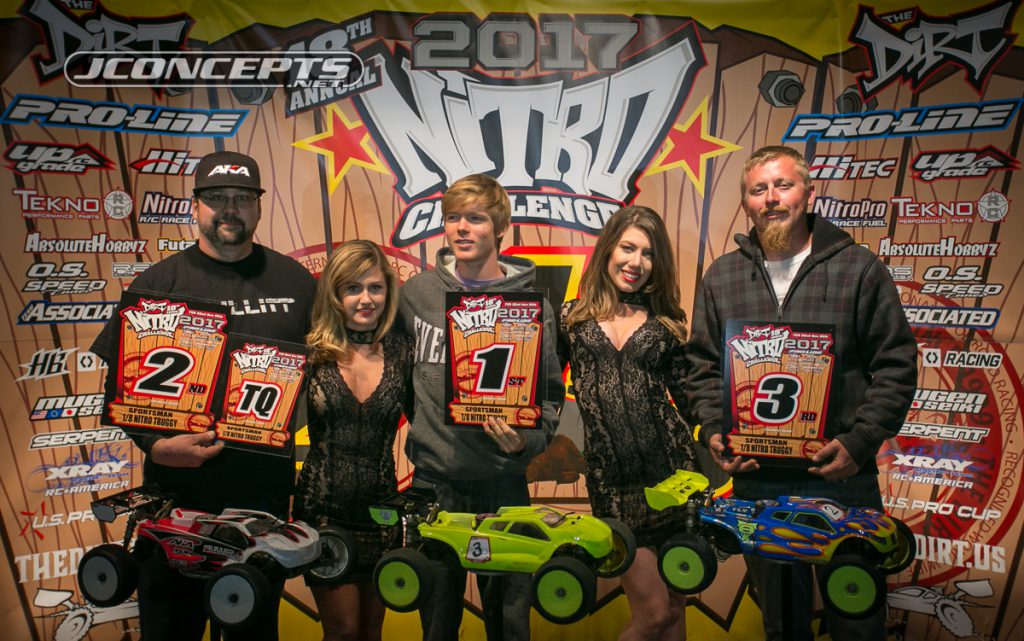 1st – Autie Bender
2nd – Jan Moeller
3rd – Matt Farnham
1/8th Sportsman Buggy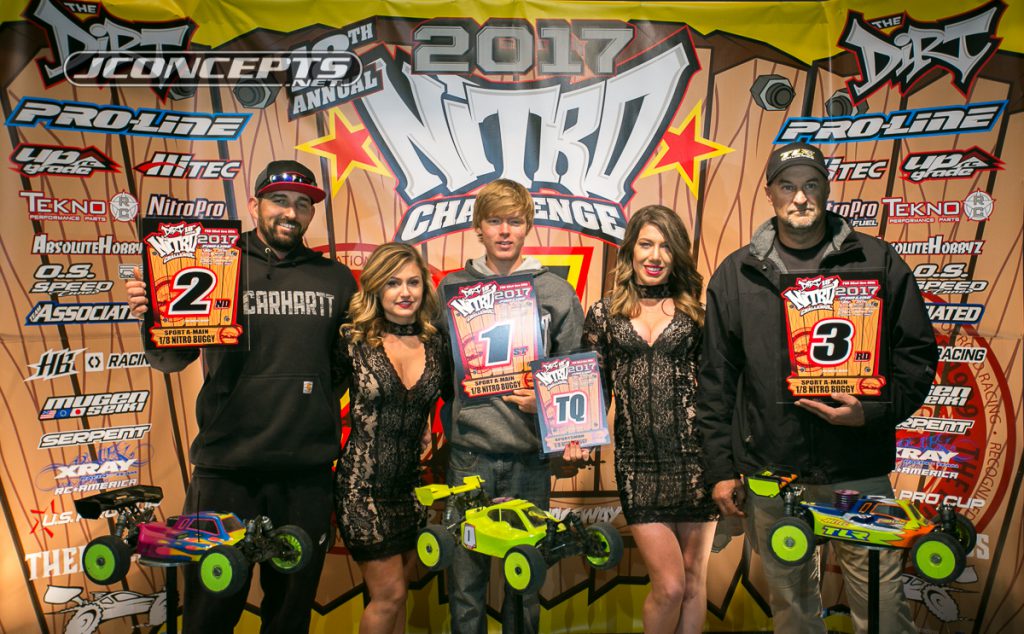 1st – Autie Bender
2nd – Steve Crenshaw
3rd – John Brown
1/8th 40+ Ebuggy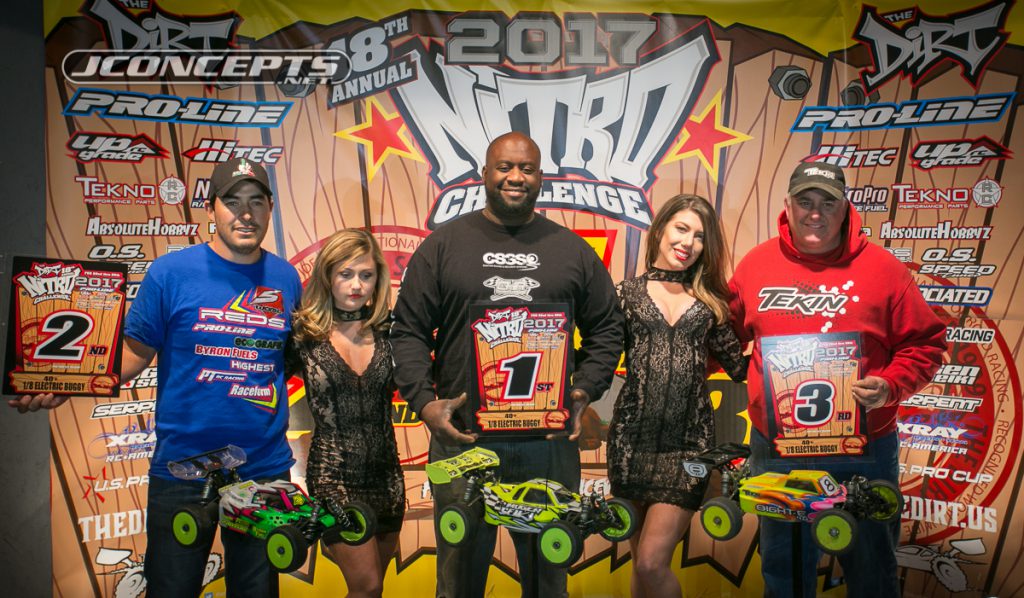 1st – Chris Nelson
2nd – Luis Gudino
3rd – Lee Hackney
1/8th 40+ Truggy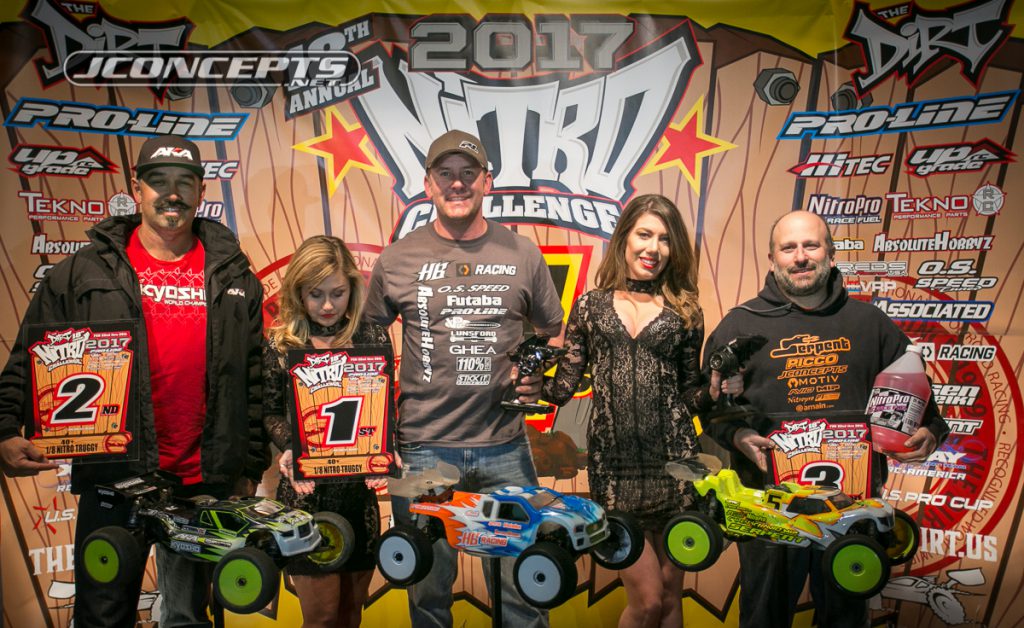 1st – Chad Phillips
2nd – Anthony Howarth
3rd – Paul Ciccarello
1/8th 40+ Buggy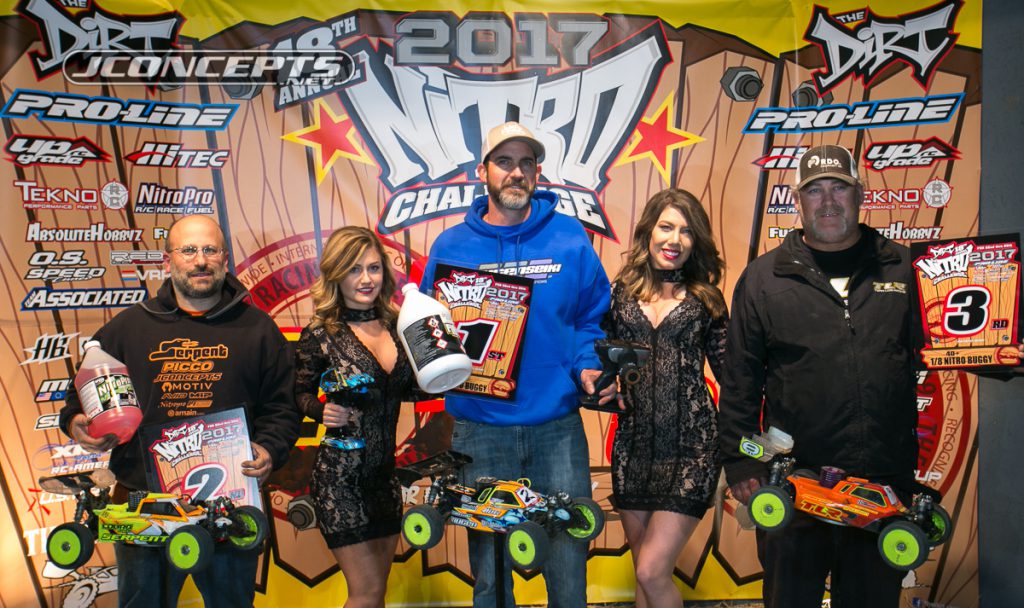 1st – Casey Peck
2nd – Paul Ciccarello
3rd – Don Vinkemulder
1/8th 35+ Pro Legends Buggy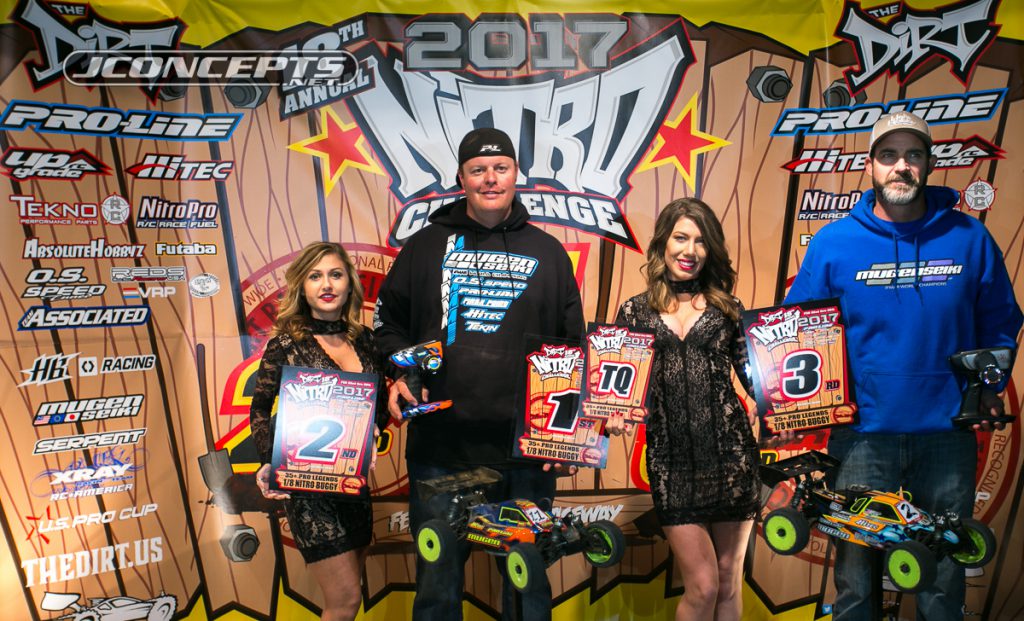 1st – Adam Drake
2nd – Jeremy Kortz (not pictured)
3rd – Casey Peck
1/8th Expert Truggy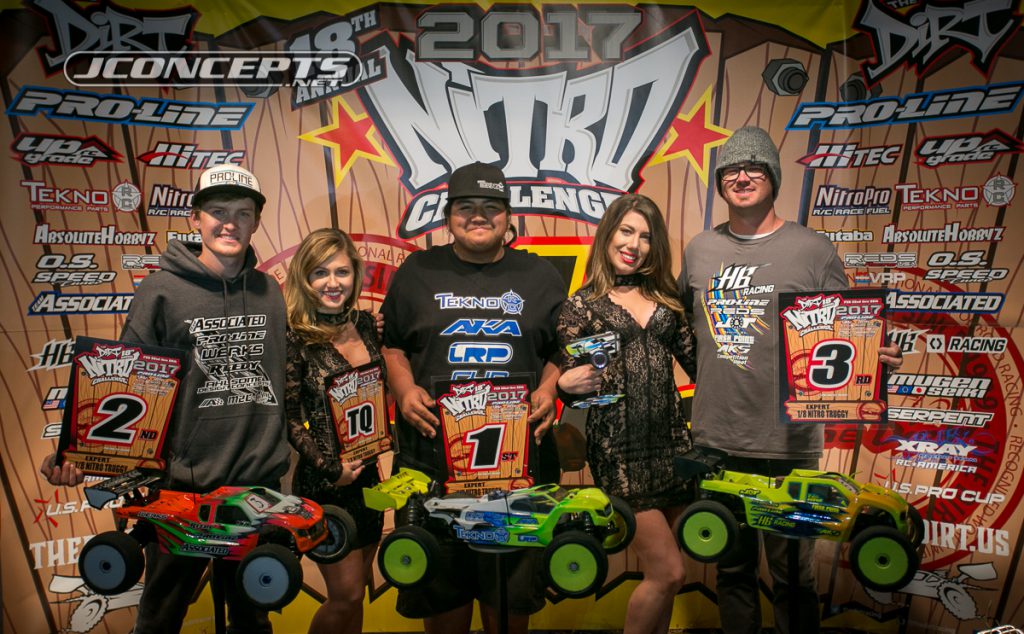 1st – Carlos Arredondo
2nd – Evan Vail
3rd – Tyler Brown
1/8th Expert EBuggy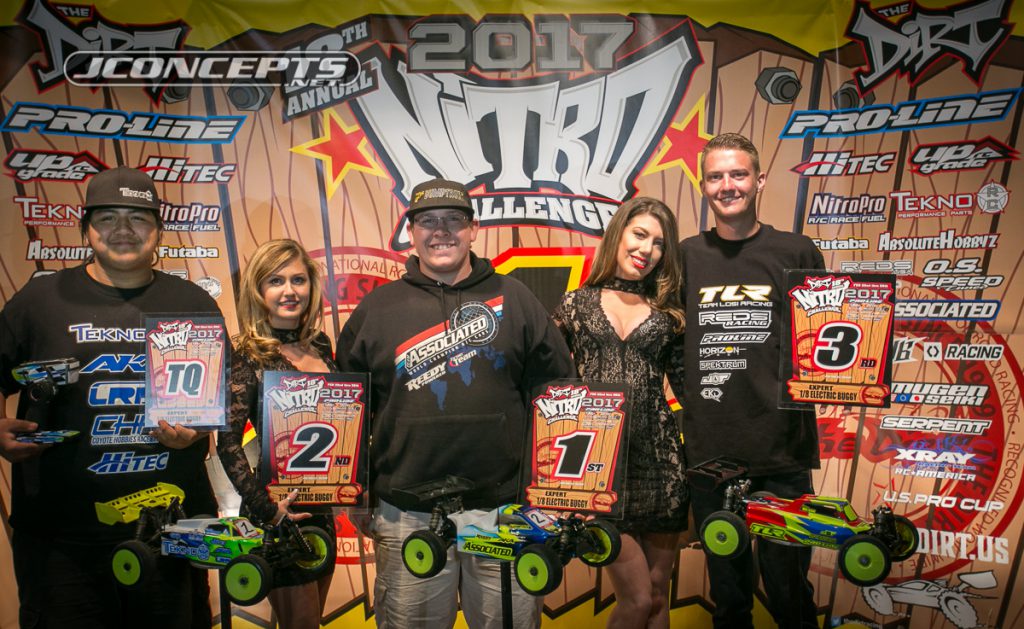 1st – Austin Pannone
2nd – Carlos Arredondo
3rd – Dylan Nelson
1/8th Expert Ebuggy A-Main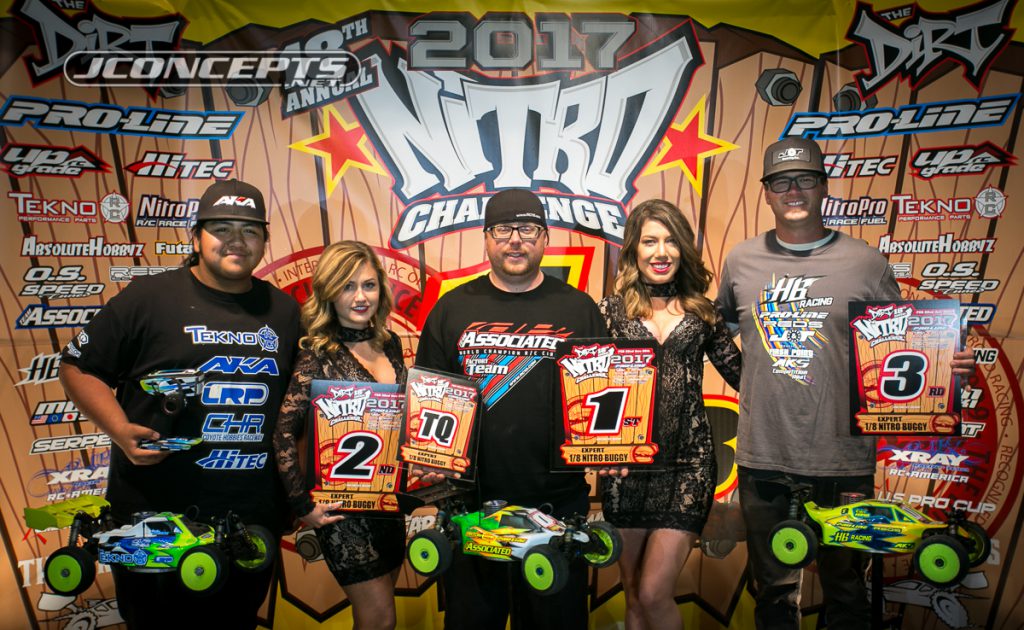 1st – Chuck Hicks
2nd – Carlos Arredondo
3rd – Tyler Brown
During qualifying, it was Ryan Lutz who showed the fastest pace in 1/8th Pro Nitro Buggy by TQ'ing rounds 1 and 3 to start the 45 minute main in front. Former World Champion, Ty Tessman would excel with his new Xray rides and go on to TQ Ebuggy and Truggy.
1/8th Pro Ebuggy Amain
The Ebuggy Amain was the first of the 3 Pro mains and from the tone, both Ty Tessman (TQ) and Ryan Maifield would make mistakes in the 9 pack giving up their positions early, however, Tessman would recover to take back his lead in the whoops section of the track. After a few laps, Tessman would crash going up the step-up and give the lead to Ryan Maifield. Once Maifield had the position he would check out from the field to take his 1st win of the weekend. JConcepts' Ryan Cavalieri would slowly dissect the field apart to finish 2nd behind Maifield after 10 minutes. Kyosho's Jared Tebo would have an excellent race in Ebuggy making it a classic top 3 podium of Maifield, Cav, and Tebo.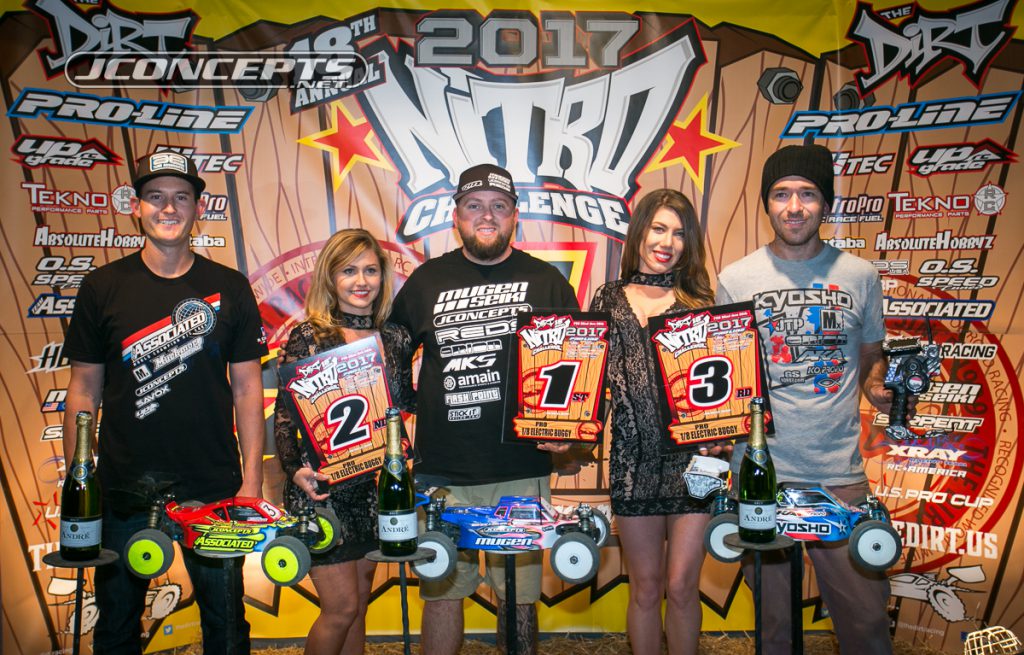 1/8th Pro Truggy A-Main
In the Pro Truggy 45 minute A-main final, it was all JConcepts Ryan Maifield. After a few mistakes early on that dropped him down to 4th, RM recovered and got into his "truggy groove." The pace, the rhythm, all synergized and he flew around the track without mistakes. Unfortunately for Ty Tessman on lap 27, suffered from a receiver pack coming unplugged resulting in a runaway truck. Maifield would take the lead and controlled the pace masterfully. From there, he would cross the line and finish the night off with 2 wins on a chilly Saturday evening.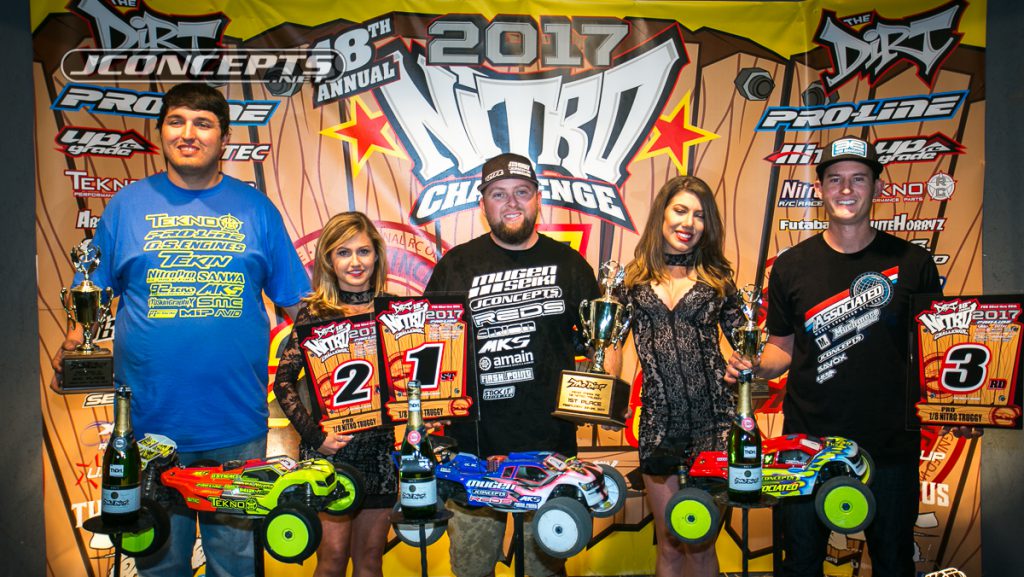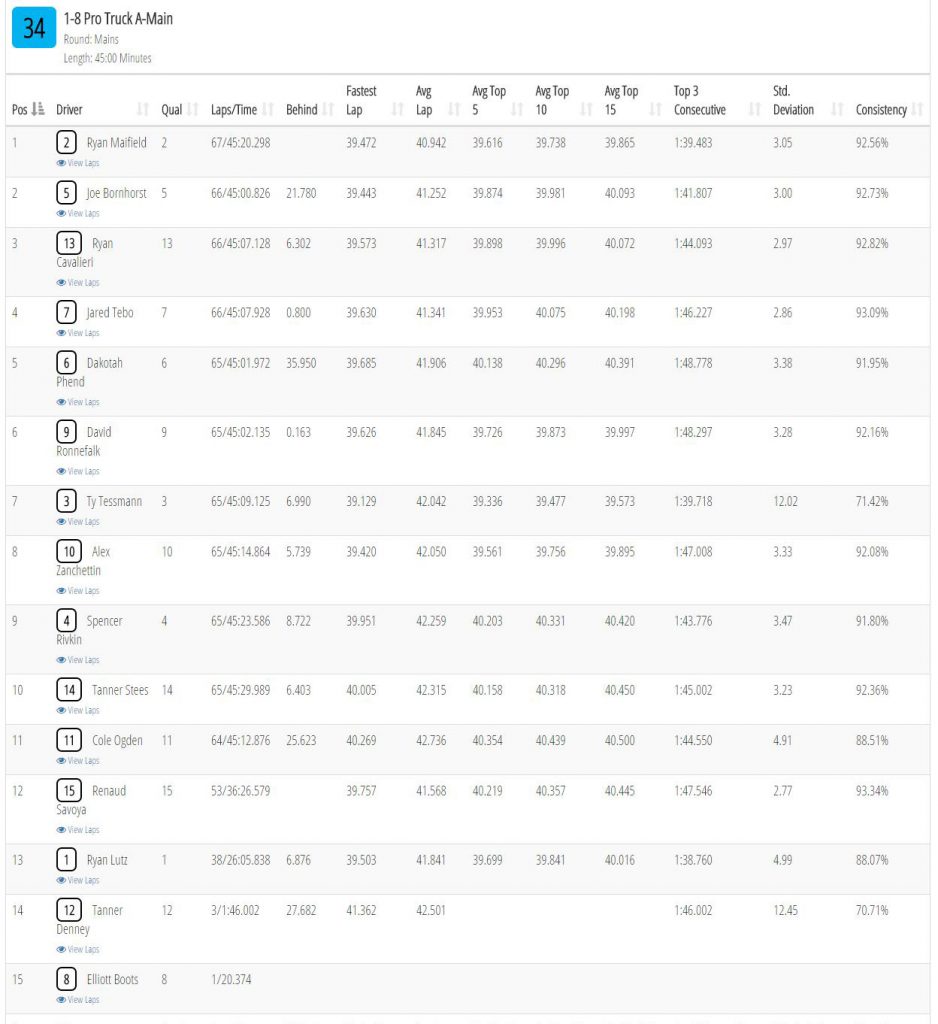 1/8th Pro Buggy A-Main
Pro Buggy was almost a repeat of Pro Truggy. Earl in the race, Ryan Maifield would make a few mistakes and drop back to 5th while everyone was jocking for the lead. From Rivkin, Cavalieri, Boots, Tessman, and Dakotah, would all taste the lead, but were not able to hang on. On lap 22, Maifield started to find his groove once again and took over the lead. From that moment on, he would control the pace and cruise his way to his 3rd win of the weekend and write history as the first and only driver to ever to sweep the pro classes at one DNC. It's a remarkable achievement given the fact he just switched to Mugen and has little time on the cars and we couldn't be more excited for Maifield. Great job by the team and everyone that attended the race representing JConcepts.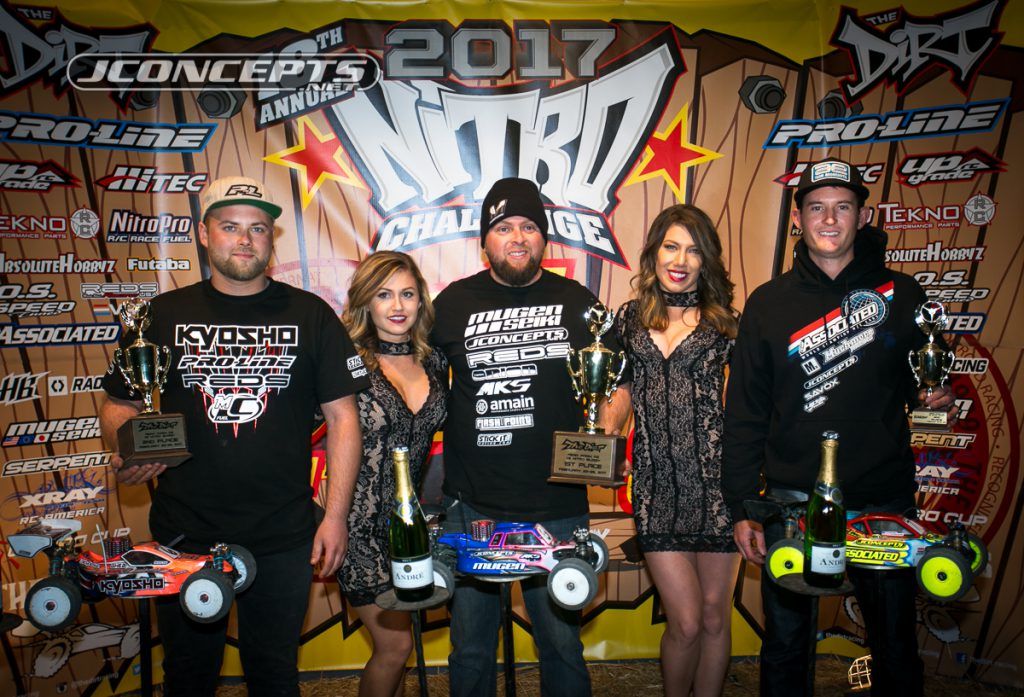 Also, congratulations to JConcepts' Paul Ciccarello for awesome performances in 40+ Truggy and 40+Buggy. Paul would go on to finish 3rd in Truggy and 2nd in Buggy!
If you missed most of the coverage this weekend, check out these 12-hour video clips by LiveRC. Thanks to them, we're able to have great video coverage all weekend.
Saturday Video
Sunday Video