JConcepts has added a new item to the Shapeways store for those Yokomo YZ-2 owners who have the Laydown 3-gear transmission. The gear shield is a protection device that adds some protection to the spur gear while also shielding the body from unwanted scratches and rubs associated with normal driving use and wear and tear during a typical race outing. The shield is designed for a maximum spur gear size of 81 and works best with JConcepts S2 and F2 bodies.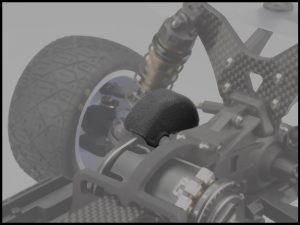 The item is being offered in the Shapeways store as an early option to team drivers and consumers racing the Yokomo YZ-2 with Laydown transmission.
About this Product:
The Yokomo YZ-2 Laydown transmission gear shield, designed by JConcepts is now available exclusively through Shapeways. The 3D printed part slides directly on the Yokomo 3-gear transmission case and aligns with the stock geometry. The motor plate installs just over the gear shield and is positioned as normal. The gear shield is protection for the spur gear itself but also protects the low-profile body designs such as the JConcepts S2 and F2 bodies.