This year's follow-up race to the wildly popular Dirt Nitro Challenge was the Silver State, which was held on March 17th-19th at R/C Tracks of Las Vegas. With having a perfect debut race for his new Mugen Seiki team at the DNC, JConcepts' Ryan Maifield would go on to flawless victory sweeping all three pro classes. From that moment on, many would question how Maifield would fair at his next event, the 2017 Silver State. Without hesitation, Maifield wouldn't disappoint.
If this track looks familiar, it's because the R/C tracks of Las Vegas hosted the 2016 IFMAR Nitro 1/8th Scale World Championships last summer. Once again, Chris Tocco and the track crew did a wonderful job adjusting this year's Silver State layout from last year's World Championship track making a new challenge with different features and jumps that felt almost completely new. The left side triple was massive and required good sweeper momentum and lots of traction to consistently clear. The whoops section was difficult, but also had a nice rhythm. The bump jump that ran in front of the driverstand was fun and required driver control as it was easy to over push it and land in the fluff. As always, finding the right tire and compound was important with the track constantly changing and evolving throughout the weekend.
E-Buggy
Having TQ'd E-buggy through 3 rounds of qualifying taking the best 2 of 3, Ryan Maifield was the man to beat. In the all out, fast paced 10 minute A-Main event, RM proved to be too much for the competition as he was able to lead from wire to wire keeping his JConcepts equipped MBX-7R ECO on the track and going fast. Coming from 4th on the grid, HB Racing/JConcepts's David Ronnefalk would edge out Jared Tebo and Ryan Lutz in a close battle for 3rd on the podium making it a JConcepts 1-3 finish! TLR's Dakotah Phend would take 2nd.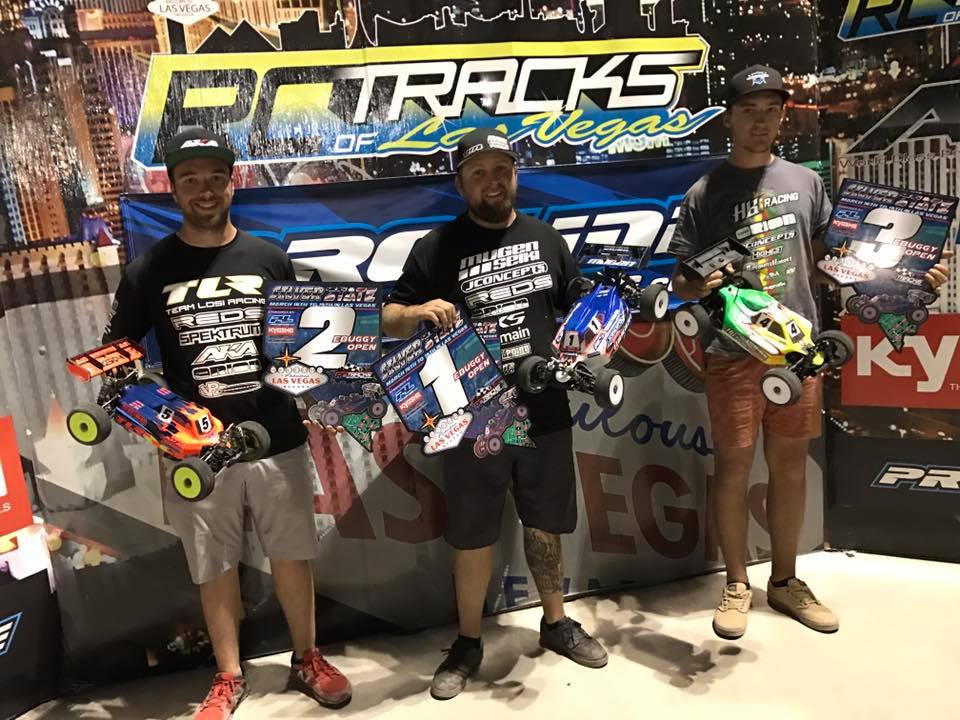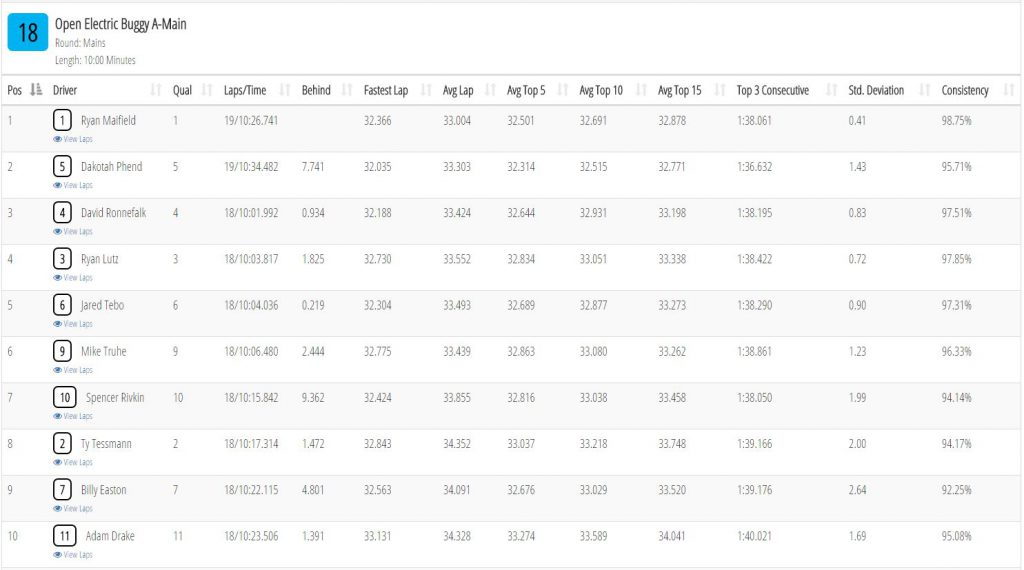 Pro Truggy
The Pro Truggy class saw a terrific 3-way battle between Tekno's Ryan Lutz, Xray's Ty Tessman, and Mugen/JConcepts' Ryan Maifield. Early in the race, it was looking like a classic Maifield, Tessman battle as the two would distance themselves from Lutz, who had a few mistakes early on. Tessman and Maifield would swap positions back and forth throughout the race. Unfortunately for Maifield, upon his 3rd pitstop halfway through the race, he would suffer a flame out leaving the pits causing him to lose valuable time dropping him down to 4th. This would give Ty Tessman the lead, but a hard charging Ryan Lutz would deny Tessman of a truggy victory as he was able to close the distance and make the pass to become the new front runner. Once Lutz was in the lead, his decision to run the long wear compound would be a big gamble that cashed out as he would check out late in the race and finish with a 10 second margin over 2nd place finisher, Ty Tessman. Maifield was able to recover to finish 3rd keeping his podium streak alive.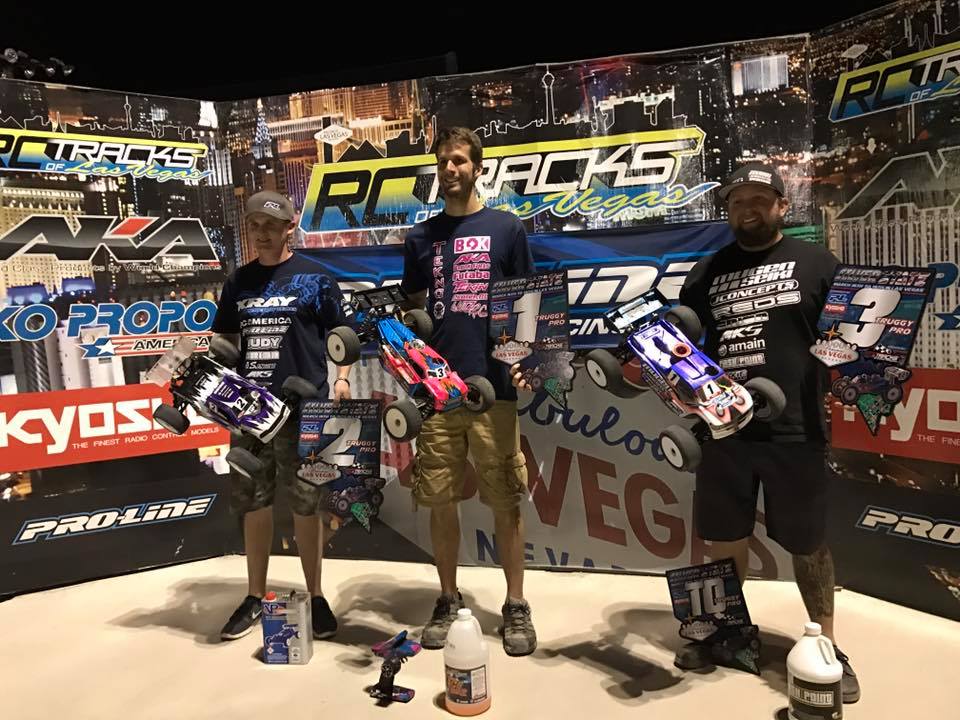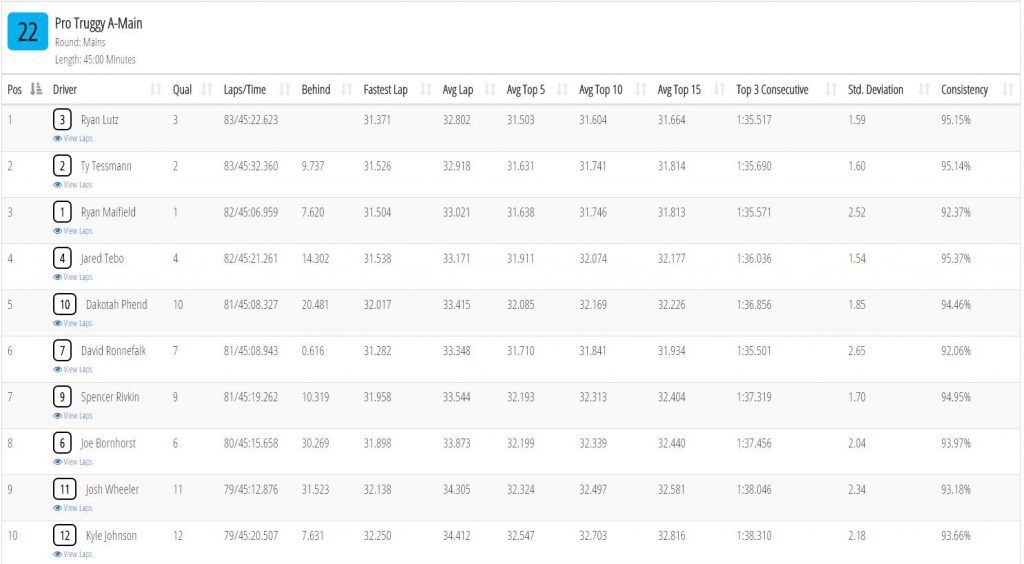 Pro Buggy
Once again, it was a 3 car breakaway early in the race with TLR's Dakotah Phend, Xray's Ty Tessman, and Mugen/JConcepts' Ryan Maifield in a league of their own slipping away from the field. Phend and Tessman would make a few minor mistakes early in the race swapping the lead position with Maifield staying smooth and consistent and slowly weaved himself to the front. Just before his pitstop, Maifield would crash twice losing a lot of time and dropping back to 4th handing over the lead back to Tessman. While not giving up, Phend would start to catch Tessman and make a brilliant pass and find himself in front once again. Phend would feel the flow and stretch out a nice gap until late in the race as Maifield would start to make up a lot of time. Unfortunately for Phend, on lap 69 he would suffer a heartbreaker mechanical failure with a servo link forcing him to retire from the race giving Maifield back the lead and almost 10 seconds clear of 2nd. Maifield would go on to finish out the final 4 minutes taking the win with Tessman 2nd and David Ronnefalk 3rd. The current World Champ, David Ronnefalk, would make a remarkable comeback after a devastating start dropping back to 9th.
Congrats to both JConcepts Ryan Maifield and David Ronnefalk on their podium finishes with RM taking the win in Pro Buggy and E-Buggy and 3rd in Pro Truggy. Ronnefalk would put in a fabulous effort taking 3rd in Pro-Buggy and 3rd in E-Buggy.
Thanks to LiveRC.com for the stats and videos!