After 10 years, the Psycho Nitro Blast has built itself to become one of the most recognizable racing events in the United States. From its 24hr practice schedule to the massive 900+ entries, make for an event that is profoundly unforgettable and an experience like no other. Known to have one of the craziest (psycho) layouts hosted in a massive arena, the stories have been legendary and the dedication to participate in such an event… enormous. Not only did the 2017 PNB test the drivers, but also their equipment's durability as the grueling condition was relentless on all fronts.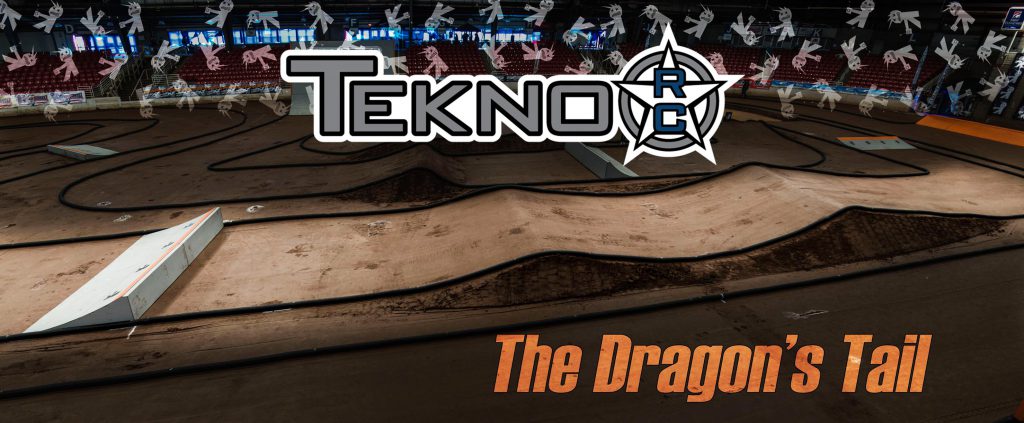 On April 7-9th in White Pine, Tennesse, the 10th Annual Psycho Nitro Blast drew in some of the biggest names in the game to compete on a jaw-dropping, massive track featuring perhaps one of the longest jumps in 1/8th offroad racing known as the Tekno Dragon's Tail. This triple was 60ft long from tip to tip and took the lives of many 1/8th scale buggies and truggies along with it. The RaceTime Entertainment crew delivered a challenging track that lived up to the hype that had everyone's adrenaline pumping the moment the rubber hit the dirt. Thanks to the crew for a job well done.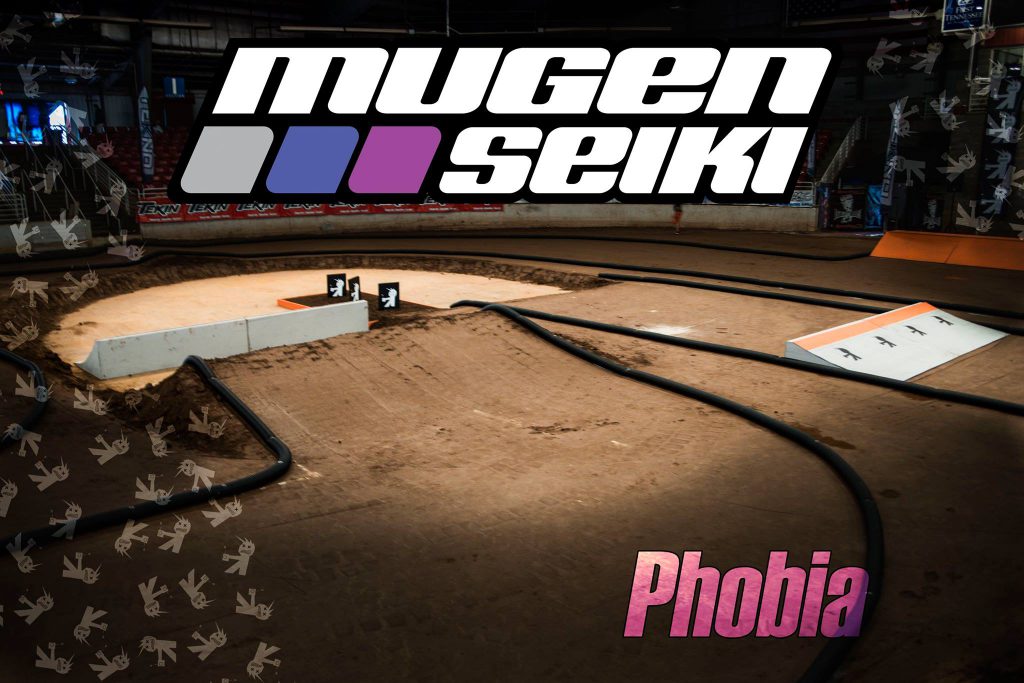 Perhaps the most challenging section of the course was what was known as the Mugen Seiki Phobia. This section caused havoc to everyone from Joes (Janes) to the Pros as it was a single landing into the slippery 180 concrete turn that went into a blind mini booter double. Line up required precise trigger control and drifting abilities that tested everyone.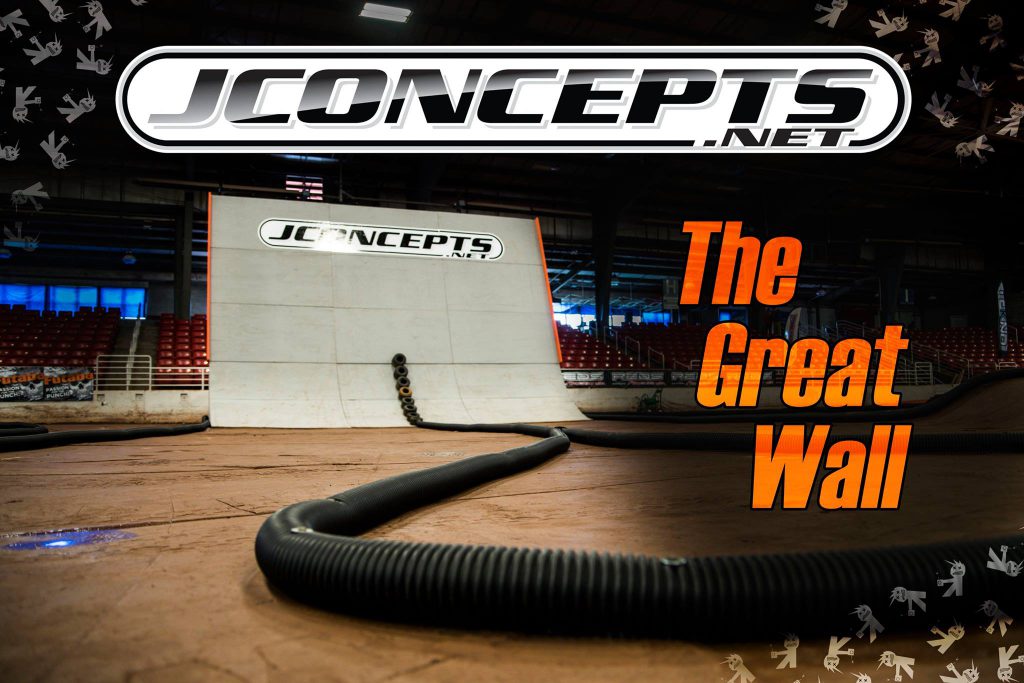 Adding to the madness, the 2017 PNB layout also had one of the biggest vertical wall rides ever constructed for an RC track that gave racers a new twist known as the JConcepts The Great Wall. This tricky feature was not easy to master, but getting it right was rewarded by saving a huge amount of time. Thanks to the PNB Crew, RaceTime Entertainment and everyone that was involved in making the 10th Annual PNB a racing experience like no other and one to remember. (Photos above courtesy of the PNB Facebook Page).
Here are the results along with the podium pictures of the top 5 drivers. If you'd like to see the video of each race, please click on the link for more info!
4wd Short Course
Tekno's Ryan Lutz was in a league of his own in the 4×4 SC class as Lutz was able to TQ and check himself out in the A-main to take a comfortable win. JConcepts' Martin Harrison would land himself on the podium having qualified 7th and finish 3rd.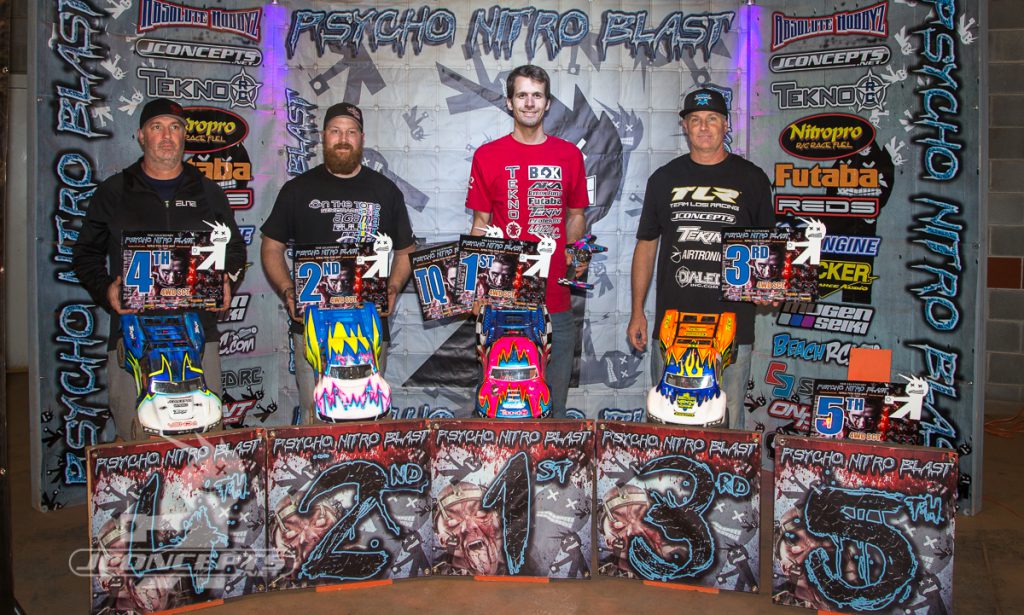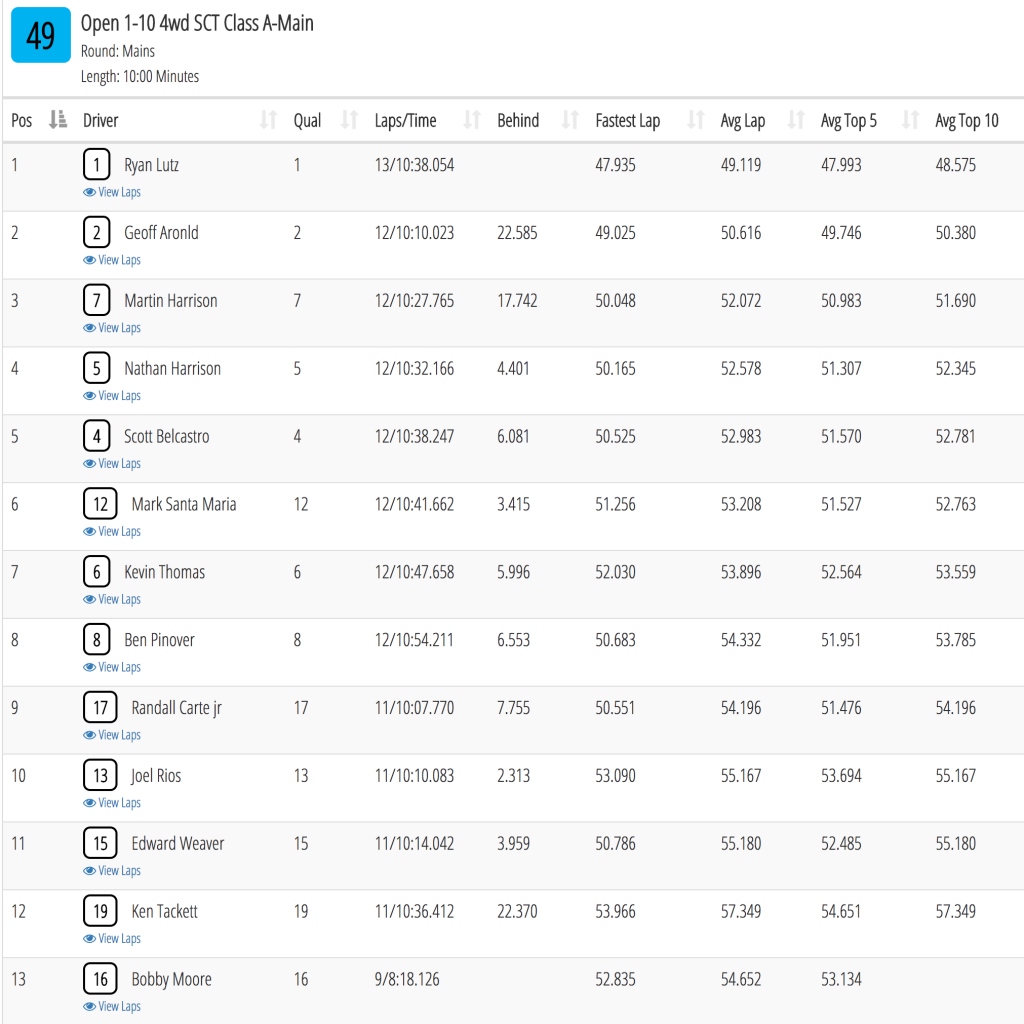 1/8th Sportsman E-Buggy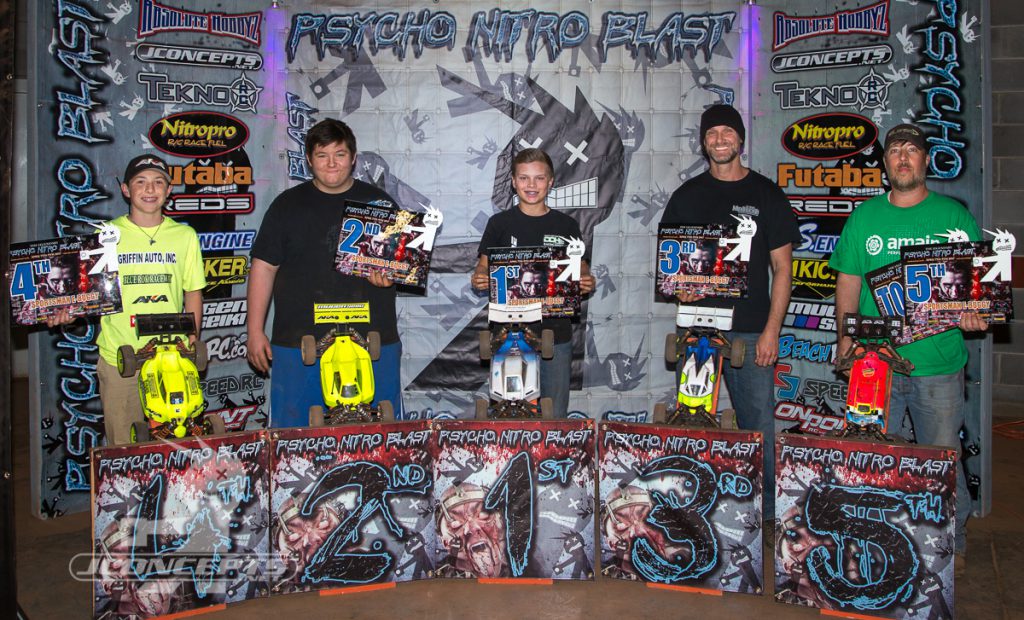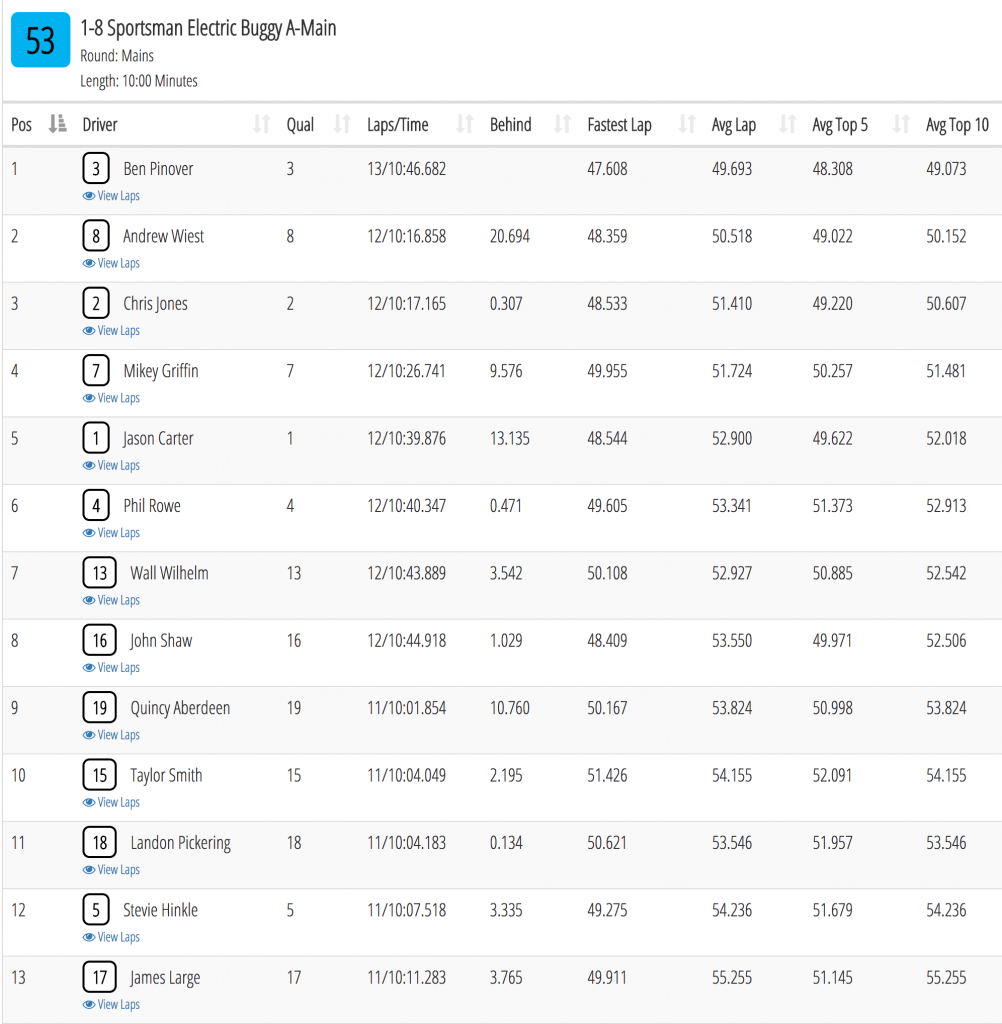 1/8th Sportsman Nitro Buggy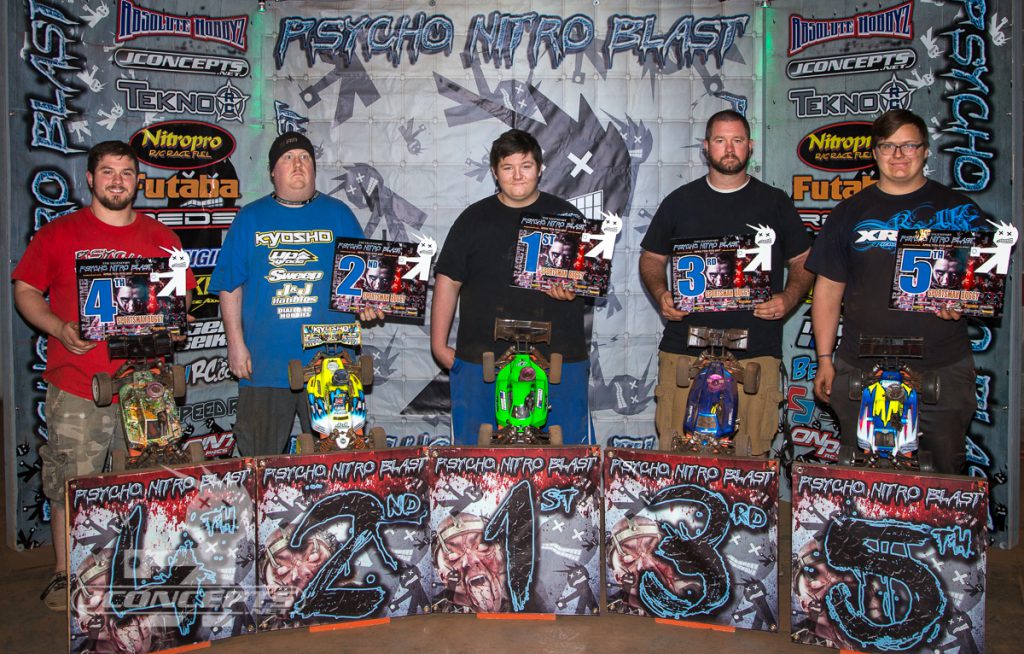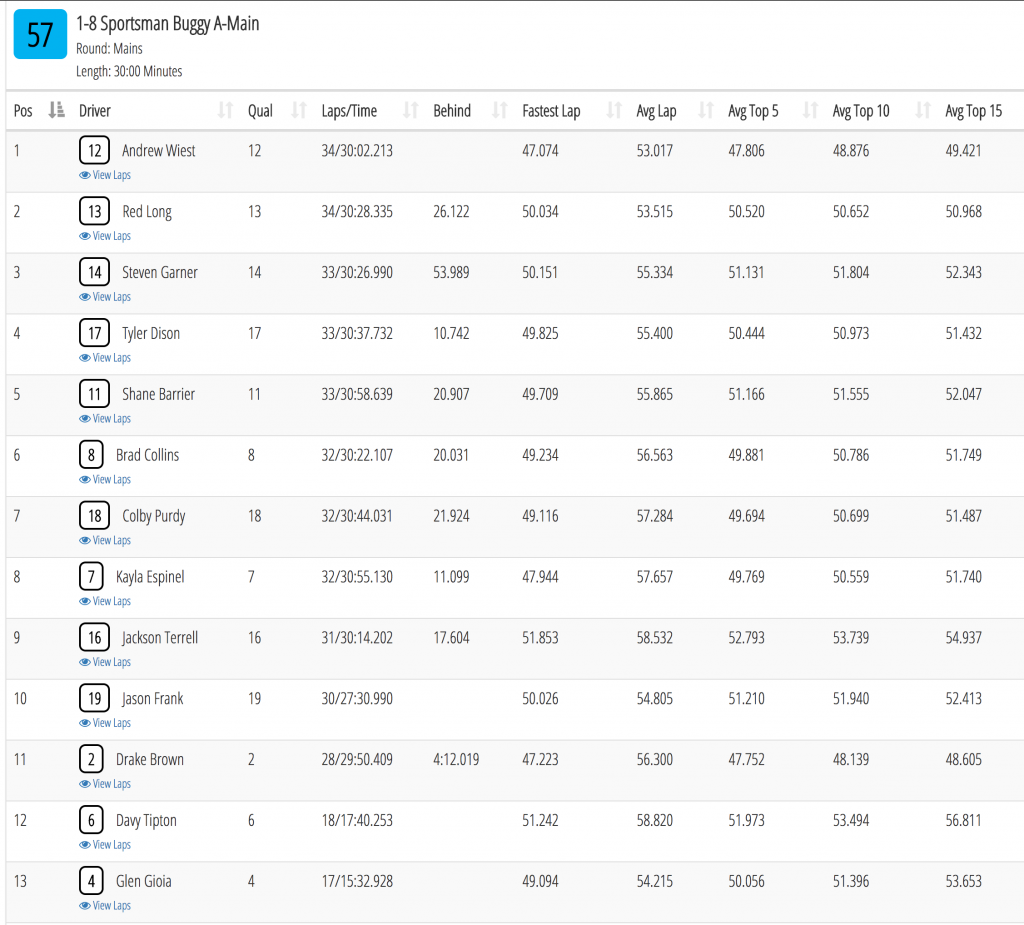 1/8th Sportsman Nitro Truggy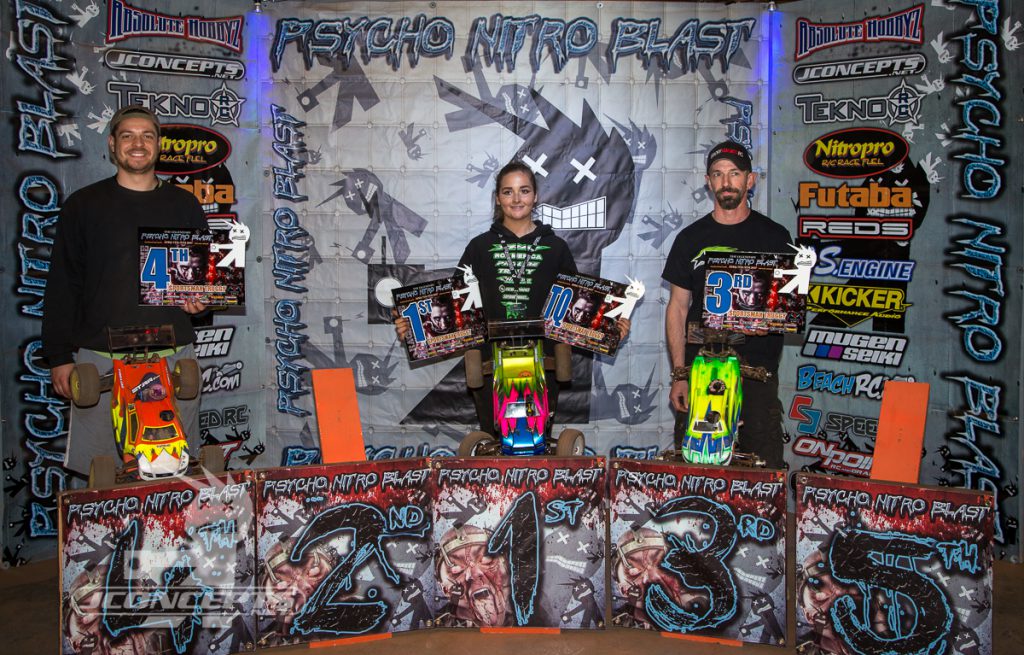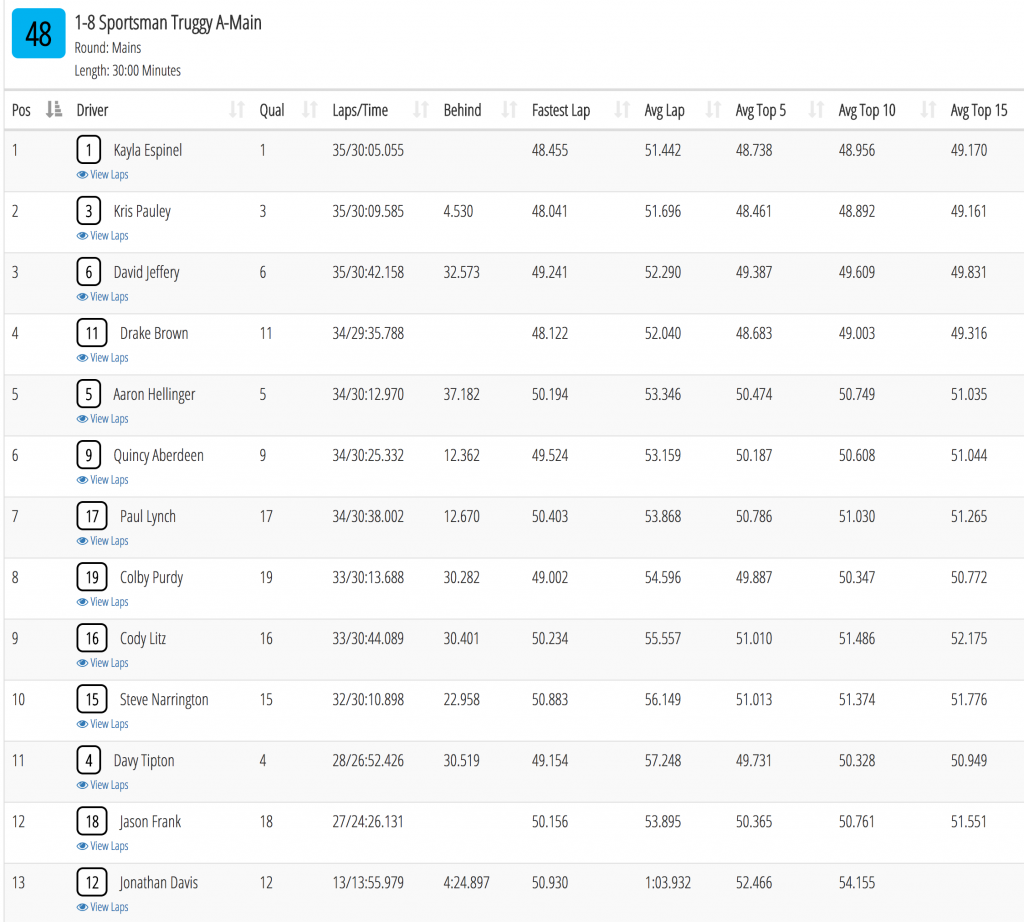 1/8th Open Nitro E-Buggy
In the Open Nitro E-Buggy class, its was TLR/RC Concepts' Jerome Treignier, who qualified 6th to work his way through the field and take the win in a close, competitive field of drivers. JConcepts' Jackson Brunson, who has only been racing for less than 2 years, was able to set TQ and finish 3rd on the podium with an awesome performance.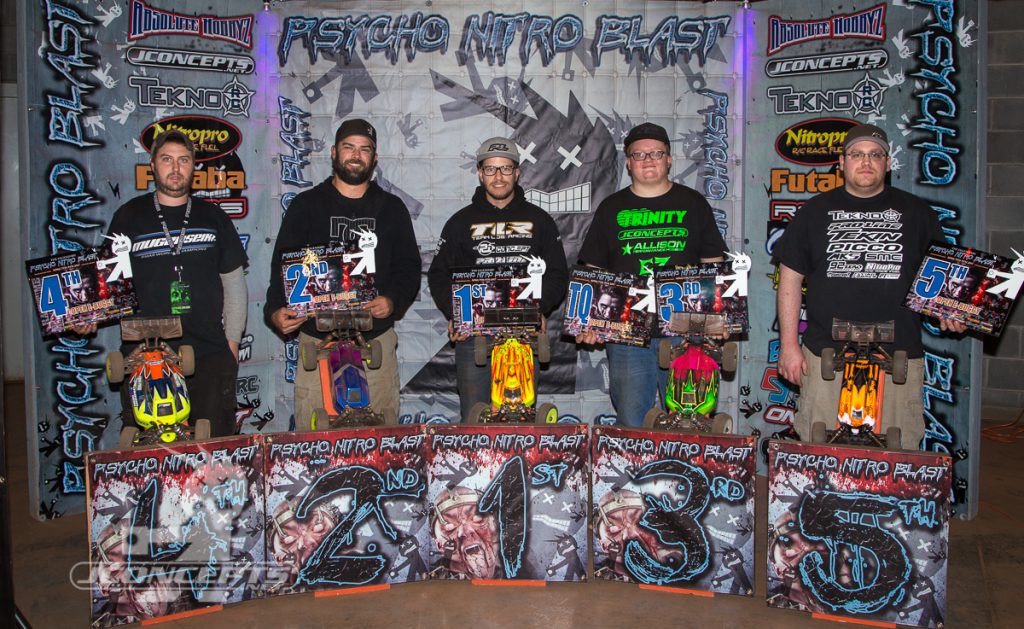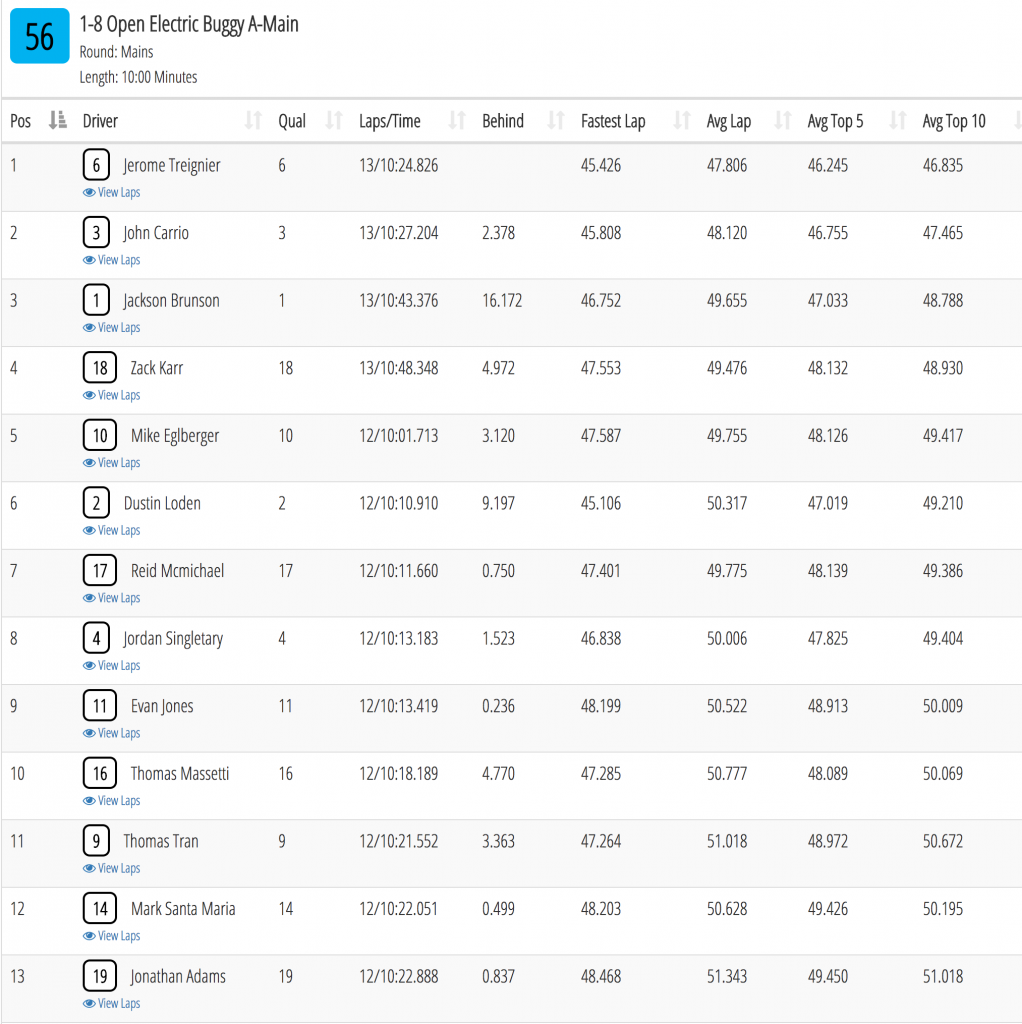 1/8th Open Nitro Buggy
Open Nitro Buggy saw a terrific performance by Boodrow Nicholson as he was able to move up fro 17th on the grid to take the win by a comfortable margin. Once again, JConcepts' Jackson Brunson was able to secure 3rd on the podium showcasing his talent and deliver a great race during an intense 30 minute A-Main event.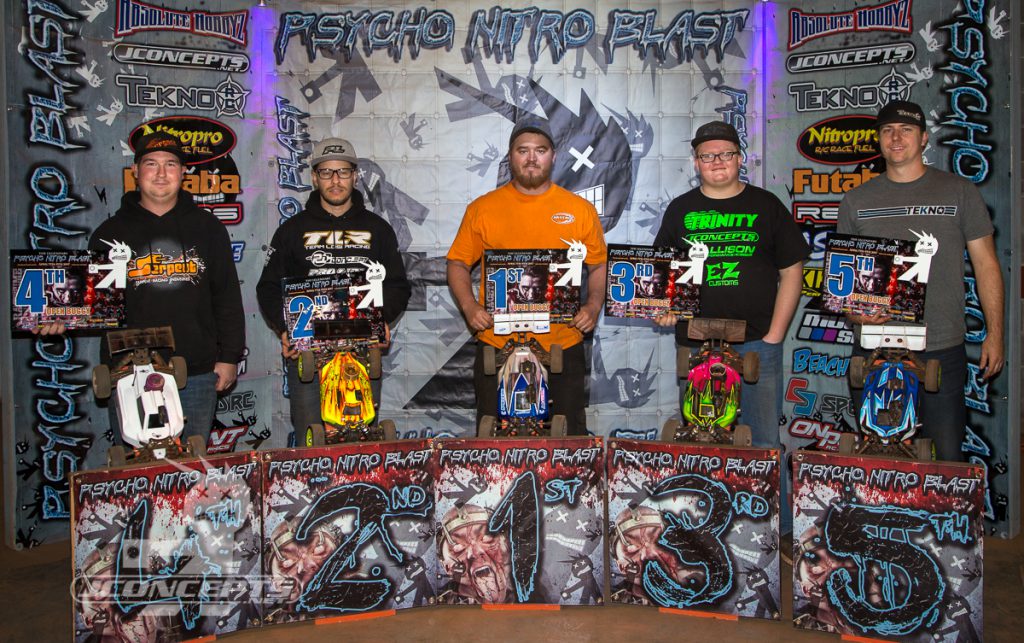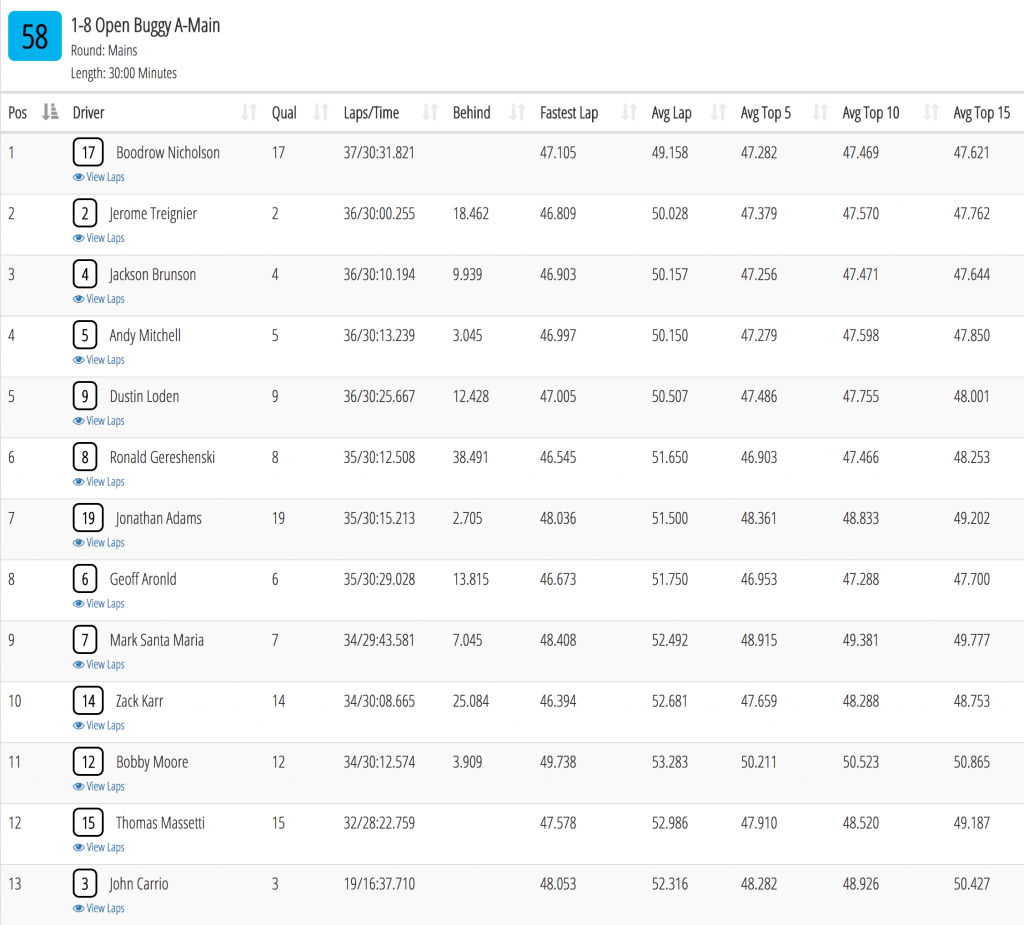 1/8th Open Nitro Truggy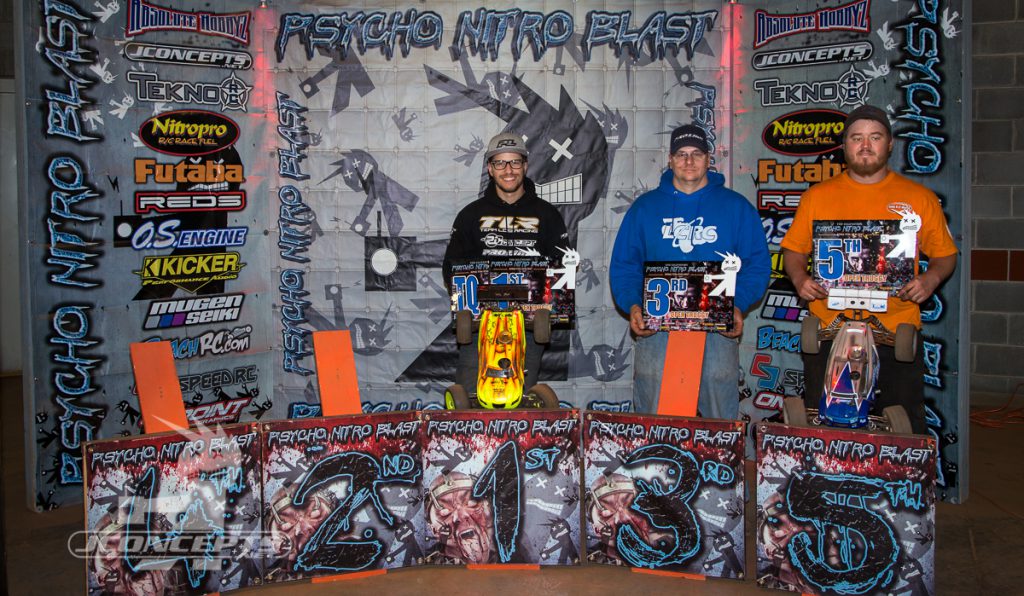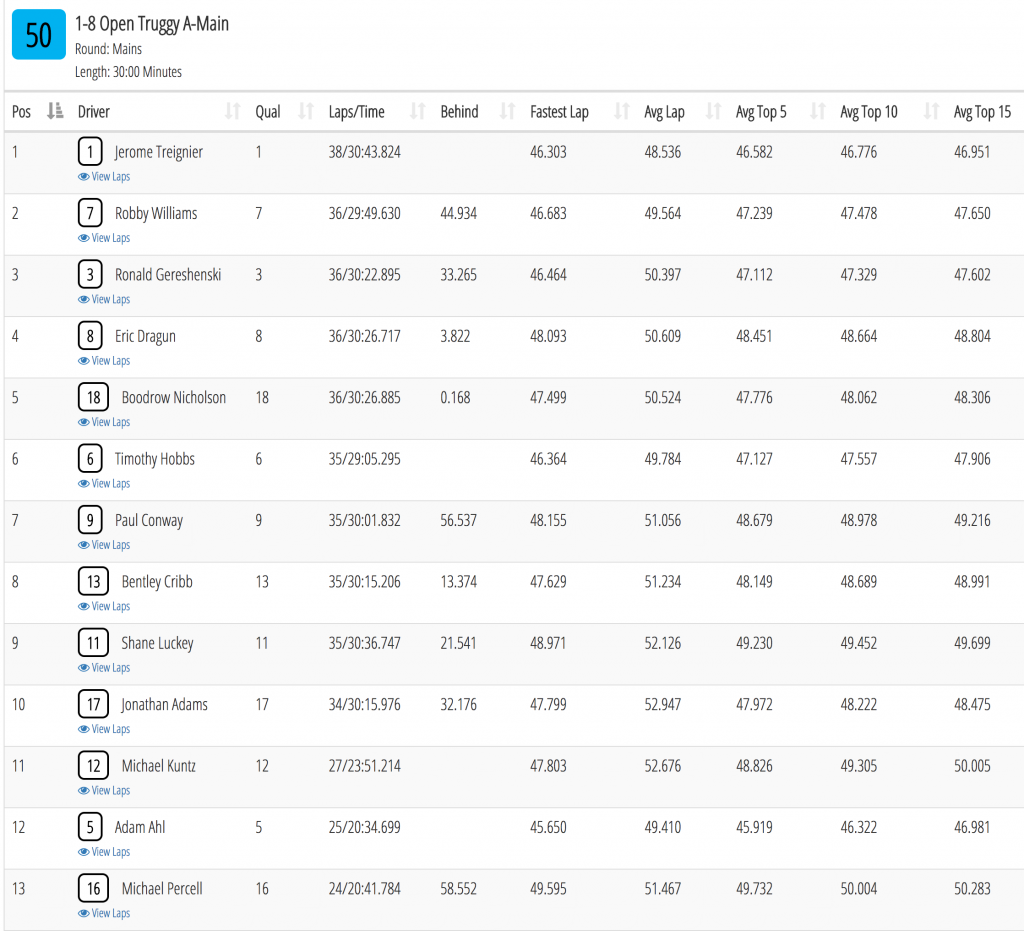 40+ E-Buggy
JConcepts' Martin Harrison was able to take the win in the 40+ E-Buggy class with an excellent drive in the main event over TQ and 2nd place finisher, JConcepts' Paul Ciccarello. JConcepts' Nathan Harrison would finish 3rd making it a JConcepts 1-2-3 podium sweep.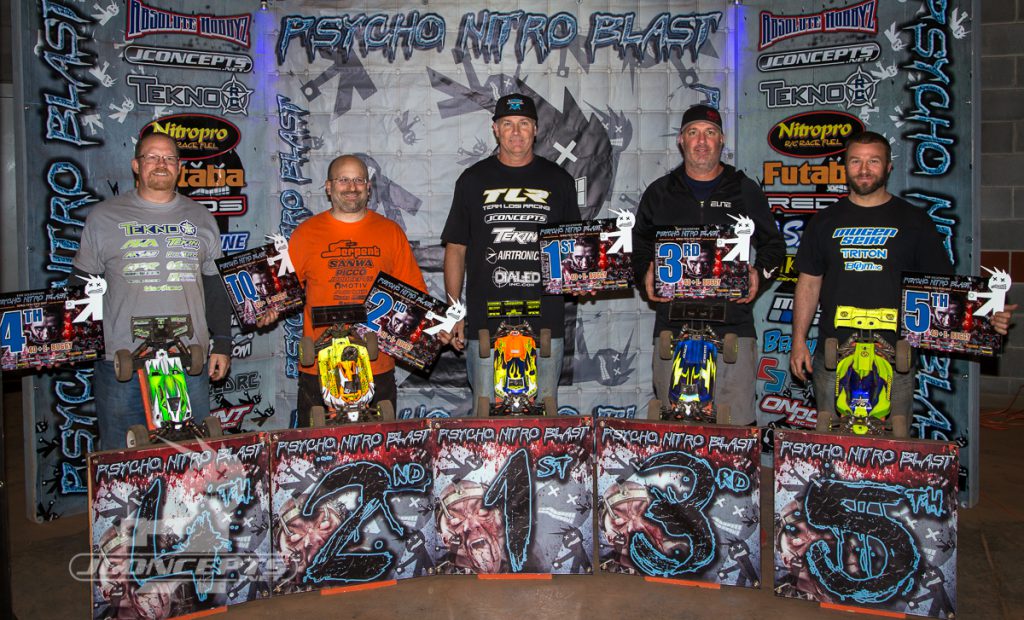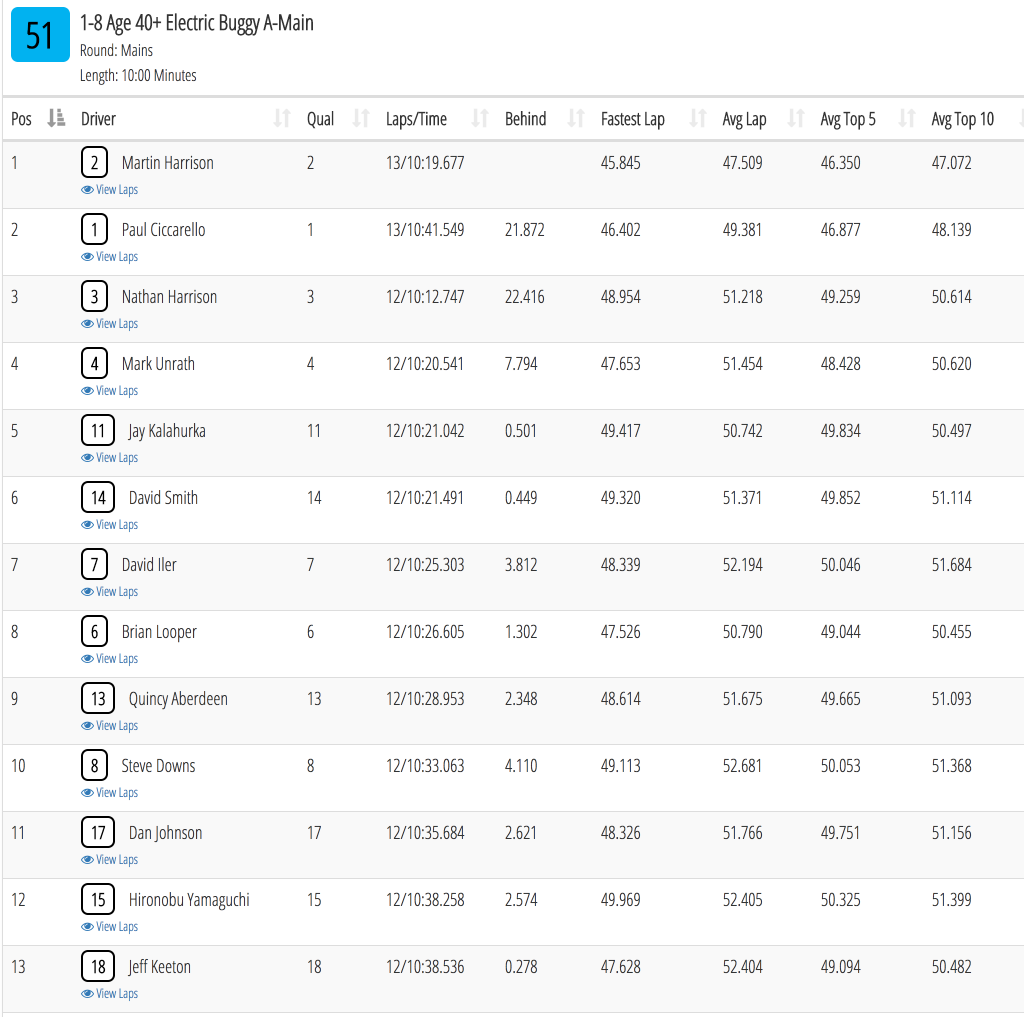 40+ Nitro Buggy
Another great performance by the JConcepts team in the 40+ class with Shane Ogden leading the way. Shane was also able to set the TQ time and finish 1st in a field of fast 40's. JConcepts' Jimbo Kvidera would move up from 12th on the grid to finish 2nd along with Drew Spurgeon and Paul Ciccarello finishing 4th and 5th for JConcepts.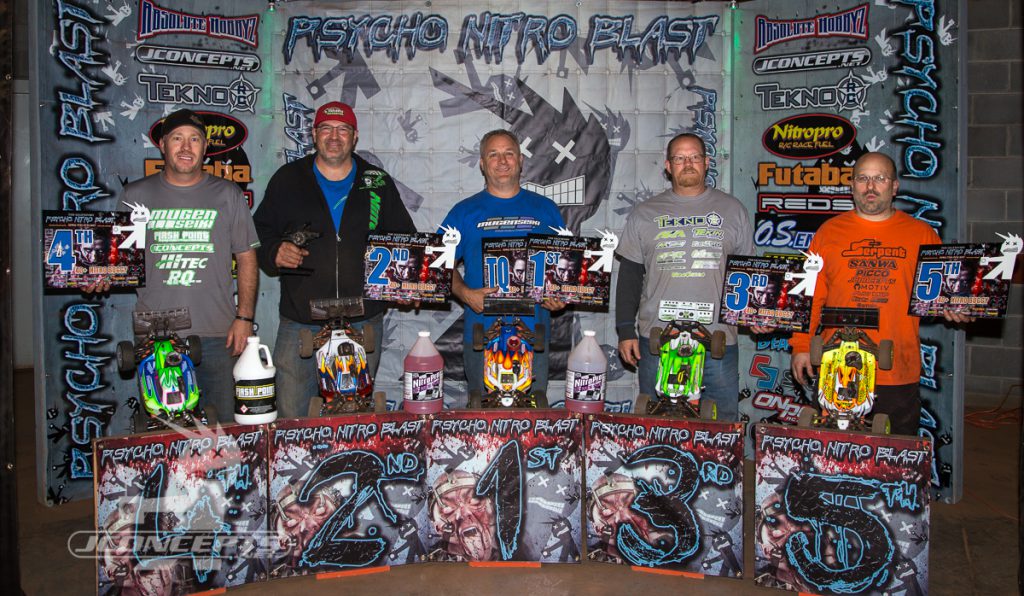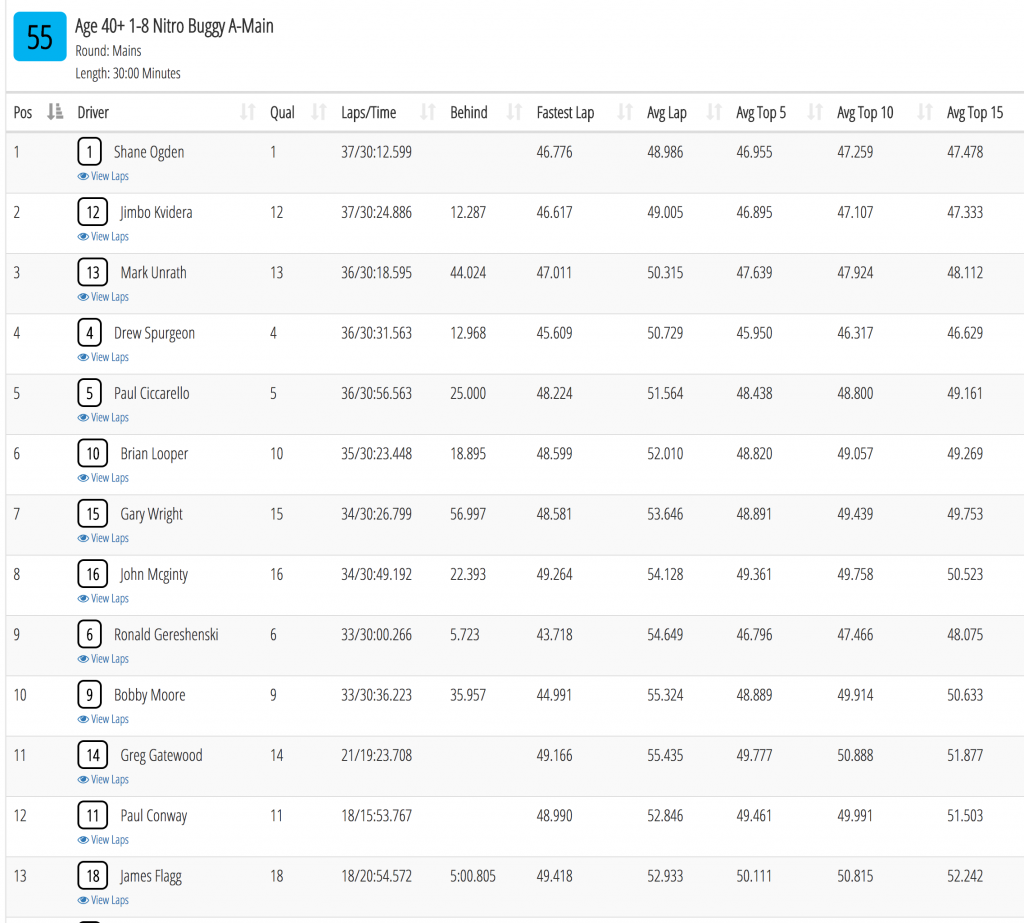 1/8th Pro Nitro E-Buggy
Tekno's Joe Bornhorst and Ryan Lutz would put on a show in the E-Buggy class with the duo finishing 1-2 and only 3 seconds apart after 10 minutes. Unfortunately for JConcepts Ryan Cavalieri, who was running 3rd at the time, suffered an electrical issue that forced him to retire with 3 minutes left. JConcepts' Patrick Rossiter would deliver a fantastic drive to place him 5th overall.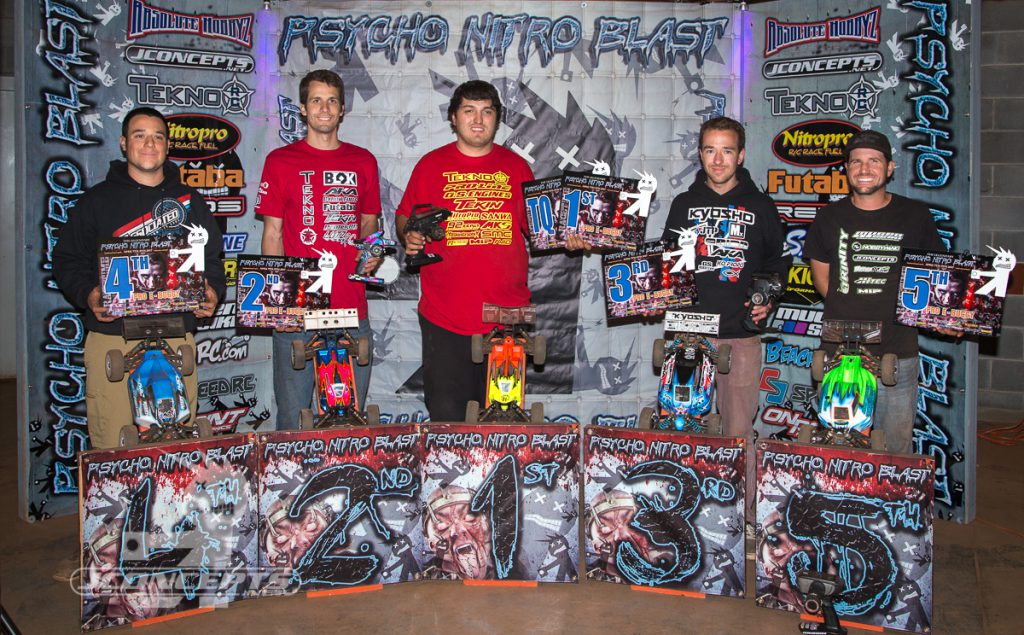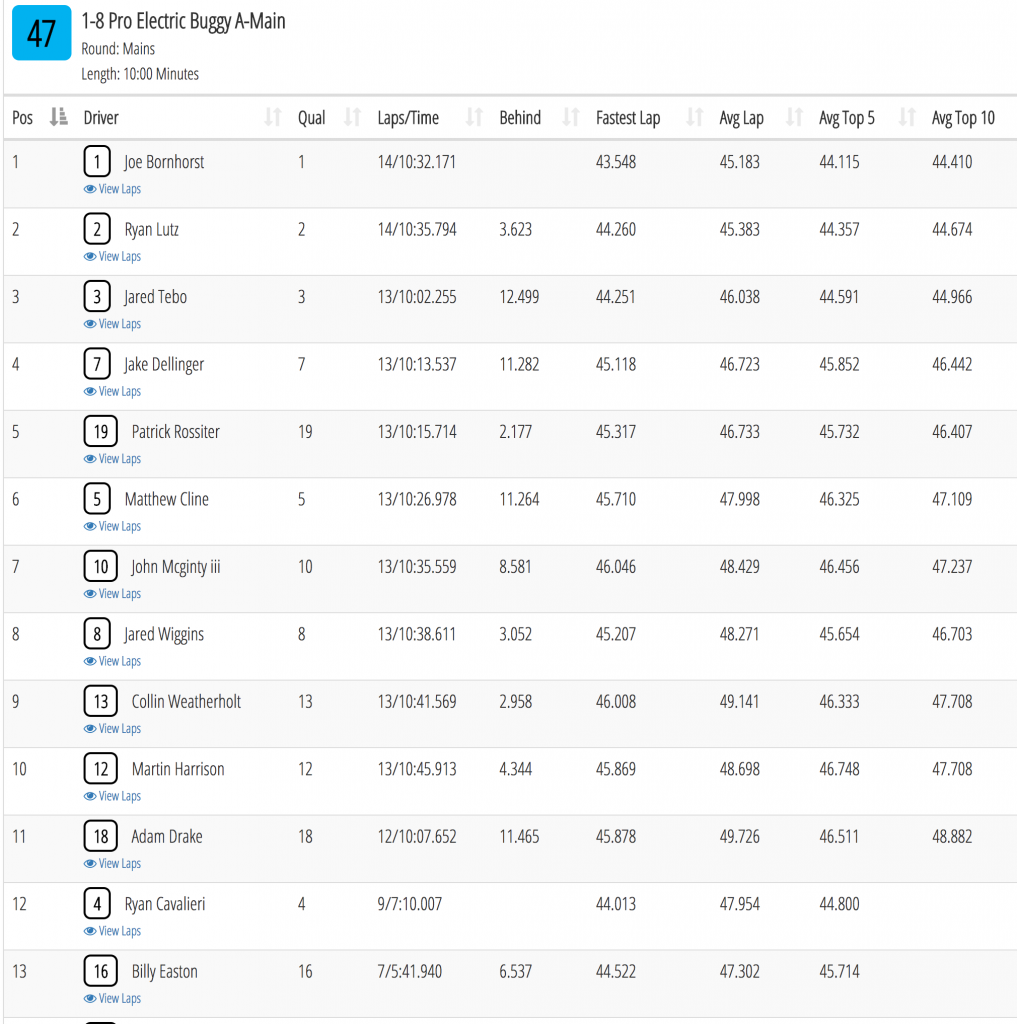 1/8th Pro Nitro Buggy
The 45 minute, intense A-Main event saw Tekno's Ryan Lutz take an early lead and space himself from his competitors letting the field battle amongst themselves giving Lutz the luxury of clean air and zero traffic. JConcepts Ryan Cavalieri and Kyosho's Jared Tebo would have a classic battle with the two trading positions numerous times fighting for 2nd place. After a grueling 45 minutes, Cavalieri would make an uncharacteristic last lap error that allowed Tebo through to take 2nd and Cavalieri 3rd.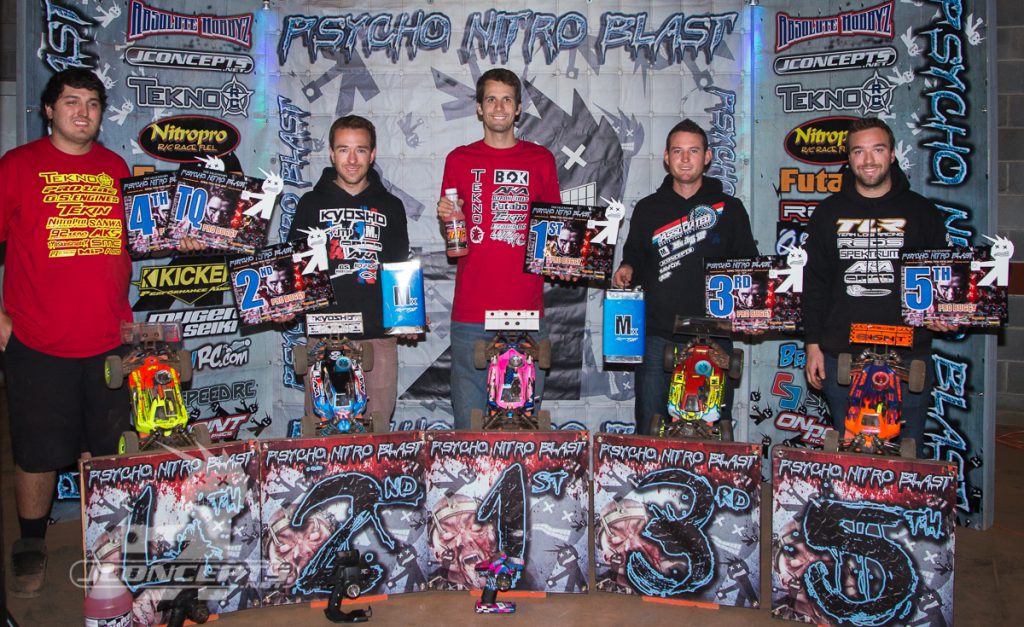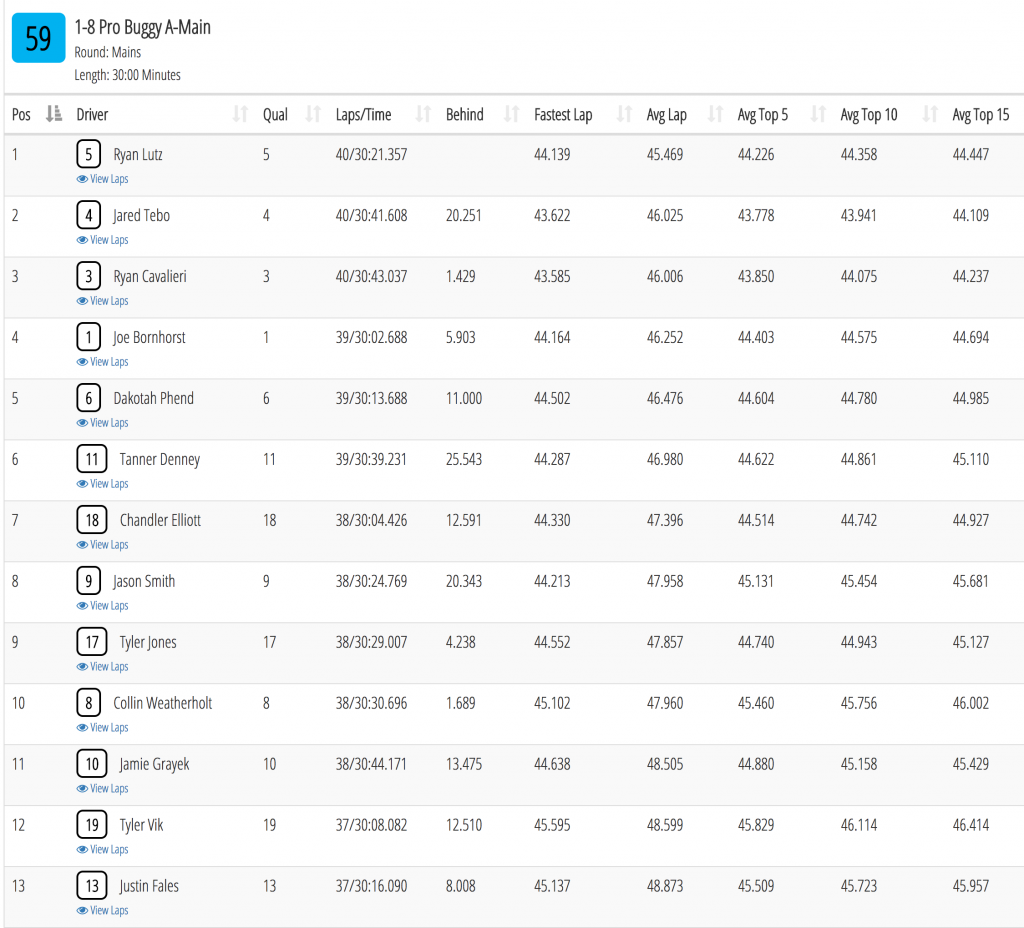 1/8th Pro E-Truggy
Once again, the Tekno duo of Lutz and Bornhorst would come down to the wire. After 10 minutes, Bornhorst would take the win with Lutz 4.1 seconds back. Justin Fales would finish 3rd and JConcepts' Patrick Rossiter would work his way from 10th on the grid to finish 4th overall. Xray's Landen Lewis would finish 5th with a great drive to finish in the top 5.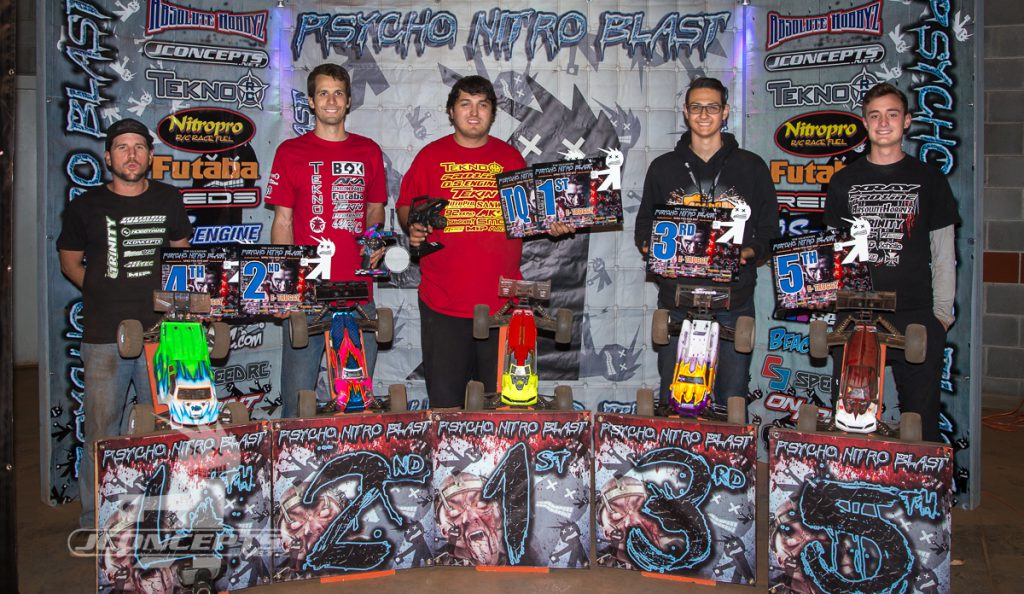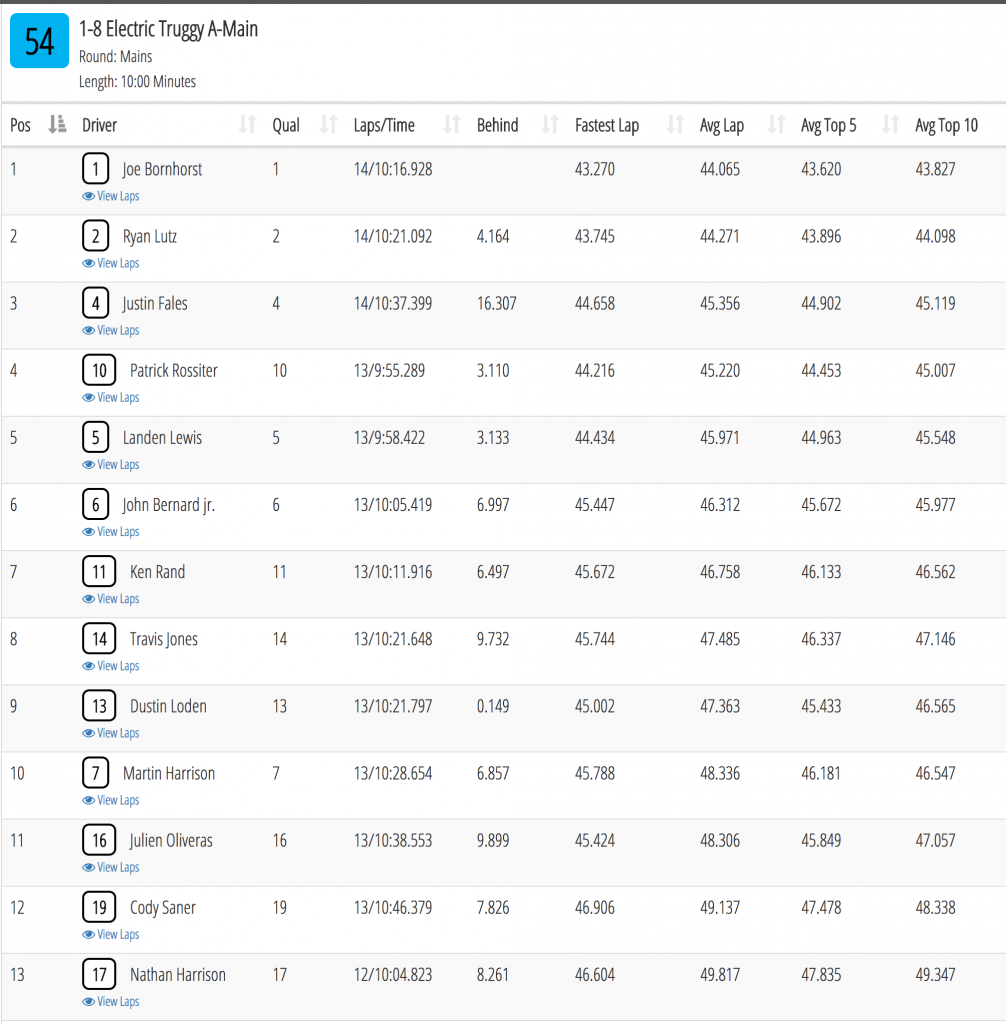 1/8th Pro Nitro Truggy
Tekno's Ryan Lutz was able to set TQ and start from the front of the grid. Lutz would use his position to once again, let his competitors battle while he was able to slip away and take the win in Truggy. While in 2nd place, JConcepts' Ryan Cavalieri would cross the line for his final lap, but having the unfortunate luck of a receiver coming unplugged from all the harsh landings, was unable to finish his final lap. This would move JConcepts' Cole Ogden from 3rd to take over 2nd on the podium. Great job by both Cole and Ryan to finish 2nd and 3rd overall.