The April Fool's Classic has a deep history in the world of R/C off-road racing. Known as R/C's 2nd longest running race and the premiere race in Utah, over the years it has attracted some of the industry's best drivers to compete on a high-bite, clay track better known as Intermountain R/C Raceway. On April 1st-2nd, IRCR hosted the 29th Annual April Fool's Classic and since the new ownership under Murfdog, has seen a significant resurgence of a genuine classic.

The grip is always high at IRCR and by the mains, the fastest tires are ghost pins or slicks in the rear with low tread up front. With that kind of bite, navigating the flowy layout filled with technical elevated corners and jumps wasn't an easy feat. Perhaps the hardest part on the track was the big triple that landed into a 180-degree turn coming onto the straightaway. The more precise you could land the jump while still maintaining a tight line and corner speed, the more time you could shave off your lap.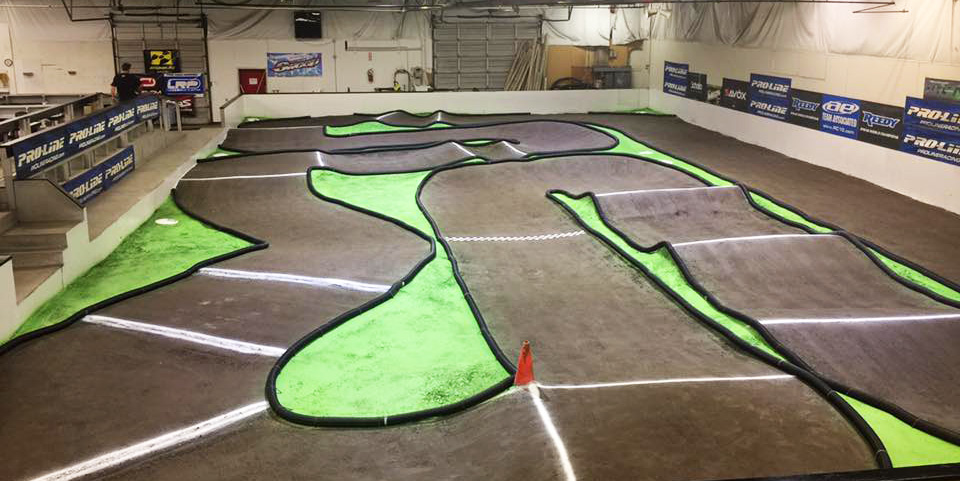 Thanks to Murfdog and the IRCR crew for putting on a fantastic race that has brought back the magic and competitive feel of the April Fool's Classic. Also thanks to LiveRC.com, LiveTime Scoring, Amain Hobbies, and Team Associated for their podium pictures. For cleanliness, the photos were cropped, but the sponsored watermarks are provided in the links above. Please click on their links to learn more about their awesome services and products! If you're looking for more stats and videos, please go here.
Sportsman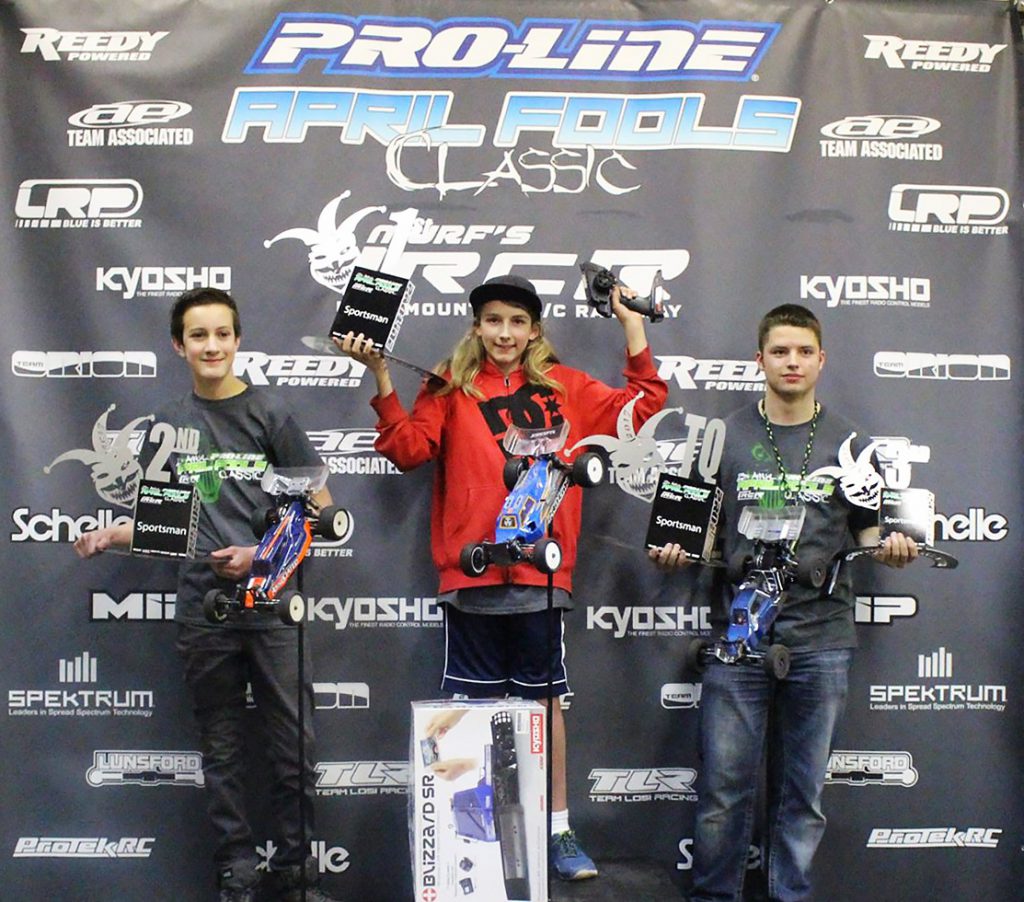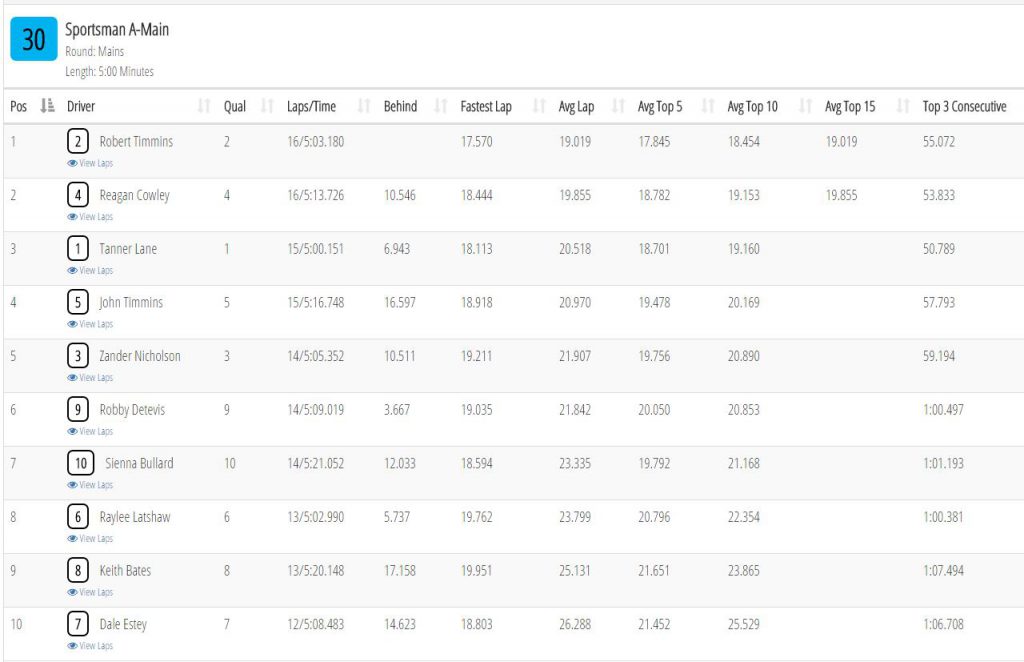 17.5 Stock Buggy
MIP/JConcepts' Matthew Olson was able to take home the win using his JConcepts equipped Team Associated B6 to reach the top step on the podium. Olson was able to win A1 and A2 to take the overall. Ron Reid's radical win in A3 catapulted him into 2nd while Matthew Breasbois finished out the day with two 2nd place finishes and round out the top 3.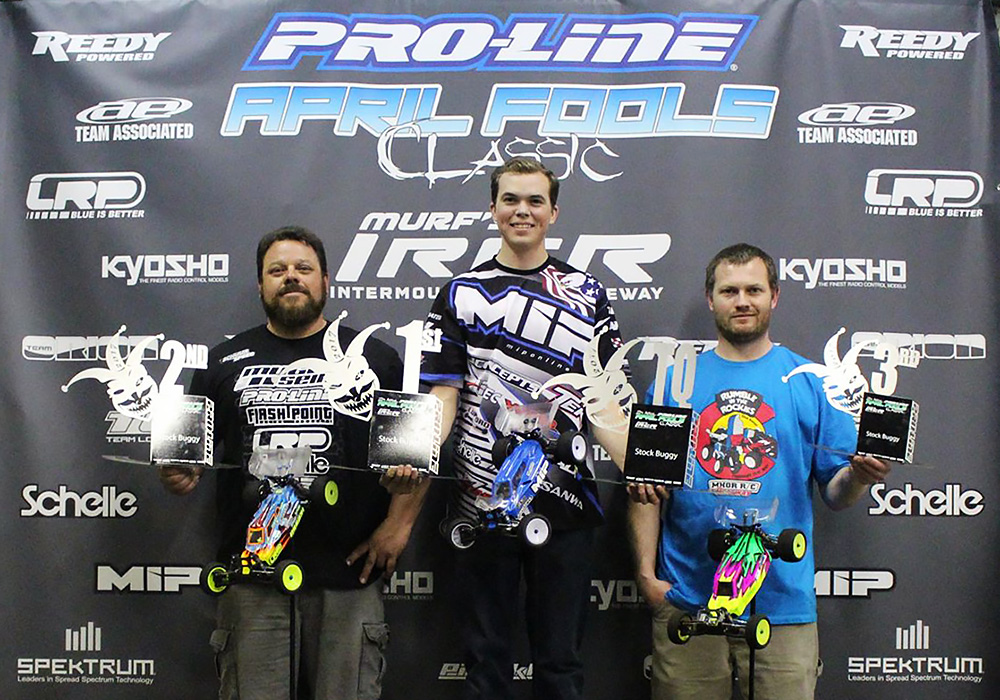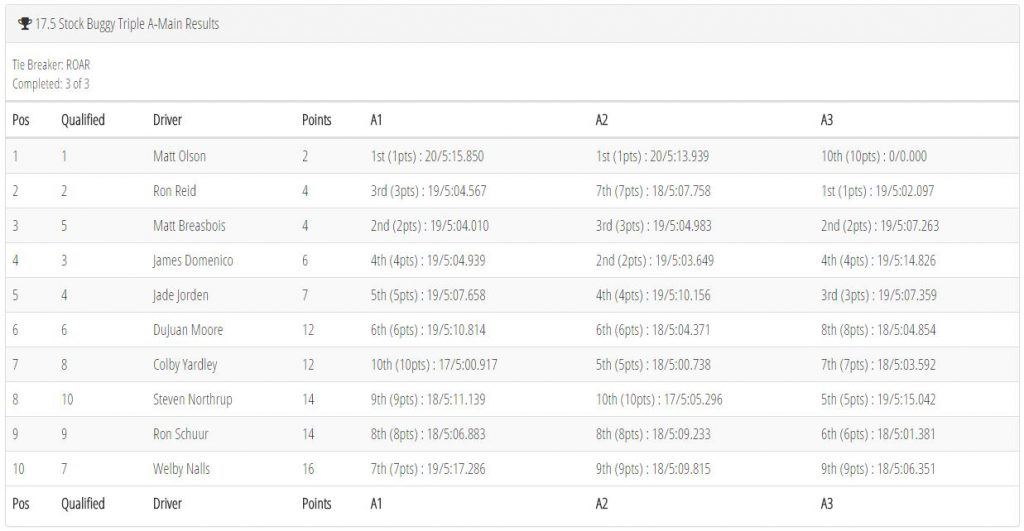 17.5 Stock Short Course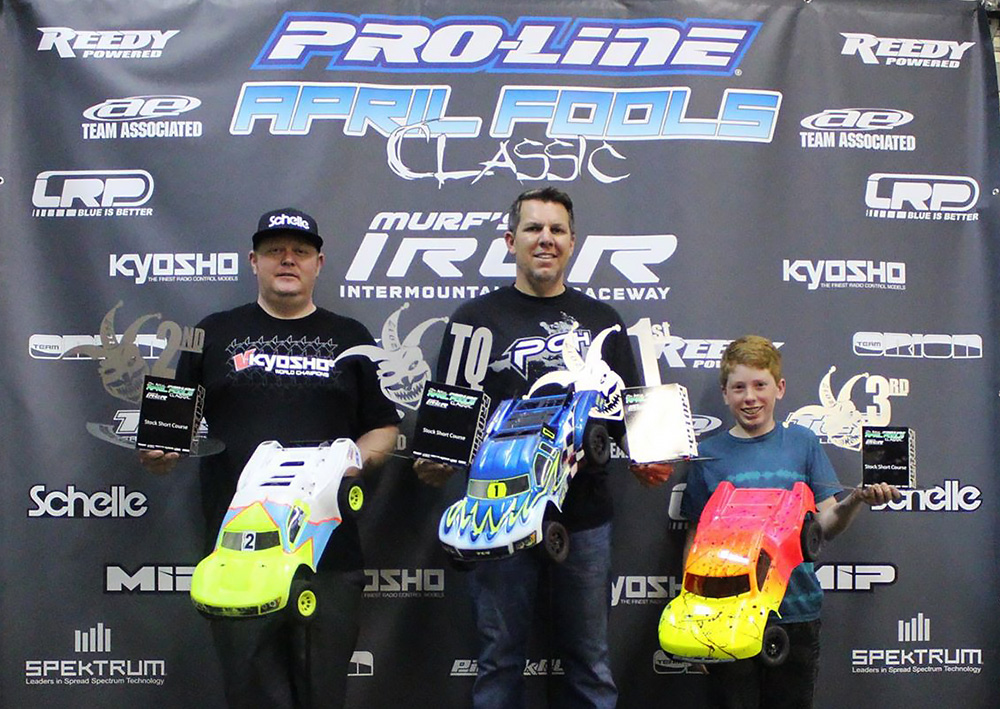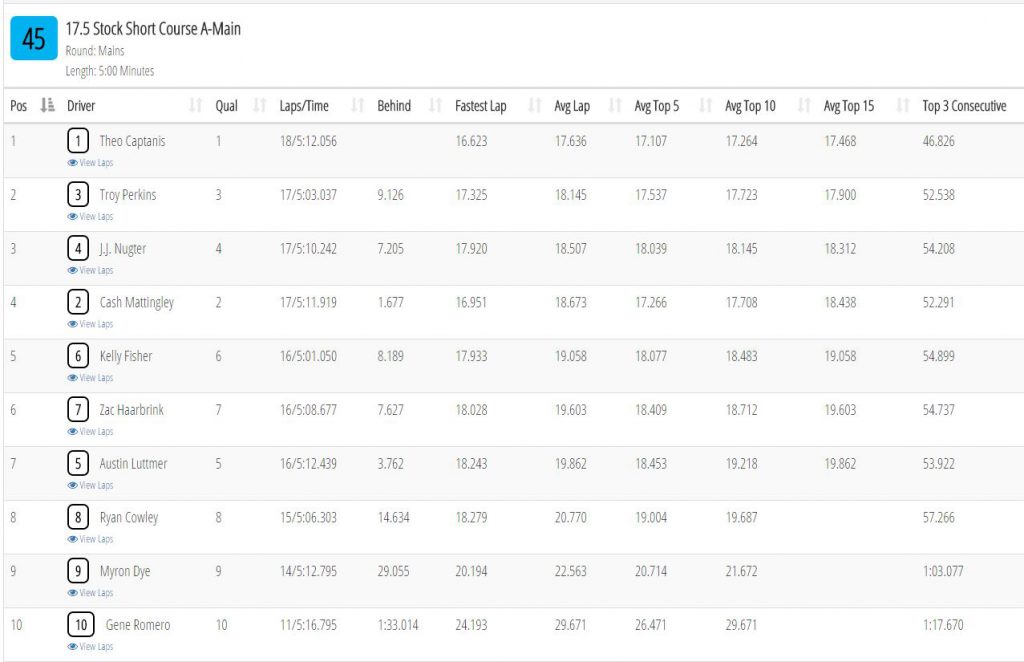 17.5 Stock Truck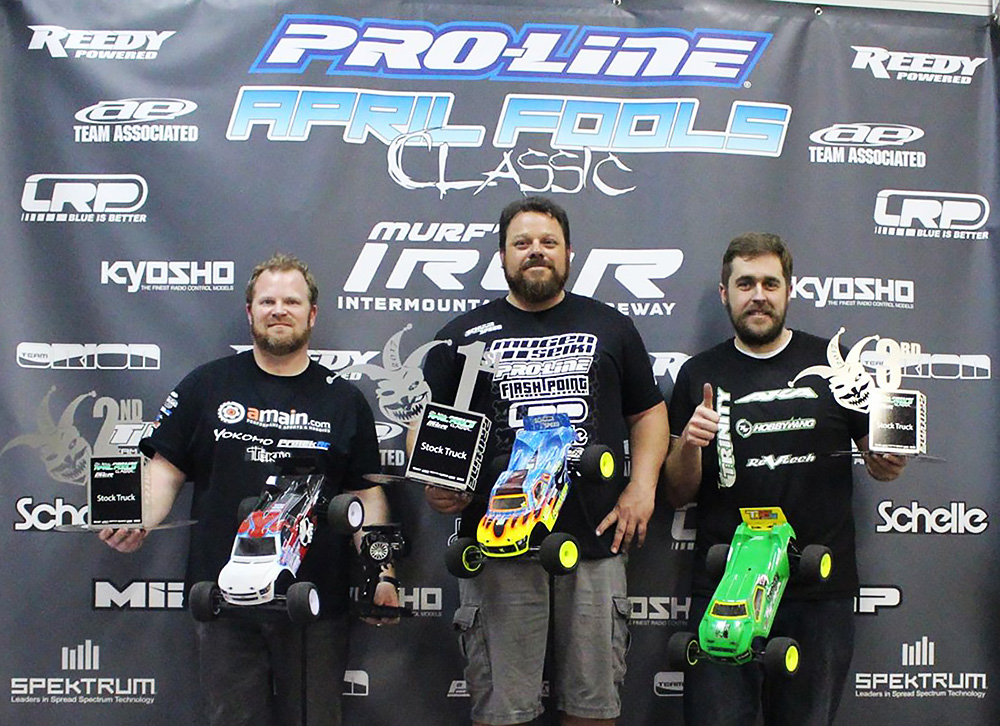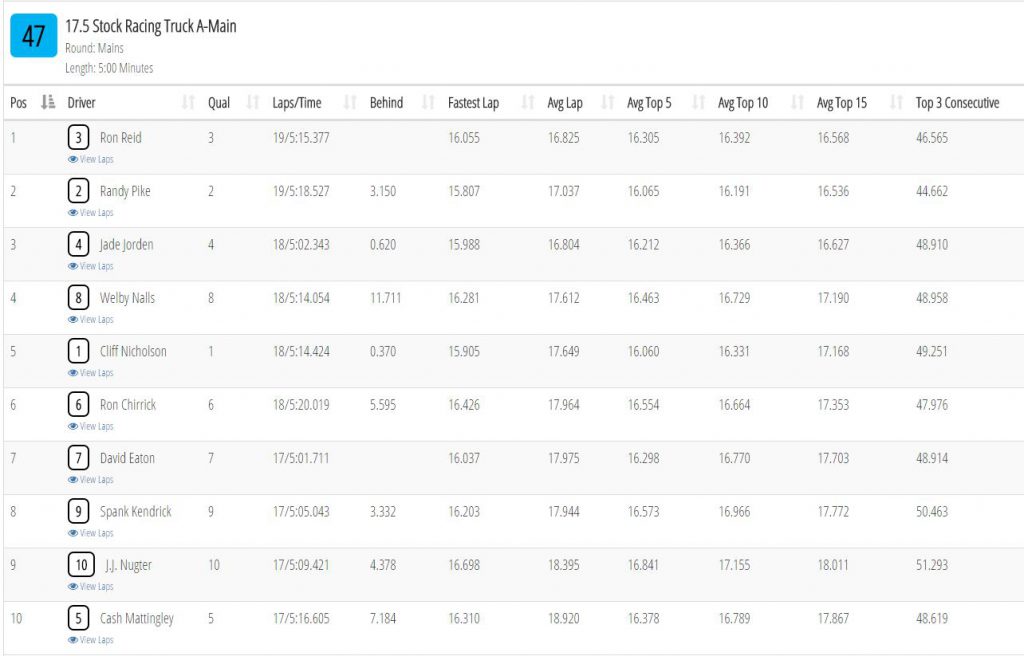 13.5 Masters 2wd Buggy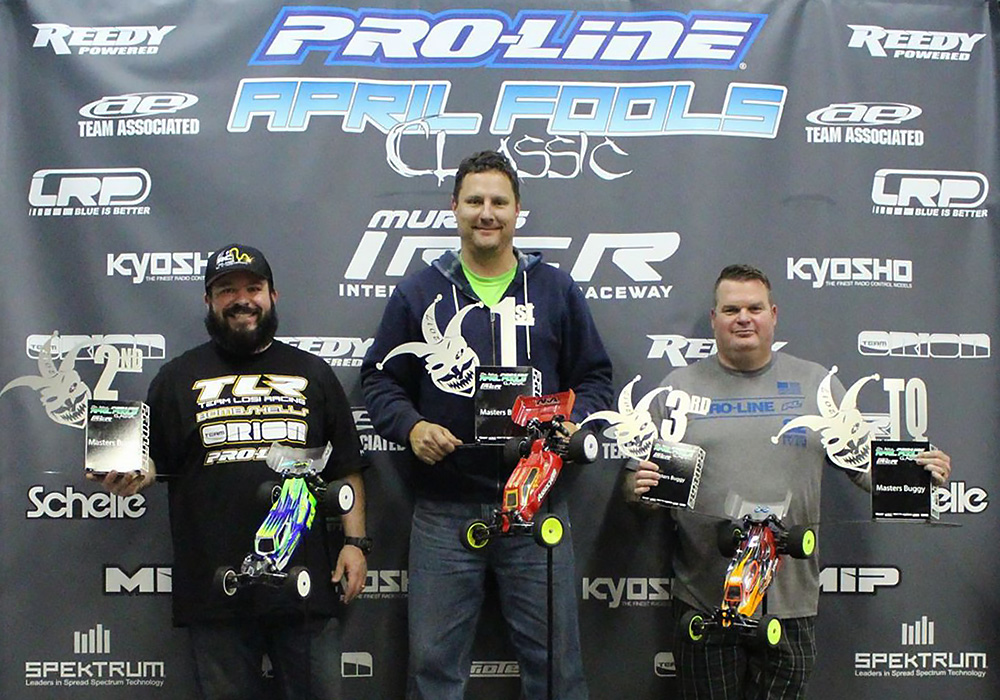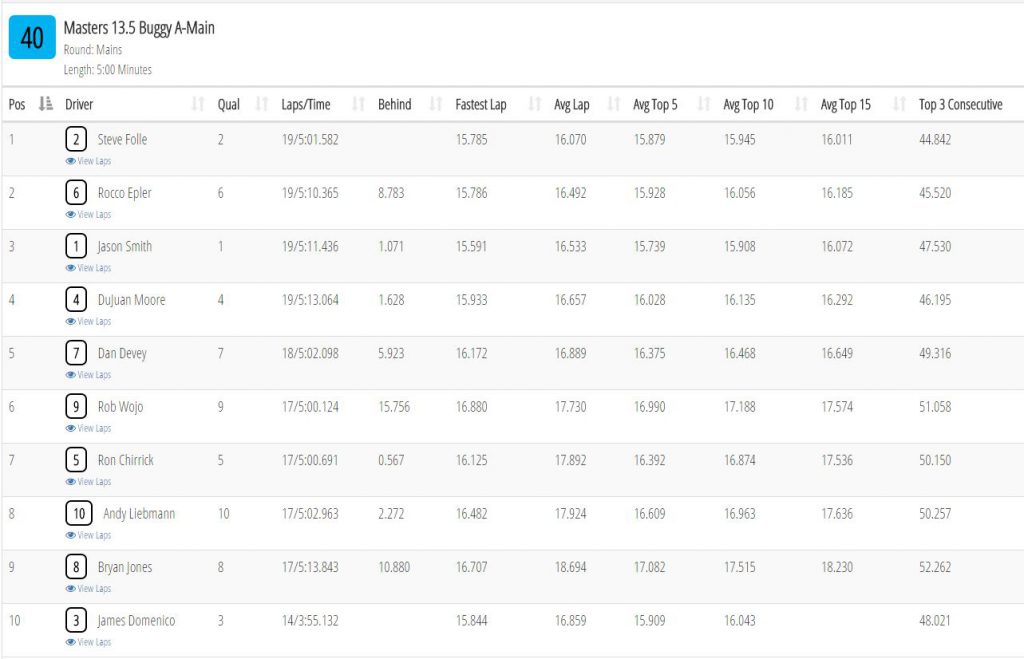 13.5 Masters Stadium Truck
JConcepts' Rob Moots was able to take the TQ and go on to win the 5-minute A-Main event in the Masters Stadium truck class. Moots was also the only driver to put in 19 laps. Jason Smith and David Eaton would finish 2nd and 3rd respectively.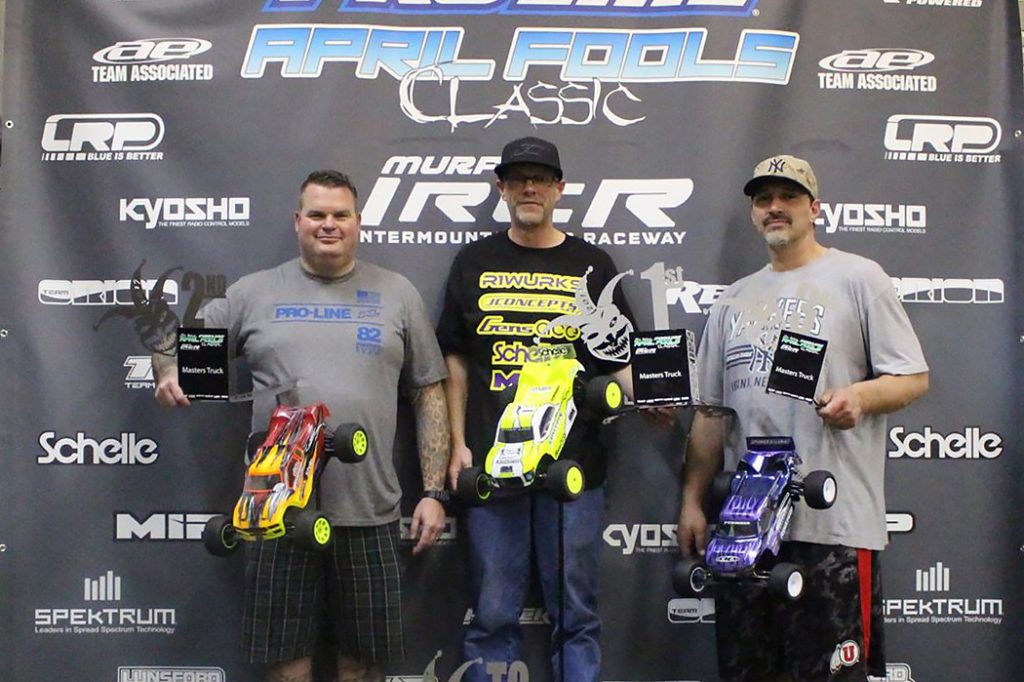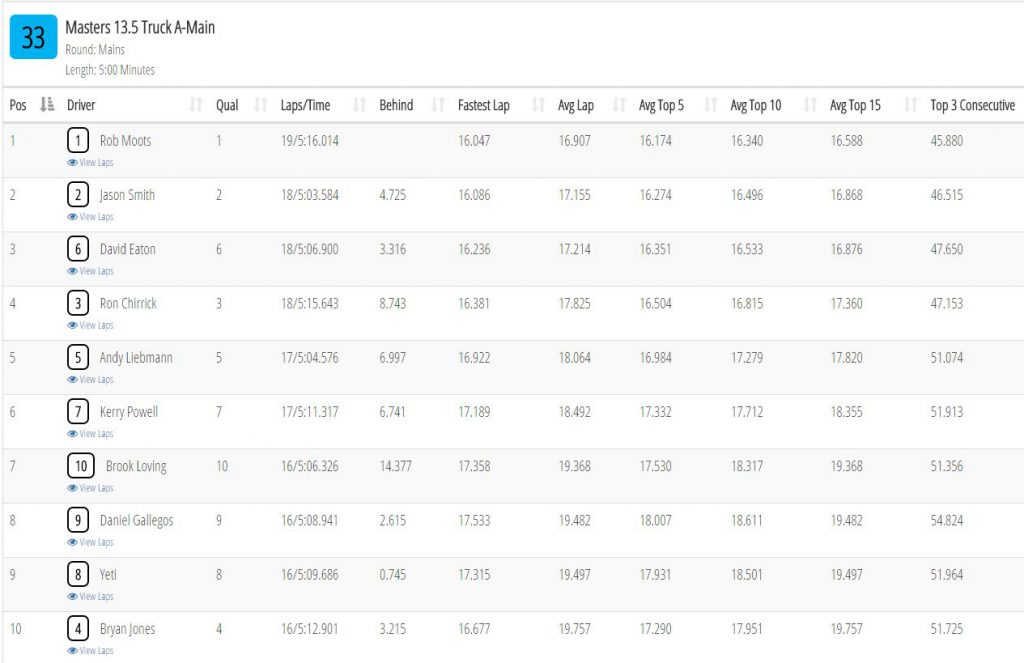 13.5 Super Stock 2wd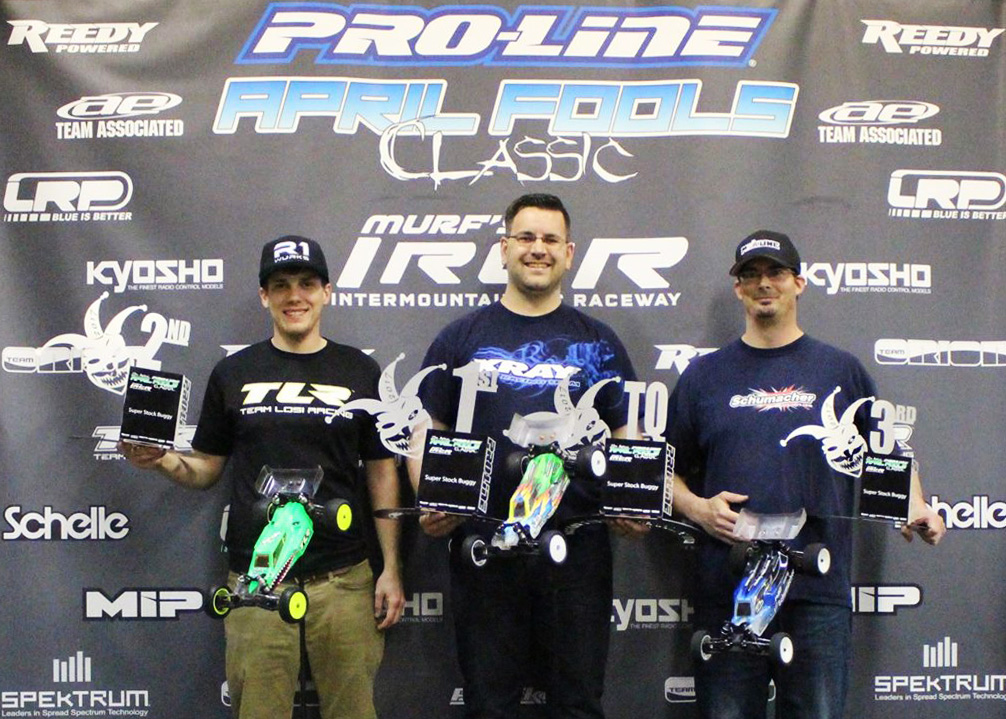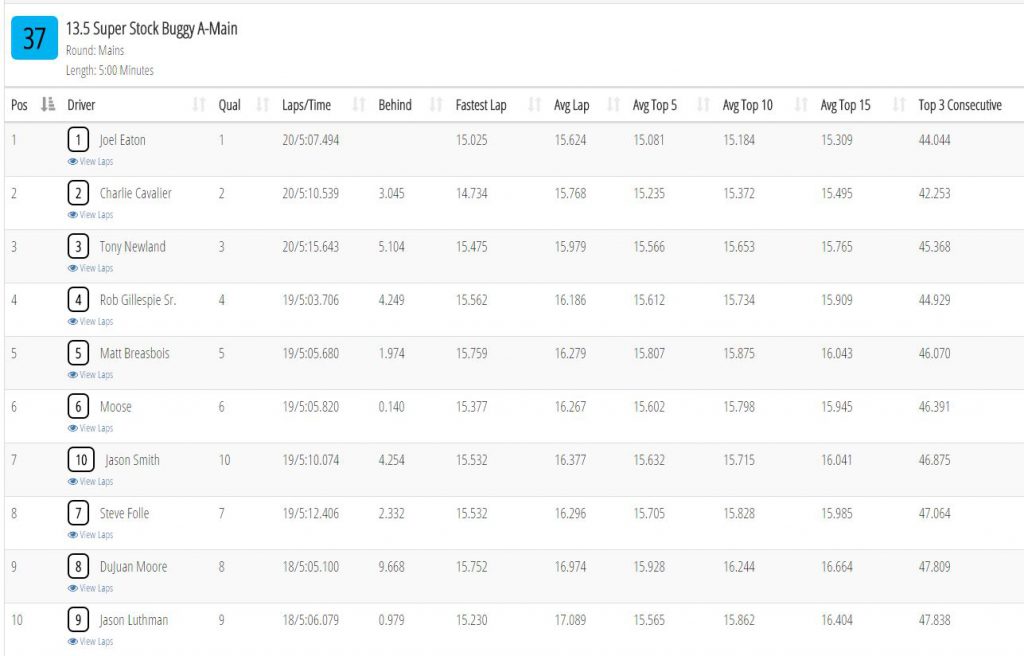 13.5 Super Stock 4wd
Once again, MIP/JConcepts' Matt Olson would find himself in 1st, but this time in the ultra-competitive 13.5 Super Stock 4wd class. Olson would set the TQ on Gold Dirt Webs and check out to win the A-Main with a comfortable margin. Finishing 2nd was Steven Northrup who delivered an awesome performance to lock up 2nd and Jason Smith would go on to finish 3rd on the podium.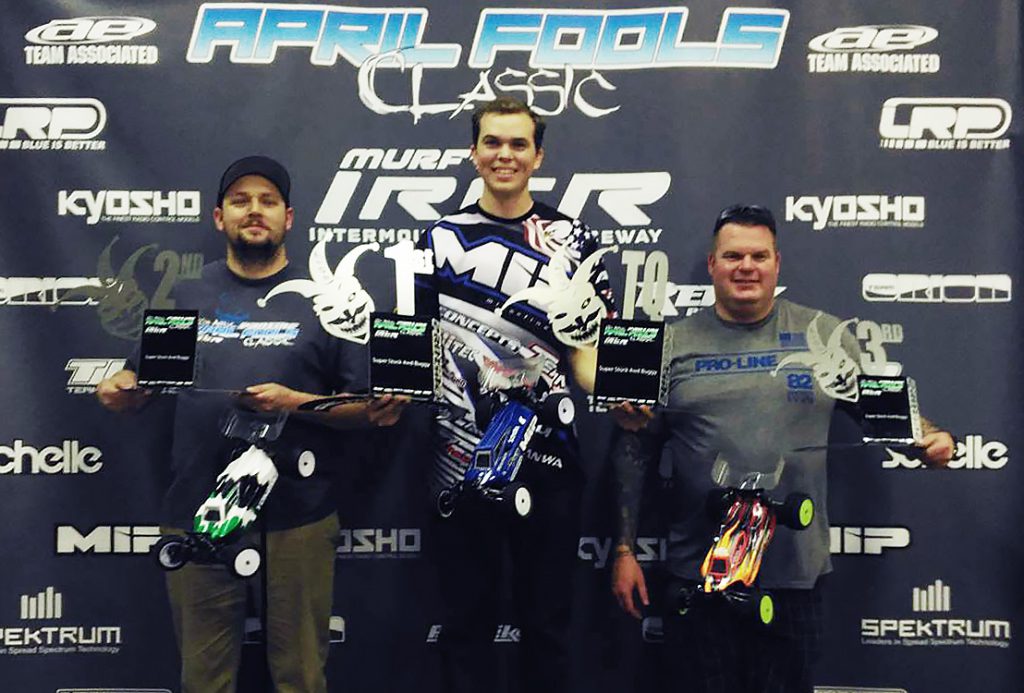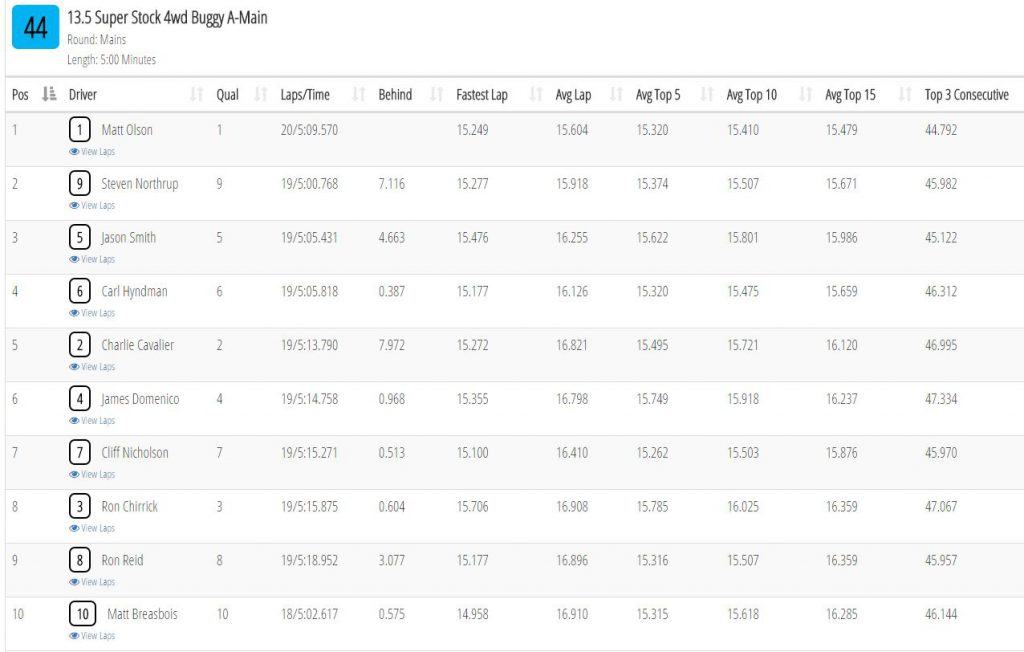 4×4 Open Short Course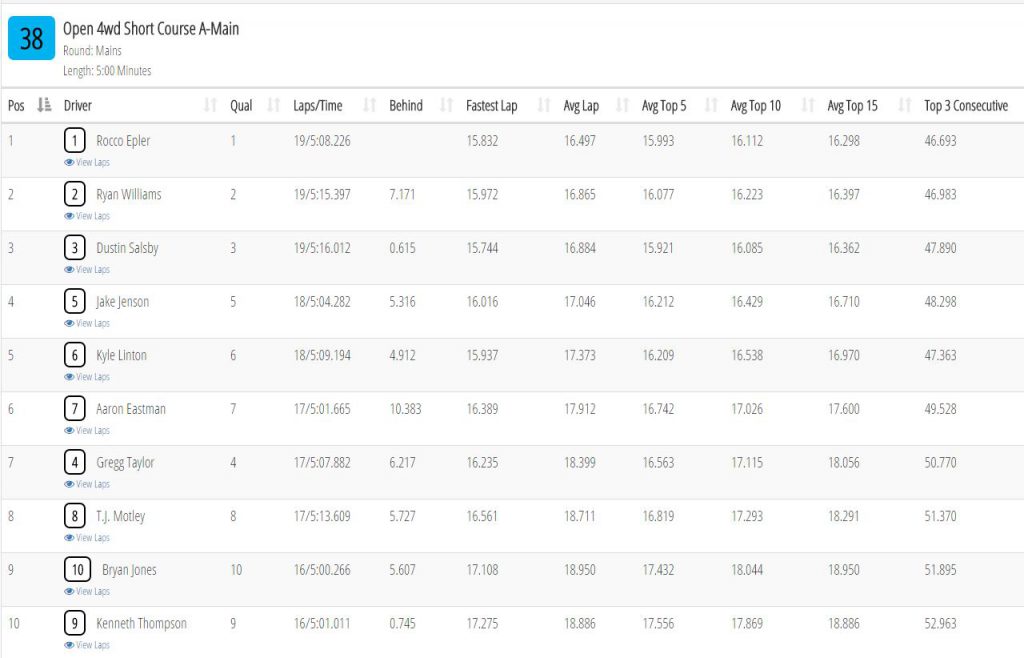 Modified Short Course
Setting the pace in Mod Short Course was AE/JConcepts' Alex Kosciuszek. Feeling the flow, the Wizard would unleash a hell of a run in the A-main to lead the way for a JConcepts 1st, 2nd, 4th, 5th, and 6th place finishes. TLR/JConcepts teammate, Frank Root would power his way to 2nd with Moose in 3rd.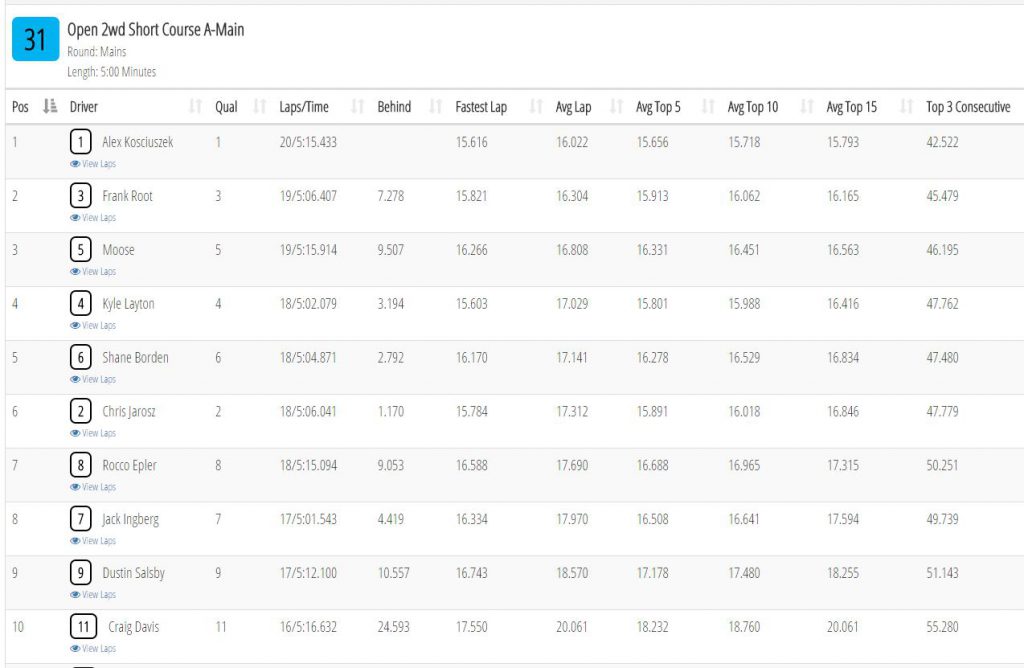 Modified Stadium Truck
In the modified truck class, Utah's own Super Star and former Reedy 2wd Open Champion, Team Associated's Rob Gillespie Jr. looked like he had it in the bag after showcasing his blazing TQ pace in qualifying. During the triple A-Mains, it was TLR/JConcepts' JP Richards who would steal the show. In A1, Richards would shadow Gillespie's every move until Gillespie made a mistake coming short on the double. From there, it was all JP. A2 started off similar to A1, as the two aces would follow each other nose to tail for nearly 4 minutes until another uncharacteristic mistake by Gillespie on the triple would allow Richards through. Richards would take the A2 win along with the overall in 2 mains. Gillespie would go on to win A3 to finish 2nd overall and TLR's Charlie Cavalier would round out the podium in 3rd. Congrats to Kyosho/JConcepts' Evan Overmars for finishing 4th with two 3rd place finishes.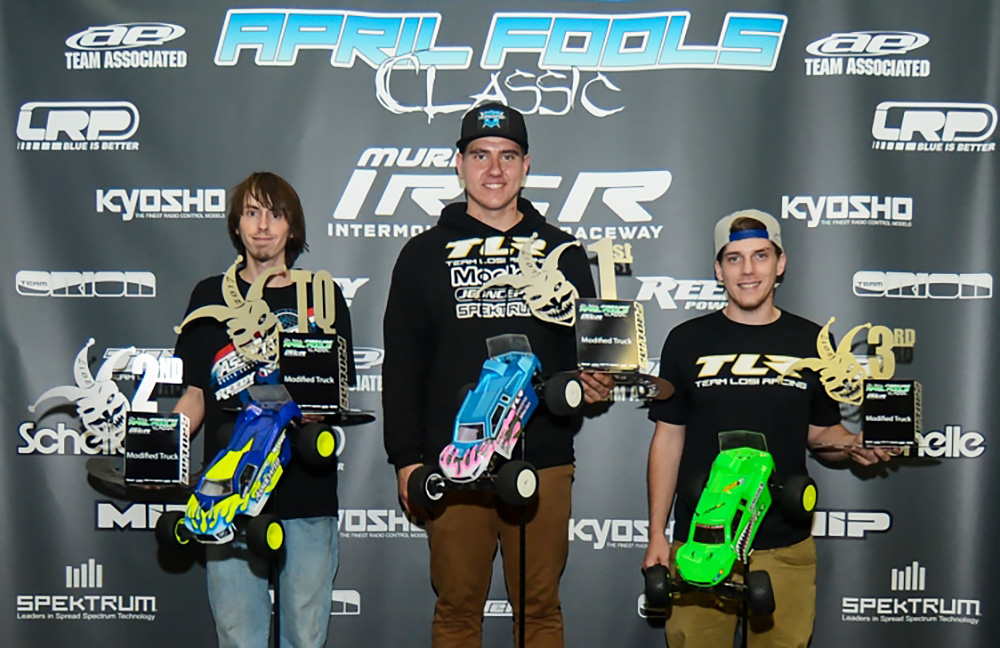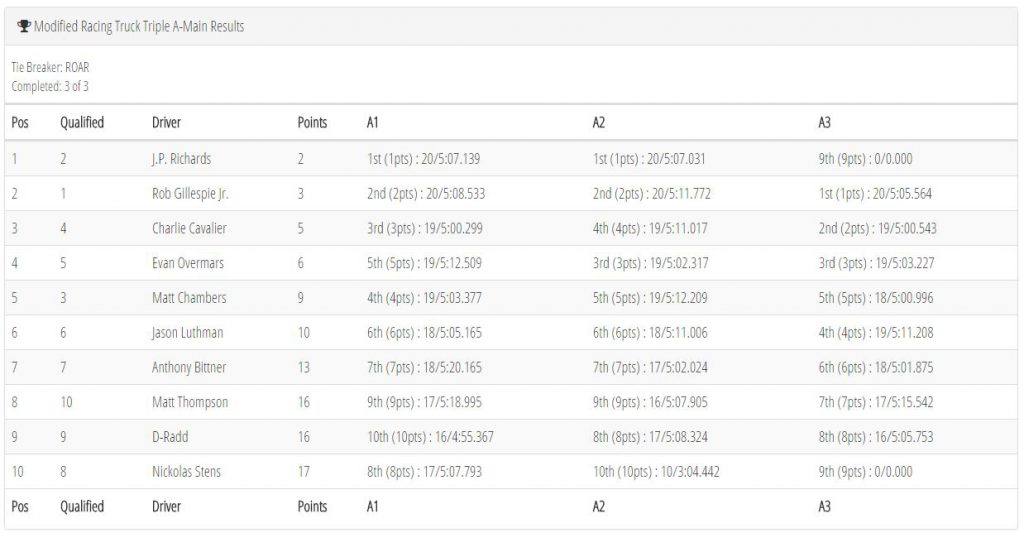 2wd Modified
AE/JConcepts' Alex Kosciuszek was able to put in an amazing qualifying effort to take the TQ position over an ultra fast, Rob Gillespie Jr. Track position definitely helped as Kosciuszek was able to control the gap to 2nd and comfortably to take A1 despite the constant pressure from the local superstar. A2 had a different result as Kosciuszek would flat land the triple on the first lap breaking the field up from its qualifying order. Taking the win in A2 was Eric Willardson, who was able to capitalize on the Wizard's mistake. In A3, Kosciuszek drove flawlessly to take a wire to wire win and seal up the overall in dominant fashion. RGJ would finish 2nd and Willardson 3rd on the podium with his terrific A2 win.
Also making the A show was JConcepts' superstars, JP Richards who finished 4th, Nathan Bernal in 5th, Chris Jarosz 8th, Luke Smith 9th, and Frank Root in 10th making it 6 out of 10 cars in the A-Main on JC rubber!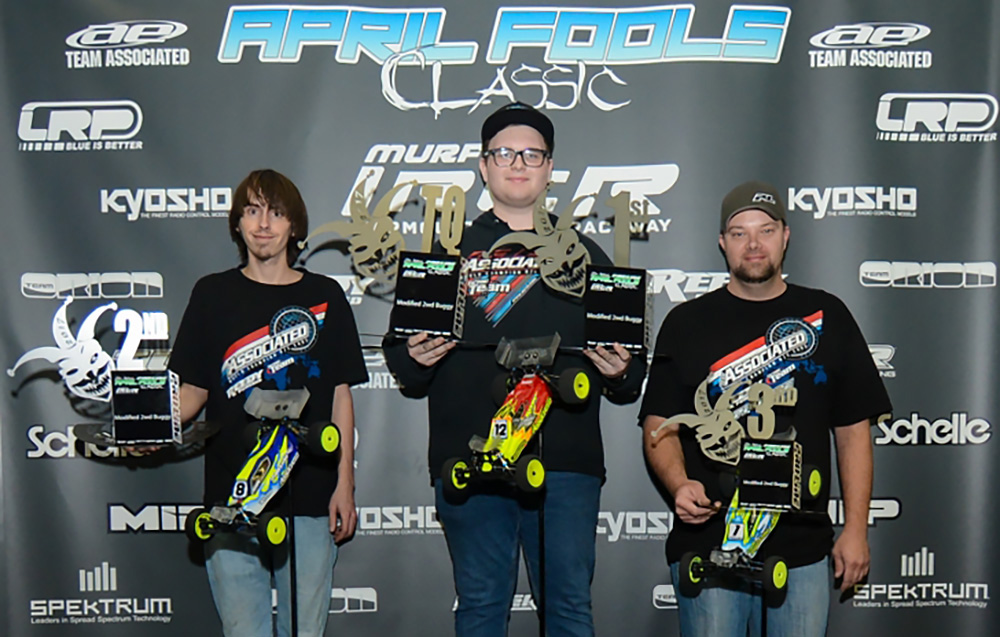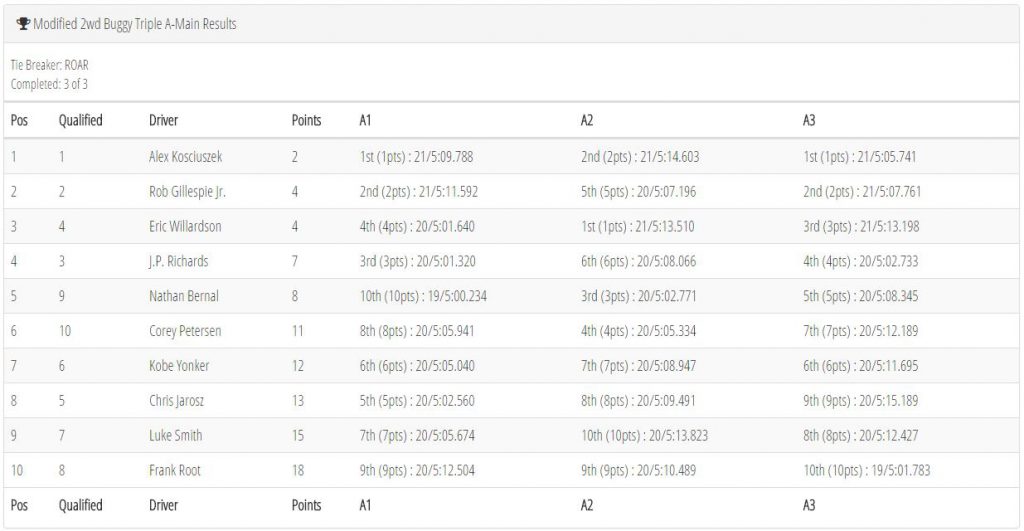 4wd Modified
It was another showdown between AE/JConcepts' Alex Kosciuszek and AE's Rob Gillespie Jr., but this time in the 4wd modified class. Having the upper hand by earning the 4wd TQ, RGJ was on a mission to take home his first class win of the weekend. Early in A1, the two perennial favorites would get together in the sweeper which resulted in a mechanical and a DNF for Gillespie. Kosciuszek would go on to take the win in A1 and put RGJ on his back foot with a must win in A2. With the pressure on, Gillespie lit up the track in A2 and drove flawlessly and defended every attack from Kosciuszek to take the win. The overall was to be decided in A3. RGJ would put in another perfect run and take the win in A3 and with it the overall in 4wd.
A valiant effort by the Wizard coming very close to having a perfect weekend in modified, but congrats to Robbie for a terrific performance in 4wd. Tekno's Mason Eppley would finish off 4wd with two 3rd place finishes and ahead of some amazingly talented drivers. JConcepts' Tommy Hinz would also put in a solid weekend in 4wd to finished fourth. Also, congrats to Frank Root, Kyle Layton, and Nathan Bernal for making the 4wd A-Main for JConcepts making it 5 total in the A.