It has definitely been a busy week last week for the JConcepts team with team drivers bringing home wins all throughout the nation. From a definitive statement at the Summer INS with many of our drivers making podiums and taking class wins like Defatte, Stoub, Layton, Hobbs, and Cavalieri. While the INS was happening, the rest of the team was also doing work too. Here was last week's action-packed week of racing results as this Winning Wednesday is a tribute to them…. Simply outstanding!!
Ultra fast, super talented, Tyler Jones took a bit of time to do a little Nationals prep by attending the Nationals Warm-Up race in Gaithersburg, MD at The Track. Tyler found that the green and black compounds in Dirt Web and Octagons patterns to be most suited for the track conditions. Getting his TLR cars dialed in early, Tyler was able to TQ and win both the 2wd and 4wd classes at the Nats warm up!
Cole Ogden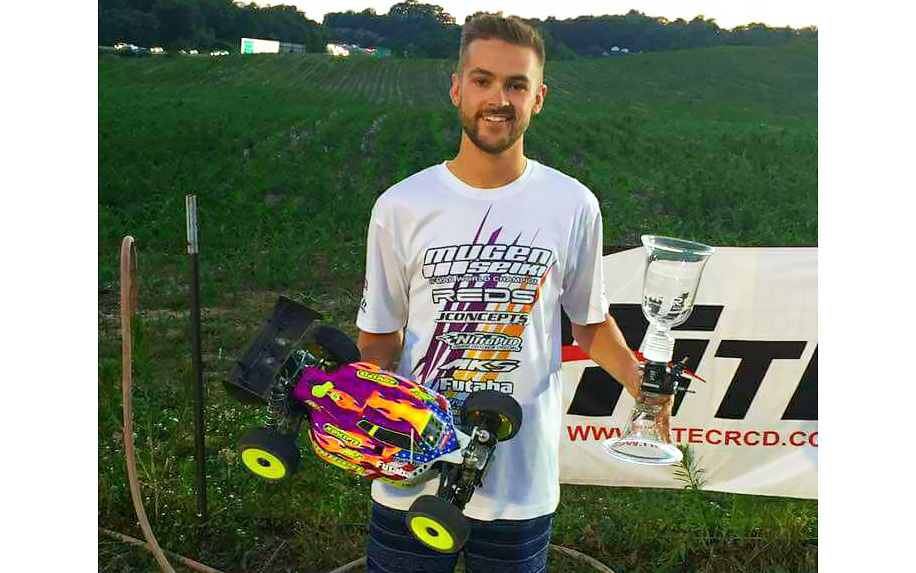 It was another standout weekend for JConcepts' Cole Ogden as he attended the Novarossi Big Apple Nitro Challenge at Barnstormers Raceway. Cole was able to TQ and take the win in Ebuggy with JConcepts teammate Reno Savoya finishing 2nd making it a 1-2 finish in Ebuggy.
Making the journey from France to attend the Novarossi Big Apple Nitro Challenge at Barnstormers Raceway, Reno Savoya emerged as the Nitro Buggy Champion by earning TQ and taking the win! Reno was dialed on R2 Reflexes and also finished 2nd in the E-Buggy to cap off a terrific weekend of racing.
MIP/JConcepts' Matthew Olson was at it again in the world of 1/5th scale as he ventured up to join in on the Canadian Nationals where Matt would take the overall win in the truck class! Matt would earn an unprecedented 3rd Canadian National Truck title making it 3 straight titles for the 1/5th scale JConcepts Reflex truck tire. This guy is on a roll! Thanks for the hard work Matt.
It's always nice to TQ and win a couple of classes on the weekend and that is exactly what Lee Setser did last weekend. Taking double TQ and double wins at SS Hobbies & Raceway, Lee set the pace in 2wd Modified and 4wd Modified using blue Reflex tires and the race proven, S2 bodies and Aero wings for his Team Associated rides.
Minnesota's Kyle Holmberg seems to race it all and race it well. This weekend, Kyle joined in on some 1/8th scale nitro fun at Rick's Hobby Farm in New Richmond, Wisconsin where Kyle was able to take the TQ and win in nitro buggy.  Kyle used green Rehabs to provide him the grip to take him to the top step.
Jerry Dean II was at it again last weekend competing at Round 3 of the RC Pro Series at Thornhill Racing Circuit in Hutto, Texas. Jerry would find the speed to take the win in Open Ebuggy with blue Detox. From last year's Nationals, the JConcepts blue Detoxes have been taking over! Great job Jerry and keep up the great work.
Everytime Jader Lopez hits the track, he get's the job done. Last weekend Jader did a little club racing and took the TQ and win in Ebuggy at Mills Pond RC Speedway. The Miami, Florida native is getting it done in Florida!
Hailing from Tuscaloosa, Alabama, HB/JConcepts' Hunter Cupp did some club racing at SHARC and joined in on the 1/8th scale nitro fun. Using green compound Chasers for qualifying and switched to the classic Stackers once the track started to hold moisture in the main, Hunter took the TQ and win!
On his 20th birthday weekend, Evan Cole decided to do some racing where he entered the Ballistic Buggy Challenge at WFO Raceway. With a mistake-free and flawless run in the A-Main, Evan was able to take the win using the handout tire in the rear and Swagger fronts. Happy Birthday Evan and awesome job!
Check out this podium picture with Derek Stephansen holding the Championship Belt! Who wouldn't want one of those as a trophy? Derek was able to shine in the Modified Short Course class at the Northern California Belt Champs at Norcal Hobbies. Derek would use the gold Dirt Webs to power himself to a fantastic win.
Iowa's Cole Henriksen was able to take the win in Stock Short Course at round 3 of the Hobbyplex AE Summer Series. Cole used JConcepts gold Dirt Webs to see him through to victory lane at the summer series.
The JConcepts Pennsylvania racer, Cody Saner took the opportunity over the weekend to do some club racing at LCRC in Oakland Mills, Pennsylvania. Running blue Reflexes, Cody was able to pick up the win in Nitro Truggy and currently leads the points series by 1 point with 1 round to go! Let's do it Cody!
Attending the new outdoor Extreme RC Raceway track in Spring Hill, Tennessee, Chris Rakus was able to take the TQ and win in Nitro Buggy using blue Reflexes. JConcepts teammate Caleb Stevens was also able to make the podium finishing in 2nd place! What a duo. Great job team!