Finishing on the podium is always a great accomplishment and last weekend was a terrific weekend for the JConcepts team at the 11th Annual Futaba/OS Engines Nitro Challenge hosted by St. Louis Dirt Burners in Missouri. The concept of the race is that it allows the locals to experience an awesome racing event while adding a terrific chance to meet some of the industry pros to Learn From the Legends. This year's Aces was Futaba's Ryan Lutz and OS Speed's Adam Drake; definitely two iconic legends of the industry.

The layout is always a lot of fun at Dirt Burners and this year's layout was smooth and flowy with an added dose of speed making a terrific and challenging track for all racers and skill levels. The weekend started off wet, but the track crew did a fantastic job and got everything rolling smooth. Great job by the Dirt Burner crew!!
1/8th Expert Nitro Buggy
Mugen's Joe Duffy was able to step up his pace during the 30 minute A final over top qualifier, HB Racing's Julian Malevanets, and take an impressive win in the Expert class. Malevanets recovered from a poor start to finish 2nd and JConcepts' Troy Weber took the final step on the podium with a late race charge.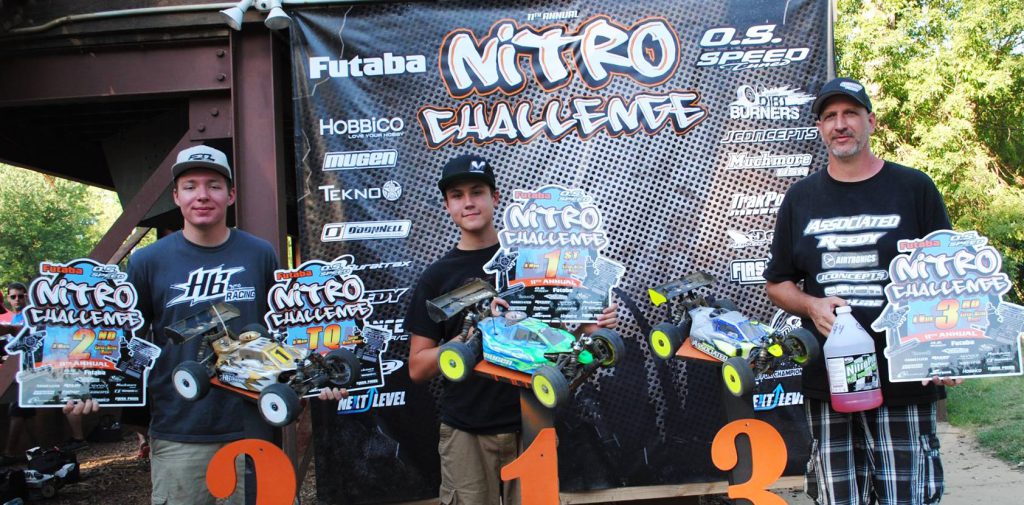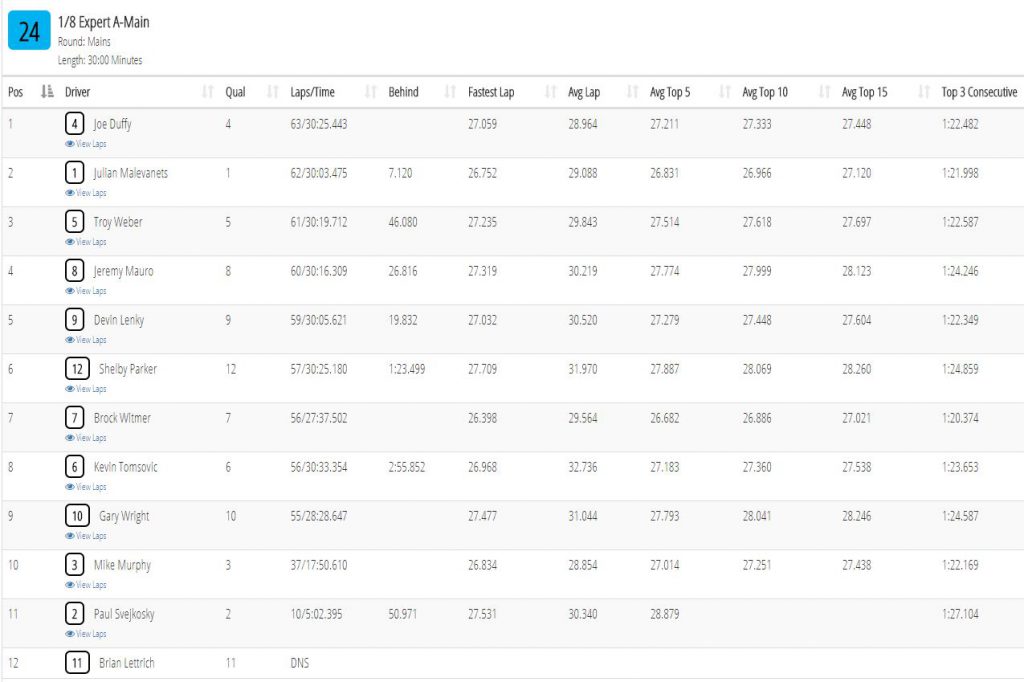 Pro Ebuggy
It was an impressive performance by Tekno's Ryan Lutz, who took the overall win in the Ebuggy class by winning A1 and A2. AE/JConcepts' Cole Tollard had a terrific weekend with strong performances in the both of the double A's with a 2nd and 3rd place finish to earn him 2nd overall. Serpent's George Sorwell finished 3rd.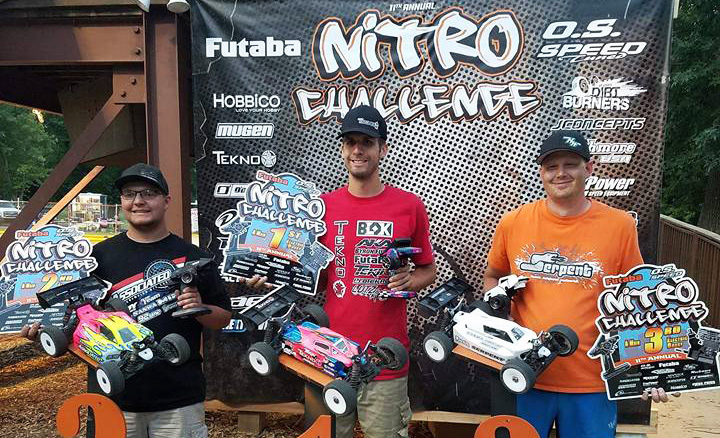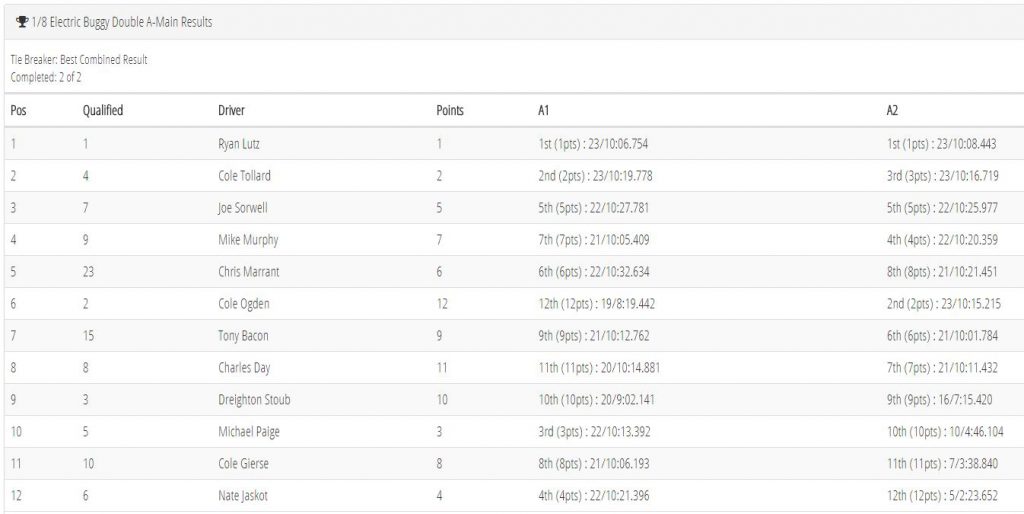 1/8th Pro Nitro Buggy
The battle would come down to the wire with Tekno's Ryan Lutz taking A1 and Mugen/JConcepts' Cole Ogden winning A2. With the tie-breaker going to the best-combined results, Lutz would go on to win the overall in a very competitive Pro Nitro Buggy class. Ogden finished 2nd and once again AE/JConcepts' Cole Tollard would land himself on the podium with a 4th and a 3rd place finish to grab 3rd overall. Just getting beat out by Tollard for the last spot on the podium, but making the top 5 for JConcepts was Illinois' Michael Paige.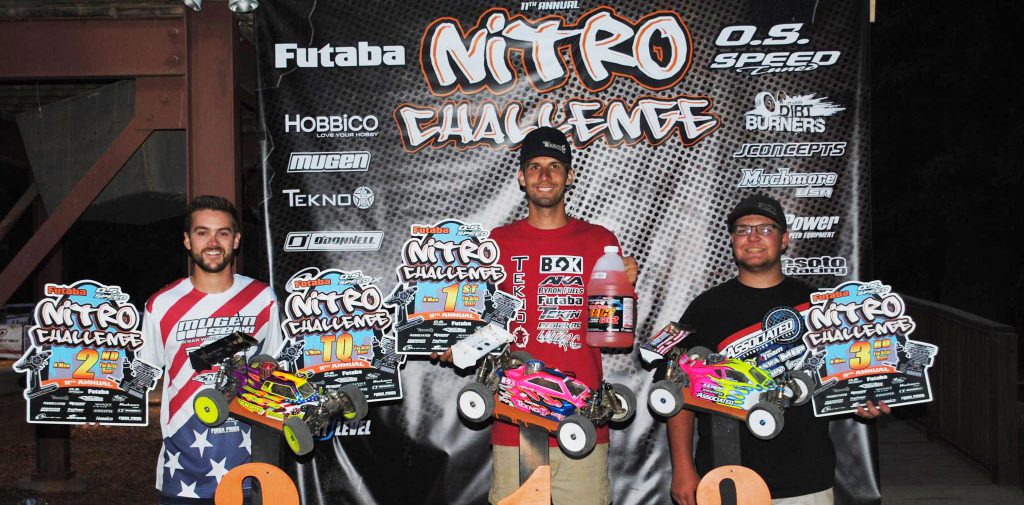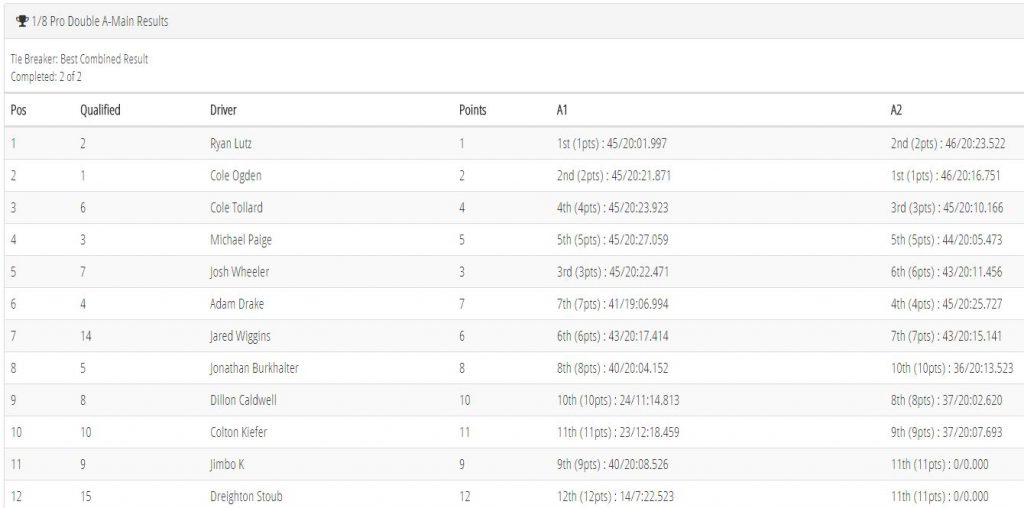 1/8th Pro Nitro Truggy
It was definitely Lutz's weekend as he was also able to capture the truggy overall to complete a perfect weekend. However, hot on his heels was Cole Ogden. Cole was able to finish 2nd overall by beating Mugen's Adam Drake by a narrow tie-breaker as both Mugen stars would have a 2nd and a 3rd place finish. It was definitely a fun, competitive weekend in the truggy class to say the least.