Sometimes winning isn't just about finishing 1st in a race. Sometimes it's about the small gains made and the slow progress that gets you to the next step. In this edition of the Race Team Update on Winning Wednesday, we celebrate those who not only got a win last week but also to those who accomplished winning in more ways than one.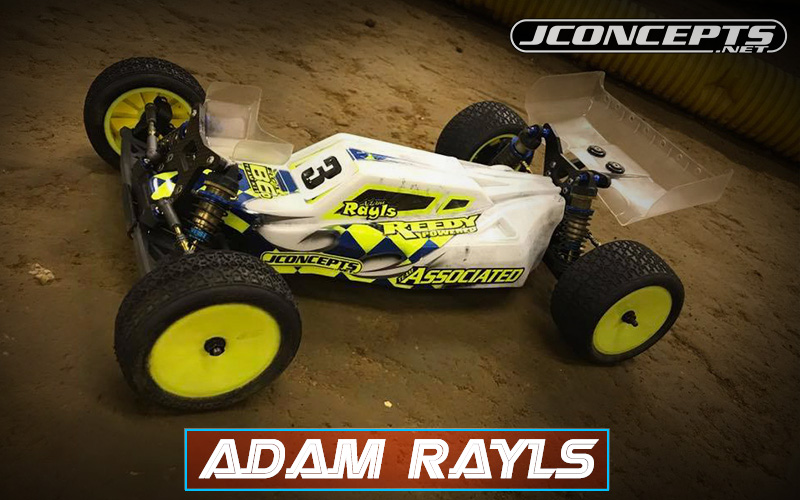 Adam Rayls is out there having fun and practicing his craft. Not only that, he was able to take the TQ and win at P&T Hobbies during last week's clubrace. Now that's winning on many levels. Hooked up on Dirt Webs, Adam is a threat anywhere in the region.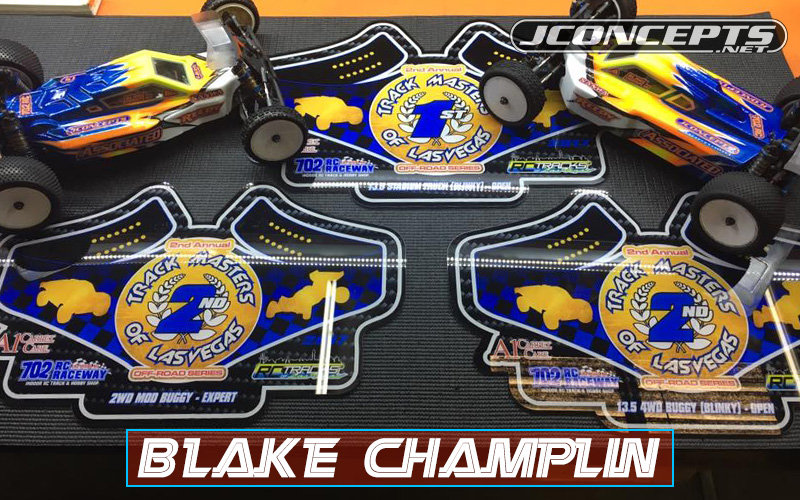 Being a straight A student and ultra fast at RC's usually don't go hand in hand, however, this is the Champlin Race team motto. Excell everywhere! Blake wrapped up the Trackmaster Series at 702 RC Raceway last Sunday and had great results where he finished 2nd in 2wd mod and in 13.5 4wd class. On top of that, Blake was also able to take the overall series championship in 13.5 Stadium Truck!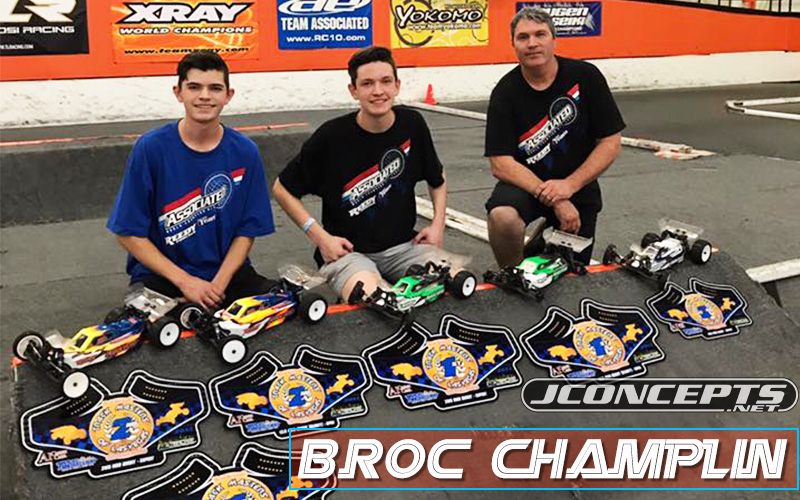 Another ultra fast racer and honor student, Broc also attended the final round of the Track Masters Series at 702 Raceway in Las Vegas, Nevada. Having already wrapped up the series title in the 13.5 4wd class, Broc only ran 2wd where he was able to TQ and battle back for 2nd after a rough start. All series long, the Champlin Race Team have been dialed on Swaggers and Pin Downs to get them their success! Great job by the Champlin crew!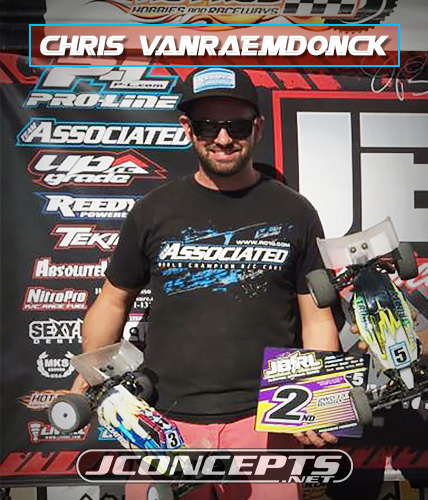 Chris VanRaemdonck attended the 4th round of the JBRL at Pegasus Hobbies, which was a throwback in terms of track condition with fluff and loam. Using Double Dees, Chris was able to finish 2nd in a competitive 2wd class from qualifying 3rd. In 4wd, Chris learned a bit from his experience and suggests anyone running loose outdoor to try the narrow pivot on the rear of the B64 for more grip.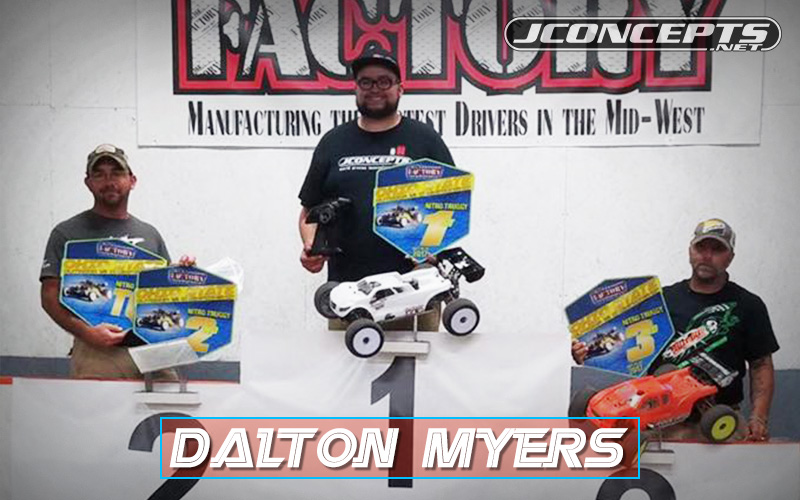 Ohio's Dalton Myers was able to take the win in the Truggy class at the Ohio RC Factory, who hosted the Ohio State Champs last weekend. Dalton qualified 2nd and took the win during the 10 minute main on blue Reflex tires. It's great to see new faces added to the Winning Wednesday edition of Race Team Update!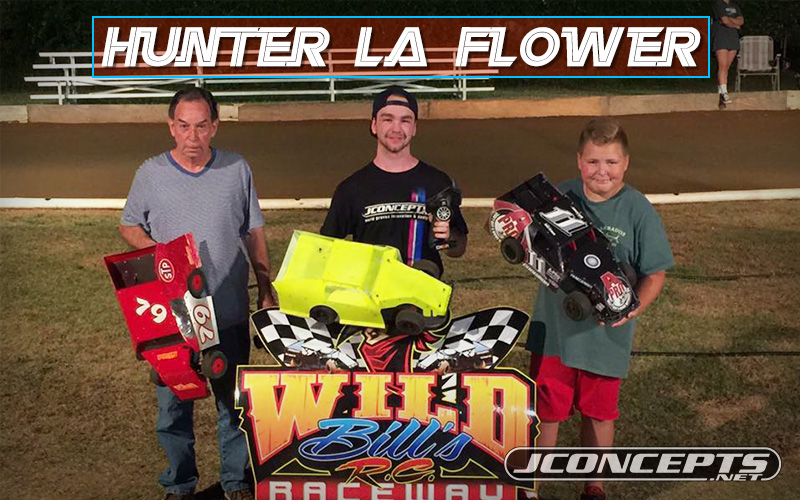 Sometimes you just gotta turn left and last weekend, JConcepts' Hunter La Flower did a bit of oval racing where he found success in the SC Modified class at Wild Bills RC Raceway in Irving, Texas. Hunter was able to take the win using 3Ds that supplied the traction he needed to beat the competition. Great job Hunter!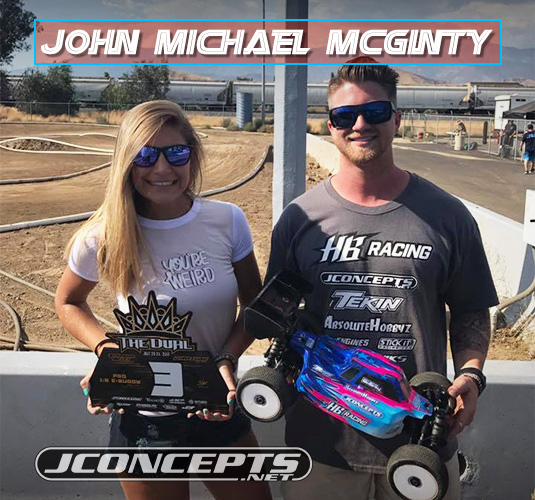 Having a great weekend against some extremely tough competition, John Michael McGinty III made the podium, (a win in itself) and congrats to John Michael McGinty III for getting it done at The Dual in California in the Ebuggy class. John is always a speed threat and we're glad to see him racing and having a great time.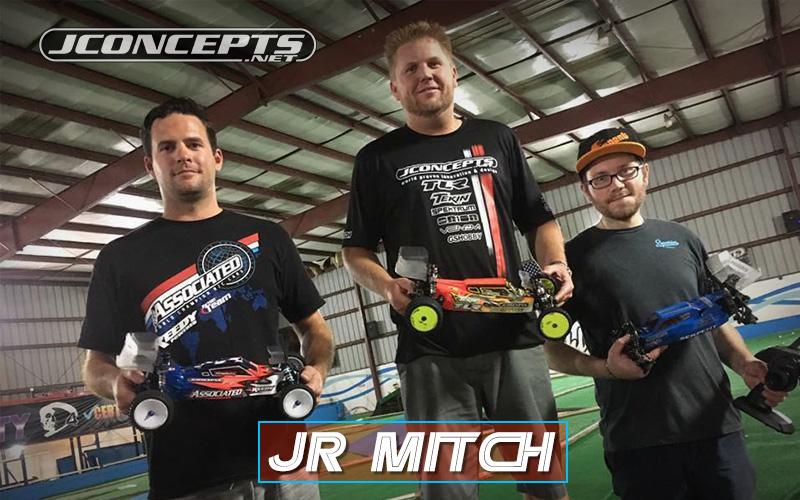 Getting some time on the turf, TLR/JConcepts' JR Mitch spent a day running and tuning his TLR 22 4.0 at Beachline RC at Wednesday's club race. Not only was it a successful evening with a win in 2wd modified, JR was able to use the Swaggers and Pin Downs to set the fastest laps and overall run.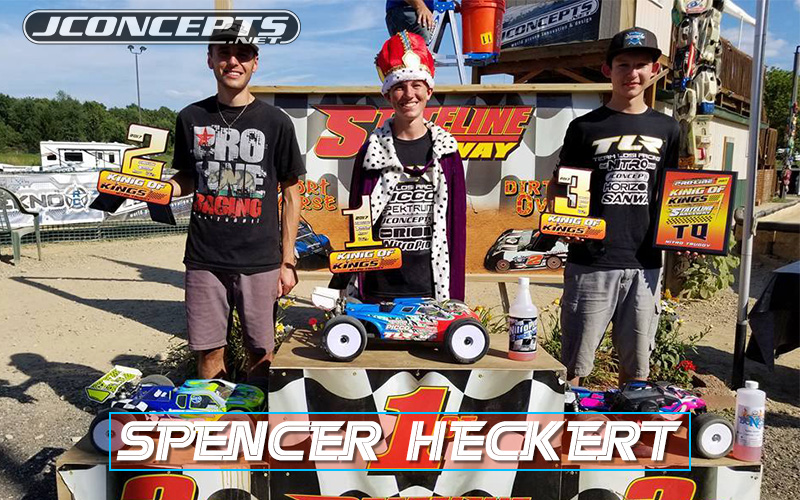 It was a great weekend for TLR/JConcepts' Spencer Heckert, aka Fluffy, at the Kings of Kings race at Stateline RC Raceway. Having qualified 3rd on the grid in Nitro Truggy, Fluffy would slowly work his way towards the front and take the win after 30 minutes of hard racing. Unfortunately for his teammate, Tyler Jones suffered 2 flame outs but was able to bring it back to the podium with a 3rd place finish. Check out that water bucket in the background!
Always doing work and never taking it easy, Kyle Layton laid it down at Whip It RC's club race last week with double TQs and wins in 2wd modified and modified shortcourse. Gold Space Bars and Octagons has been Kyle's go to tires as of late picking up countless wins along the way.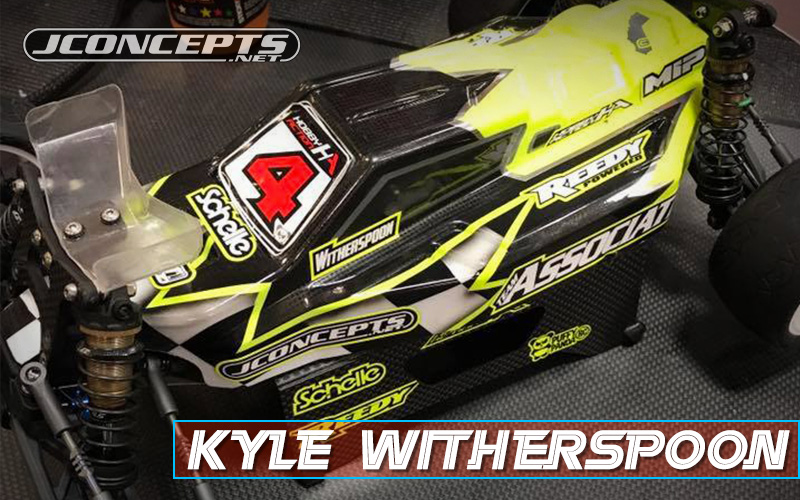 AE/JConcepts' Kyle Witherspoon has it rough. Yes, it's nice to call Hobby Action his home track, but the high level of competition there means he isn't going to get an easy club race win….. ever! So last week, Kyle was able to finish 4th behind, current WC Spencer Rivkin, Tommy Hinz, and Ashe Deering. So finishing 4th is almost as good as a win!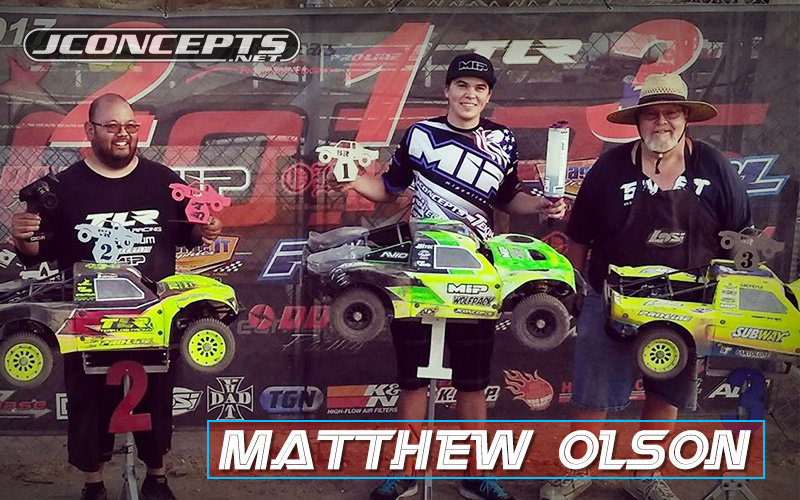 MIP/JConcepts' Matthew Olson is getting things done in the 1:5th scale side of things for JConcepts as he was able to attend the Team Chase Series race and take the win in Pro Truck. Matthew would find success using the 1/5th scale version of the Chasers to get him to the top step on the podium.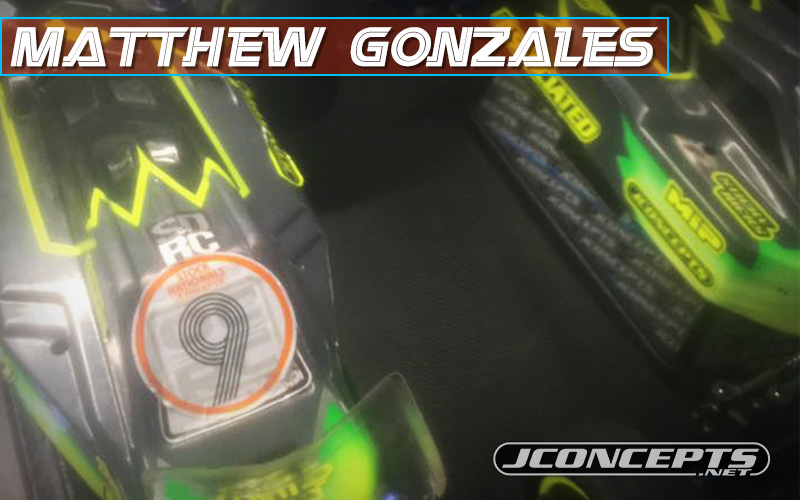 Using gold Dirt Webs on his 4wd and Octagons on 2wd, Matthew Gonzales is starting to get into his groove at SDRC Raceway. Taking a little risk running slicked tires, Matthew definitely made the right call as he was able to take double wins in both classes against a very competitive field of drivers at SDRC. Watch for this rising star as he's only going to be getting faster each time he hits the track.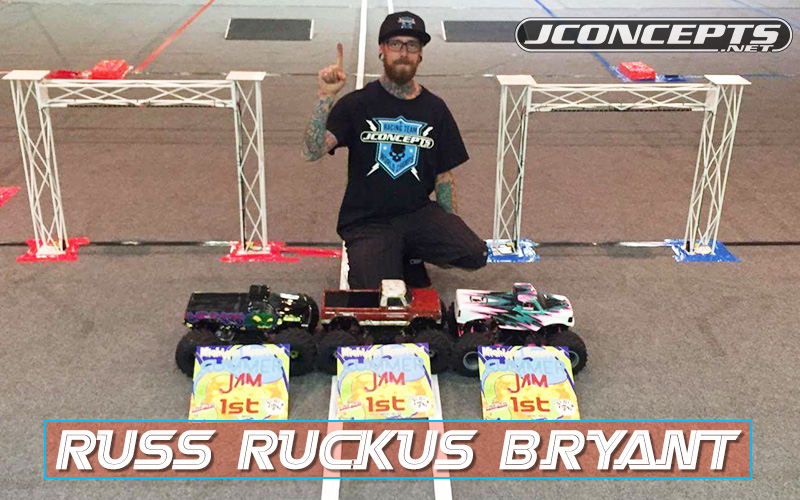 Our very own Monster Truck guru, Russ "Ruckus" Bryant, was at it again dominating the Michigan Monsters of R/C Summer Jam event by sweeping the Sport Mod, Pro Mod Red, and Pro Mod Blue classes and bringing home the win for JConcepts! Ruckus would use the gold compound Renegade and Firestorm to provide him the grip to take him to the winner's circle.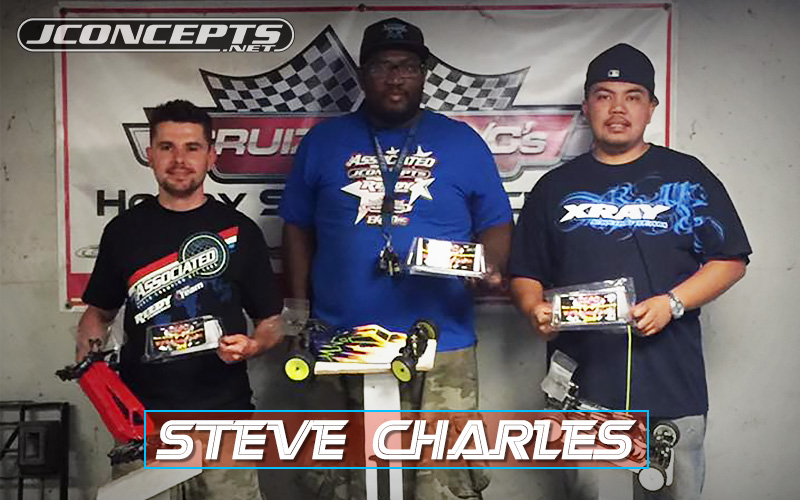 JConcepts' Steve Charles had one of the best weekends a guy could have while attending the New Jersey State Champs race in Waldwick, NJ hosted by Cruizin with RC. Steve was able to TQ and win the 3 classes!! Shortcourse, Mod Truck, and 13.5 wheeler all on the same weekend. Now that's winning!