"Yeeeeessss!!! Back on top," was David's reaction and feeling after just completing a great weekend of racing at the Italian Job hosted by the Alseno Nicolas Track in Italy on August 25-27th.
With many of the top drivers from the European Championship in attendance, David was able to redeem his 3rd place effort that he wasn't too thrilled with. For most of us, making the podium would be considered a victory, but for the reigning World Champion, it wasn't good enough. The strive for perfection and always pushing himself to reach the next level is just one of the many reasons why he's such a terrific champion and proud to have David a part of the JConcepts Worlds Team.
Here's what David had to say about his weekend at The Italian Job.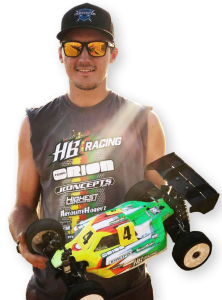 "I'm home from a very hot but very successful weekend in Italy! Feels so good to finally get that win I've been chasing all year. I've had many good races with podium finishes this year, but this time I took the last step onto the top spot. To bounce back like this after a bit disappointing 3rd place at the Euros feels so nice.
I got 2nd in EP so it was almost a perfect weekend, just a mistake away in the EP main from the win. Baruffolo drove great in the main and got me by a second over the line.
Anyway, I'm super happy with the performance of my whole package. Maybe not the fastest on outright speed in the main, but in 42 degrees heat you, have to be patient and have a package that you can trust. I kept cool and had a 12 second lead over Ongaro halfway into the 45min main. I was in control of the race and stayed patient in front. Towards the end Davide had two flame outs and dropped down moving Robert up to 2nd, I had him a couple seconds in front of me towards the end so almost a lap and I could cruise to the finish.
Using the Silencer body together with the new Kosmos tire in Y2 compound it gave me the speed and consistency needed to win by a good margin in the end. On a track with very high tire wear, it was great to see my tires still with threads left after the 45 minute main.
Now, busy schedule continues and we are off to Croatia for E-buggy Euros on Thursday! So it's time to charge the batteries again!"
1st – David Ronnefalk
2nd – Robert Battle
3rd – Mattia Polito
1st – Marco Baruffolo
2nd – David Ronnefalk
3rd – Riccardo Berton