The Surf City Classic has become one of the most highly anticipated races of the calendar year with entries sold out within just minutes of open registration. OCRC puts on a show that sets the bar for 10th scale racing and well known for its laid back, Cali atmosphere and feel. As one of the premier tracks in the US and located in the hot bed of RC in So-Cal, the competition level at the Surf City Classic is among the highest in the nation challenging all racers to raise their game to the next level.

At big events, the grip level is high as the misting system provides traction for the groove to get heavy in a short amount of time. Along with the track blowers constantly dusting off the track surface every run, the tire of choice are usually very low pin treaded tires that eventually slick out in the middle. This year's layout, as always, was challenging and fun. The unique thing about OCRC's layouts is that they're never just back and forth. The layouts require you to drive the track with constant changing radius turns mixed with technical jumps that require a lot of focus.
2wd Modified
It was a spectacular 3 car showdown between Xray's Ty Tessmann, Yokomo/JConcepts' Ryan Maifield, and AE/JConcepts' Spencer Rivkin that lasted the entire 10 minutes of the single A-Main. These three drivers put on an amazing show of master class driving while keeping it clean and being nose to tail with one another. After 7 minutes of great defensive driving and handling the pressure, Tessmann would leave the door open for Maifield to put his Yokomo side by side. As they went off the jump, Tessmann would cross over and land deflecting Maifield's car resulting him crashing and Tessman slowing down having to single-single. This allowed the World Champion, Spencer Rivkin to get by and take over the lead. Spencer would withstand enormous pressure, first, from Tessmann and second from Maifield. Crossing the line and taking the win was Spencer Rivkin. Tessman would follow in 2nd with Maifield 3rd.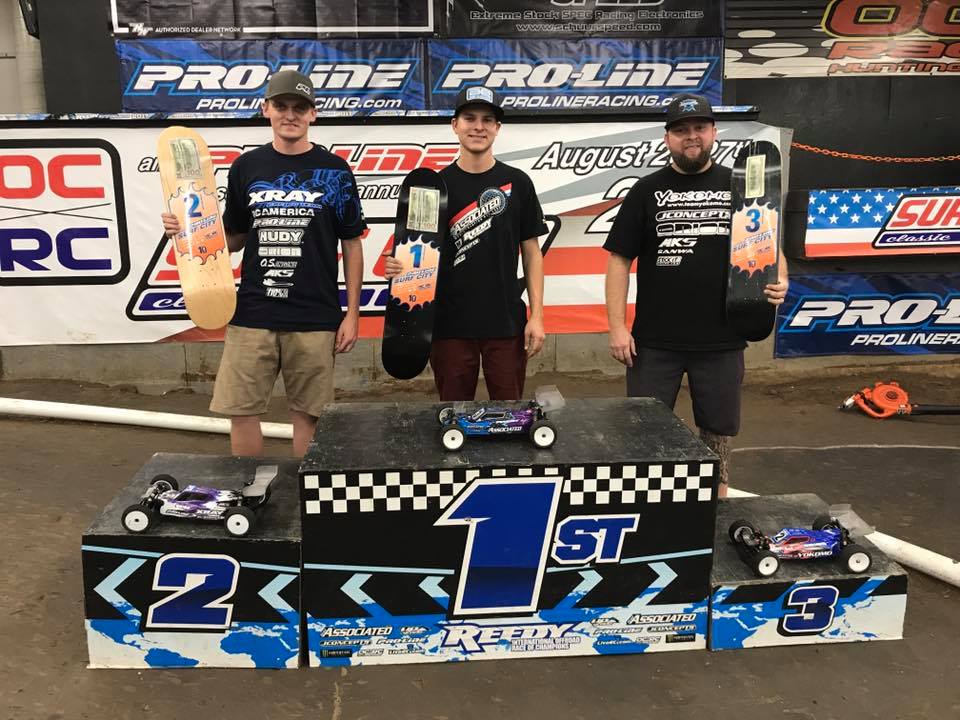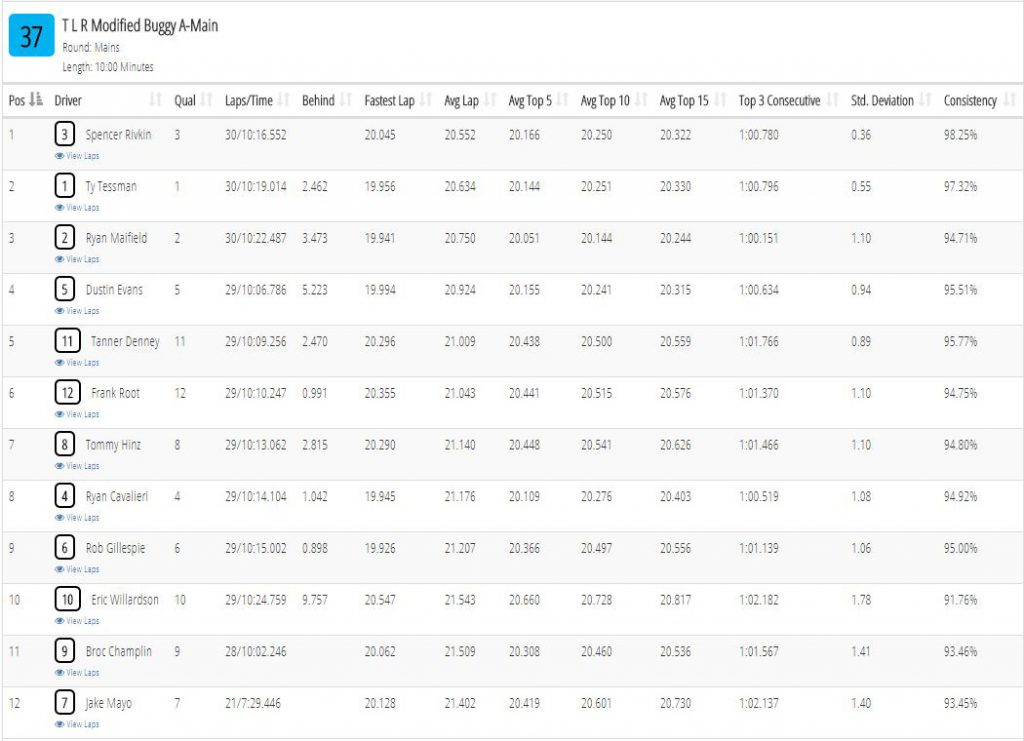 4wd Modified
It was a flawless performance by Yokomo/JConcepts' Ryan Maifield as he was able to distance himself from the field from his TQ position. Maifield would pilot his prototype YZ4S to 1st leading from start to finish and build a 5-second cushion to 2nd. Having qualified 3rd, AE/JConcepts' Ryan Cavalieri was hunting for a podium spot and made quick work of Dustin Evans at the start and was eventually able to get around Ty Tessman mid-race to secure himself 2nd on the podium. Xray's Ty Tessman would also jump up a spot from his qualifying position to finish 3rd on the podium with a late mistake from Dustin Evans that allowed Tessmann claim the last spot on the podium.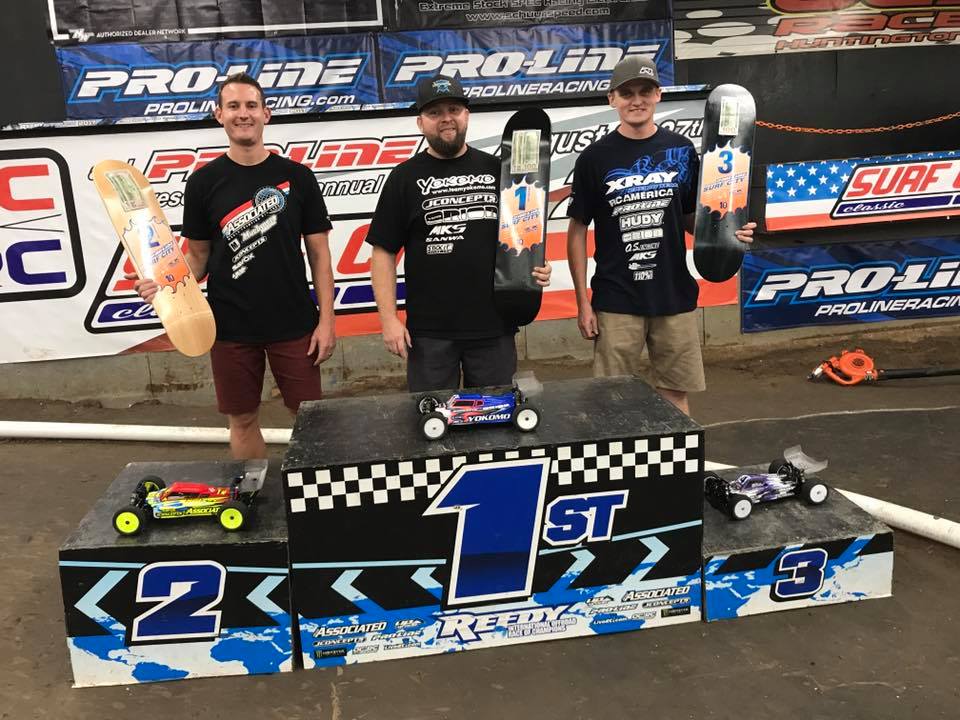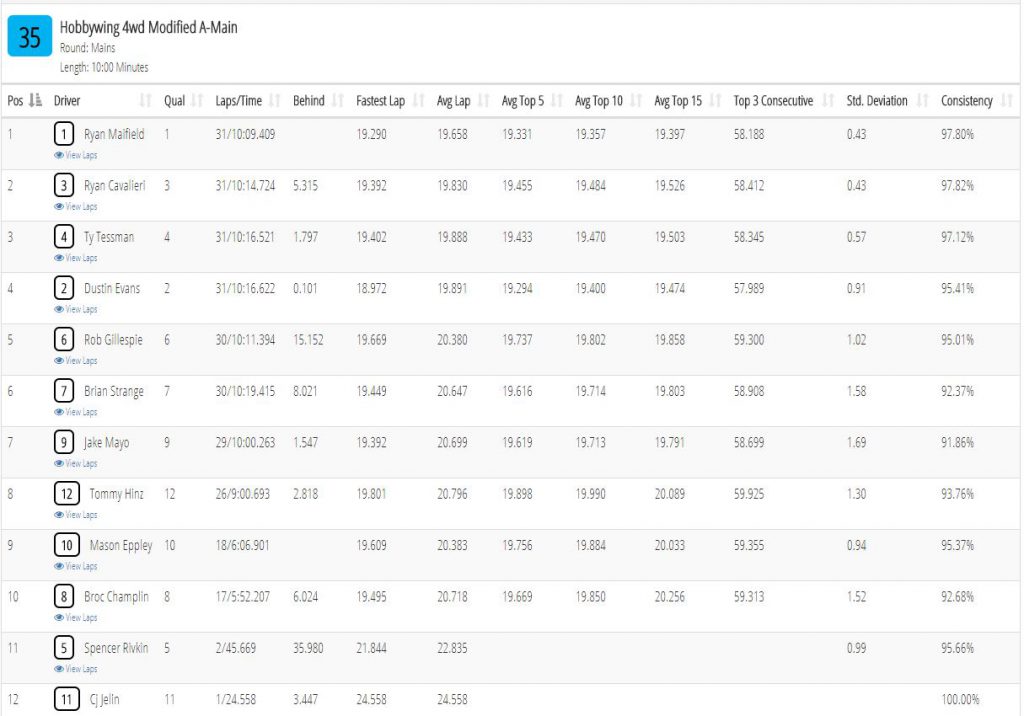 1/8th Ebuggy
It was another great showing for Mugen/JConcepts' Ryan Maifield as he was in full control of the e10-minute Ebuggy final from start to finish. TLR's Tanner Denney finished 2nd and BT 3rd.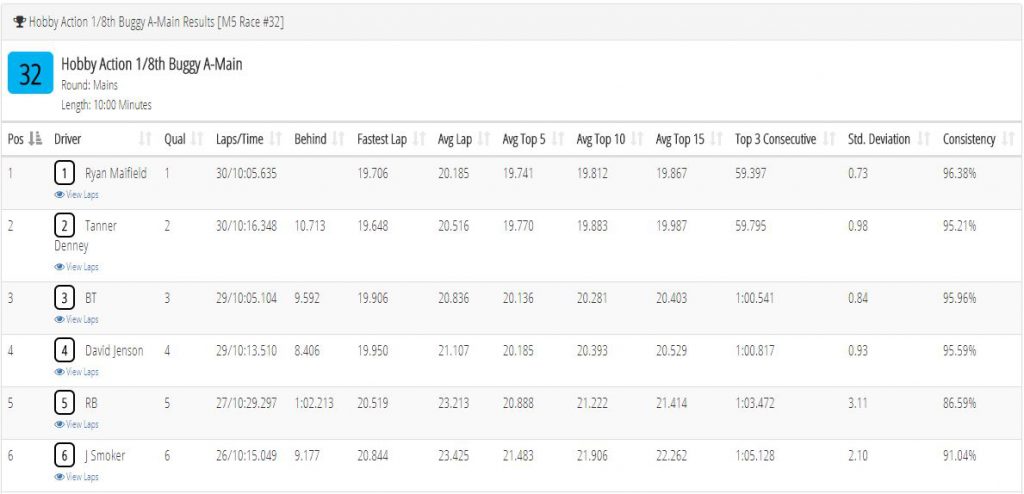 Modified Short Course
The 4 time World Champion and 5 time National Short Course champion, AE/JConcepts' Ryan Cavalieri was on another level in Modified Short Course. Able to capitalize on his TQ effort, Cavalieri was in command and led a flawless race to take home the 1st place prize. The battle for 2nd and 3rd raged with AE/JConcepts' Blake Champlin leading over Spencer Rivkin until the very late in the race. Trying to stabilize his truck while getting on the straight-away, Champlin gave up position to Spencer and the two would finish accordingly.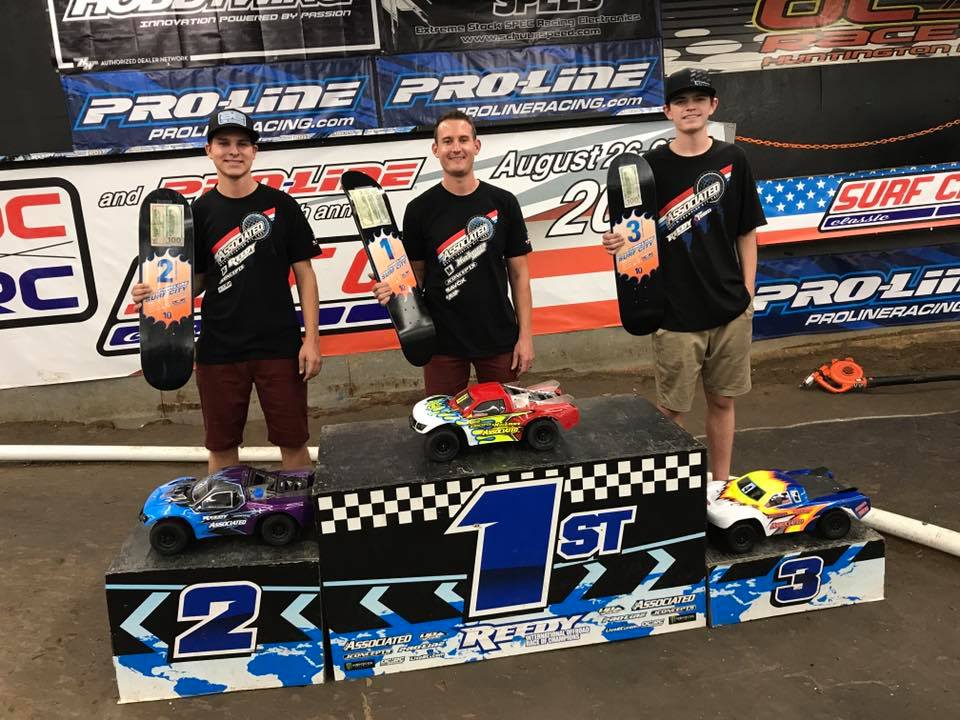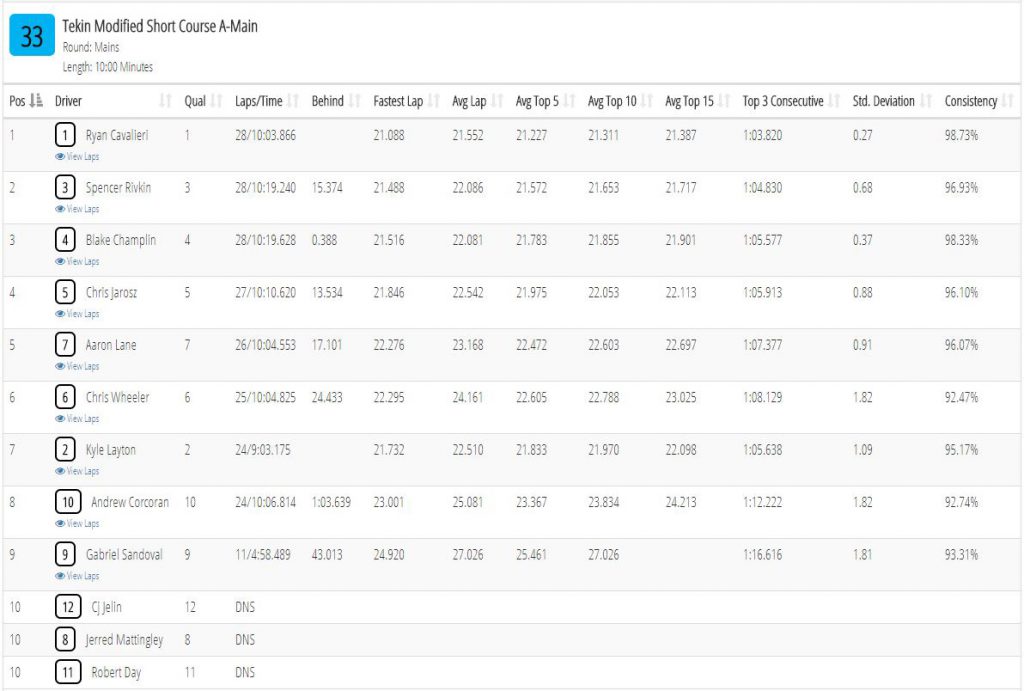 Modified Truck
AE's Dustin Evan was clearly the one to beat in modified truck as he was able to TQ and took home the win without pressure. Jake Thayer put in a great fight and finished 2nd with TLR/JConcepts' Alejandro Vegas 3rd on the podium.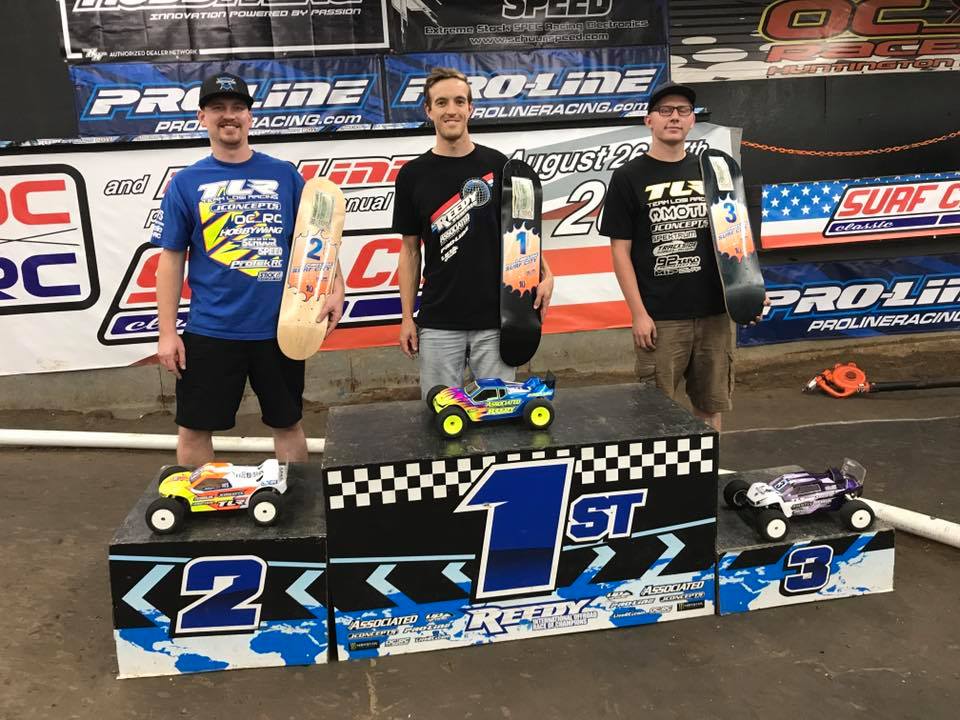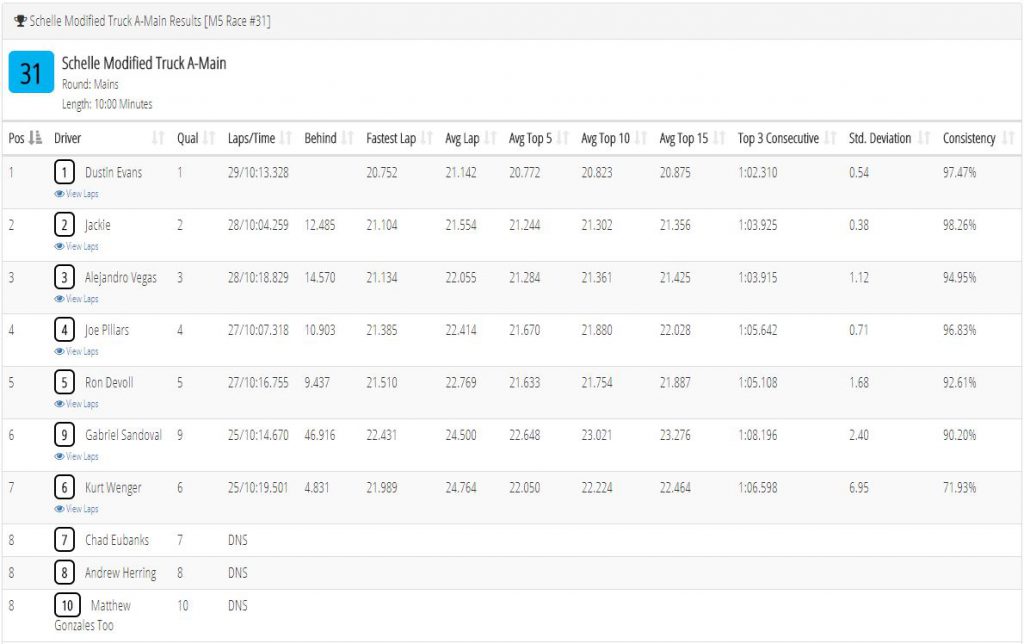 Rookie 2wd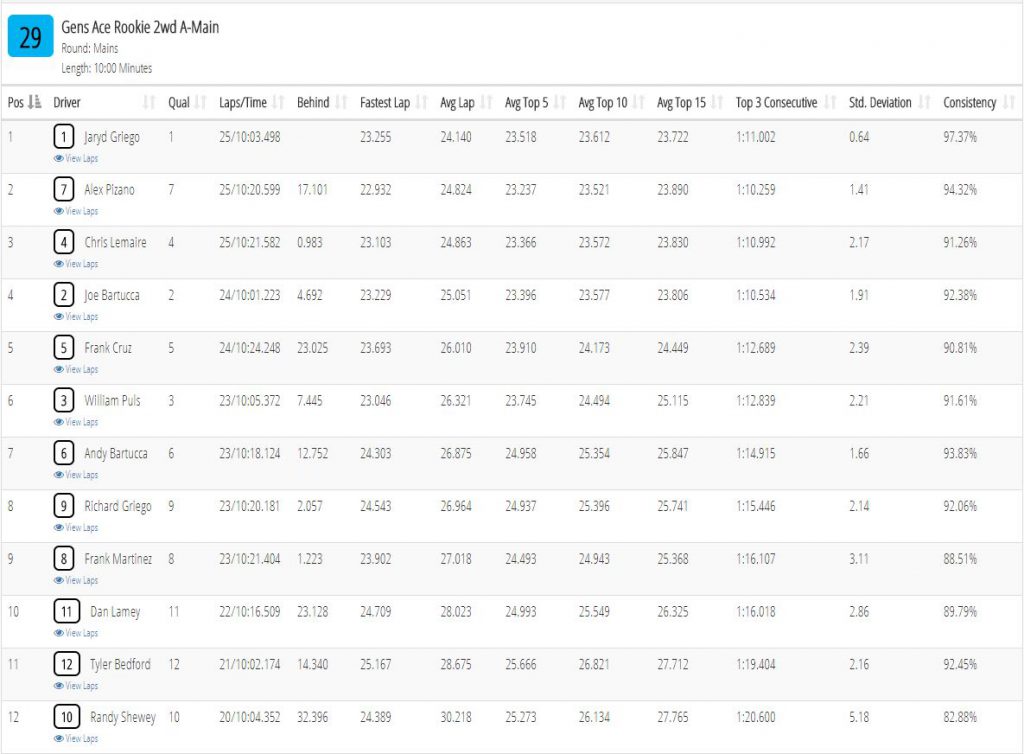 2wd Stock Buggy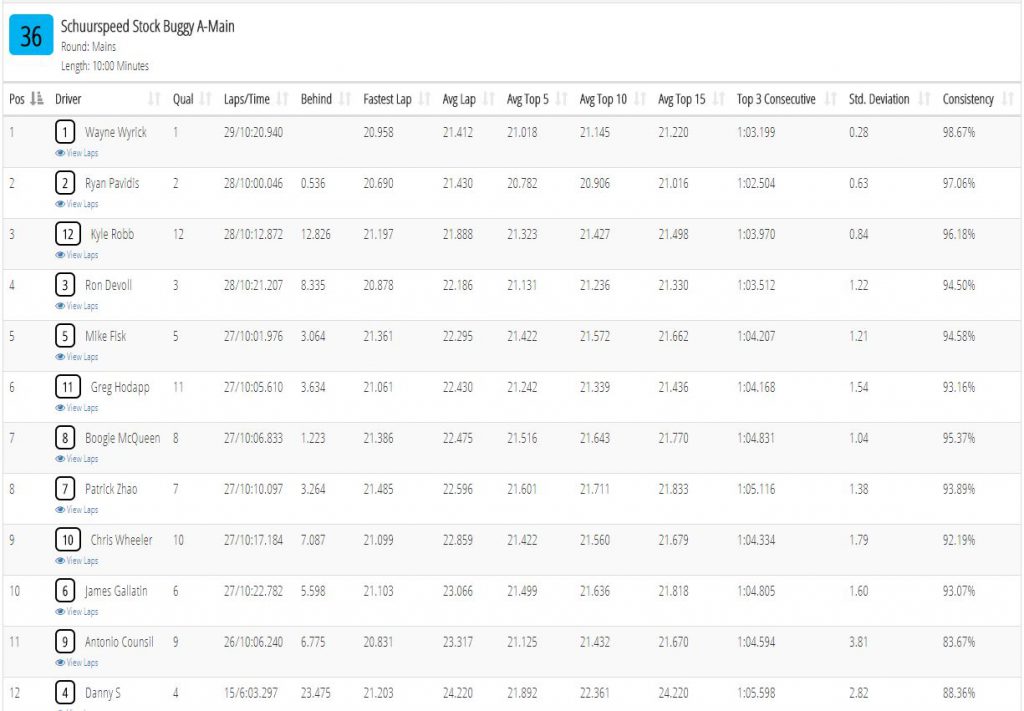 Stock Short Course
Stock Truck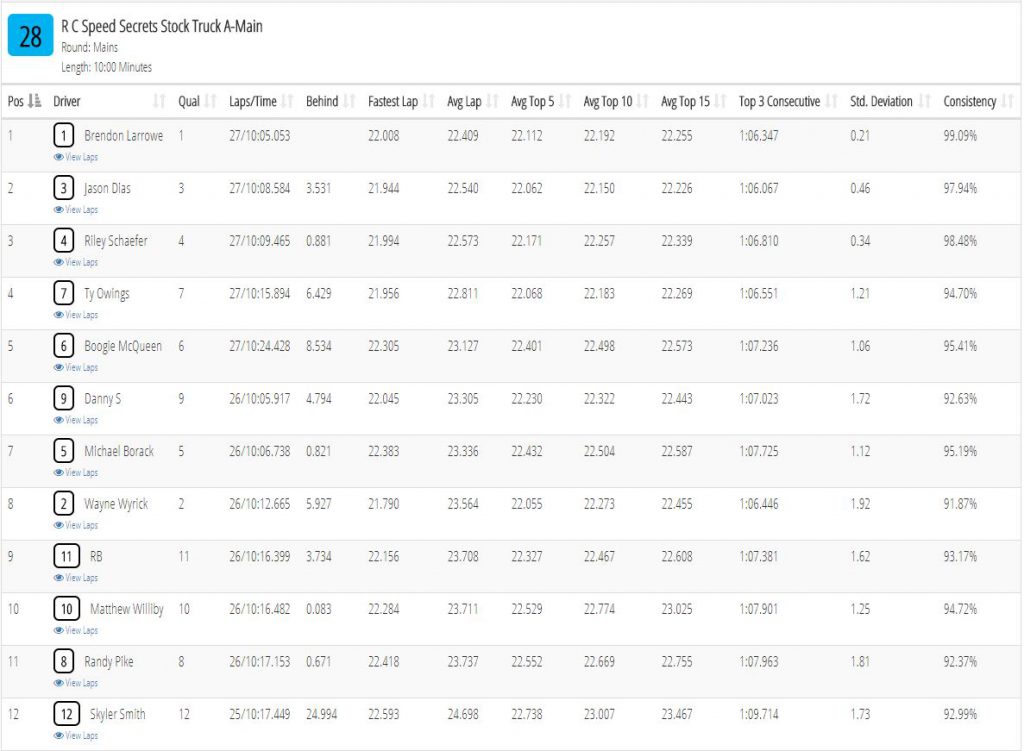 Thanks to LiveRC for the stats and streaming video.