The 3rd Annual JConcepts' Turf Nationals at RC Madness is gaining traction. Literally, and within just two short years has evolved into the nation's biggest astroturf race with entries now nearing 300. Without a doubt, the North Eastern drivers have embraced Astro racing with both arms wide open and with it, have created the first of the 'Astro Classics' here in the United States.
It's true, astro isn't clay, but clay isn't astro either. Both surfaces give you an opportunity to race on a different surface with different properties of grip and adhesion. Having caught onto the growing astro/carpet trend early on, RC Madness in Enfield, Connecticut has become a premiere astro track providing a rich experience with exciting layouts and properly suited for Astro-style racing. This year's layout was a great mix of high and low-speed sections spiced up with technical elevated corners, step ups, and table tops. Thanks to Chris Marcy and his dedicated crew for all the hard work in putting together a fine event that's changing the face of the NE big racing scene.
With the perfect sun-warmed weather, the event started off on Friday without any hitches. The open practice session was smooth and allowed all drivers to properly set up their cars on JConcepts spec tires. As we rolled into Saturday, there were two qualifying rounds with the final round scheduled for Sunday morning right before resorting for the A mains. The qualifying format was taking fastest time via 'rocket rounds' to sort for a 10 car main +2 car bump ups.
4wd Modified Buggy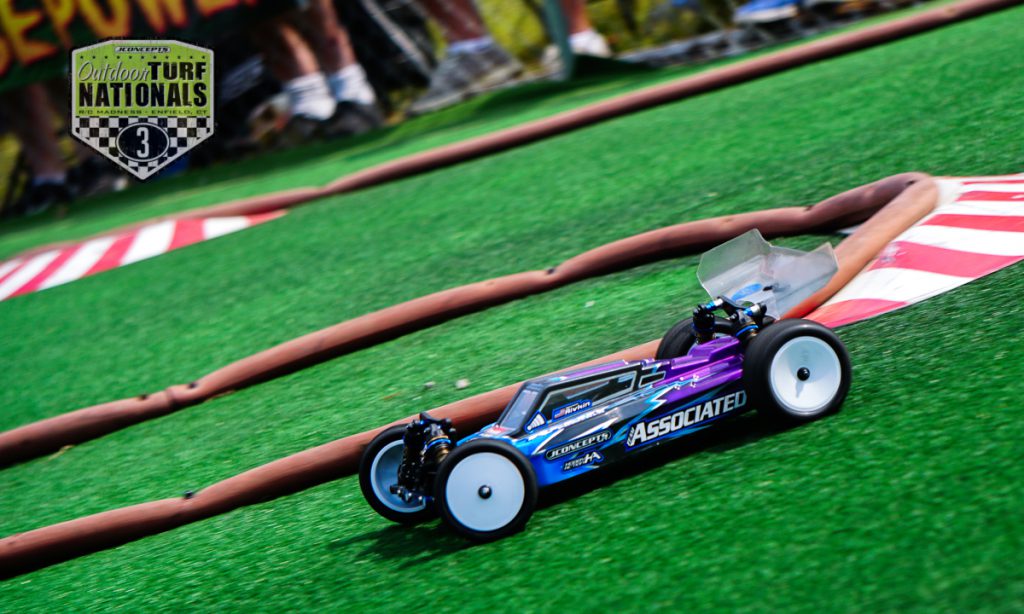 Having out qualified AE/JConcepts' Alex Kosciuszek by just .2 seconds through 3 rounds of qualifying, AE/JConcepts' Spencer Rivkin was able to take advantage of his track position to quickly pull away from the field. The Wizard took a bit of time to get the flow going in 4wd and was forced to close the gap before it was too late. Taking the entire race to come within striking distance, Alex would make a small mistake while landing his car off the table-top that resulted in lost time. With a picture perfect Spencer Rivkin, the 2wd World Champion would go on to take the win with Alex 2nd and only 2 seconds back. Xray's Jeff Statkicwicz would move up 2 spots to grab himself the last spot on the podium with fine driving and consistency.
2wd Modified Buggy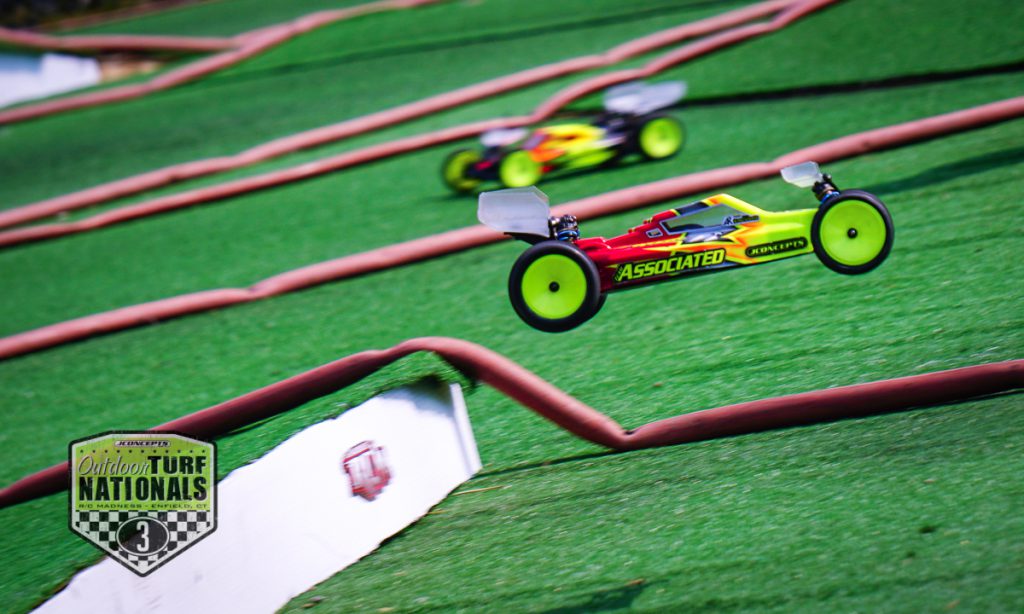 It was another monumental showdown between 2 of the biggest young talents in the RC racing scene. This time, it was AE/JConcepts' Alex Kosciuszek out qualifying the current 2wd IFMAR World Champion, Spencer Rivkin, to grab the crucial front row position. As the tone went off, the two drivers would escape and instantly engage in their own battle. With a mistake from Alex getting on the straight, Spencer would capitalize and take over the lead. However, on the very next lap, Spencer would make a similar mistake as Alex, but would drop from 1st to 11th. Alex would cruise himself into first with Spencer fighting his way back to 2nd and local legend, TLR's Anthony Mazzara, would move himself up to 3rd.
Stadium Truck Modified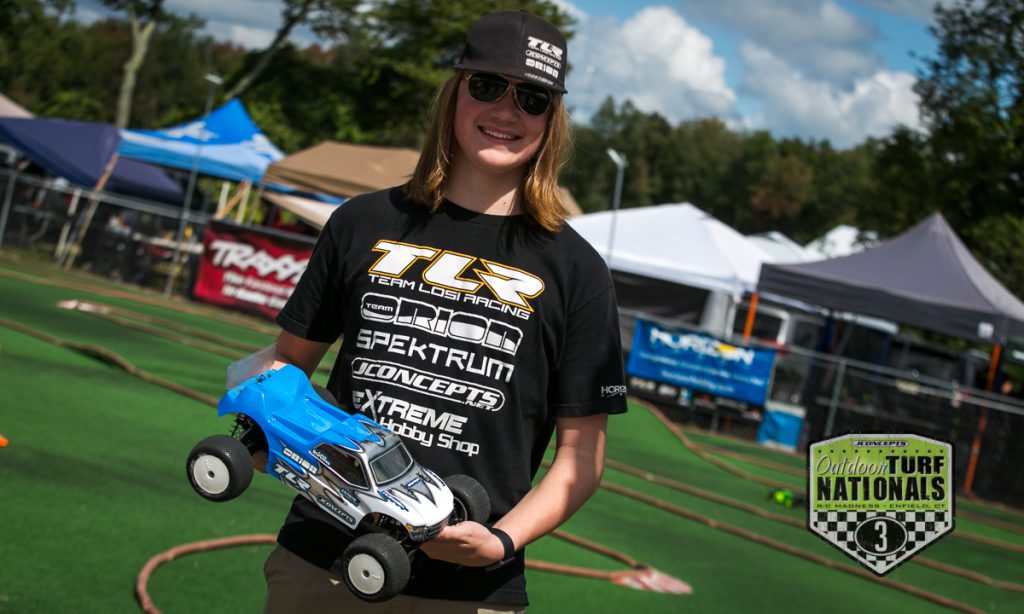 It was a classic two truck battle between TLR/JConcepts' Caleb Stevens and AE/JConcepts' Steve Charles with Charles edging out Stevens for coveted TQ spot. However, young Stevens showed massive speed increases throughout the weekend and started to find the astro groove during the mains. Once Stevens was able to find his way around Charles, Stevens was able to deliver clean lines and keep the door closed. With fantastic driving, the two would put on a battle that lasted till the finish line with Stevens taking 1st and Steve Charles 2nd. TLR's Joshua Spiewak converted a great start from 6th to finish 3rd.
2wd Modified Short Course

It was Steve Charles taking the spotlight in Modified Short Course having TQ'd to go on and took a convincing win in the 5 minute A-main event. 2nd place qualifier, Derek Marks finished in 2nd and Jim Mitchell 3rd, exactly in the same order as qualifying.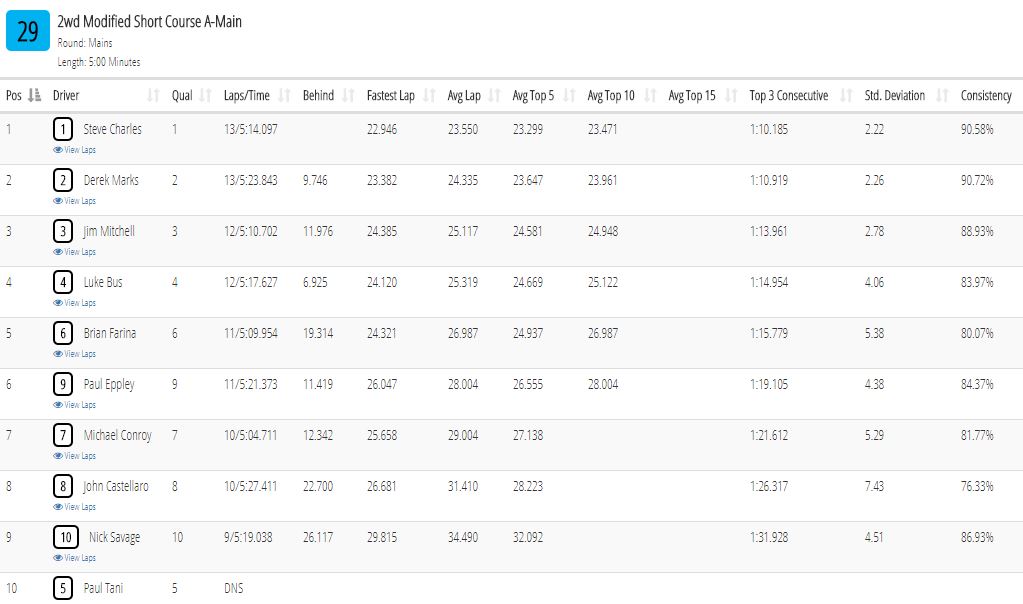 40+ 2wd Mod Buggy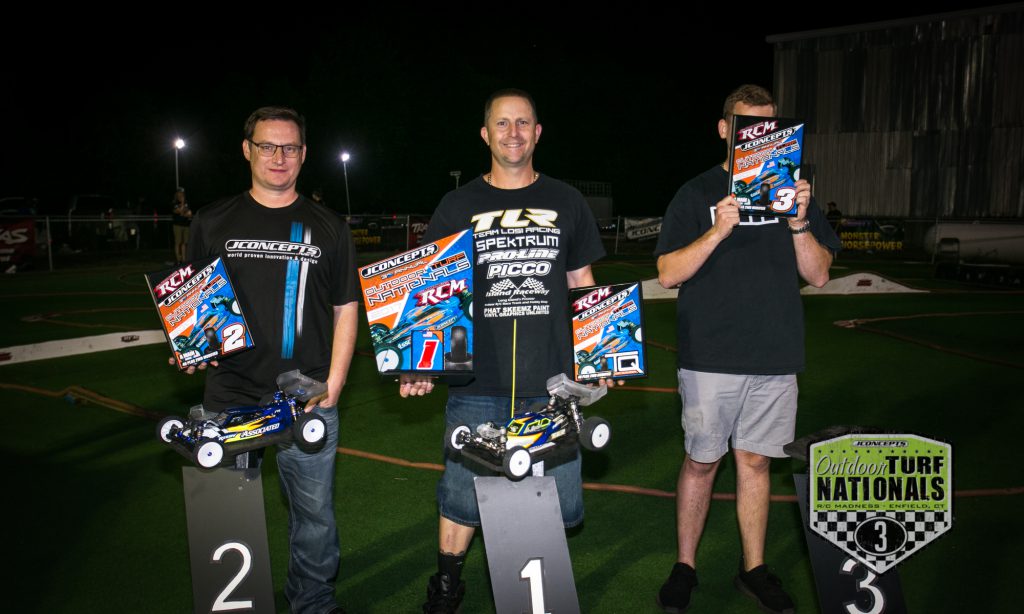 It was TLR's Anthony Mazzara setting the top times in 40+ 2wd Mod class during the 3 qualifying rounds. Picking up speed throughout the weekend, JConcepts top boss, Jason Ruona, was getting quicker with every pack. During the 5 minute main event, Ruona would put the pressure on Mazzara, but a late mistake would deny him a chance to attempt a pass for the lead. Mazzara would deliver a clutch run to take the win, Ruona 2nd and AE/JConcepts' Scott Furtado would battle back to wrap up 3rd overall.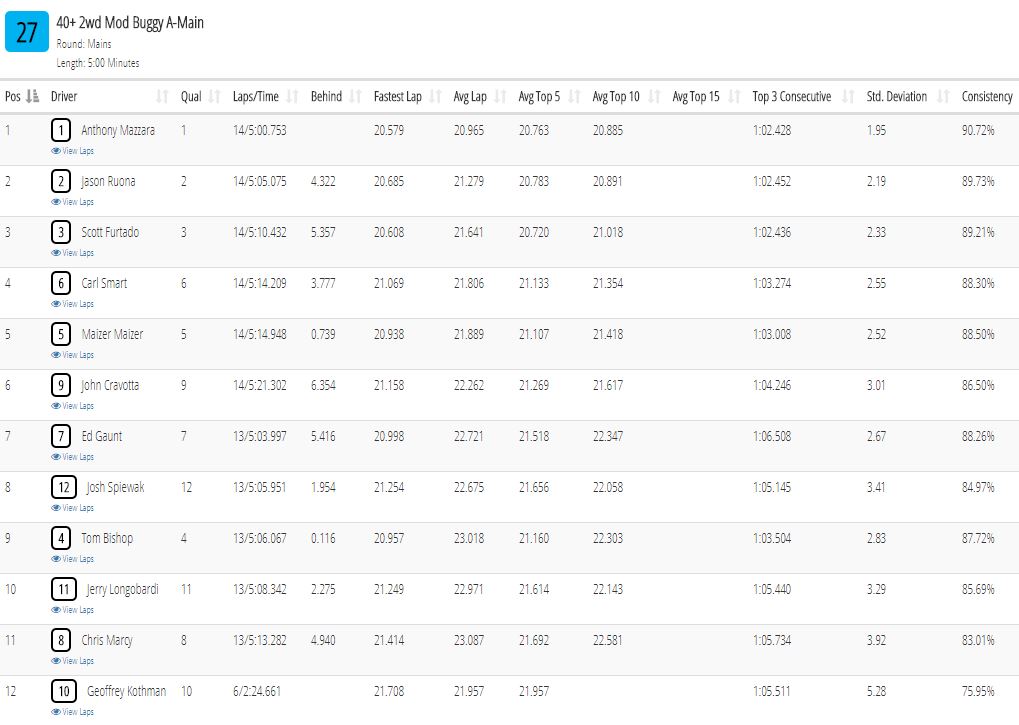 4wd 13.5 Buggy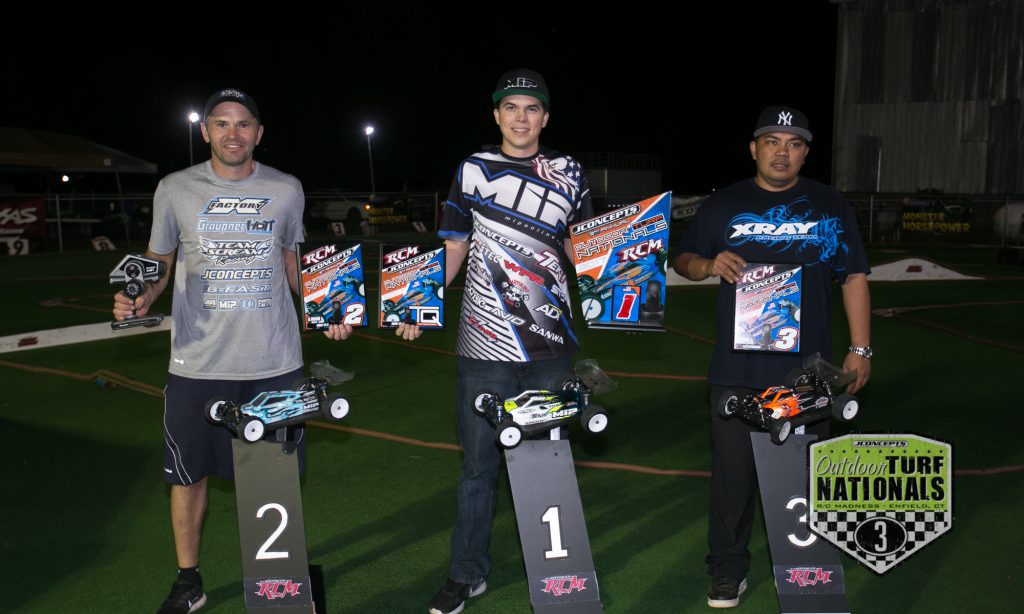 The 13.5 4wd class saw an explosive MIP/JConcepts Matthew Olson take charge early in the weekend setting TQ times in qualifying and a tone to tone win in the main. Authoritatively, Olson would take the win with JConcepts' John Cravotta 2nd and Shakey Hands 3rd.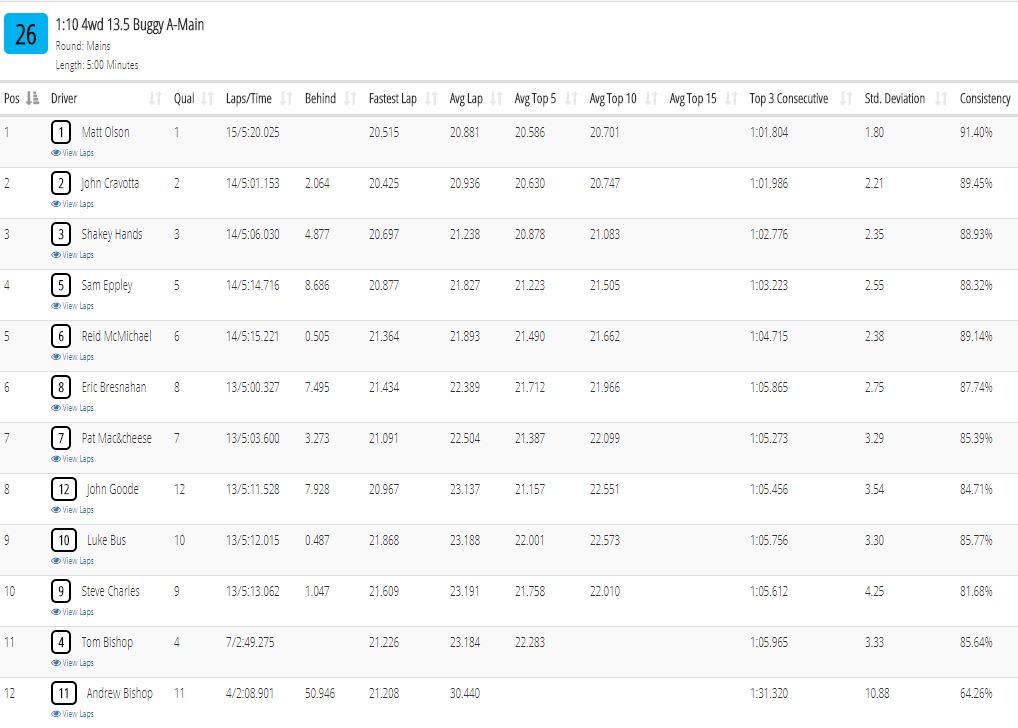 17.5 Expert Buggy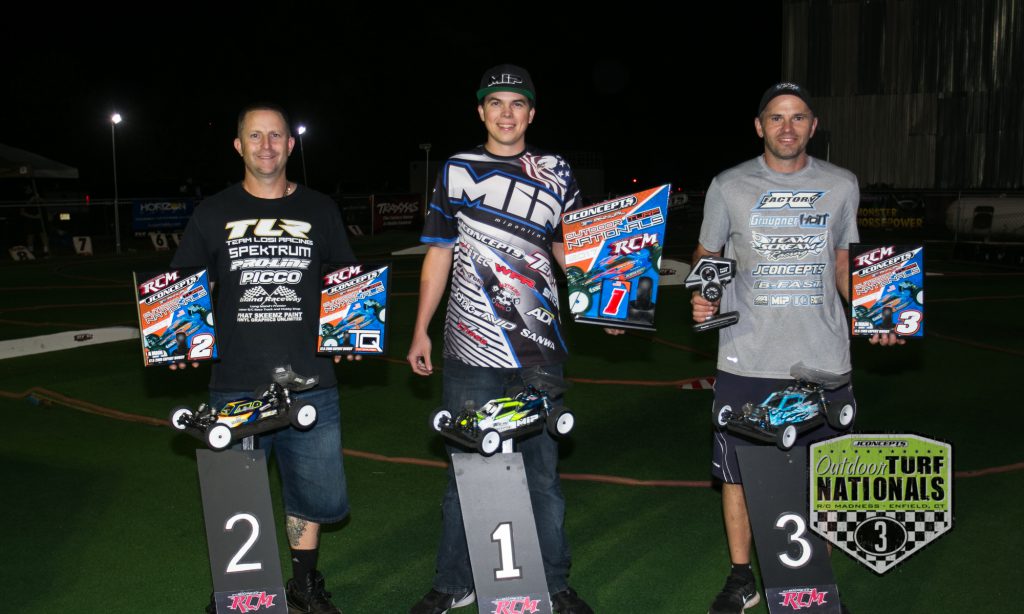 MIP/JConcepts' Matthew Olson would deliver a great A-main run to take the win in the 17.5 Expert Stock 2wd class with a daring mid air pass maneuver half way through the race. As Mazzara was taking the safe route of double-single, Olson would line himself up to jump the triple and make the pass stick after landing. From there, Olson would maintain his lead and cross the line first to take the win. Mazzara was unable to find a clean way around Olson and settle for 2nd. Shakey Hands would work his magic keep his spot on the podium in 3rd.