Do you remember the days growing up taking things apart trying to figure out how it worked? Through trial and error, you gained crucial knowledge and experience that later evolved into a strong desire to customize, build, and create. Deep down you knew the store bought toy wasn't good enough anymore and you wanted to build your own truck fully knowing your vision was simply better….. a lot better.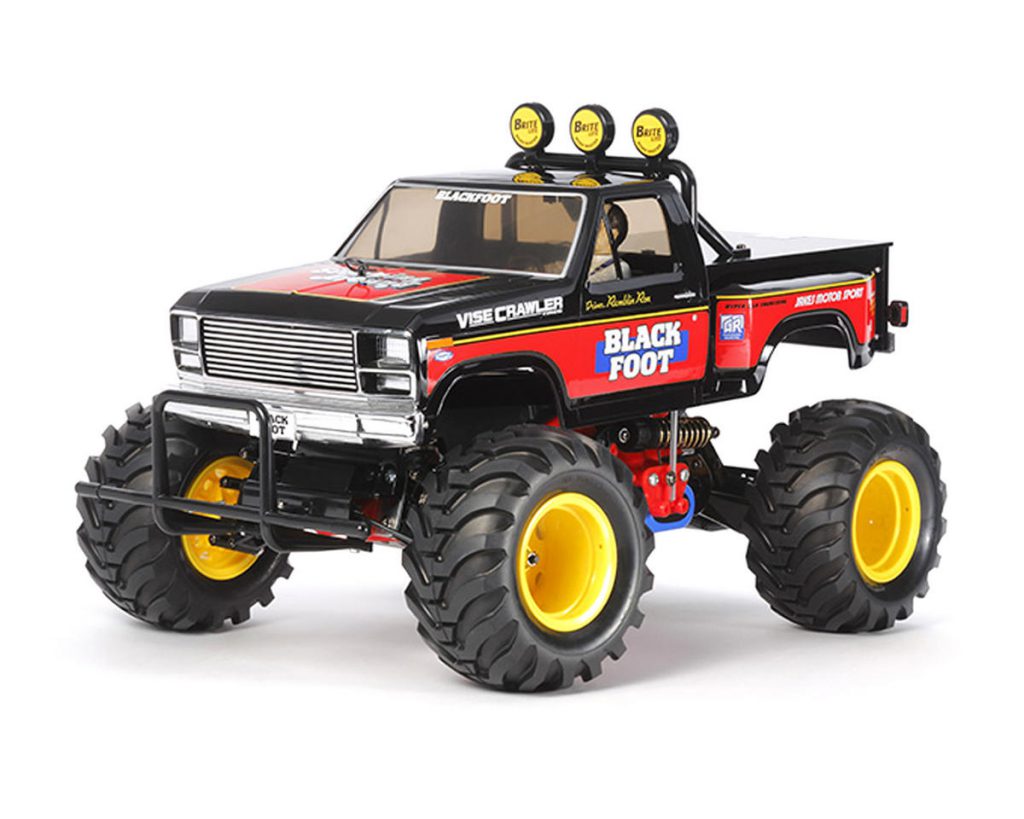 JConcepts has brought back the hobbyist in all of us with the recent releases of the monster truck accessories allowing you to customize and build your own monster trucks the way you want. With our growing range of heavy duty monster truck tires, realistic wheels to match, paired with your favorite iconic MT bodies, the limit is now your own imagination.
To kickstart the entire project, we first needed a platform to start from and we chose the most popular trucks on the market, Traxxas Slash 4×4 and Stampede 4×4 truck, and from there built a ground-up MT conversion kit to turn it into a one of a kind, fully customizable, bad boy masterpiece.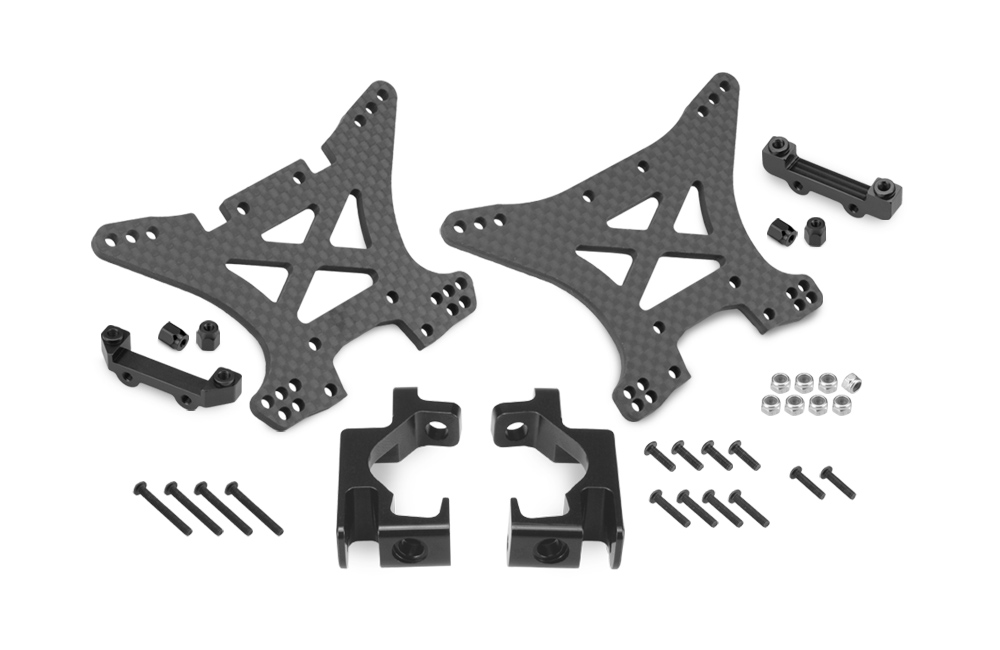 Here is the JConcepts MT Conversion kit in full glory and the brainchild of Jason Ruona and Fred Reep. The shock towers were designed using 4mm carbon fiber to provide a stiff platform for the bigger, heavier tires and wheels. Machined caster blocks also add ruggedness and durability to the platform for maximum fun and handle mega punishment. Lastly, the machined aluminum shock standoffs and body mount adapters hold everything in place for the extra hard hits. You can also purchase the parts individually as needed and here are the instructions to the conversion kit along with a "How-To" video with step-by-step video instructions by Fred.
Here is the JConcepts Stage 4 Monster Truck Concepts in full glory. There is a mix of parts from around the industry that all blend seamlessly to create a fun, durable, high-performance monster truck that can take a beating, yet still be rebuilt on the cheap. Here's a detailed breakdown of the Stage 4 MT Concept.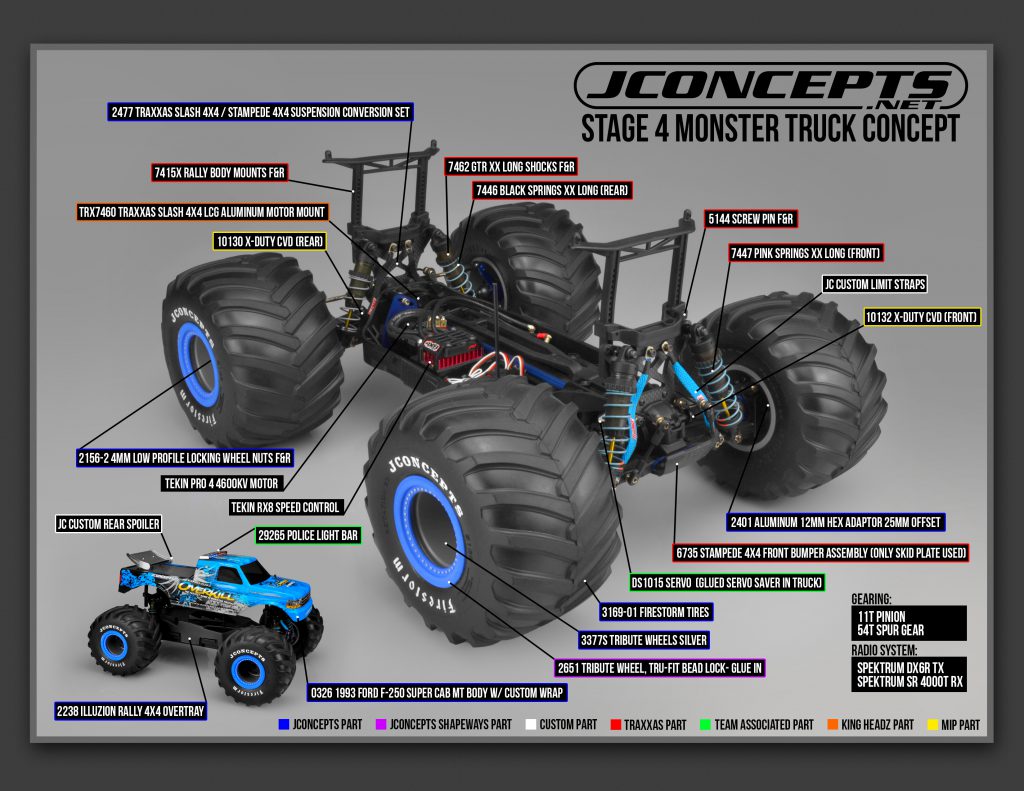 From years of experience and countless hours tinkering, Jason and Fred have done the hard part and put together a monster truck build worthy of the JConcepts name utilizing parts easily obtained on the open market at a great value.
Here is a list of the JConcepts parts and accessories that can help build your dream truck for easy reference. Remember, the limit is your imagination. If you want to build a Stage 4 MT Concept truck like this one, these are the parts you're going to need. However, you can always divert in your own direction, add in your own style, and customize your own unique build. We encourage it!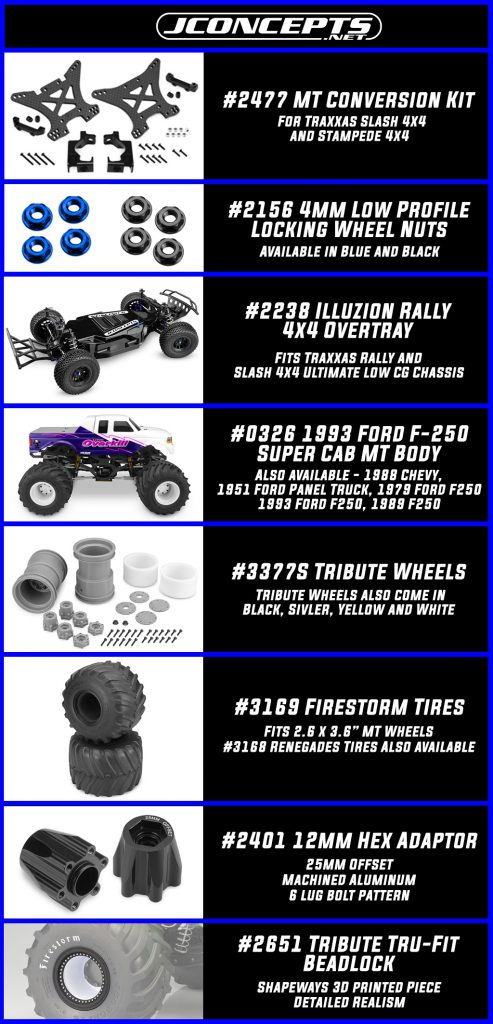 Continuing the Stage 4 dream build, here are a few options parts from Traxxas for easy reference. The inexpensive rally body mounts is a must while the GTR XX-Long shocks add massive amounts of plush and look fantastic.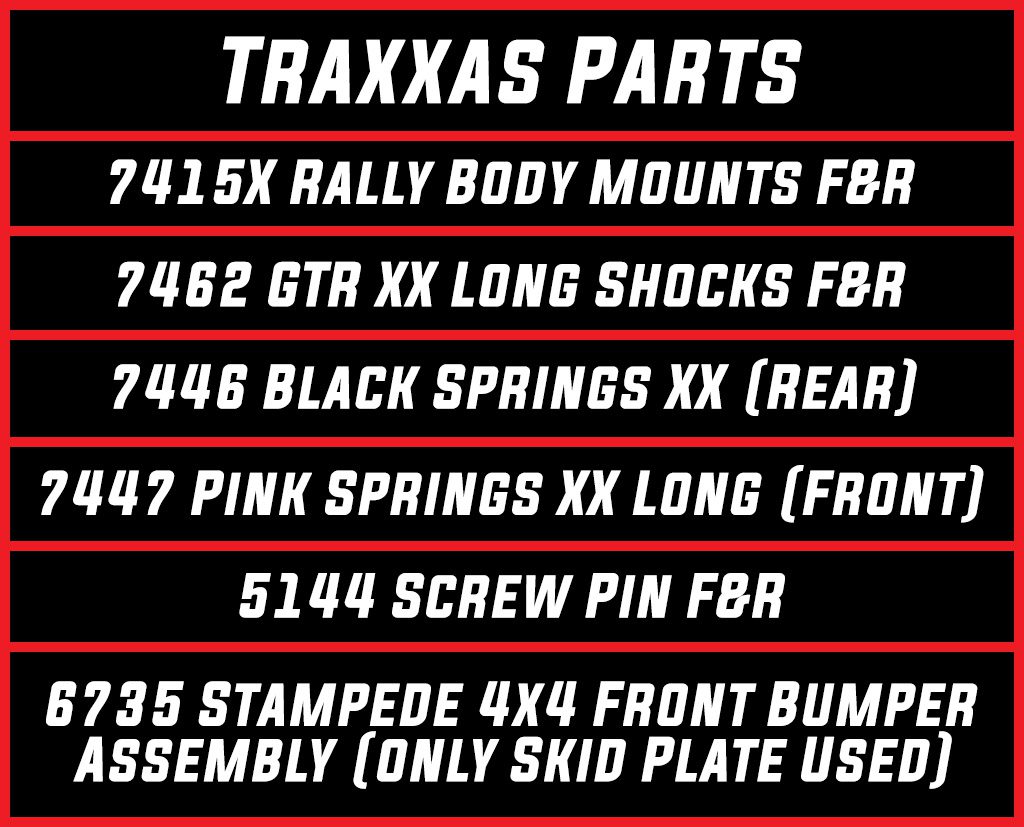 Next up, just to add flair and style from Team Associated, the Police Light Bar combines a touch of realism and the DS1015 servo and servo saver adds muscle to move the beefy tires.

MIP has a long history with durable drivetrains from the original MIP CVD's and Puck Systems and we choose to go with the MIP X-Duty CVDs to handle the power without hesitation.

Lastly, the Stage 4 Concept truck adds the durable King Headz LCG Aluminum Motor Mount that adds strength over the stock component along with a bigger 10 x 19 x 5 bearing for longer life.