Despite the busy holiday season, the JConcepts team is still putting down laps and taking wins across the world. As most of us may already know, it's not easy to juggle family time with your passion and only the truly dedicated can masterfully juggle the difficult balancing act. Going that extra mile, these guys were also able to deliver a win while doing what they love. Let's hear it for the hardest working team in the industry. Happy Winning Wednesday and Happy New Year!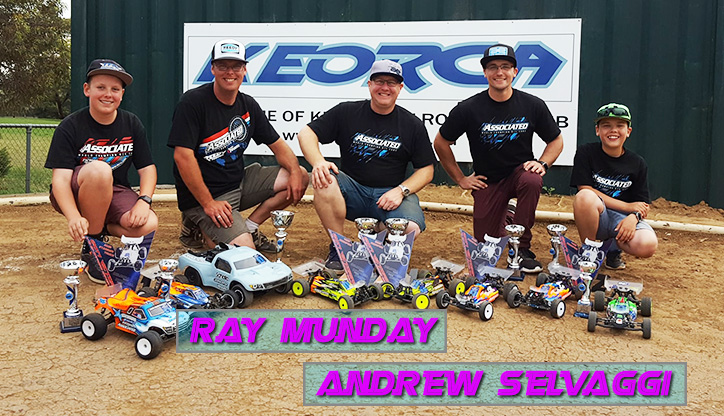 The Australian Super Duo, Ray Munday and Andrew Selvaggi attended the final round of the Victorian Driver's Series race held at Keilor in Melbourne, Australia. With a good turnout at 132 entries, Ray and Andrew both used JConcepts 3Ds, until the traction starting coming up, and then moved to Dirt Mazes when needed. Ray was able to take both TQ's in 2wd and 4wd along with both wins sealing up the overall class titles. Andrew Selvaggi finished 2nd with junior JConcepts racer, Lachlan Munday, finishing 3rd making it an awesome JConcepts podium lockout in 2wd Mod! Jordan Isergin completed the podium in 3rd place for 4wd Modified. Thanks also to Mark Rogers for taking the win in SCT on JConcepts tires!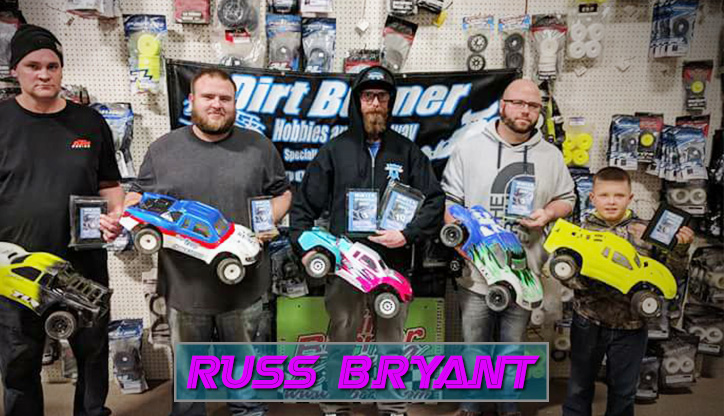 Russ Bryant is a man of many talents. He is widely known for his Monster Truck racing prowess, but he is also an established offroad racer as well. Russ was able to utilize the Hi-Flow 2 SC body paired with gold Dirt Webs and Hazard wheels to take the win in Mod Short Course at Dirt Burners Hobbies and Raceway over the weekend.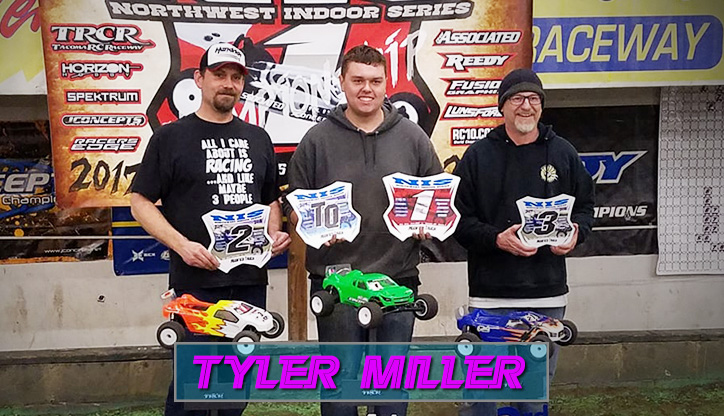 Tyler Miller took a little time away from RC racing, but coming back in full force at the very competitive Northwest Indoor Series hosted by Tacoma R/C Raceway, Tyler was able to take a well-deserved TQ and win in Modified Stadium Truck. Great job T.Mills!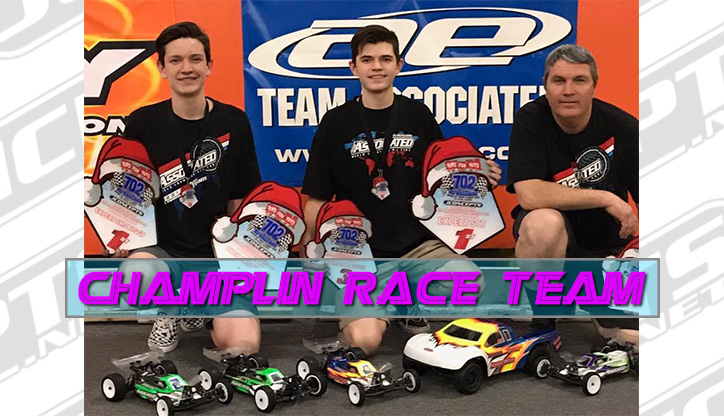 If there's one family out there that races together and does it right, it's the Champlin Race Team. Blake, Broc and Chris Champlin are all extremely fast and dedicated to the hobby. While attending the Toys for Tots race at 702 RC Raceway, Blake was able to TQ both 2wd and SCT and finished 3rd in 2wd and 1st in SCT. Broc qualified 2nd in 2wd Modified and with great driving took the win in 2wd AND 4wd modified. Chris qualified himself in 4th and finished 4th in 2wd Modified while racing for a great cause. The entire Champlin Race team ran the JConcepts Swaggers and Pin Downs with F2 body and Aero wing for downforce and great looks.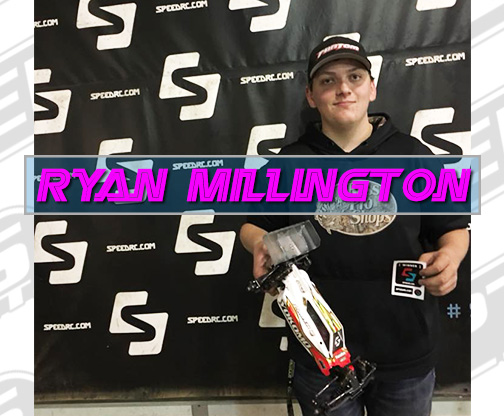 Recently joining the JConcepts team for the rest of 2017 and into 2018, Ryan Millington has been on a terror at Speed RC. Using gold Dirtwebs to give him the traction he needed, Ryan was able to TQ and win round 3 of the winter point series at Speed R/C. Great job Ryan and keep it up!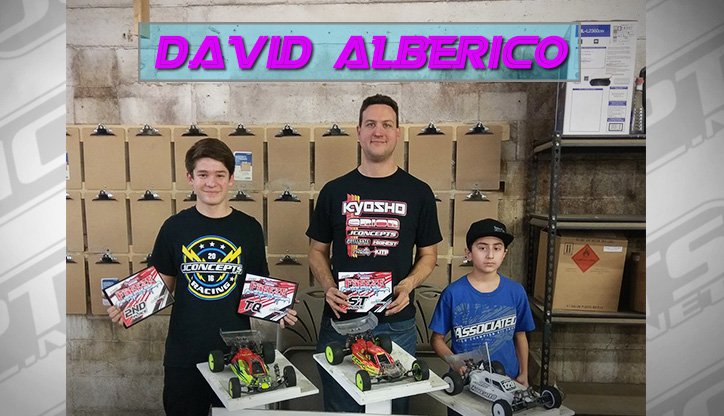 It was smooth sailing for JConcepts' David Alberico at the Fastlane Freeze winter series race with a perfect weekend finishing 1st in 2wd and 4wd Modified. Now that ladies and gentlemen, is how you end a year of racing! Great job David!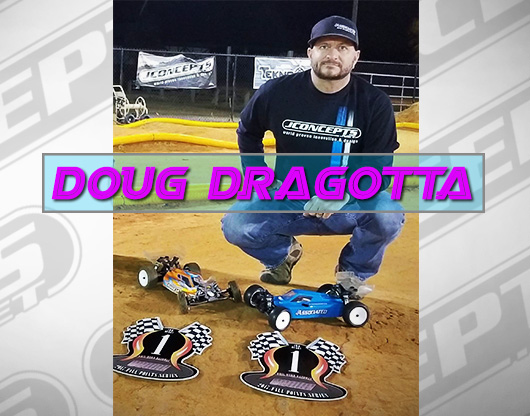 Also joining the team for the 2018 team, Doug Dragotta has made the move to run JConcepts and he's already bringing home results. Doug was able to take the TQ and win in both 2wd and 4wd Modified at round 5 of the Point Series race at Phil Hurd Raceway. With these two wins, Doug sealed up the overall series wins in both classes using the trusted combination of Rip fronts and Hybrid rears on 2wd. In 4wd, the Reflex tires were his weapon of choice! Great job Doug and welcome to the team!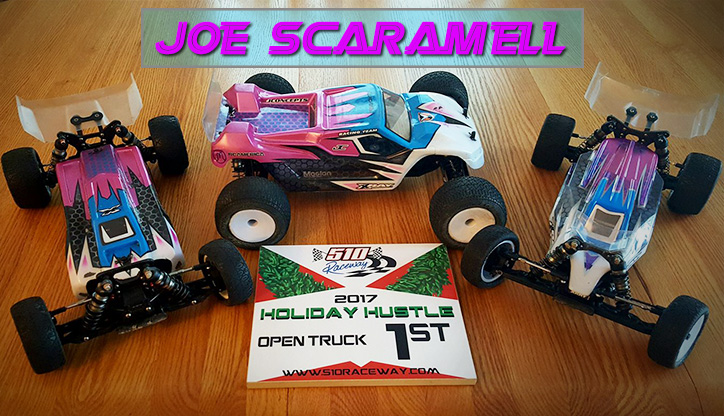 It was another fabulous weekend for Joe Scaramell at the Holiday Hustle hosted by 510 Raceway. Joe was able to put down a killer run in Mod Stadium truck to set the TQ and take the win. Yet, another win for the Dirt Web truck tires and thank you Joe!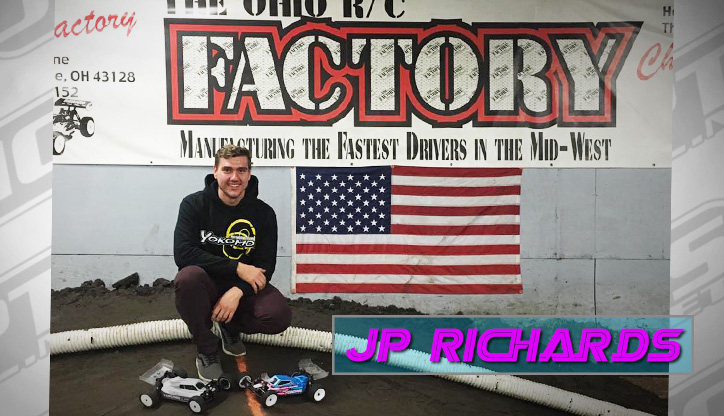 JP Richards has been putting in the time gearing up for the 2018 CRCRC race coming up next weekend in Columbus, OH. While dialing in his new rides, JP was able to take the double TQ and win in 2wd Modified and 4wd Modified during The Ohio RC Factory's Christmas Classic. Look for JP to be a contender as JP is always fast at the CRCRC!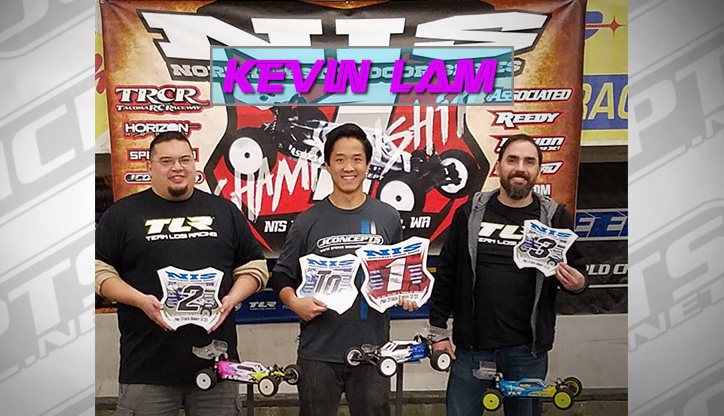 Kevin Lam has been slowly making a name for himself in the Pacific Northwest as one of the top Pro Stock racers in the area. Proving he had the skills to compete with a very fast group of racers, Kevin set the pace and was able to TQ and take the win in style at the Northwest Indoor Series hosted by Scotty Brown's TRCR! Welcome to the team Kevin!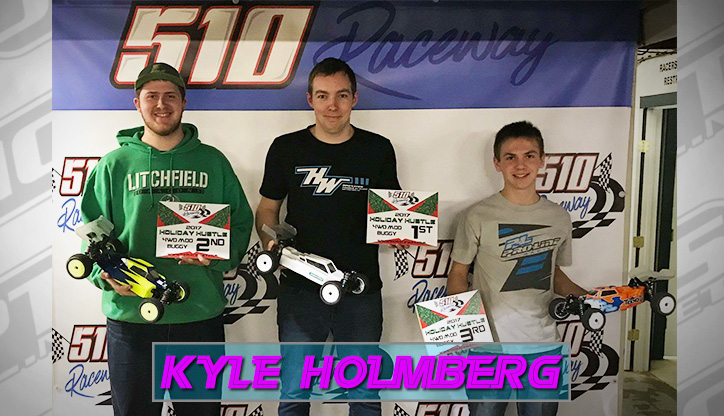 JConcepts' Kyle Holmberg put his speed on display at 510 Raceway's Holiday Hustle with a TQ and win in 4wd Modified. Kyle used Dirt Webs to his advantage providing him the grip from start to finish. Kyle also finished 2nd in 2wd using Space Bars to achieve his terrific podium results. Great job Kyle!