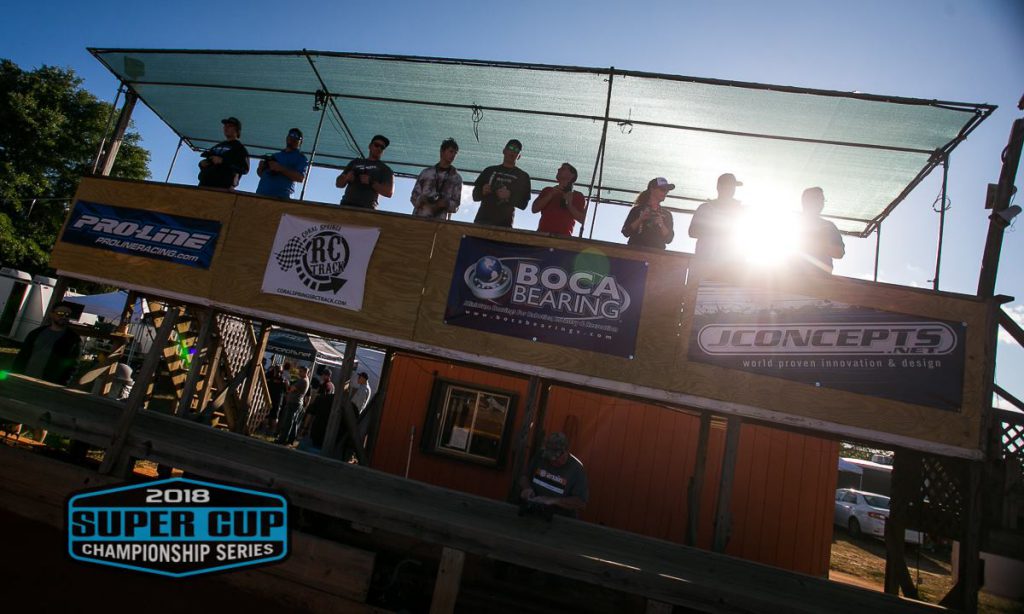 Continuing the excitement of the JConcepts Super Cup, round 3 made its way to the southern half of Florida and home of yet another famous Florida red clay track, Coral Springs R/C Track in Coral Springs, FL. One of the beauties of being a racer in Florida is that you can hit a lot of beautiful outdoor tracks, even in the dead of winter. Despite it being early March, temps were close to 80F and the sun was shining for a majority of the weekend. With rain scheduled for the late afternoon (also a Florida tradition), we rushed through the day and finished racing before the rain came!

With only 2 races left on the Spring Super Cup calendar, the point series is starting to get tighter at the sharp end making each race more crucial for the overall championship. The fine crew at Coral Springs R/C Tracks went above and beyond providing an extremely well-prepped race track and facility. The layout was fantastic and filled with character making each lap a pleasure to complete. There was a pleasant mix of jumps and elevation to enhance the technical side of things while the smooth, flowing layout made for a challenging fast pace. Thanks to the crew for doing a remarkable job with keeping the track in tip-top shape all weekend long and our hats off to you!
Check out a few videos from the event!
13.5 4wd and 4wd Modified A-Main

2wd Modified A-Main

Independent 17.5 2wd Stock
The Independent 17.5 2wd Stock class always provides a terrific show given that there are no sponsored drivers allowed in any of the Indy classes for fair and equal speed racing. During the 5 minute A-Main, 3rd place qualifier Jeff Lynn took command on lap 2 and pulled himself away from the field taking a relatively easy win for Jeff. Class TQ, Dustin Spallone, got off to a slow start after tough 1st lap to claw his way back to 2nd. Rounding out the top 3 was Hunter Rousseau, who looked fast all weekend.
Independent 17.5 Stock SCT
It was a remarkable 3-way battle for the win in Independent 17.5 Stock Short Course between Zachary Schmidt, German Diaz, and Corey Whiting, in which the 3 trucks finished just over 2 seconds apart from each other! Coming out clutch and taking the win in the closing minutes was Zachary Schmidt with German Diaz finishing 2nd, and Corey Whiting 3rd in one of the closest battles of the day!
Independent 17.5 Stock Stadium Truck
Tracey Proctor was too fast and too furious in the Independent 17.5 Stock Truck class, where he took the win with a relaxed 14-second margin over 2nd place finisher, Jeff Lynn. Closing out the last spot on the podium was Scott Setzer and 3rd place finish that's going to greatly help him in the overall title hunt.
17.5 2wd Expert Stock
Grabbing the win in the 17.5 Expert 2wd class was JConcepts' Ryan Harris, who was able to retake the lead on lap 6, after momentarily losing it to JConcepts' Jader Lopez. The two teammates would finish 1st and 2nd while in close combat with a fellow JConcepts teammate, Alfredo Morales, rounding out the top 3.
13.5 Stadium Truck
It was another close race for JConcepts' Ryan Harris, but this time in the 13.5 Stadium Truck class as he and Mike Applegate would go head to head for the win. After some close racing, finishing on top was Ryan Harris followed closely by Mike Applegate in 2nd. Making the podium on the closing laps was JConcepts' Travis White.
13.5 4wd
Completing the 'Hat Trick' win at round 3 of the Spring Super Cup, JConcepts' Ryan Harris closes out a great weekend with another victory in the 13.5 4wd division making it 3 classes and 3 wins. With an impressive charge from the 7th place qualifying position, JConcepts' Joshua Alfaro delivered a remarkable string of laps to finish 2nd overall on the podium. JConcepts' Jader Lopez deliver another great run and found himself in 3rd.
2wd Modified
It was a terrific battle in the highly coveted 2wd Modified class between TQ, AE/JConcepts' Lee Setser, and 2nd place qualifier, AE/JConcepts' AJ Marasco. While both are good friends and teammates on JConcepts, these two put everything on the line and displayed great racecraft over the 5-minute long race. The two would follow nose to tail, but AJ would deliver a picture perfect pass on Lee to take over the lead for a short time. Unfortunately for AJ, the lead was short lived with a mistake that gave the lead back to Lee. From there, Lee would cross the line in first by 2.5 seconds over AJ. Once again, grabbing another podium for JConcepts was Jader Lopez, who was in his own battle with AJ for 2nd, but ultimately had to settle for 3rd.
4wd Modified
It was a picture-perfect weekend for AE/JConcepts' Lee Setser. With a win in 2wd already under his belt, 4wd was much of the same. This time, Lee won with a commanding lead and a tone to tone victory. Doing the impossible from the bump position, Tekno/JConcepts' Janos Lazar, would move up from 10th on the grid to finish 2nd on the podium with some heroic driving. Rounding out the podium and showing off some serious skills, Serpent's Kyle Phillips finished 3rd overall.