JConcepts – Monster Truck Team shirt
JConcepts arrived at the Solid Axle Showdown with new apparel for the 2018 season. The Monster Truck team shirt debuted to popular appeal and great results at the annual event in Richmond, Virginia. No monster truck shirt would be complete without the jumping imagery of one of the large tire beasts and the design does not disappoint. The large image showing a JConcepts themed truck in a blasting checkerboard and exploding background covers the rear of the shirt.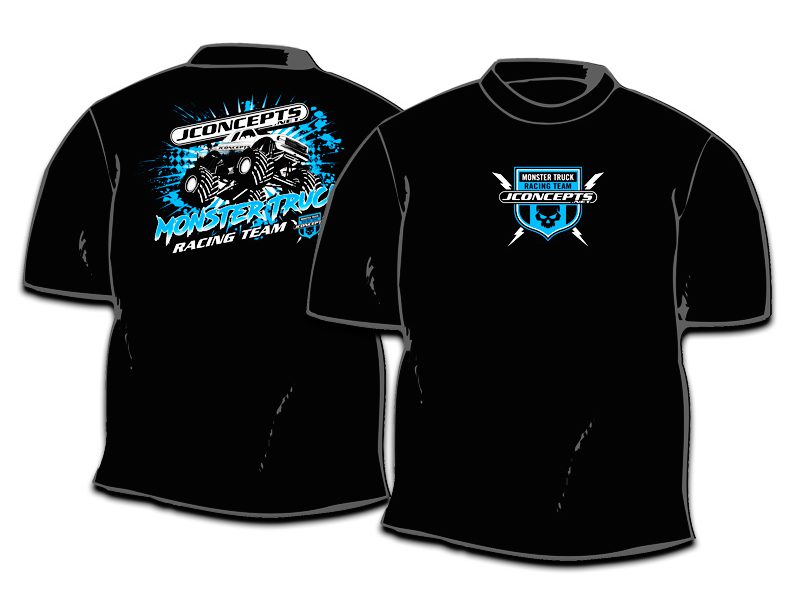 On the front, the specially designed team shield is front and center showing the skull moniker with iconic lightning bolts. JConcepts.net packs a serious punch located on the front and rear of the design bringing together a look that is truly World Proven Innovation and Design. The shirt itself is 100% cotton, available in multiple adult sizes and packs a durable design along with the popular fabric material.
Features:
· Black, 100% cotton material
· Chill, blue and white colors
· Skull moniker with shield MT logo
· Blasting checkerboard and exploding background
· JConcepts.net logo on the rear
· Available in adult sizes: M, L, XL, XXL & XXXL
JConcepts – Monster Truck Team shirt, Medium
Part# 2343M
UPC Code – 845937019516
Retail price – $24.00
Map price – $20.40
JConcepts – Monster Truck Team shirt, Large
Part# 2343L
UPC Code – 845937019523
Retail price – $24.00
Map price – $20.40
JConcepts – Monster Truck Team shirt, X-Large
Part# 2343XL
UPC Code – 845937019530
Retail price – $26.00
Map price – $22.10
JConcepts – Monster Truck Team shirt, XX-Large
Part# 2343XXL
UPC Code – 845937019547
Retail price – $27.00
Map price – $22.95
JConcepts – Monster Truck Team shirt, XXX-Large
Part# 2343XXXL
UPC Code – 845937019554
Retail price – $27.00
Map price – $22.95