Winning Wednesday marks a terrific day for the JConcepts race team as they get recognition for their achievements from taking wins from around the world. The talent runs deep in all of our drivers, but their individual determination is what makes them special. Thanks for the report and enjoy this #WinningWednesday.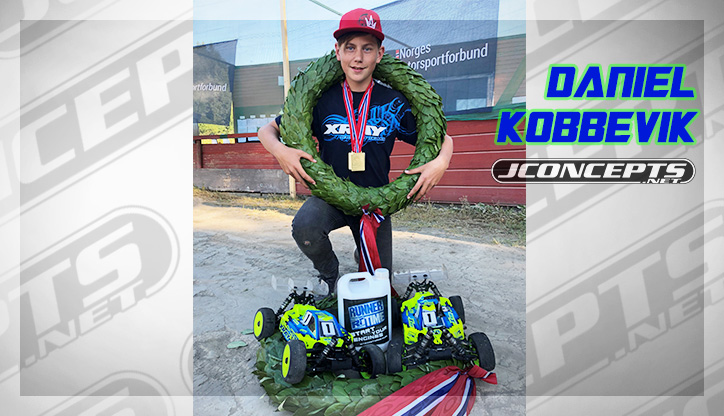 With age comes maturity. Daniel Kobbevik has always been lightning fast but is really starting to put it together as of late as he just claimed double Norwegian National 1/8th titles in nitro and Ebuggy classes. This year's Norwegian Nationals was held at Sandefjord R/C Club where Daniel was able to take well-deserved wins over his fellow Norwegians racers on JConcepts rubber. Congrats Daniel!!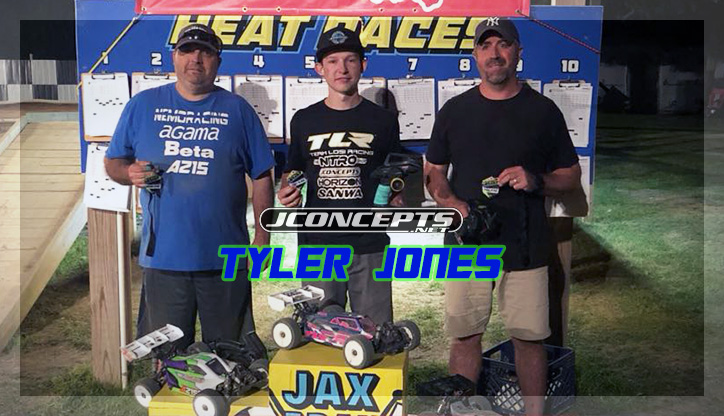 After his terrific double podiums at the 2018 AMS 9.0, Tyler Jones is back at it. Refining his stills, Tyler ran at Jax Trax last weekend in Union City, Indiana where he took TQ's and wins in Ebuggy and nitro buggy using S2 bodies and green compound Stalkers. All of the hard work is definitely paying off.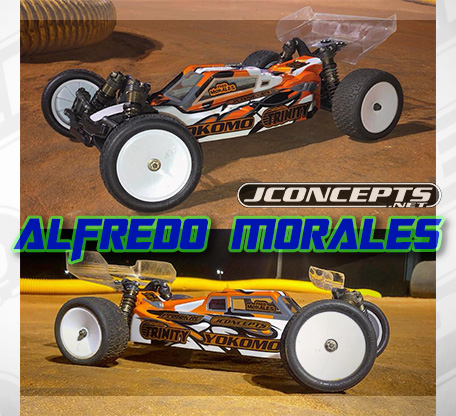 Week in and week out, Alfredo Morales hits the track and now starting to unlock his speed potential. Going faster than ever and resetting the track lap record, Alfredo continues to improve taking the 4wd and 2wd win at Mills Pond Speedway's Cash Days Money Race. Not only is his tire game and driving on point, Alfredo's $100 richer. Having recently switched from Reflex to green Dirt Webs, the speed is sky rocketing!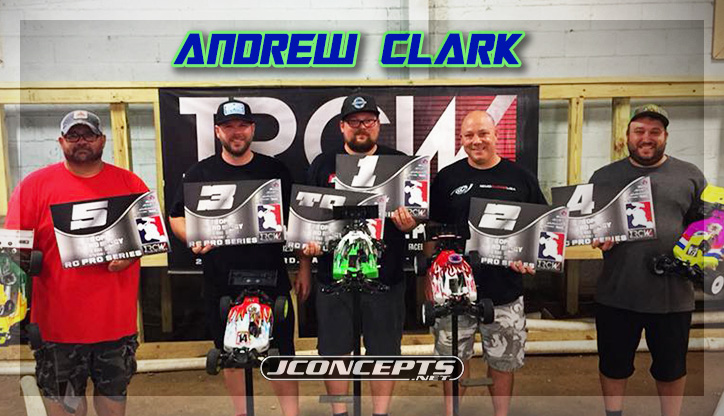 Team driver, Andrew Clark was on fire at round 3 of the RC Pro Series hosted by Indy RC World where he was able to set the TQ time in both open Ebuggy and nitro buggy classes. Once the main started, Andrew was able to carry the momentum and go on to take the win in both classes. Andrew rocked the R2 Rehabs, Detox, and Stalkers to get the job done!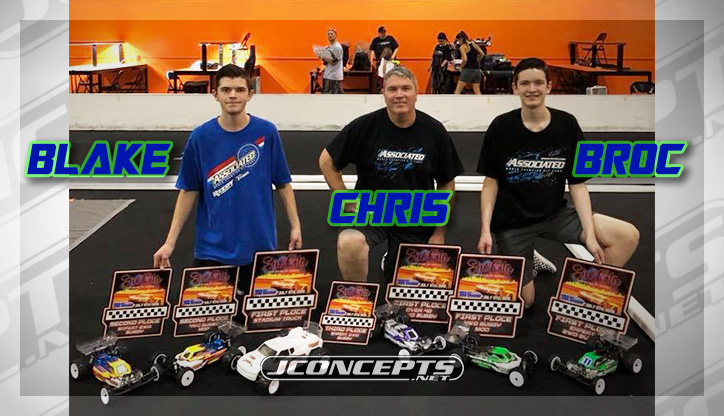 The Champlin Race Team is fast. Super fast! Consisting of Broc, Blake, and Chris, these 3 guys bring the heat especially on the artificial surfaces. The crew attended the last round of the Sin City Off-Road Series hosted by 702 Raceway. The finale race decided the overall champion in 2wd Modified between Blake and Broc and came down to the wire. Broc would eventually take the win in 2wd with Blake 2nd and Chris 3rd giving Broc and Blake 1st and 2nd for the series. Broc and Blake would also finish out the series on top in 4wd Modified as well and Blake taking home the overall in Stadium Truck. Not to mention, Chris wrapped up 1st in the 40+ 2wd Mod class too! For the entire race, the CRT used Swaggers and Pin Downs to clean up the podium in all classes! Amazing results CRT!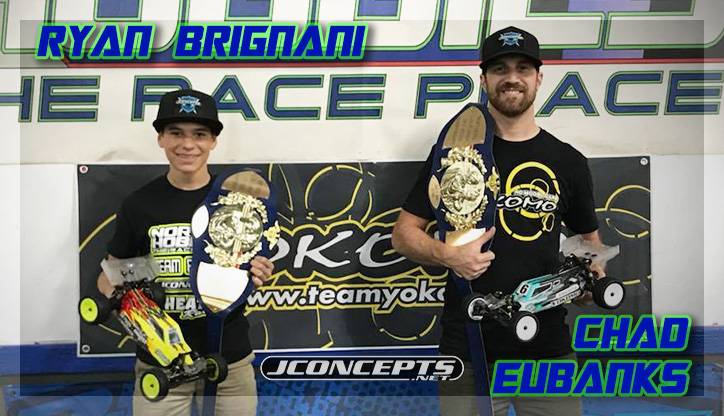 Looking like a couple heavyweight champions, these two guys just won the Nor-Cal Belt Championships at NorCal Raceway. Chad Eubanks held it down in 2wd Modified and Ryan Brignani won the Expert 2wd Stock Buggy class. Both drivers used gold Dirt Webs to provide the grip with Chad using the S2 and Ryan running the F2. The Aero package was Type-S rear wing and Aero lower front wing for the unprecented championship winning downforce.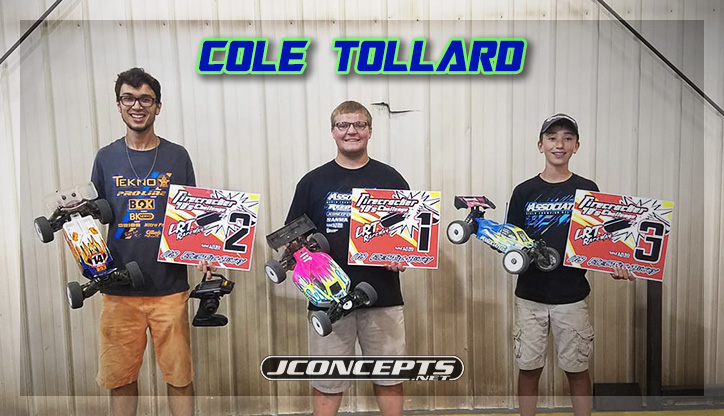 Making the trip to LRT Raceway in Iowa, Cole and Jim Tollard cruised over for the Firecracker 40's race where Cole was able to TQ and win the Ebuggy class on O2 Detox and Rehabs grippin' and rippin'. Unfortunately, Cole had issues in nitro and managed a 6th place after setting the TQ for the class. Something tells me, he'll be back!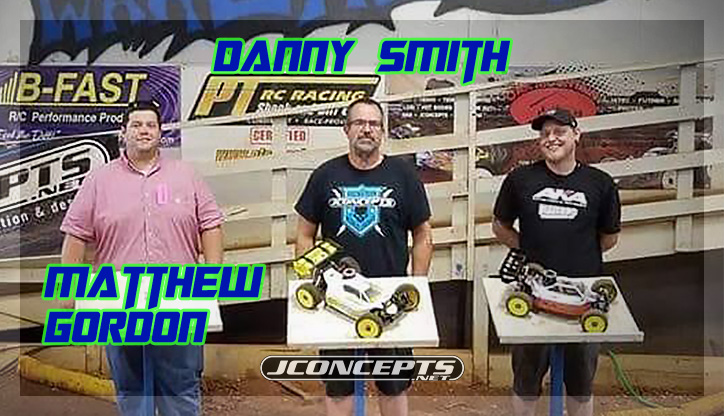 Danny Smith and JC teammate, Matthew Gordon, did a bit of club racing at Warehouse Hobby and Raceway and both drivers finished on the podium with Danny taking the win and Matt 2nd in the nitro buggy class. When the track was on the looser side, Danny ran blue Triple Dees, but later switched to green Detox and was dialed in for the win!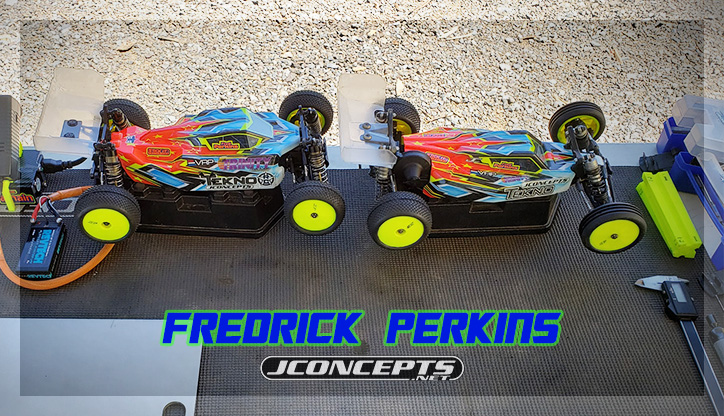 Rockin some 1/10th scale racing action last weekend, Fredrick Perkins TQ'd both 17.5 Stock 2wd and Mod 4wd using green Flip Outs! Flip Outs!! Fredrick was able to convert his 4wd TQ into a win and finished 2nd in stock buggy. Not a bad weekend at all. Check out that paint scheme tho … dialed!
How many have you raced 4 classes on a single night? Not many have and not many can make 3 of 4 podiums like Hunter La Flower did last week at Lawton Oklahoma. Hunter finished 3rd in Late Model, 3rd in Mid West, 4th in Spring, and a win in Street Stock! Sounds like so much fun!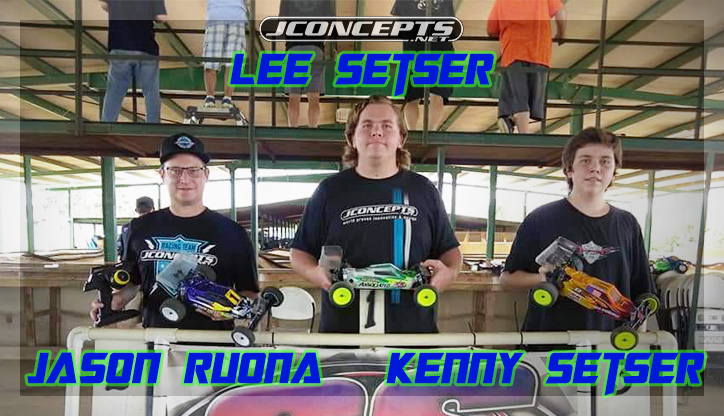 It was a great weekend of racing at SS Raceway and Hobbies with Lee Setser taking the win in 2wd Modified, Jason Ruona finishing 2nd, and little brother Kenny Setser 3rd on the podium making it a JConcepts sweep. As you can see, F2 bodies and Aero wing package were on point with the S-Type wing and lower front wing being used for added downforce grip.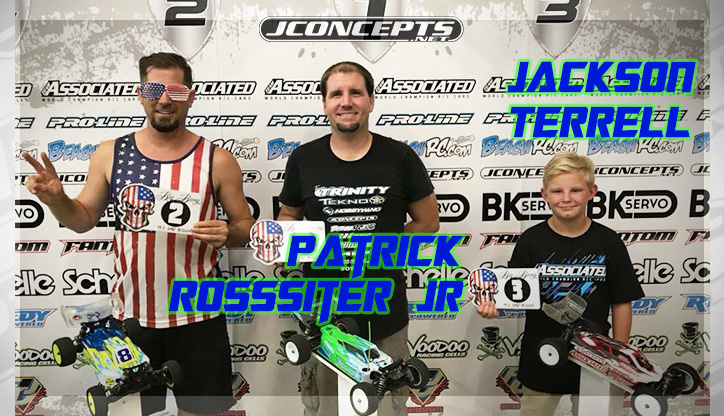 Getting in some 1/10th scale time, Patrick Rossiter Jr. hit up Beach RC and Hobbies in Myrtle Beach, SC, last weekend for the Big Bang race and guess what? Patrick got the TQ and win in 13.5 4wd using the F2 EB410 body. Little buddy Jackson Terrell found his way to the podium with a terrific 3rd place finish!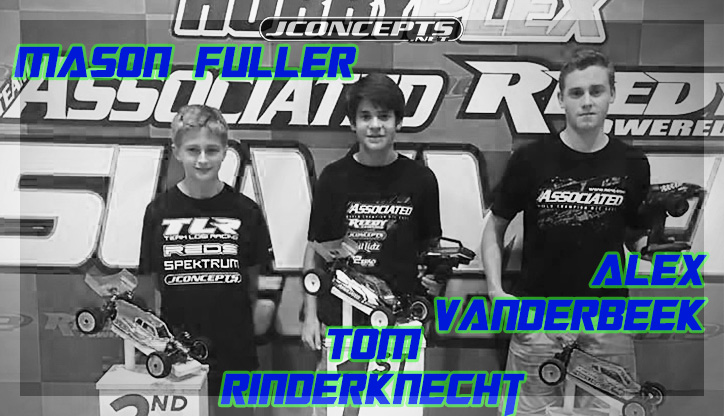 Feeling the flow lately and riding a cloud of confidence, Tom Rinderknecht has found his groove and the results prove it. Attending the Team Associated/Reedy Summer Series, Tom was able to get the TQ and win in 2wd and 4wd Modified classes rockin' gold Dirt Webs and F2 light edition bodies and Aero wing package. Mason Fuller and Alex Vanderbeek put in a good fight and made the podium in 2nd and 3rd making it a JConcepts podium sweep! Great job guys!