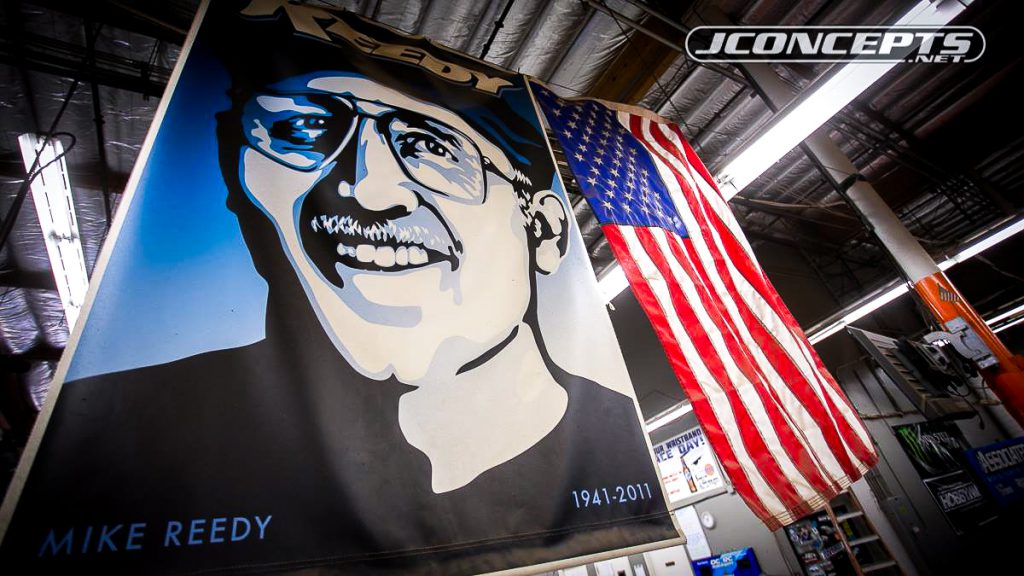 In its 11th year, world-famous OCRC Raceway has become well known for its ultra-competitive racing scene that includes hosting the Reedy Race, Stock Nationals, and also the Surf City Classic. Since SoCal is widely regarded as RC's racing hotspot in the US, OCRC can easily have some of the highest levels of competition anywhere in the world on any given night. Mix in the pros at a big event and you've got yourself the next best thing to an IFMAR World's race.
There's something unique about the Surf City Classic that isn't found at other events. The vibe is chill and California laid-back attitude is ever present…. until about Sunday. Honestly, it doesn't even feel like a big race until the final qualifier is over and the mains get posted for everyone to frantically scramble to try and bump to make the show. Factor in the Friday's free Hobbywing BBQ, Saturday's mechanical bull riding activities, and After Hour party, the Surf City Classic is definitely a race built around fun, but also host to some of the best racing on planet Earth.

This year's layout was exceptional. Not often does OCRC do a full-length straightaway, but when they do, you get to experience some of the fastest 1/10th racing around. The layout had a great flow with technical jump sections that gave racers the option to take risk or play it safe. As the grip increased, the tread height decreased resulting in more corner speed and razor-sharp handling. Lap times dropped throughout the week as the surface evolved from laid rubber and traction compound. In the end, the layout provided some of the closest racing to date and showcased dramatic, high-intensityity racing.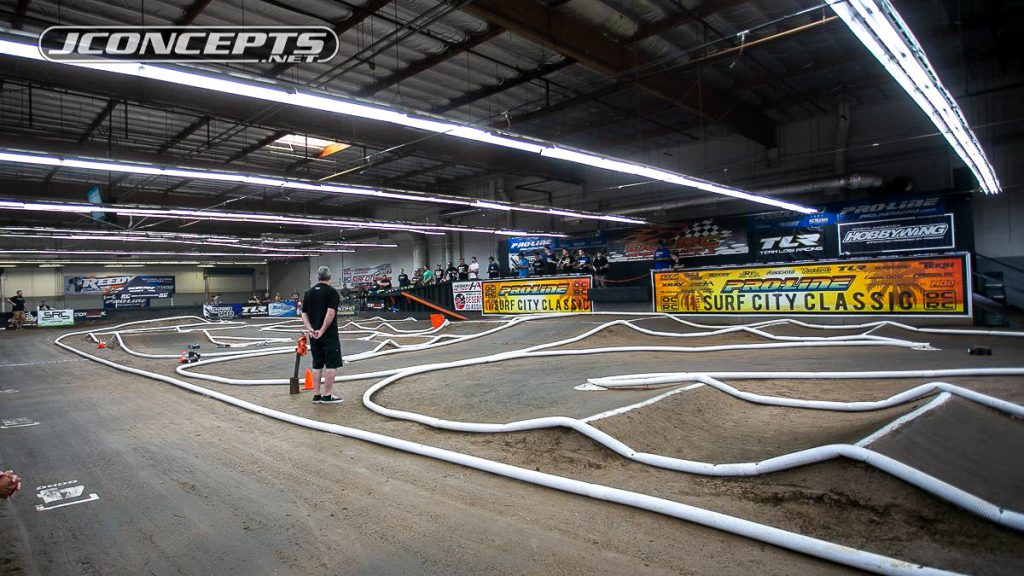 The Surf City format consisted of open practice on Friday, 3 qualifiers on Saturday and 1 final qualifier on Sunday with lower mains to follow. All A-mains were treated to a lengthy 10-minute single A instead of the traditional 5-minute triple A. The grid was decided by taking the best 2 of 4 round giving racers more than enough chances to qualify as high as possible.
Thanks to the entire OCRC crew that includes Robert Black, Nick Black, and Jake Thayer for hosting a killer race, for all the hard work, and the dedication making the Surf City Classic such a fun event.
Here is the Video section from the 2018 Surf City Classic.
Mod Truck A
Mod Truck A – 1 from Surf City!!

Posted by JConcepts Inc on Sunday, September 2, 2018
A-Mains
Surf City A Mains!! Watch and share!

Posted by JConcepts Inc on Sunday, September 2, 2018
Novice
In the Novice class, it was all Jason Bannister as Jason was able to set the TQ and go on to win by a huge margin over his competition. Big Chaney went on to finish 2nd and Hye finished out the top 3 placing himself locking down 3rd for most of the race.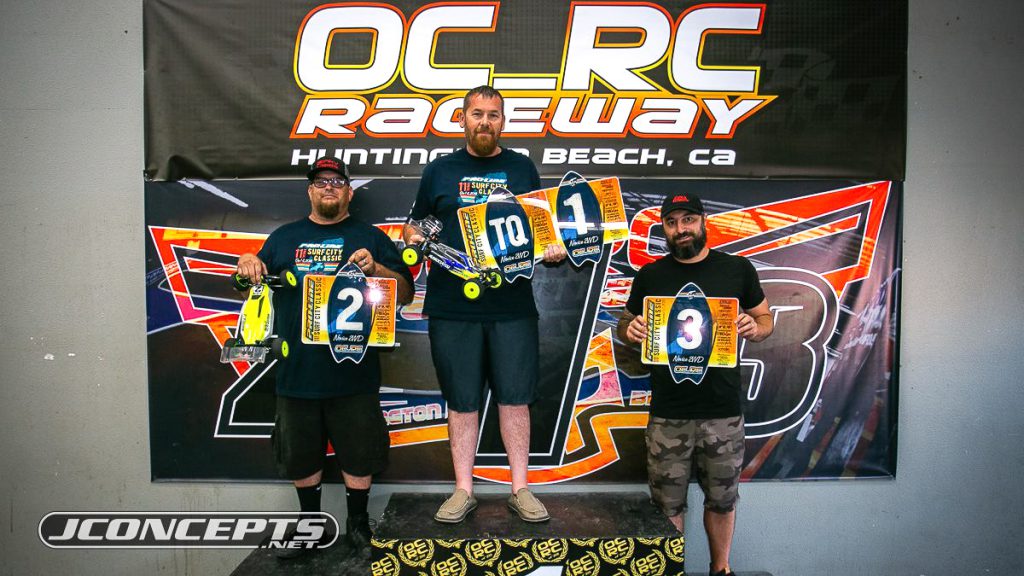 17.5 Stock Buggy
After winning the ROAR Stock Buggy National title, AE's Austin Pannone was out to prove that it was by no means a fluke. Pannone impressed with a great qualifying effort to top seed and went on to win the 10-minute final by 2.4 seconds over a very fast Antonio Counsil. Counsil, who was in a heated battle himself, edged out AE/JConcepts Matthew Gonzales by just .6 seconds to finish 2nd and Matt G 3rd overall.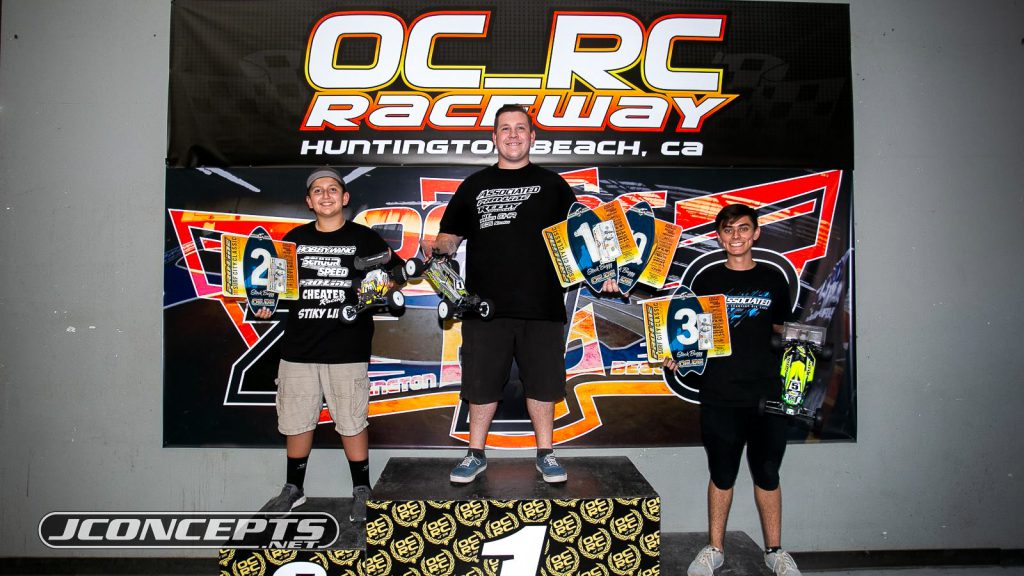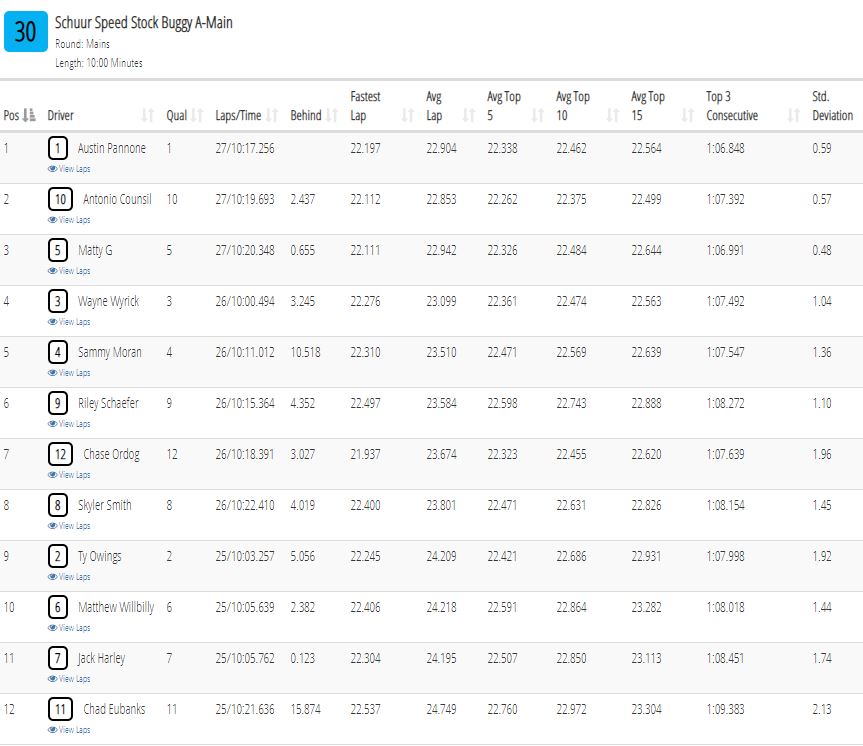 17.5 Stock Truck
It was an exciting race between AE/JConcepts' Matthew Gonzales and TLR's Wayne Wyrick for the win in 17.5 Stock Truck. After 10 grueling minutes of racing, Matty G took the win by .6 seconds over Wayne as the two drivers put on a great show. TQ, TLR's Sammy Moran, showed tremendous speed, but a few timely mistakes saw Sammy slip down to finish 3rd.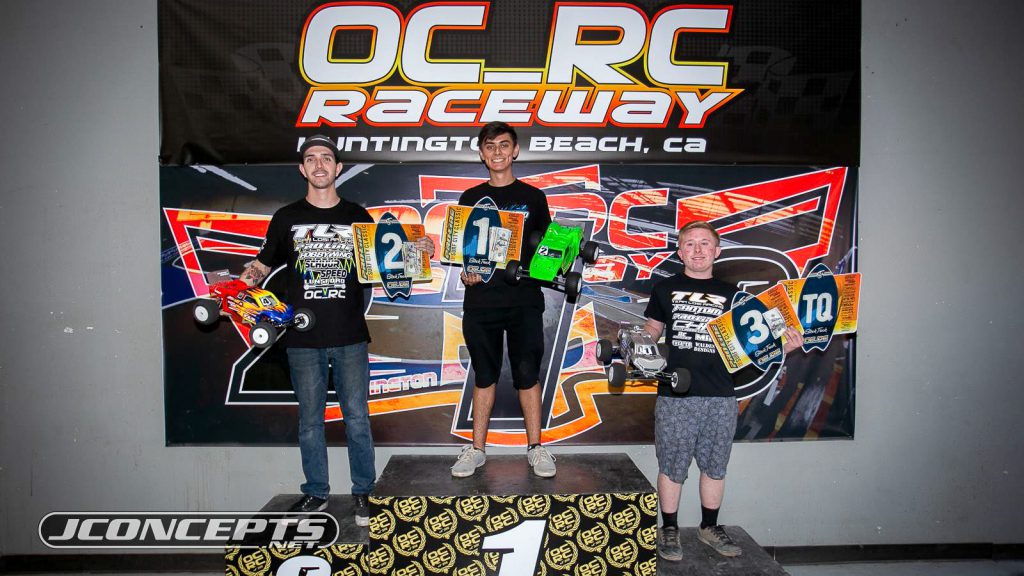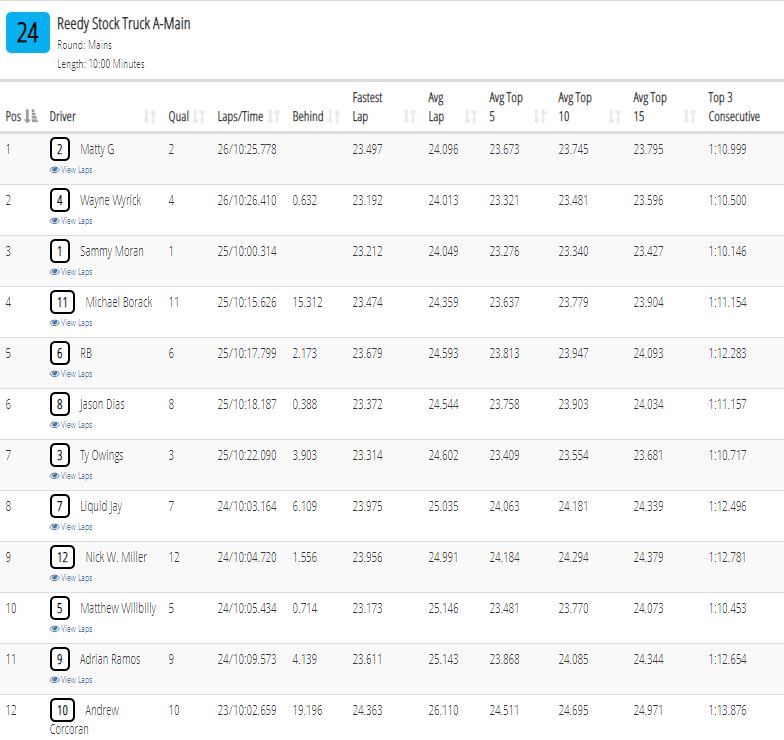 17.5 Short Course
Congratulations to Michael Borack on his awesome driving to take the win in the 17.5 Stock SCT class. It was a great battle with Michael and Justin Myerson as Myerson would finish 3.3 seconds back in 2nd. Cory Smith rounded out the top 3 with a fine drive and took the final step on the podium.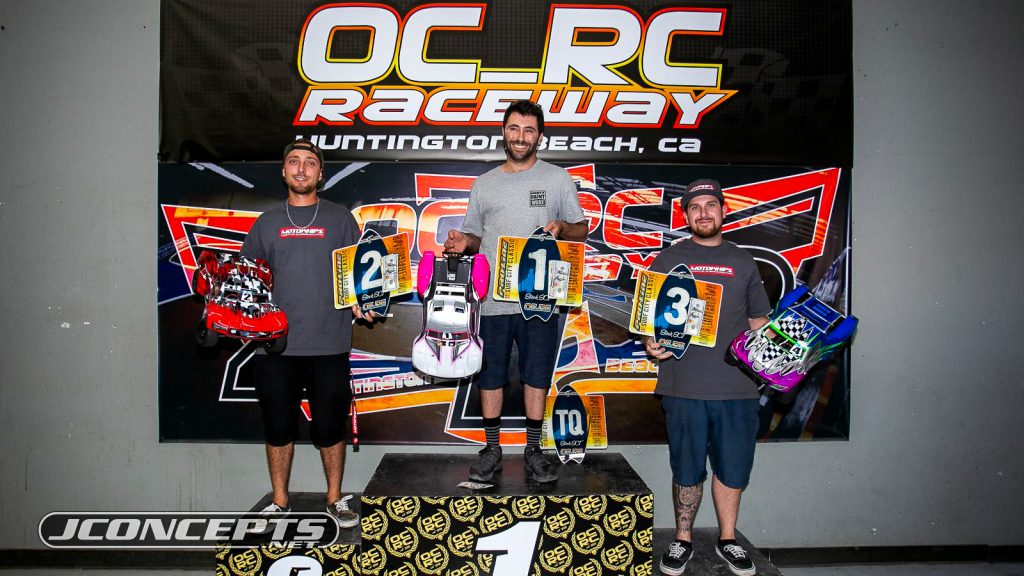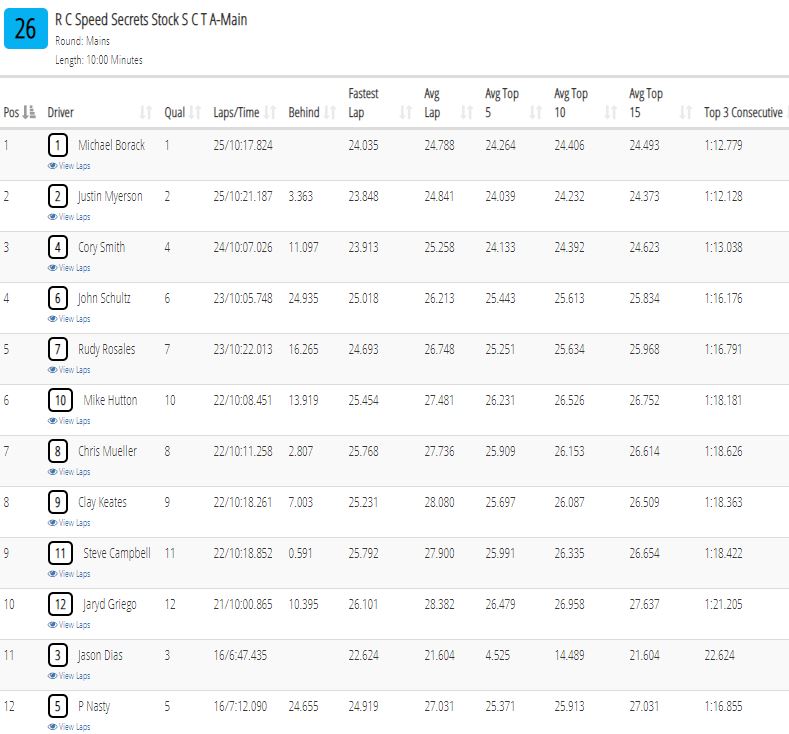 13.5 4wd
It was a driving clinic for AE's Austin Pannone in the 13.5 4wd class as he was able to move from 3rd up to 1st early in the race. Once Pannone was in control, he dominated the race with smooth driving and consistency. Antonio Counsil is really starting to shine as the 13-year-old speedster put in a terrific drive to finish 2nd over a hard-charging TLR Wayne Wyrick.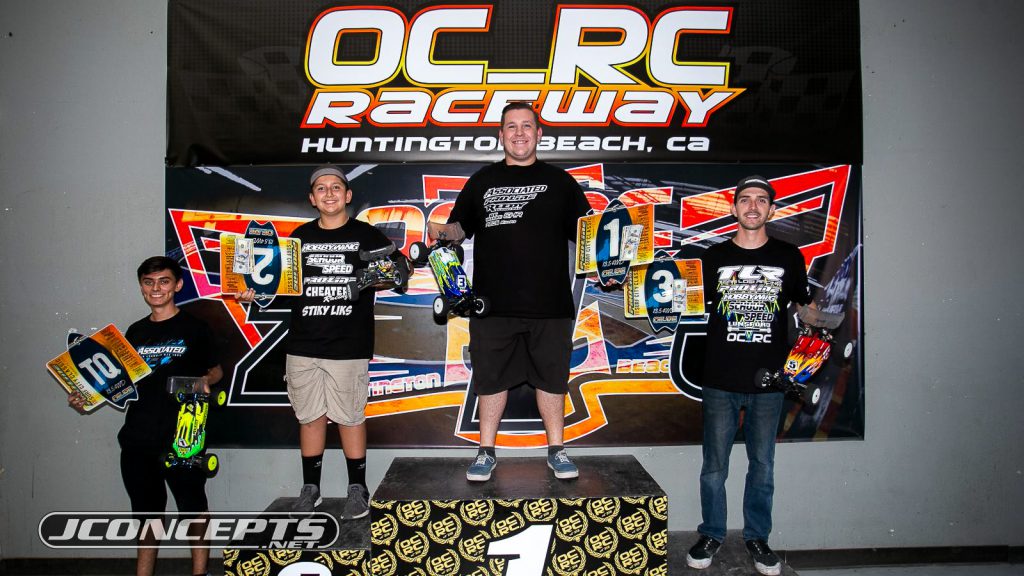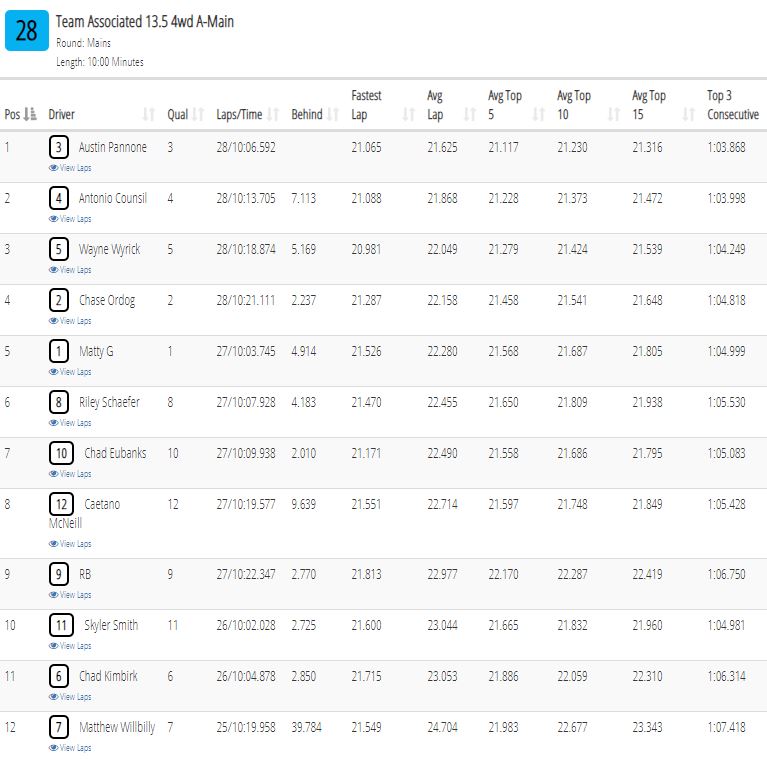 Mod 2wd
It was an amazing weekend for AE/JConcepts' Joona Haatanen as Haatanen stole the show in round 3 of qualifying with a surprise TQ effort. The Finnish star also put his talent on display during the 10 minute final against some of the best drivers in the world and was ecstatic with his 3rd place finish. Yokomo/JConcepts Ryan Maifield controlled most of the race out front, but an ironic double crash by him and Xray's Ty Tessman saw Tessmann recover quicker to take the lead on the closing laps and went on to take the win.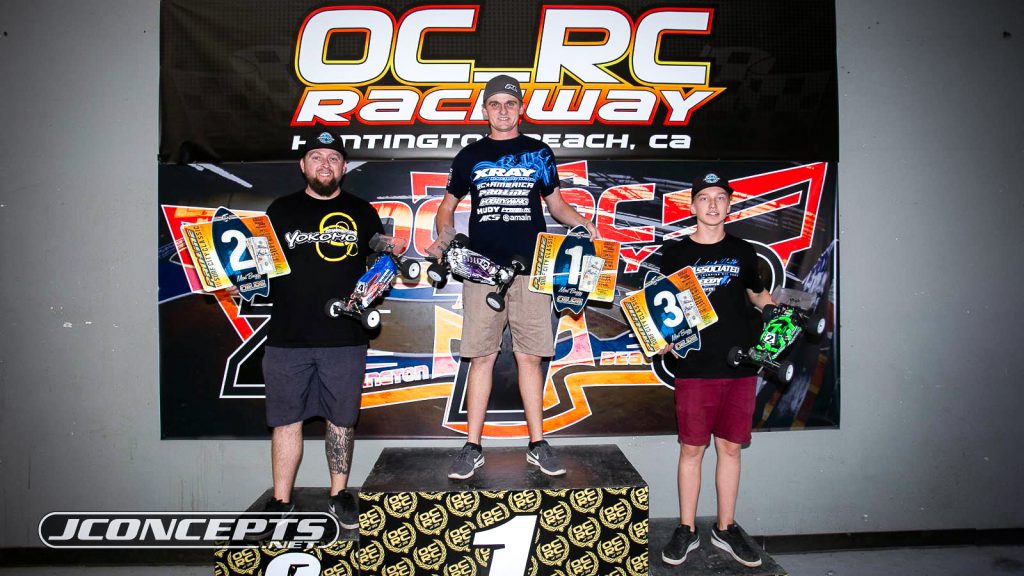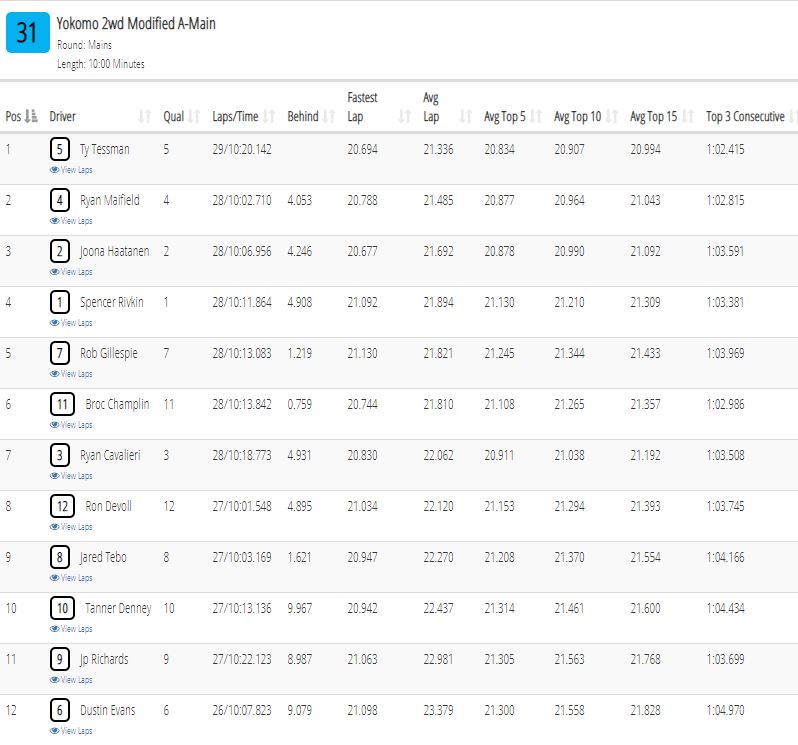 Modified 4wd
It was a close 3 car battle in the 4wd Modified class with AE/JConcepts' Spencer Rivkin, AE's Dustin Evans and Xray's Ty Tessmann. Evans led the field from the tone, but on the 5th lap, made a mistake that would momentarily give Spencer the lead and saw Evans drop back to 4th. From there, Spencer and Ty would go back and forth fighting for 1st until late in the race as Ty made a critical mistake that allowed Dustin to move up to 2nd and challenge Spencer for the lead. On the penultimate lap, Dustin made the pass happen after the triple, but on the last lap, Spencer would get by Dustin in the same corner giving Spencer the win, Dustin 2nd, and Ty 3rd.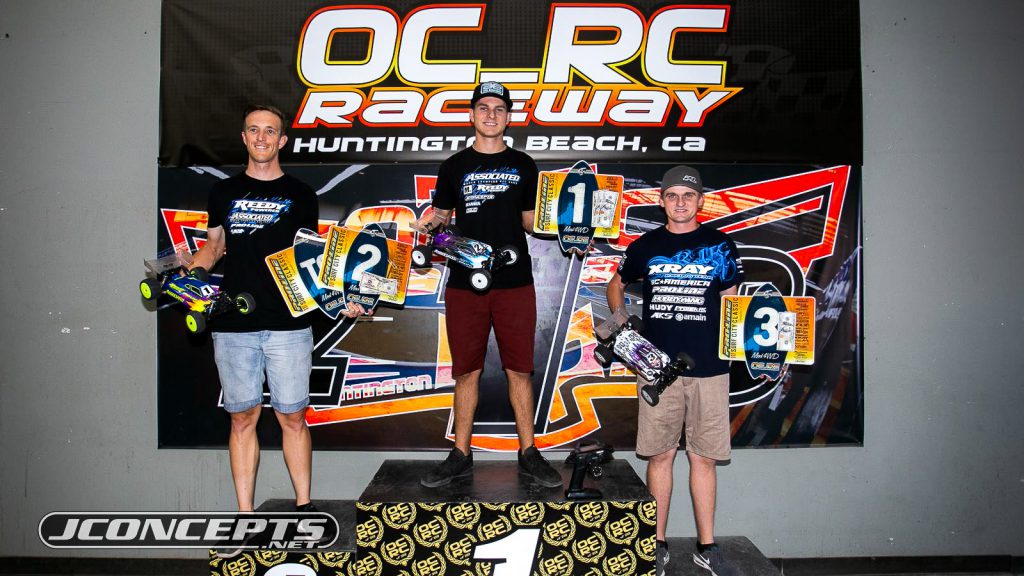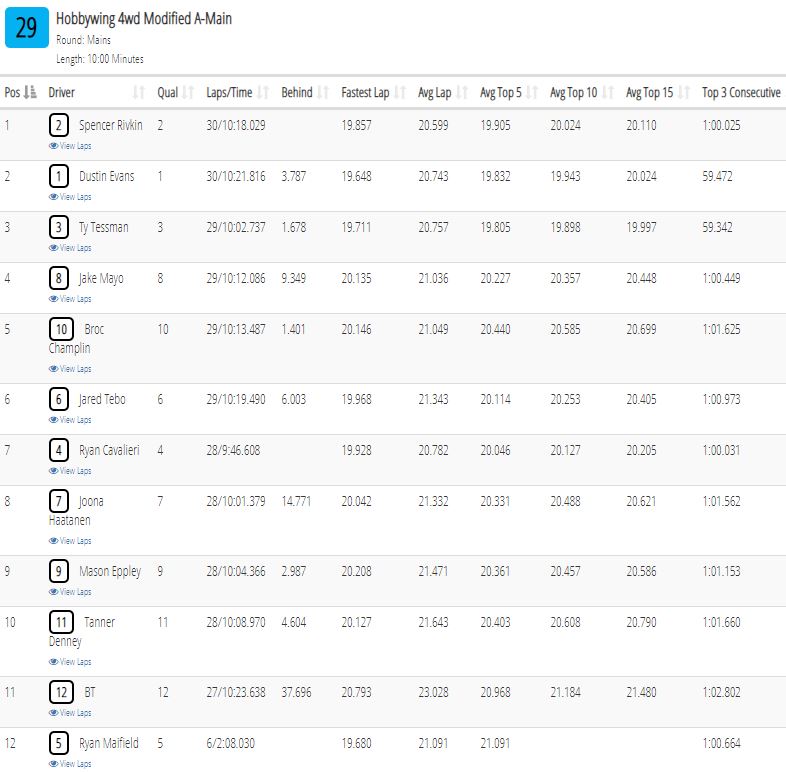 Modified Truck
It looked like it was going to be the Dustin Evans show in the Modified Truck class, but the 10 minute A main proved to be a different story. After working on his tire prep game, AE/JConcepts' Ryan Cavalieri found a lot more speed and comfort to challenge Dustin for the win. It was a long, tough 10 minutes of intense driving, in the end it was AE/JConcepts Broc Champlin finding himself behind Cavalieri who attempted a last lap pass for the win and came up just short of a miracle. In his attempt, Broc would flip to his lid that allowed Dustin by to grab 2nd and finished Broc 3rd overall. After the race, Broc commented that he, "Would rather try for the win instead of playing it safe for 2nd."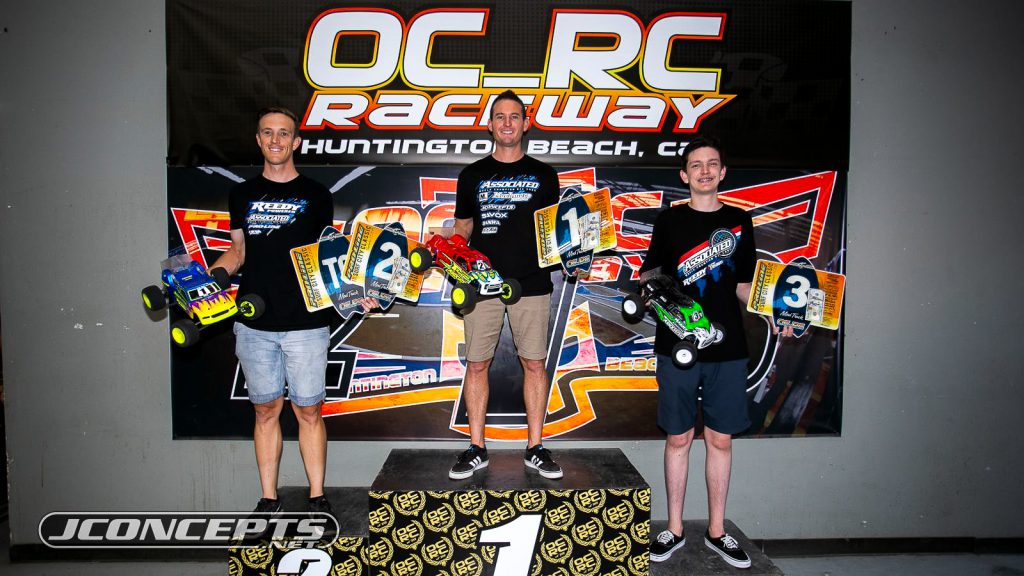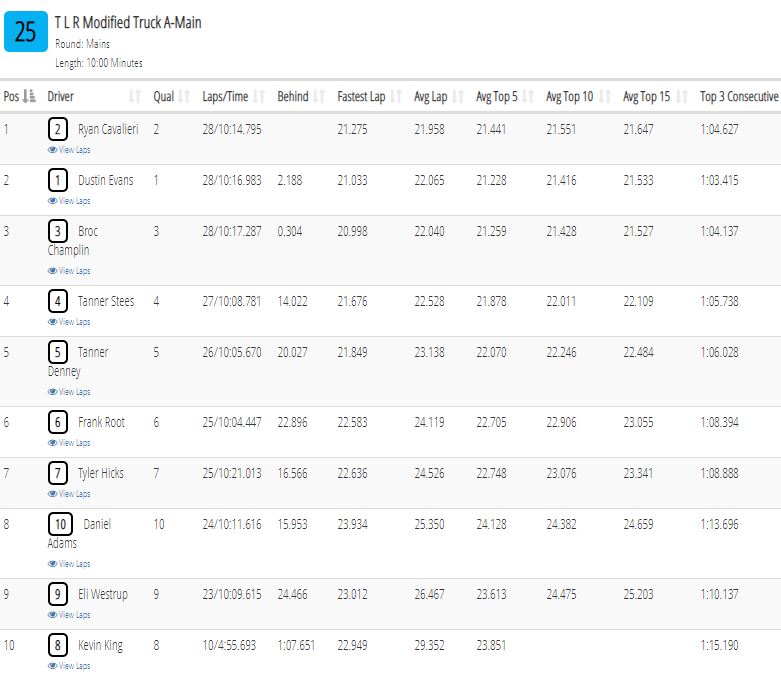 Modified SCT
It was lights out for AE/JConcepts Ryan Cavalieri in the Modified SCT class. The National SCT Champion defended his crown from AE's Jake Mayo and AE/JConcepts' Kyle Layton as the two brought all they had and came up just 5 seconds short. Mayo displayed excellent speed to finish 2nd and Kyle Layton was able to march himself up to 3rd for the photo op.