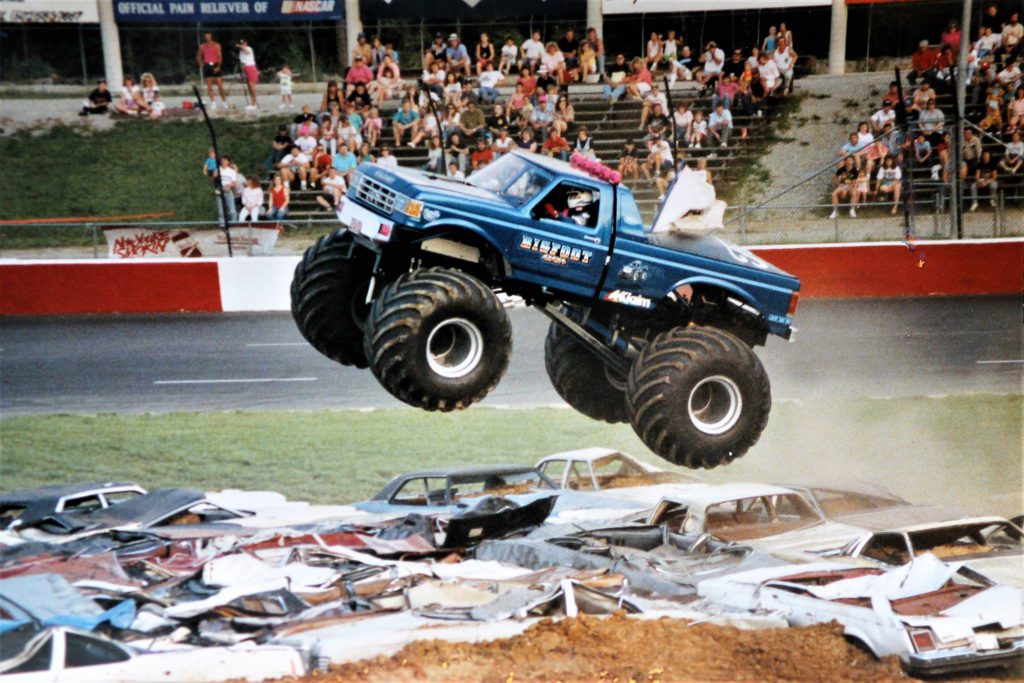 When building a legend such as Bigfoot, it's got to be done right. The 1990 "Louisville" Bigfoot 4 build took a lot of outside the box thinking to recreate this awesome monster truck icon. The beauty about building a monster truck is there are no rules on how to build one. Sure there are a few parts that are required like bodies, wheels, and tires, but other than that it's truly up to the beholder.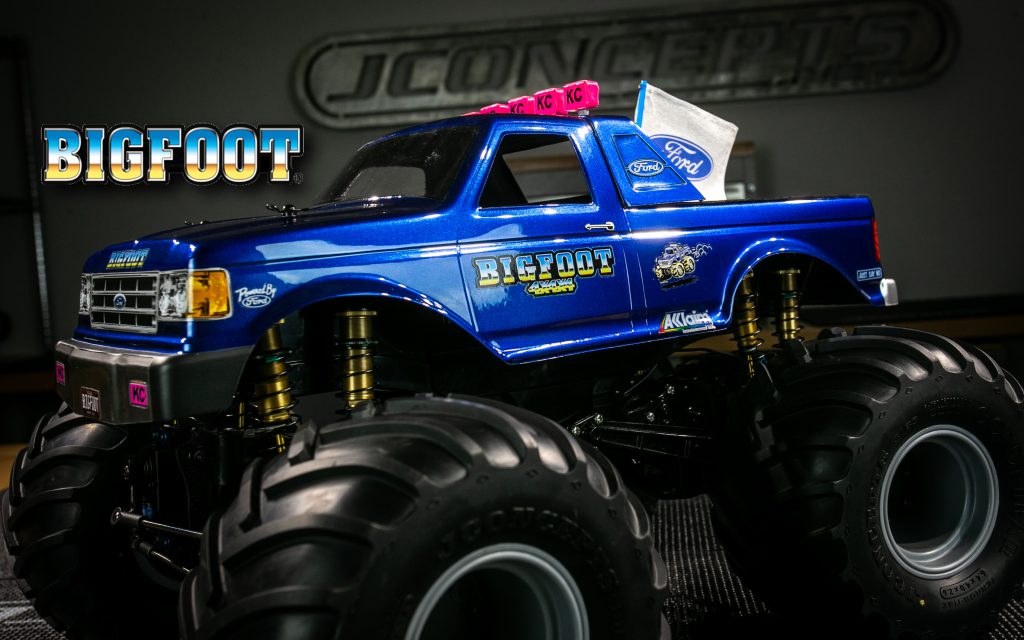 There lies where the magic happens. Using your own imagination and creativity along with what you have around you, you can create some awesome works of art that combine ingenuity, craftsmanship, and part engineer…. project monster truck. If your goal is to recreate a truck that already exists like Bigfoot or Gravedigger, then you want to go all out replicating the real deal the best you can and remember to have fun!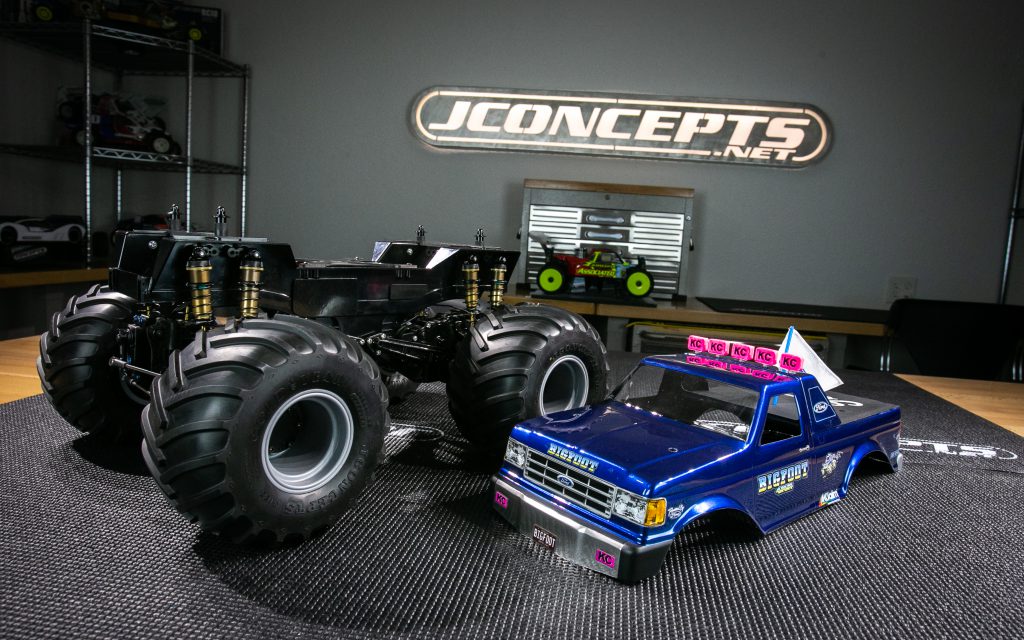 In this project, we wanted to create a truck that was a total showstopper in terms of racing performance and realism. One of the most memorable moments in Bigfoot history was Andy Brass' amazing comeback win in Louisville, Kentucky in 1990. At the time, Bigfoot 8 was banned from TNT competition so Andy Brass drove the Bigfoot 4 and narrowly beat Carolina Crusher in the biggest come from behind win during the semi-final.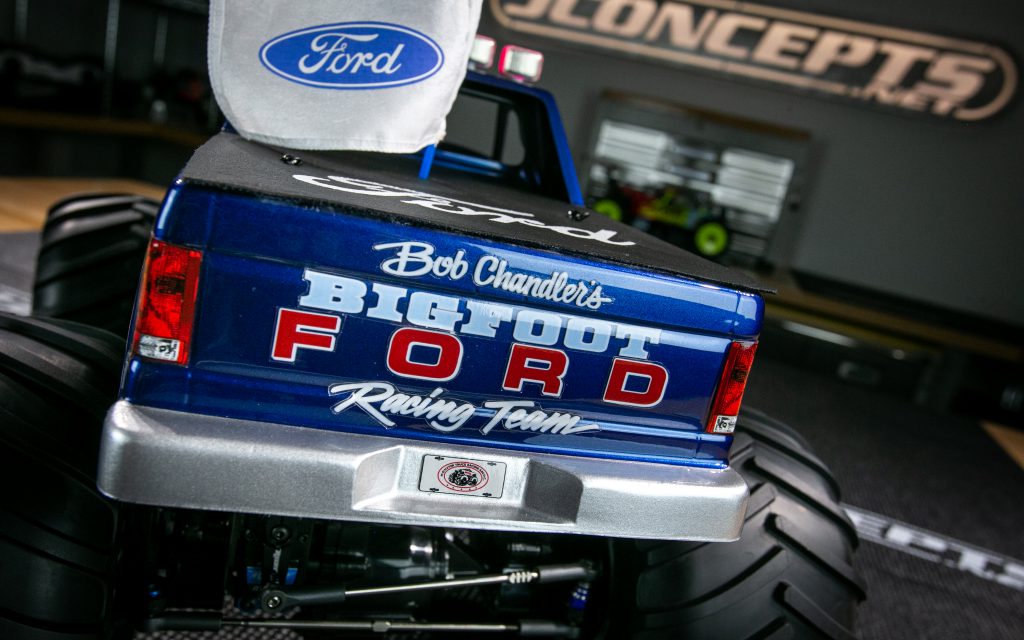 Creating this icon wasn't easy. The signature hot pink KC light covers and Ford flag aren't pieces you can just buy ready to go, Fred Reep came up with clever solutions to make it happen and kept things looking legit.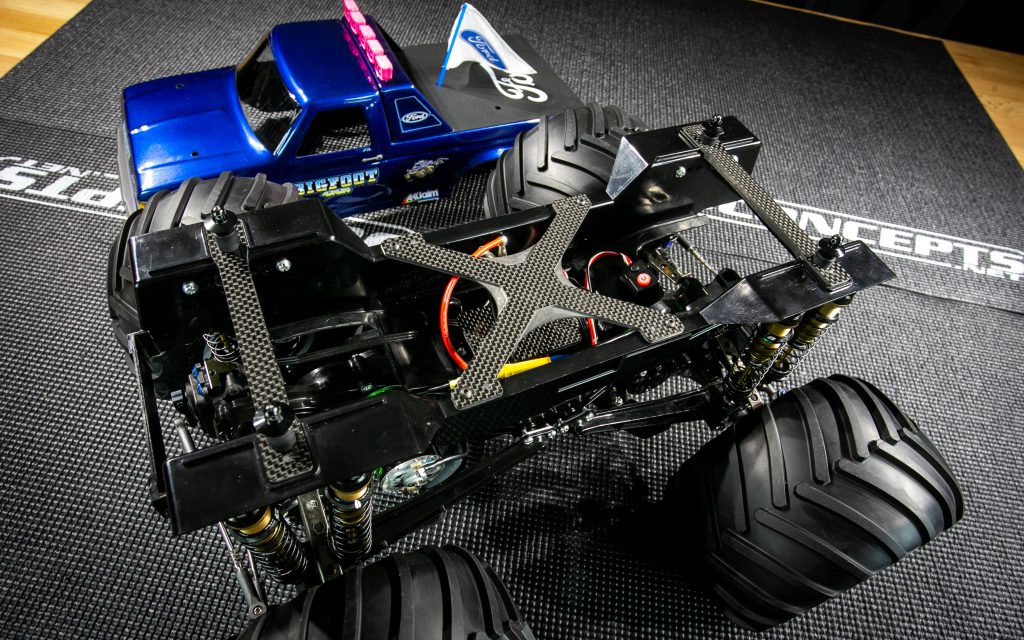 One of the biggest steps in creating the Bigfoot 4 truck was modifying our Clod Buster chassis to give the stock suspension even more travel. Doing this requires taking material out of the front and rear of the chassis to give the axles more room to plunge and rebound. With the material now gone, the chassis becomes a bit flexible so we stiffened it back up with carbon fiber bracing that also doubles as the body mounts. Trick and clever!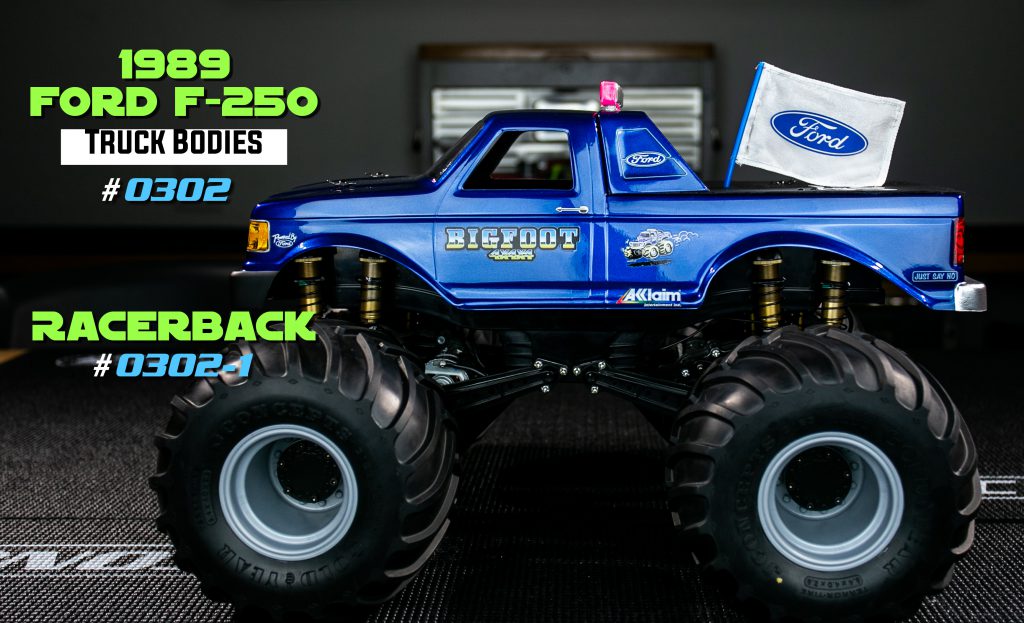 First thing's first…. the body. Without question, the JConcepts 1989 Ford F-250 body is a spitting image of the real thing. With Ford licensing and approval, the JConcepts 89 body passed all the tests to proudly represent Ford and we made sure we paid close attention to the details. We even developed the polycarbonate Racerback to complete the look as a no hassle, paintable direct fit option.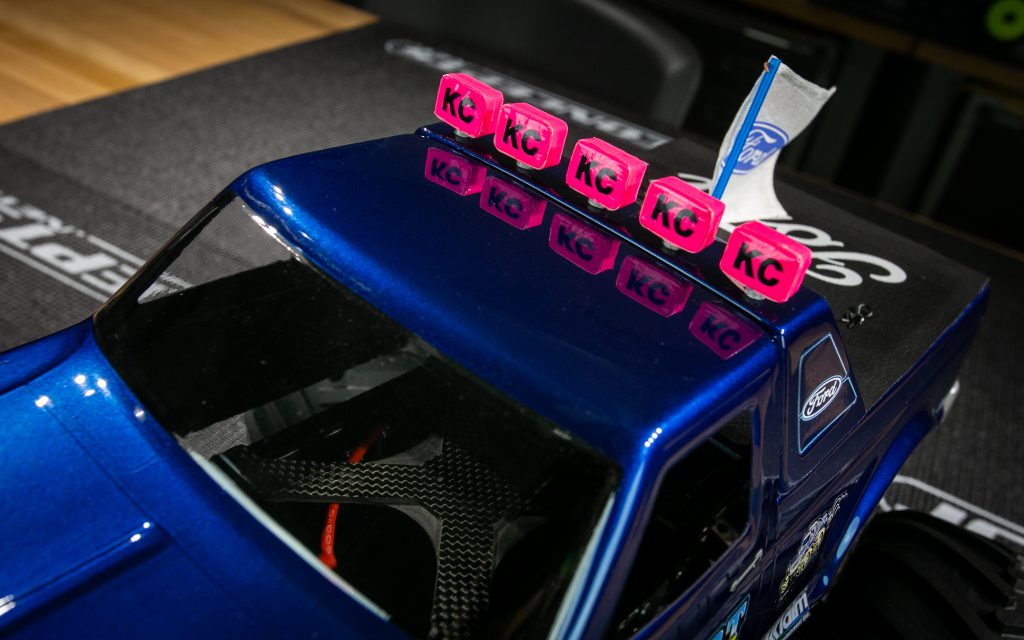 One of the standout accessories on the real Bigfoot 4 was the signature Hot Pink KC Light covers. Using the JConcepts Shapeways KC 5 light bar and KC 5 light covers, Fred special wrapped the lights with hot pink vinyl stickers and then added the KC stickers to the front giving it the authentic look.
The Ford flag came from a scale flag modeler and Fred attached it to a blue antenna tube. With our handy 3D printed Flag Pole Under Mount, we got the flag flying in no time.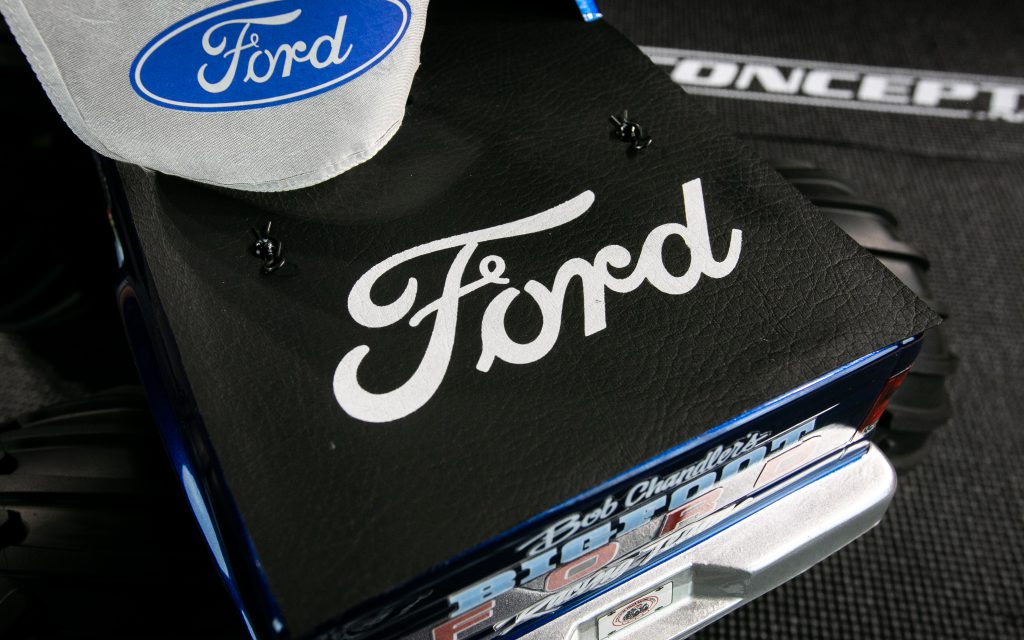 Sprink in a little imagination and Hobby Lobby and such places can be your best friend when it comes to fabrics and materials. This textured vinyl was the perfect piece to make a tonneau cover from and after fabricating a Ford stencil, Fred sprayed the logo on the tonneau replicating the real deal. Next, a custom fitting and careful cutting gave us the look we were after leaving us stoked beyond belief.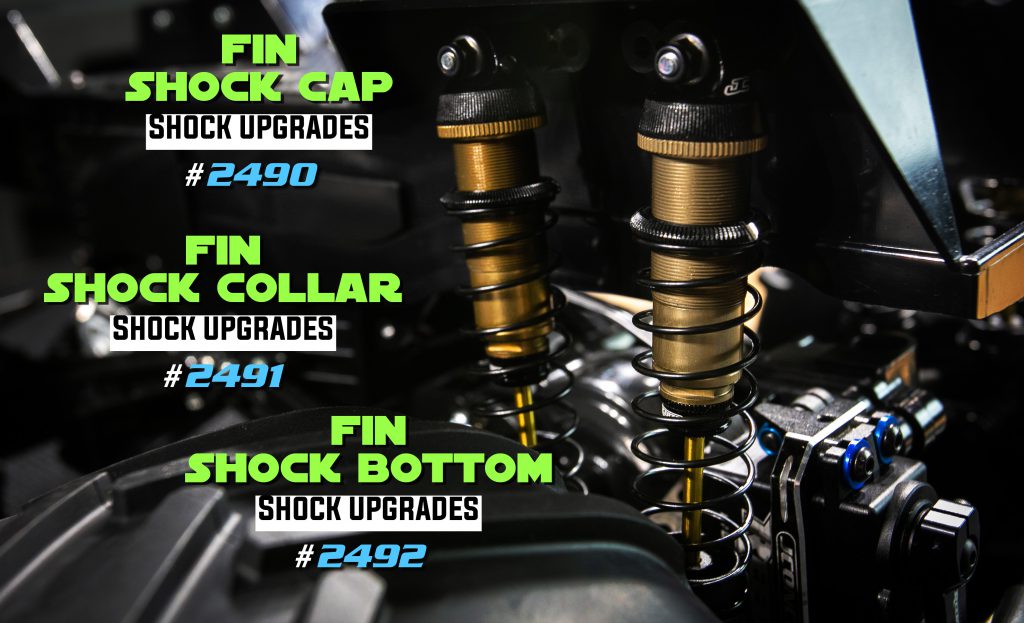 Having a good set of shocks is important and we know the Team Associated 12mm big bore V2 shocks get it done on the race track and is sure to provide us the plushness we're looking. A huge benefit with the AE shocks is how tunable they are because of all the optional springs and pistons to choose from. We really love the look of the Team Associated Kashima shocks with black anodized parts so we built this set up with the JConcepts Fin Shock accessories including shock cap, shock collar, and shock bottoms.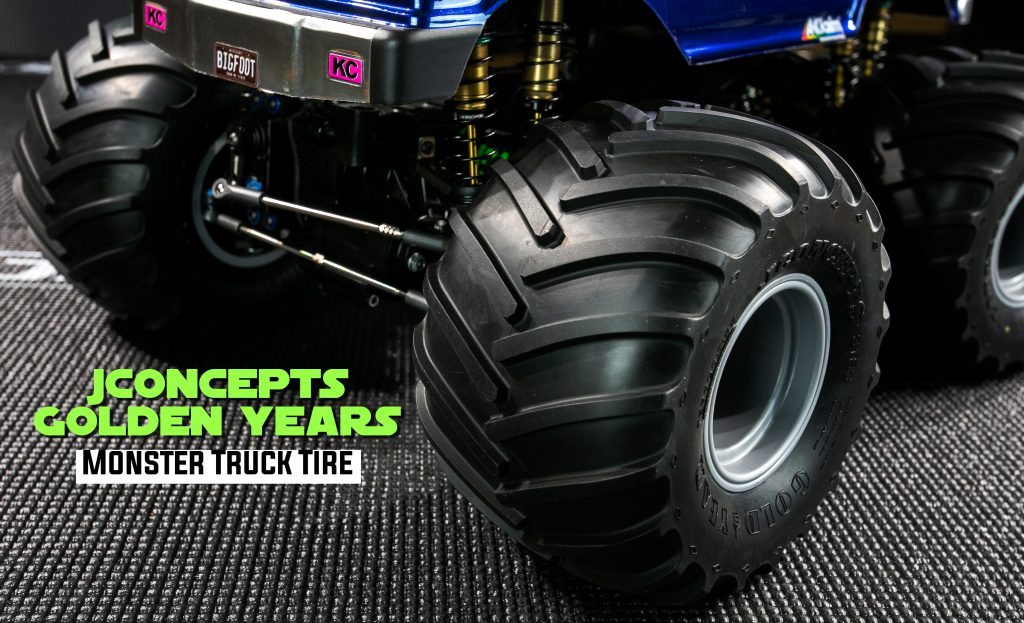 New in the shop and hot off the press, we've been working an all-new monster truck tire that embodies the pinnacle of prime monster truck tire design. The JConcepts Golden Years takes us back to the golden age of racing that's perfect for our 1990's Bigfoot 4 build. These full-sized meaty cleats sit on a rounder carcass shape that produces a smoother transition from straight line grip to full turn. The full-size tread can cut through all kinds of surfaces digging in for raw grip and quick acceleration. The Golden Years have an unconfirmed release date towards the end of the year so stay tuned for more info!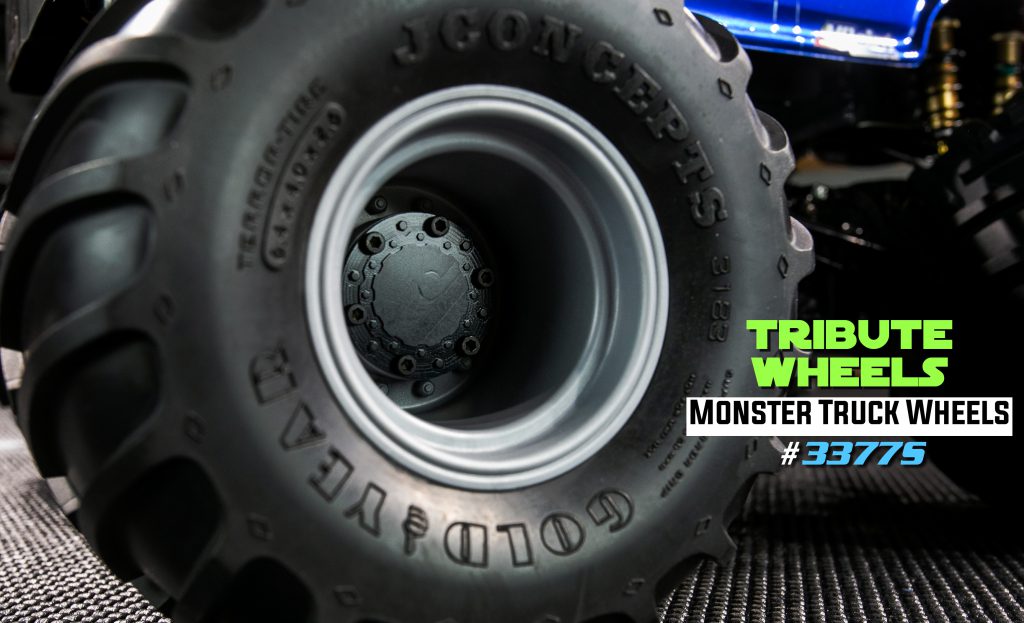 Every great tire needs a solid wheel and the JConcepts Tribute Wheel joined with JConcepts tires are a match made in heaven. The Tribute wheels include three off-set wheel adaptors. The 11mm adapter width is for a stock Clod Buster or retro type Monster Truck width while the 18mm offset is for increased stability on standard wheelbase trucks and lastly, the 25mm width is for the ultimate in footing for long wheelbase race trucks. The adaptors are installed with 6 x 2.5 x 12mm screws and centers precisely on the wheel for positive engagement. The wheels include open and closed planetary caps which attach with 6 x 2.5 x 8mm screws. The planetary caps support a scale look as well as a quick change racer function to suit individual needs. There's also an option to add bling with a black anodized, aluminum planetary cap made specifically for the Tribute wheels.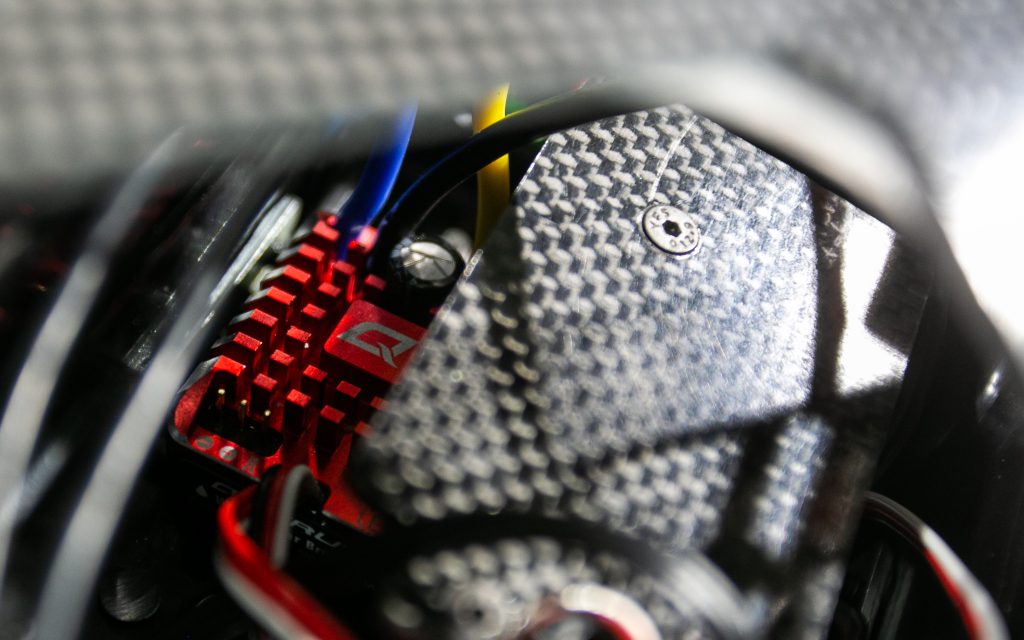 Tucked away in the chassis is a trick looking Hobbywing Quicrun WP Crawler Brushed ESC's designed specifically for brushed motor operation. For just around $40, you get a fully waterproof, programmable ESC with all the whistles that come with the nifty program card, low-voltage cut off, overheat protection and 7.4V BEC output for more servo power. You just can't beat the value of this trusty ESC.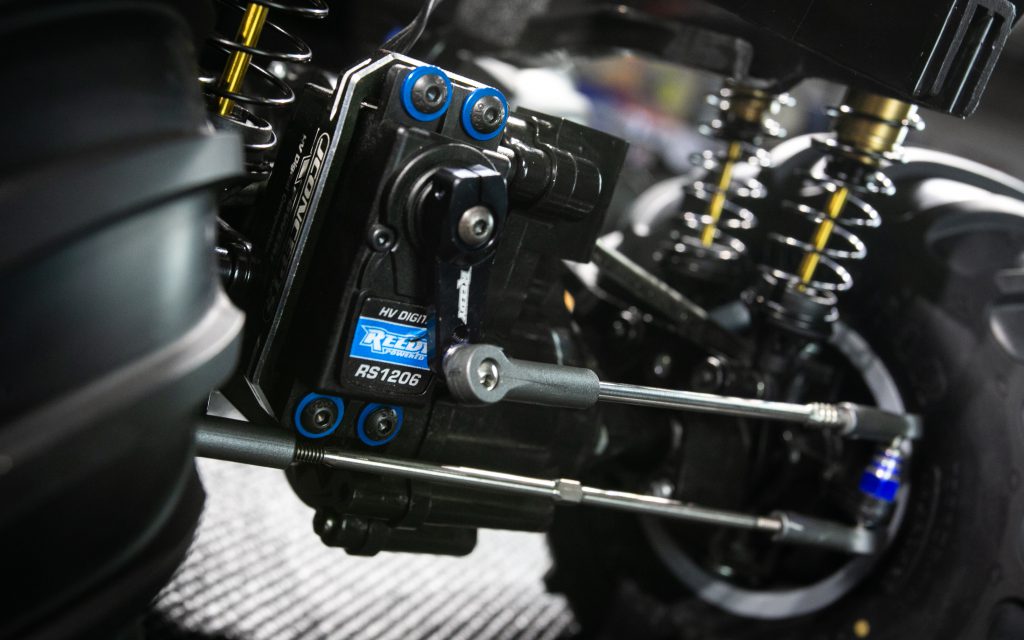 One thing for sure, monster trucks require heavy duty servos to wield all that weight in those colossal size wheels and tires. The all metal geared Reedy RS1206 HV Digital servo provides ultra-fast response in 7.4v mode at .06 sec and 165 oz of torque. Adding stiffness to the servo mount area are a pair of JConcepts Servo Mount Brackets securing the servos from moving around on hard impacts and landings. Finishing off the steering linkage is the stock aluminum Reedy servo horn, titanium Lunsford tie-rods with B5 ball cups provide the power transfer for razor response topped off with incredible durability.