The 3rd round of the Force Series race took place last weekend at legendary Lake Park, Florida. Once home to the world famous Winter Champs, Lake Park still is an awesome place to race and always a fun time with friends. Taking a few wins and repping team JConcepts at the Force race was Florida's own Dave Duncan, who took the win in the 40+ Ebuggy class and KB Brown taking it down in the 40+ Nitro Buggy class! Great job lockin' down the 40+ masterclasses at the Force!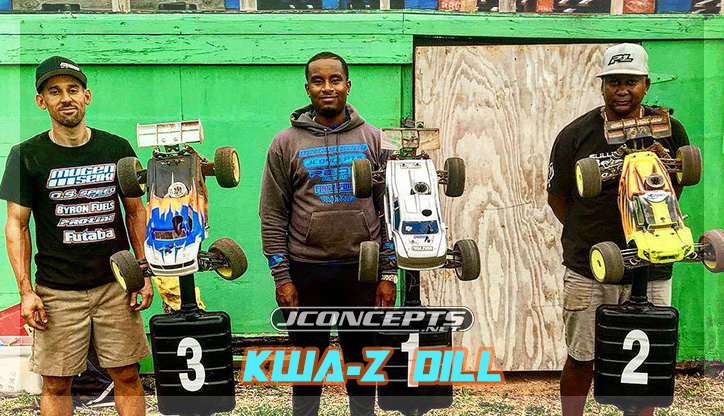 Bermuda's elite, Kwa-Z Dill, hit the track last weekend at round 2 of the BNRA Championships where Kwa-Z brought home the win in Pro Nitro Truggy. The Mugen Seiki/JConcepts team driver rocked blue Reflex truggy tires and ran away from the competition. Keep it up Kwa-Z!!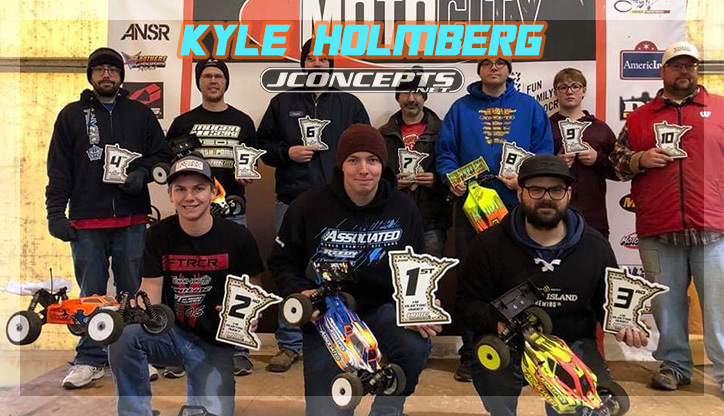 Arguably Minnesota's fastest driver, Kyle Holmberg shows off his 1st place championship trophy that he received in the Ebuggy class while racing the 2018 Minnesota Off-Road Racing Series, also known as MNRC. After 7 grueling races in the series, Kyle was honored with the series overall championship in Ebuggy and 2nd in nitro! Not a bad season for Kyle… not bad at all!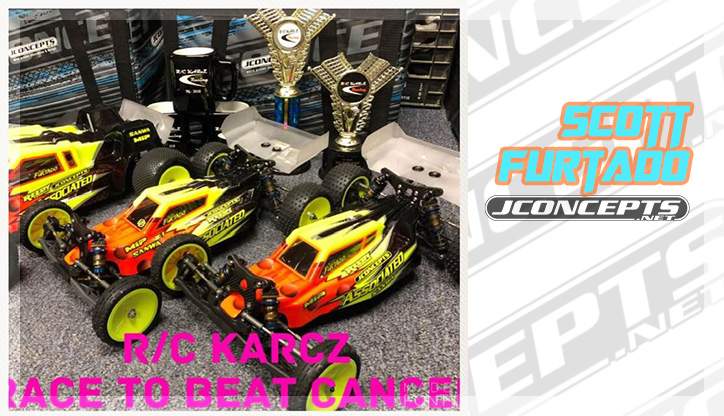 Bringing it hard lately is our very own Scott Furtado, who raced the "Race to End Cancer" charity race at Karcz located in Providence, RI. Scott had a glorious weekend going 3 for 3 in TQ's and 2 for 3 in wins! Scott used Swaggers and Lockness tires on his buggies and grabbed the wins in 17.5 2wd Buggy and 13.5 Stadium Truck (truck was Pin Down and Swagger fronts). Scott also made the podium in 2wd Modified finishing 3rd overall and going 3 for 3 in podium finishes!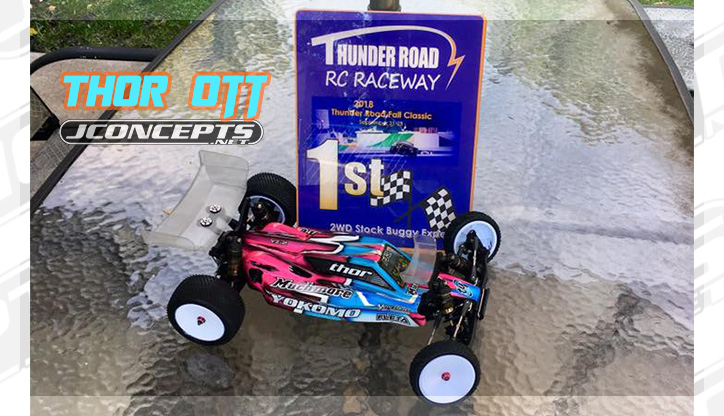 You can't deny with a name like Thor, you're going to fly around and crush the competition. Last week, that's exactly what Thor Ott did at the Fall Classic race hosted by Thunder Road Raceway. Thor grabbed the impressive win with some amazing driving and we're thrilled to see Thor at the top. Check out that awesome paint scheme!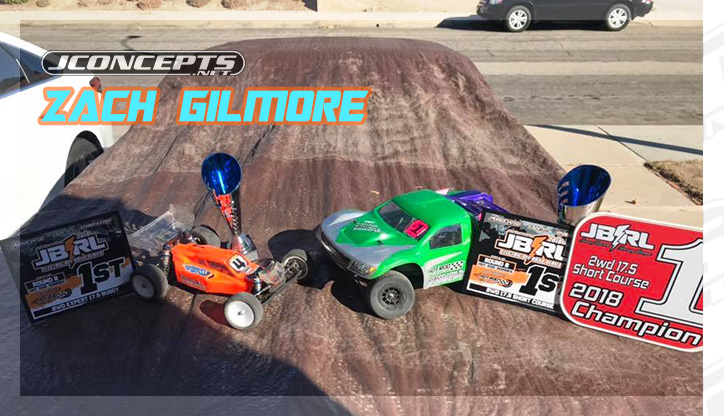 This is what Zach Gilmore had to say about his last weekend's funfest! "Finished up the 2018 JBRL Series and was able to win the championship in 17.5 Short Course and got 2nd in expert stock buggy. Also, I won the round in both classes using red Dirt Webs and orange Bar Codes and they were hooked up all weekend!" Thanks for the terrific update Zach and congratulations!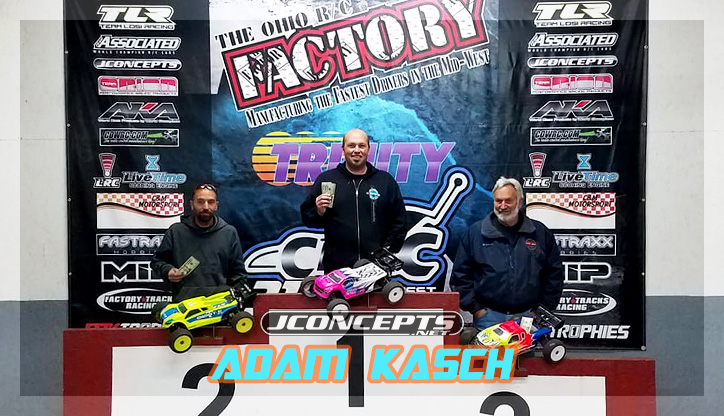 Winning is always a pleasure that we should never take for granted because we all can't win all the time. But having a great time is definitely possible. Adam Kasch is always having a good time AND got the win in Etruggy using green Triple Dees to get the job done! Take a win and get some cash in hand? Sign me up!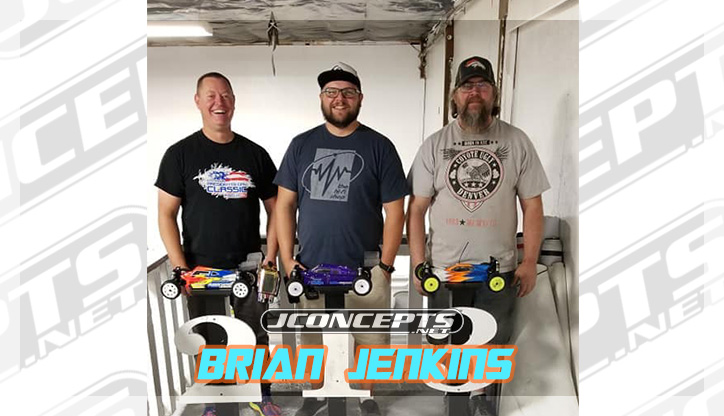 Big thanks to Brian Jenkins for all the hard work and for sending in his weekly updates to the team while in the middle of a big move. Brian raced the Halloween Havoc race where he scored the win in 13.5 4wd, 2nd in 13.5 Truck, and 3rd in Modified buggy rocking Swaggers and Pin Down tires.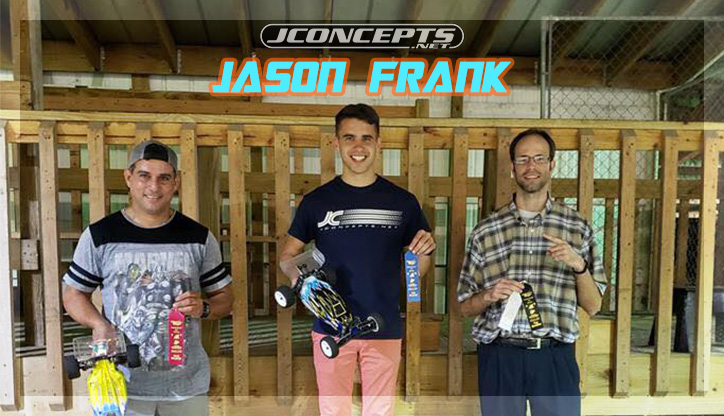 The man, the myth, the legend, Jason Frank is probably the most contagious smile on the planet. Always smiling, always positive, Jason is a delight to be around and we're stoked to have him on the team. Doing a bit of club racing over the weekend, Jason dropped by Newred Hobbies for some 17.5 Prostock action and grabbed the win on gold Octagons. Good luck at the Masters of Dirt!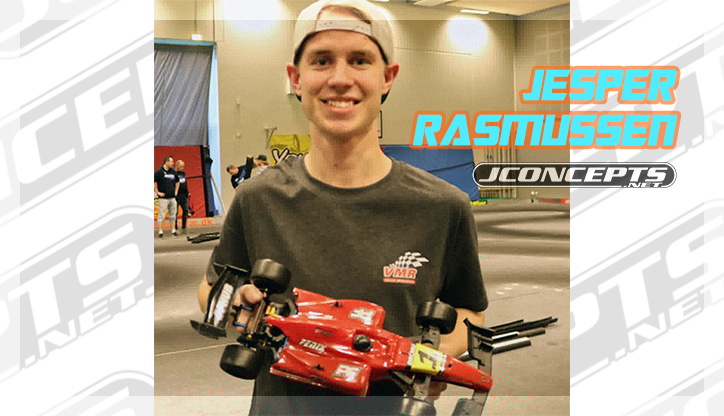 People say that if you're a good driver, you can drive anything. Not usually at the on-road track, Jesper Rasmussen seems to do it all and do it fast! Taking the win in the F1 class last week while being the official timekeeper, RD, and referee, Jesper just keeps impressing us while at the track.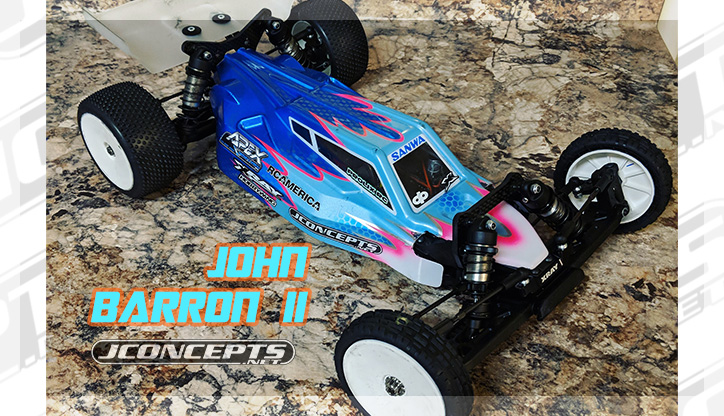 Gearing up for one of the most epic races to hit the Windy City R/C track happening this weekend, John Barron II put the finishing touches on his rides over the weekend snagging the 2wd Modified TQ and win at the local club race. We must say, John's Silencer 2 body is looking awesome on the Xray!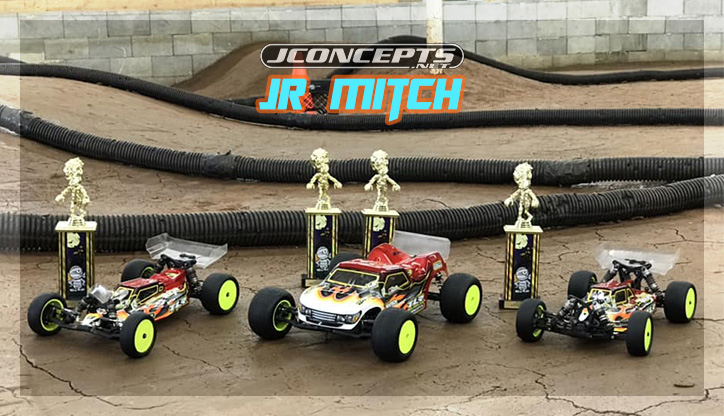 Always fast and always fearless, JR Mitch spent last weekend racing the Walking Dead Race at GS Hobby in Barling, Arkansas. JR's rides were dialed in on Octagons and JConcepts' Aero wing package that grabbed him 2nd in 2wd, 2nd in 4wd, and a win in stadium truck! If you haven't checked out JR's winning truck setup, have a look and try out it!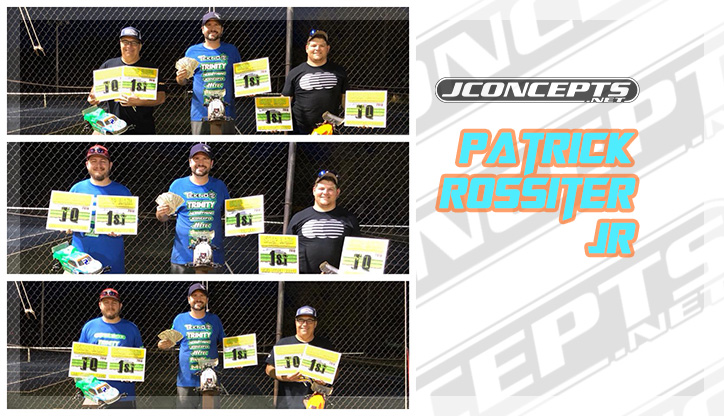 Racing last weekend at the Snap Hard OG League Finale, Patrick Rossiter Jr. delivered an explosive weekend taking 3 impressive wins! Patrick took the TQ and won the 17.5 2wd buggy class, TQ and win in Modified Truck, and was also the 2wd Mod Buggy winner that had a 50/50 payout! Congrats on the perfect weekend Patrick!