Everyone's favorite Czech racer, Kaja Novotny, is definitely not short on talent. The speed that he drives with is impressive and even more important is that Kaja is an all around good guy. Kaja threw down the hammer at last week's Open Challenge Round 1, where Kaja dominated the show with double TQ's and win in both the 2wd and 4wd classes. Check out them medals!!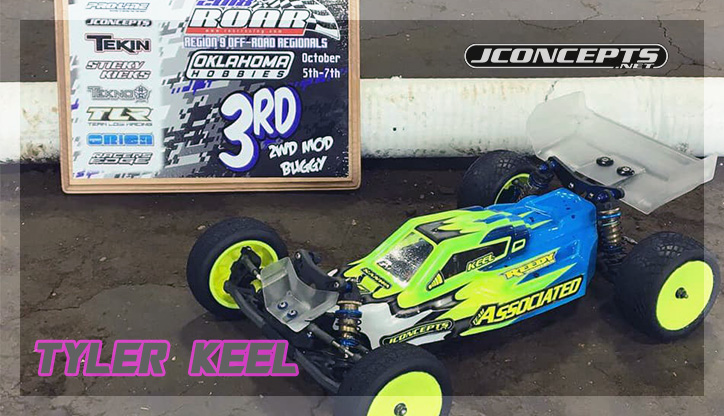 You can't win every race, but what Tyler Keel says is that you can always look good no matter what place you finish. Rockin' the Ellipse rears and Dirt Web fronts in gold, Tyler was able to grab the 3rd spot at the ROAR Region 9 Championships…. and looked good while doing it! F2 and Aero lower front wing kept his ride locked in and rockin'.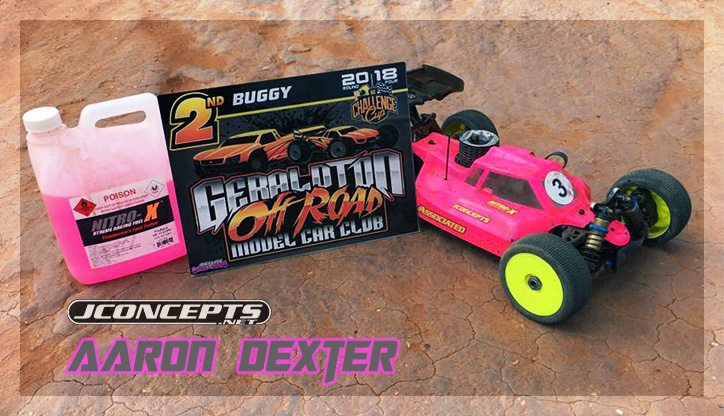 Thanks to Aaron Dexter for providing the race update as the young Australian ace is gearing up for the Worlds in November. With a solid weekend at Geraldton for the 4th round of the WA Challenge Cup Series, Aaron was able to grab a 2nd and only a few seconds back from the leader. After a hard charge and a solid 2nd place finish, Aaron extends his points lead over the competition. The tire of choice for Aaron was the R2 Reflex tires and the new Silencer B3.1 body in fluorescent pink, of course.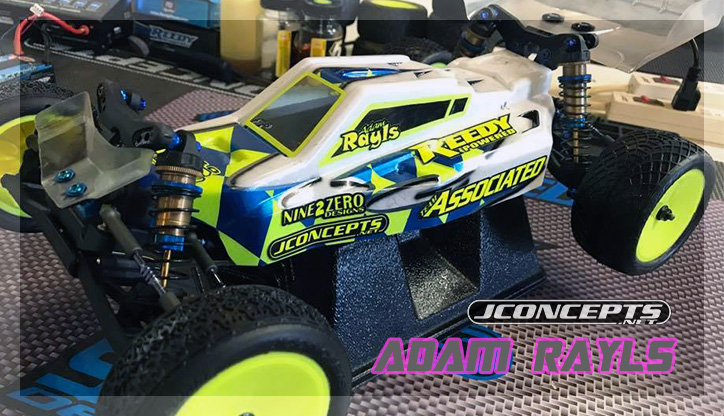 Indiana's Adam Rayls closed out a great weekend of racing as Adam won both the Open Buggy and Open Truck classes at WS Raceway in Paxton, IL. Adam has been rockin' the F2 body, Aero S-Type rear wing, Aero front lower wing, and green compound Dirt Web fronts and Ellipse rears with great success. That's a sharp looking' ride!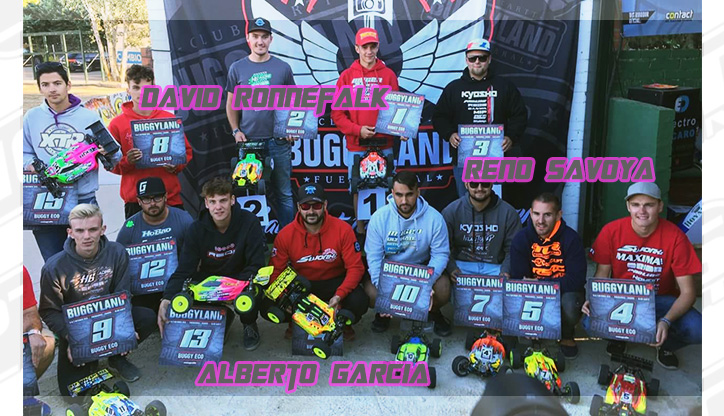 One of Europe's biggest offroad races happened last weekend, better known as the Buggyland 5.0. David Ronnefalk, Reno Savoya, and Alberto Gracia were on hand for team JConcepts where Alberto was an A-Main finalist in Ebuggy, Reno finished 5th, and David 2nd in the Ebuggy class.
Making the most of the weekend was David Ronnefalk, as the Swedish superstar drove with his head and grabbed the win in the 60-minute nitro buggy main with some very seriously impressive driving. Congrats to the team for the awesome results and the win in Pro Nitro Buggy.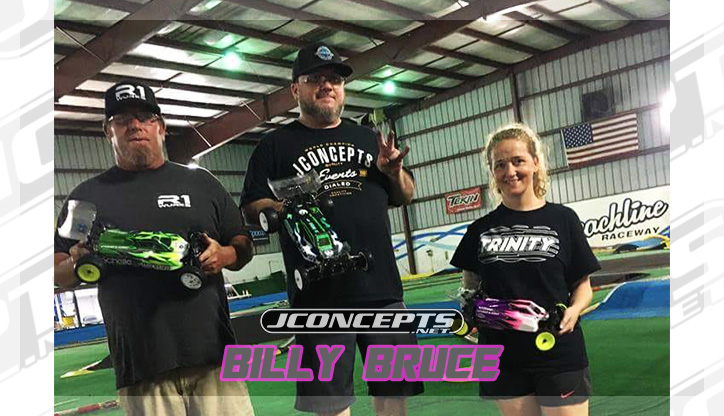 Just Billy Bruce being Billy as he swept the Beach Cup round 3 at Beachline RC Raceway in Cocoa Beach, Florida. In 13.5 4wd, Billy took the TQ and win. In 13.5 Stadium Truck, Billy took the TQ and win. Finally in the 17.5 Pro Stock 2wd class, once again Billy took the TQ and win going 3 for 3!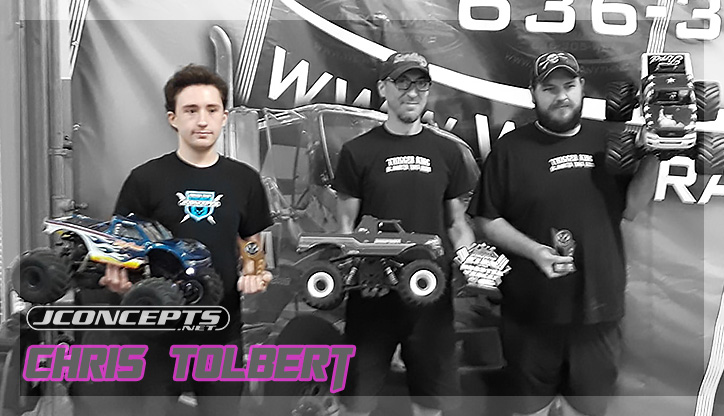 Thanks to Chris Tolbert for the quick race update as Chris attended the King of the Monster Trucks race over the weekend and finished 2nd place in the Sport Mod Freestyle class and a 3rd place finish in Pro Mod Freestyle. Great job Chris and see you at the next one!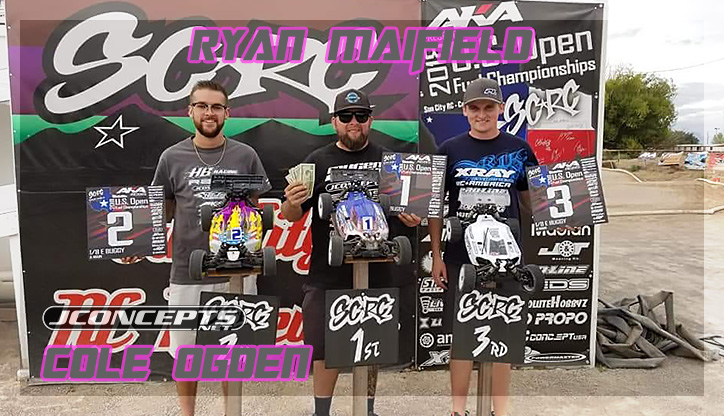 Cole Ogden and Ryan Maifield carried the JConcepts flag at the US Open Nitro race in El Paso where Ryan Maifield was victorious in Ebuggy and finished 3rd in Nitro Buggy. Always flying, Cole Ogden put in a solid weekend's worth of work as the HB Racing ace grabbed two 2nd places in Ebuggy and Nitro buggy making it a 1-2 in Ebuggy and 2-3 in Nitro for team JConcepts!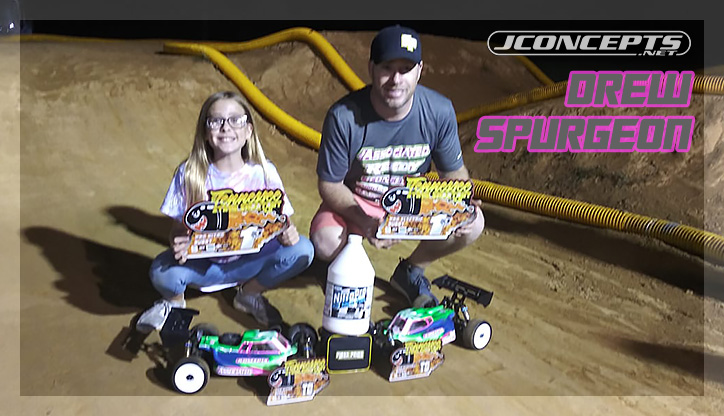 You couldn't have a better race weekend, especially if you have your family members as pit crew. Here's what Drew had to say about his last race, "Went to the Tennessee State Shootout again this year and just like last year, did the sweep of both Ebuggy and Nitro Buggy with the help from awesome Jconcepts tires, bodies and accessories. Also had the fastest crew chief in the nation on the fuel and headsets." Great job team Drew!!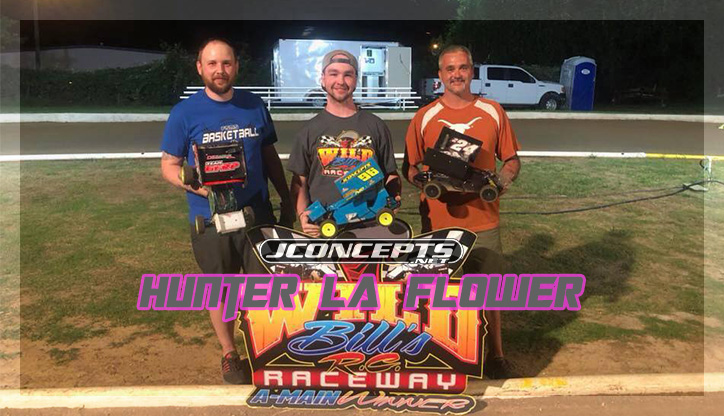 The Ellipse tires are making a mark and not just on the off-road scene. Team driver, Hunter La Flower took the win in the Outlaw Sprint class rocking the new tire, Ellipse, in green compound. Hunter has been putting in a lot of time on the track and it's definitely paying off. Keeping his skills sharp, Hunter spent the following week putting in more track time with extra practice to get to that next level.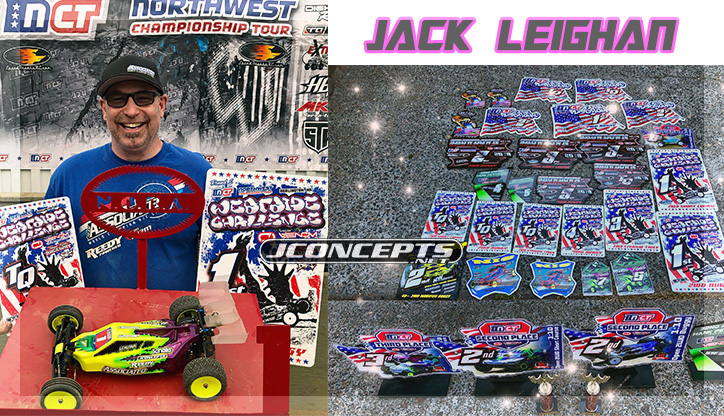 Northwest legend, Jack Leighan, has been seriously hitting the race scene over the year touring all over the Pacific Northwest and doing serious work. It takes a remarkable amount of commitment and love that keep racing like Jack does and the hard work is paying off. Just look at those trophies! From the TRCR Northwest Indoor Series to the outdoor National Championship Tour races, Jack has racked up a lot of success and we're super proud. Awesome job Jack! Keep it up!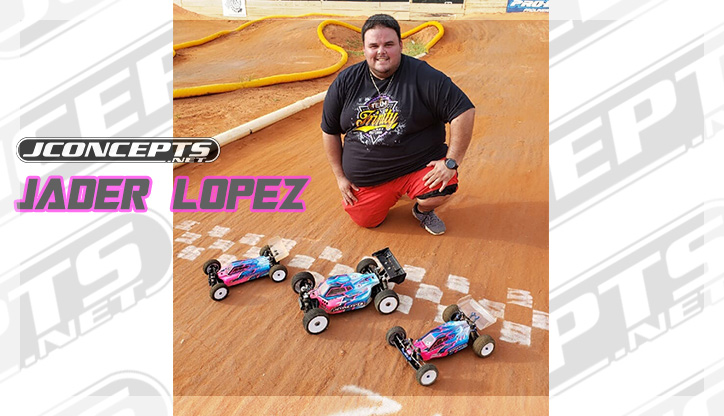 Once in a while, it all goes your way and last weekend was Jader's weekend. The South Florida native went 3 for 3 as he swept 13.5 4wd, 17.5 wd, and Pro Ebuggy at the 2nd round of the SFORCS Series. Jader's tire of choice was the green compound Double Dees in 4wd, green Hybrid rears and Reflex fronts in 2wd, and blue Reflex tires in Ebuggy providing him the traction he needed to complete the sweep.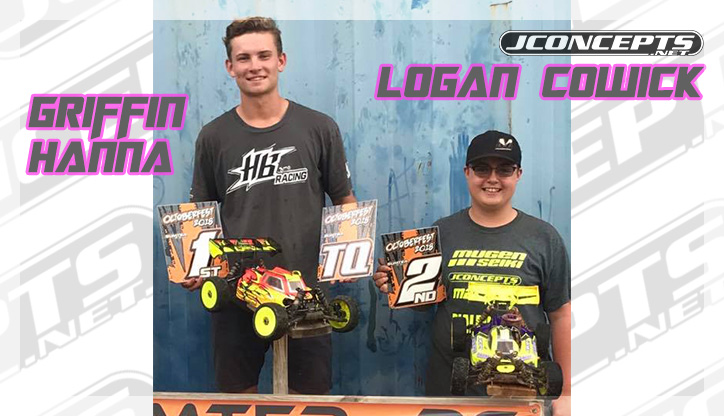 Griffin Hanna and Logan Cowick were both on a roll at the Octoberfest Trophy race hosted by Sumter R/C as the speedy Griffin took the TQ and win in the Pro Nitro Buggy class with Logan finishing admirably in 2nd.
Logan had a chance to shine in the Pro Truck class with awesome driving in the main to take the win. Congrats to these two and thanks for holding it down at the Octoberfest!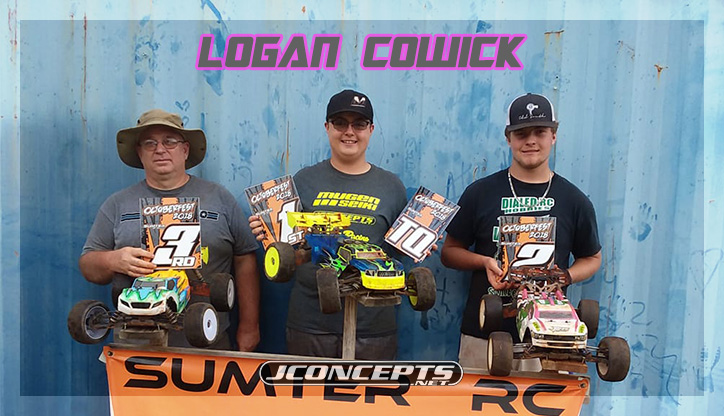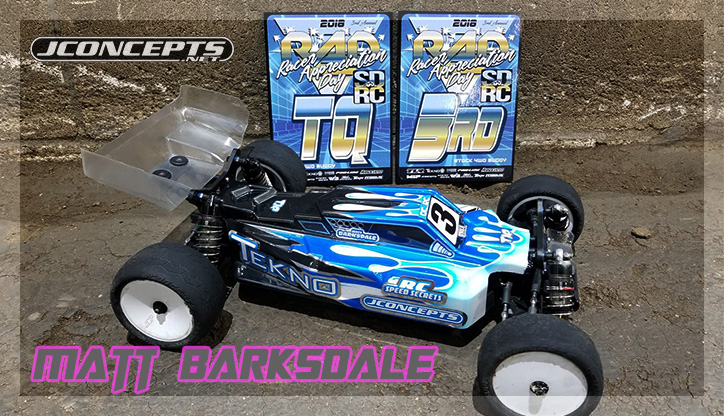 It's great to see new names in the Team Update reports as team driver, Matt Barksdale, raced the RAD Race at SDRC Raceway with his awesomely painted F2 body on his Tekno EB410 and boy does it look awesome. Matt used clay Octagons to keep him locked and loaded and grabbed a nice 3rd place finish in 13.5 4wd and a very respectable 5th in 17.5 2wd.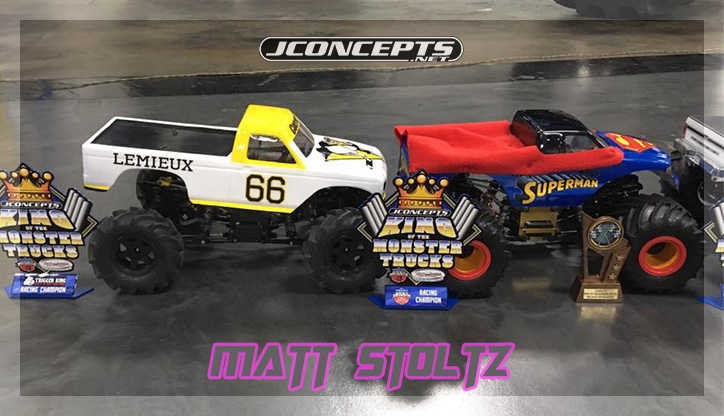 What a phenomenal weekend for Matt Stoltz as Stoltz stole the show at the JConcepts King of the Monster Trucks event in Fenton, MO. Matt showed his custom rig building ability along with his driving talents to go 1-2 in both the Pro Mod class and the Mega Truck class with his show-stopping rides. Matt also took home 2nd place in the Outlaw Retro class to close out his awesome week.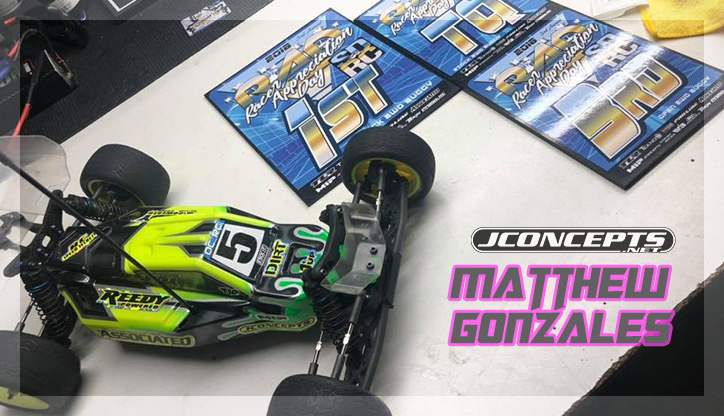 Building confidence and speed can take a long time and for team driver, Matthew Gonzales, it has been a wise choice for him to run the stock classes where he's really starting to learn how to be a race winner. Matt TQ'd and won the ultra-competitive stock class at the RAD race hosted by SDRC Raceway with impressive driving and poise. Matt noted that he ran gold Octagons mounted on Mono wheels, Aero S-Type wing, Aero lower front wing, and F2 body keeping him looking fresh and performing at the race winning level.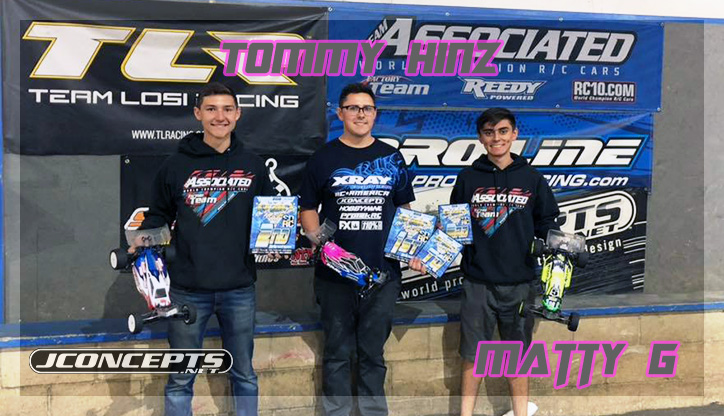 The question is, now that Tommy Hinz has glasses, does this mean we're going to see a faster version of Tommy Hinz? Taking a very hard-fought win at the RAD Race in the super competitive 2wd Modified class was Tommy Hinz….. and his new glasses. Impressive!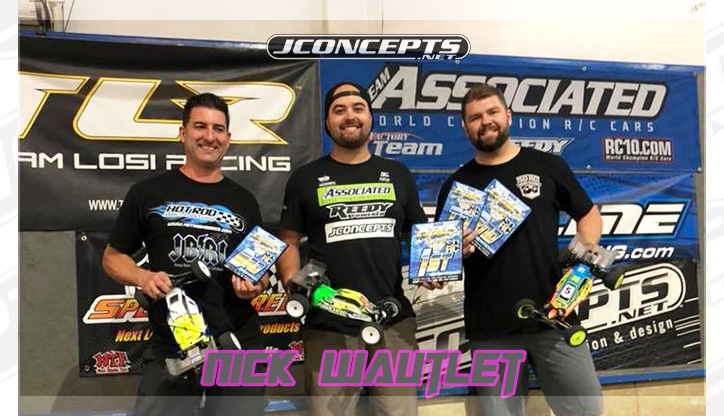 Another SoCal legend, Nick Wautlet also raced the RAD Race hosted by SDRC and entered the Rear Motor Challenge and guess what? Nick took the trusty ol' B5 rear motor straight to the top taking a well-deserved win. If you don't know Nick, check out #walliebuilds and you'll get to know the man behind the brand.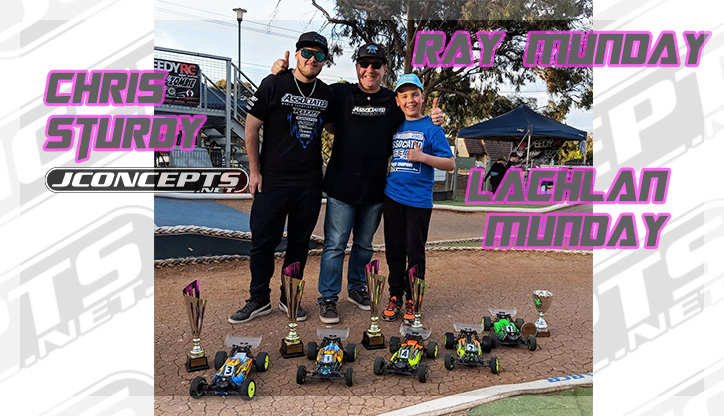 We couldn't be more stoked for our team drivers over in Australia as they raced the 2018 Australian Nationals in Adelaide, Australia. In 2wd Modified, it was Chris Sturdy displaying awesome speed and consistency to give himself another Australian National title with a terrific drive in the main. Ray Munday put in a great fight and finished 2nd behind Chris making it a JConcepts 1-2 finish! In 4wd, it was Ray Munday on point as he took the win with Chris finishing 2nd. Also, huge shoutout to Lachlan Munday, as the young up and coming racer was able to set the TQ in the 4wd Modified class. Chris and Ray used the P2 body and Aero wing package in 2wd and F2 and Aero rear wing and front scoop on 4wd allowing them the speed and feel to drive their way to another Australian National title!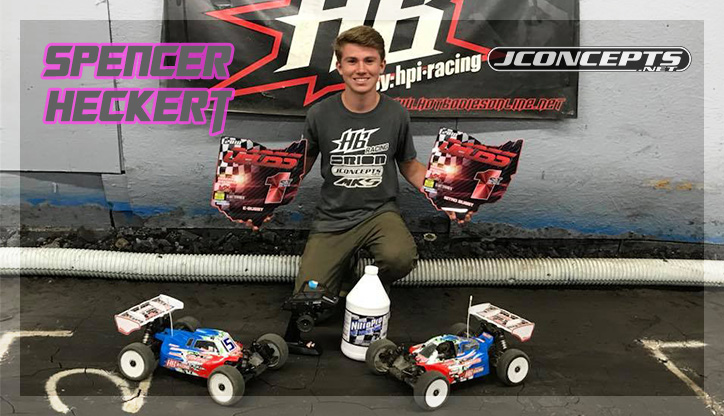 It's not uncommon to see this picture of Spencer over the weekend. Two cars and two 1st place trophies! Spencer was dialed at the OEOSS Ohio Summer Series as the young Ohio native took double wins in Pro Nitro Buggy and Pro Ebuggy classes. We wonder where all the speed comes from…. could it be the white wheels/white wing combo?!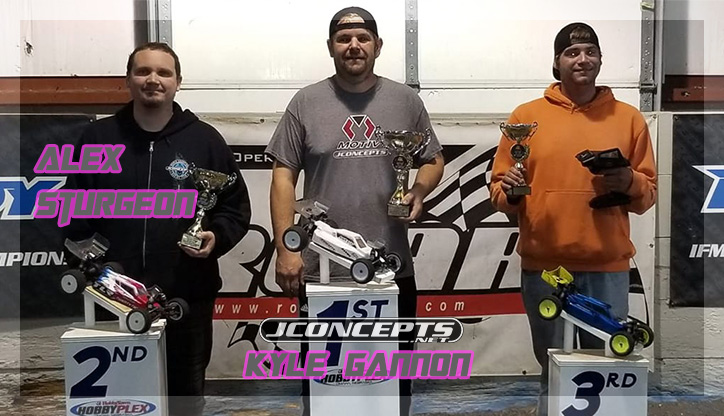 Kyle Gannon had one of the best weekends he's had in a while and the timing couldn't have been any better. Racing the ROAR Region 8 1/10th Offroad Champs race hosted by Hobbyplex in Omaha, Nebraska, Kyle claimed victory in 13.5 4wd and 17.5 2wd to claim double class regional champion! Kyle also finished well in 2wd Modified with a solid 4th place finish. Congrats Kyle!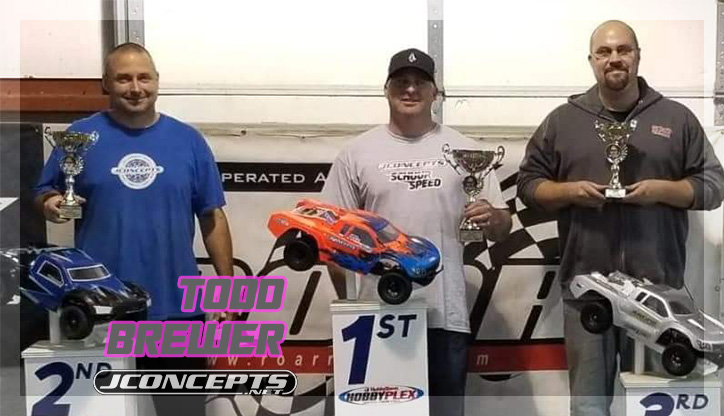 Thanks to Todd Brewer for sending in the report as Todd raced the ROAR Region 8 1/10th offroad race at Hobbyplex. With the eye-catching orange paint on his Hi-Flow 2 SCT body, Todd not only stood out in style, but also on the track with a TQ and win in the 13.5 SCT class, 4th in 13.5 Stadium truck, and 7th in 17.5 Expert Buggy. Overall, it was a great weekend indeed.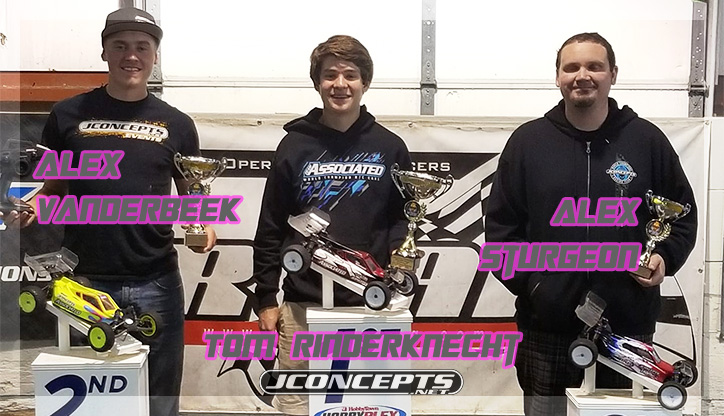 Also racing the ROAR Region 8 and representing JConcepts was these ultra-fast team drivers, Tom Rinderknecht, Alex Vanderbeek, and Alex Sturgeon. The trio went 1-2-3 in the Modified 2wd class with Tom taking the regional class win. Both Alex's put in a great fight and finished 2nd and 3rd on the podium making it a JConcepts sweep!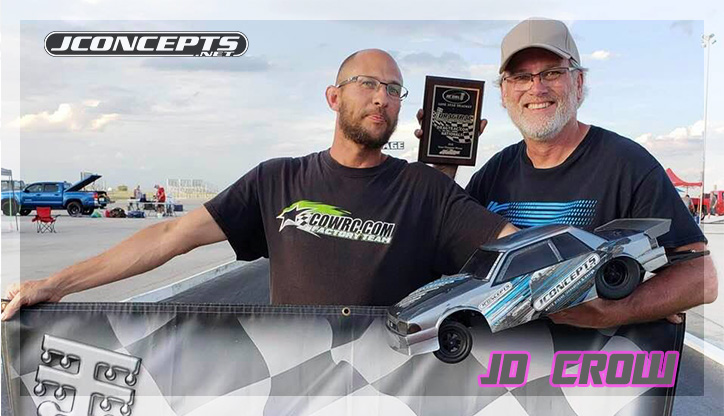 It's never a slow day at the track with JD Crow around. Our Steet Eliminator guru was at it again and had a lot to say about his race weekend that we wanted to share with you! "What a great day at the Home of the "RCDRL" Radio Controlled Drag Racing League dragtrac.com Fall Nationals.
The day started out with plans to get Joshua Mercadel comfortable and into a routine with his JConcepts Inc 66 ChevyII. After a casual parade pass, we came back around and this time I told Josh to stay in it if he felt he was ready. He quietly and methodically went thru the pre-stage routine we discussed, staged, and promptly laid down a pass of 2.40 That pass had me second guessing our tune, as I normally go a completely different path to get to that time. We settled Josh into a setup for the day. He managed to Top Qualify the 2.50 Index class with his single attempt of 2.518. Professionally worked his way to Round 3 of Eliminations before being eliminated on a RedLight start. I couldn't be prouder of his performance and ability to handle the car like the Multi-Time Champion he is.
Now onto my day. The JConcepts Inc Speed Shop team is now 100% dedicated to developing the Team Associated B6.1TeamCar/SC6.1 hybrid Street Eliminator, into a contending drag race platform. After a month-long break due to Rainouts and 1 missed National, we found ourselves with an outside chance of contending for the Season Long Championship. While it wasn't out of our sights, our strategy over the remaining 3 Countdown events, was to get the car performing up to our expectations.
After 2 Test-N-Tune passes, the car was leading the board with solid 2.60 range E/Ts. The Driver Reaction Times was showing how the month away impacts performance. While R/T's weren't that bad, there was plenty of opportunities to improve.
In Qualifier #1, we put down a mark for others to chase. A solid 2.602, proved to be a tenth quicker than the field. Not our normal 2.40 range, but for the new setup in the SE6.1J, a continued improvement in its development.
Q2 followed the similar pattern at these events. The track was a little hotter and big improvements in time were more challenging. It felt like the car was so stuck, it struggled to get on top of the track first half of the run. When all was said and done, we found ourselves P1 overall and on to Round 1 Eliminations.
Round 1 – based on qualification, we matched up with C.M. Russell. Something broke on Carl's car causing him to withdraw. This gave us a golden opportunity with a solo run. I took full advantage and made an ESC Tune change in search of E/T gains. The track grip was such, I again felt like the car was just to stuck on launch to produce the time improvement I expected. Still a solid 2.606 in spite of the changes.
Round 2 – Bracket Bye Run. Another chance to really test a change. So this time I made a big gear change by more than 4 teeth on the pinion, and a torque change on the ESC. This change actually made some time. Car launched on its line and tripped the finish line light with a 2.572. Progress..
Round 3 – we found ourselves matched up with Fellow Countdown Contender, Matthew Munson. A four time JConcepts Inc Holeshot Award winner this season, I knew I would need to be on my tree and tune the car to run close to its dial. No changes were made from the previous 2.572 pass, and to be safe, I dialed in a 2.56, just in case it picked up some time. The car launched flawlessly, and backed up the previous run with a 2.573. .013 within the dial. My R/T also gained some time against Matthew, and with that, we were on to the Finals.
Round 4 – shadows are starting to form across the track, and the day is getting late. I anticipated the track temp would drop enough, and some time would be gained with no changes. Zack Shivers (#2 Qualifier) had managed to work his way thru the bottom half of the bracket, setting the stage for a Final Round Match. I dialed in a 2.55 anticipating a slight gain solely from track/time of day conditions. Zack Dialed in a 2.71. His lights would drop slightly ahead of mine (approx. 1/2 a light lead) so I would be in the familiar Chase Mode. On the light, I quickly gained a slight advantage, as my .081 R/T was a bit quicker than Zacks .117. My Car felt good thru mid track yet put down a slightly slower 2.622 .(0.072 off the dial). Zack must have felt the pressure of the pursuit, as it drove him to Break Out.
And with that, The JConcepts Inc 91 Ford Mustang Notchback earned its First #RCDRL Street Eliminator Win, and also the First Win for the SE6.1J Chassis.
We also made up a lot of Count Down To The Championship Points deficit. Now 2nd Overall, just 36 Points out of First Place with 2 Events remaining.
The chassis continues to improve, Hotties/Startec Combo performing flawless, and with that our confidence in this package capability growing.
Going to be an exciting Final 2 Events for the Championship.
Thanks for all the support of JConcepts Inc, Fantom Racing for providing the technical assistance and product development on this Adventure."