As of now, every 2 years we gather for the 1/10th IFMAR World Championships to decide a new champion in electric 2wd and 4wd. What if we had an annual World Championship style event that consisted of all the big names in the industry along with the fastest drivers from around the world to decide who is the best on carpet? If there was ever such a race, the International Offroad Carpet Championship has positioned itself as such an event thanks to Scotty Ernst and his dream.
Talking with the man with the plan, world-famous Scotty Ernst joins Jason Ruona for an in-depth interview about the International Offroad Carpet Championship. With this year's turnout already doubling that of the inaugural year in 2017, the future looks bright for the carpet racing in the US and the IOCC! #gojconcepts

Posted by JConcepts Inc on Thursday, November 22, 2018
The history of the International Offroad Carpet Championship race is short. In fact, it's only two years old, but the progress made from year 1 has been phenomenal. The event has improved in every way and is built around the idea of having the most professional racing event to date. Race organizer and announcer extraordinaire, Scotty Ernst is no stranger to big events and this year, went out of his way to put on quite the spectacle for the 2018 edition of the IOCC. Check out the video above for some insider details on what the IOCC is all about.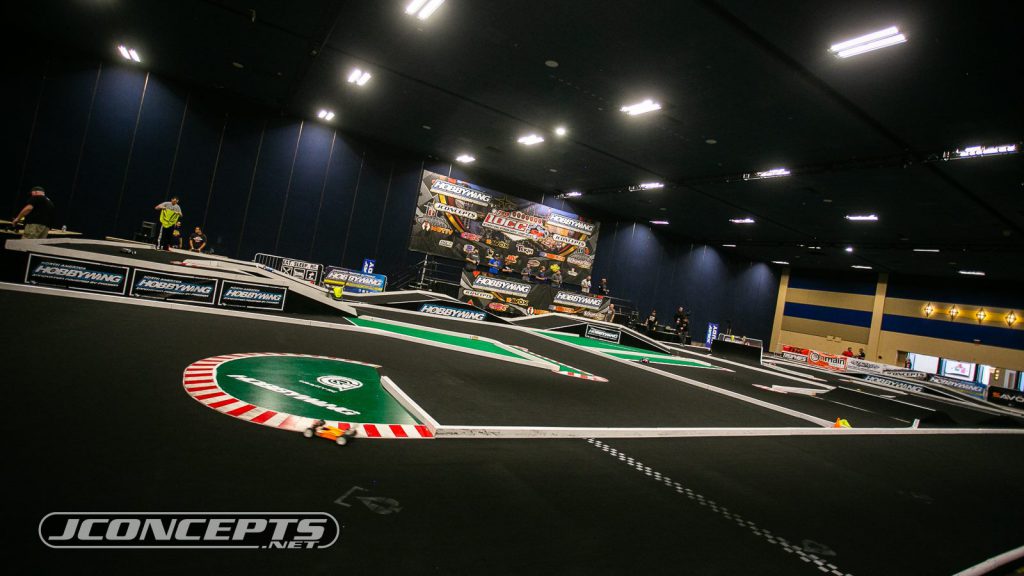 Step foot into the Paradise Conference room located at the Westgate Hotel and Casino and the atmosphere changed dramatically. You can't help but see the beautiful backdrop behind the driver stand and one glance at the track and the urge to drive becomes overwhelming. There's nothing like a fresh carpet track and this one had every detail covered. Green infield, check. Painted FIA curbs, check. Easy to see white lanes, check. Oh did we mention this track and subfloor was literally built from scratch just for this race?

The layout was wonderful. It consisted of a full length straightway that immediately went into a sharp radius turn that required good braking and modulation to halt the car down from full speed. The switchback going up to the raised corner tested your vehicle's high-speed steering which led straight into the trickest part of the track, the front table section. Careful backsides was a must and once successfully completed, you could finally take a breath. The center double required timing and power to clear, especially in the stock classes.  The cutback chicane to kicker jump emphasized low-speed steering and required throttle mastery to not overcook or undershoot. After navigating the final table top jump, you could full mash getting on the straightaway to complete a lap that demands full concentration.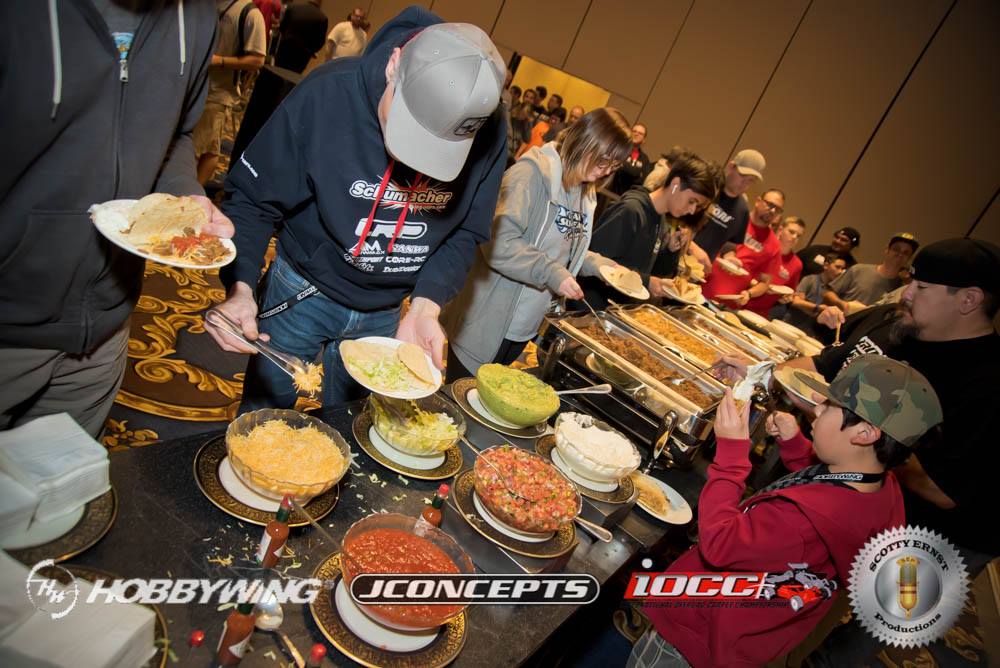 Overall, the event 2018 IOCC doubled 2017's entry count and ended with nearly 200 entries. With an incredible 100% increase in growth highlights the growing popularity of carpet racing around the US. Next year, don't be surprised if the entries jump up even higher as most racers who attended the 2018 IOCC raved about their experience.
Other highlights of the event were Thursday evening's wonderful Thanksgiving style dinner and Friday's free beers and tacos night giving racers a chance to relax and enjoy time away from the track. With entry comes a special treat of goods and services such as a free limited event t-shirt, tons of great door prizes, a full set of JConcepts spec tires, and 2 special event meals.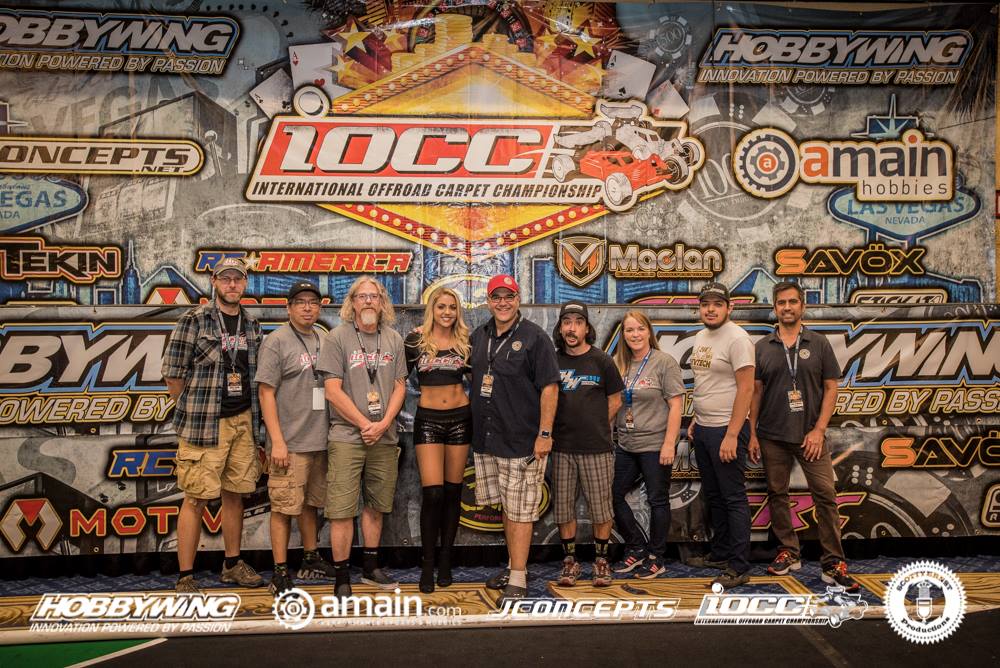 It takes a lot of dedication to hold an event such as the IOCC and we can't thank Scotty and his crew for all the hard work, hospitality, and energy.
Live with Frank Root TLR and Reno Savoya! Let's talk new 2wd Buggy!! Get your questions ready. #gojconcepts

Posted by JConcepts Inc on Sunday, November 25, 2018
We also had the opportunity to debut the new TLR 2wd buggy dubbed 22 5.0 AC and DC at the 2018 IOCC. Jason Ruona had a chance to sit down with JConcepts' very own Frank Root and Reno Savoya to talk about the new car and the changes in the video above.
Independent 21.5 2wd Stock Buggy
It was great to see the Independent 21.5 Spec 2wd class have such a fun time encompassing raw excitement and enthusiasm. Perhaps drawing the biggest audience during the mains, the Independent stock drivers put on a great show. Turning in an impressive weekend of driving was young Jeaven Lowry, who took convincing wins in A1 and A2 to wrap up the overall championship. He was followed closely by Wesley Mccutcheon scoring a crucial A3 win to lock down 2nd. Grabbing the last step on the podium was Clay Hunter in 3rd.
17.5 2wd Stock Buggy
The ultra-competitive 17.5 2wd Stock class was filled with national-caliber talent from all across the land. Last year's winner, Meredith's Ray Darroch stayed smooth, fast and consistent to defend his title by winning A2 and A3. When the pressure was on, Ray drove even faster. Motowhips' Justin Myerson made his moves early with a win in A1 and excellent driving in A2 to finish 2nd giving Myerson 2nd place overall. All smiles and the way from the B-main, JConcepts' John Barron bumped up to start last in the A's and remarkably finished 3rd overall. Impressive!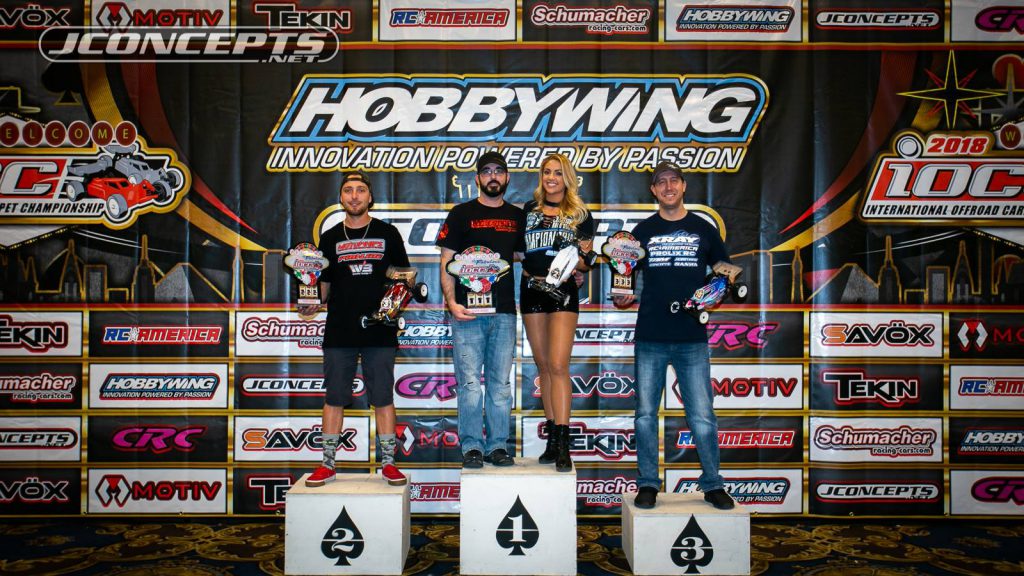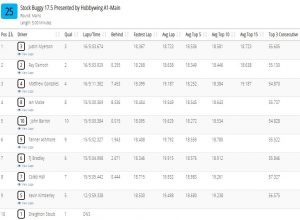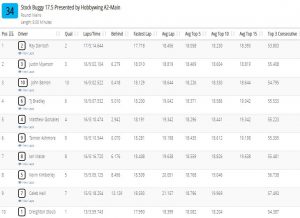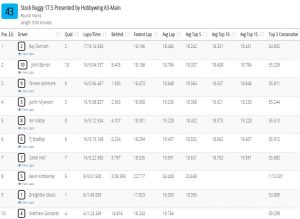 17.5 Stock Stadium Truck
In the 17.5 Stock Stadium Truck class, AE/JConcepts' Matthew Gonzales hit the track running. Able to capitalize on his TQ effort in qualifying, Gonzales turned it on in the mains with a one, two punch winning the overall in just two. Motowhips' Justin Myerson had a great weekend showing his versatility as a driver to go 3 for 3 in podium finishes adding a 2nd in stock truck. Xray/JConcepts' John Barron tied Myerson on points, but unfortunately, lose the tie-breaker as Myerson's top run was 3 seconds faster.
13.5 Short Course Truck
Motowhips' Justin Myerson was head of the class in the 13.5 Short Course Truck class as he went on to TQ and win the overall in the first two mains. Team Scream's Steve Hanson delivered a clutch performance in A3 and took the win to secure 2nd place overall. Impressive Riley Tracy drove like a veteran and tied Rudy Rosales on points as both drivers had a 2nd and 3rd place finishes. With a faster time in A3, Riley would ultimately win the tie-breaker for 3rd.
13.5 4wd Buggy
Defending IOCC 13.5 4wd champion, Xray's Daniel Chavez was on a mission to keep his title. All throughout qualifying, Daniel showed he had the winning pace and crucially earned the pole position for the triple A-Mains. Made of steel, Daniel recovered from a terrible finish in A1 and resiliently bounced back and convincingly won A2 and A3. Dreighton Stoub once again showed his natural talents with some remarkable driving and finished 2nd overall. TLR's Hunter King was another contender challenging for the win and finished the weekend off with a 2nd and 3rd to land himself on the podium in 3rd.
40+ 2wd Modified
Each year the 40+ class gets faster and faster and this year was no exception. Sitting at the top of the 40+ mountain is AE team manager, Brent Thielke. In dominant fashion, BT once again impressively won this year's 40+ 2wd Modified class too keep his title strong. AE/JConcepts' Chris Champlin was able to keep on BT's heels and decisively won A3 to lock up 2nd. JConcepts' own Jason Ruona came out of retirement to have some fun and magically navigated himself into 3rd.
Modified Stadium Truck
Judging by how practice and qualifying went, it looked like a runaway win for Blake Champlin in the Modified Stadium Truck class, but Yokomo/JConcepts' Max Flurer turned up the intensity in the triple A's to challenge Champlin for the win. In the end, Champlin drove well under pressure and won A1 and A2 and took the overall. Max wrapped up 2nd with the fastest truck run of the weekend and won A3. New to stadium trucks was TLR/JConcepts' Reno Savoya, who finished 3rd in all three mains to net 3rd overall.
2wd Modified
AE/JConcepts' Broc Champlin was on fire in 2wd modified and quickly showed that he would be a contender for the overall. With a strong effort in qualifying, Broc was able to TQ 4 out of 4 rounds and carried that momentum and confidence into A1. From the tone, Broc displayed nerves of steel while defending attacks from his rivals including his brother Blake Champlin, Spencer Rivkin, and Michal Orlowski. Unphased by the pressure, Broc crossed the line 1st and took A1.
A2 was a totally different race as the two leaders, Broc Champlin and Michal Orlowski touched in the air on lap 1 shuffling both of the front runners back into the pack. Blake would inherit the lead and finished A2 on top. Brad Shearer went on to finish 2nd with Spencer Rivkin 3rd.
It was Do or Die for class TQ, Broc Champlin, in A3 as he only had 1 score after 2 mains. From the tone, Broc was back to his normal ways showing the speed and consistency that earned him the overall TQ. However, not giving up, Blake Champlin put in an impressive charge to close the gap and contest his brother for the win. After 5 intense minutes, Broc took the win in A3 with Blake 2nd and Brad Shearer 3rd. Congrats to Broc, Blake, and Spencer on their 1st, 2nd, 3rd finish for JConcepts.
4wd Modified
Schumacher's Michal Orlowski made the long trip from Poland to join in on the action and really displayed the Schumacher's L1 dominance as he was able to TQ all rounds in 4wd and took a relatively easy win in A1 and A2 to claim the top spot on the podium. With few opportunities to challenge Michal, AE/JConcepts' Blake Champlin, Broc Champlin, and Spencer Rivkin all fought for 2nd and ended in a 3-way tie with each driver finishing with 5 points. Using the IFMAR tie-breaker rule, highest finishing results takes the cake giving Blake Champlin 2nd overall with Spencer Rivkin 3rd.